Abstract
Targeted protein degradation through chemical hijacking of E3 ubiquitin ligases is an emerging concept in precision medicine. The ubiquitin code is a critical determinant of the fate of substrates. Although two E3s, CRL2VHL and CRL4CRBN, frequently assemble with proteolysis-targeting chimeras (PROTACs) to attach lysine-48 (K48)-linked ubiquitin chains, the diversity of the ubiquitin code used for chemically induced degradation is largely unknown. Here we show that the efficacy of cIAP1-targeting degraders depends on the K63-specific E2 enzyme UBE2N. UBE2N promotes degradation of cIAP1 induced by cIAP1 ligands and subsequent cancer cell apoptosis. Mechanistically, UBE2N-catalyzed K63-linked ubiquitin chains facilitate assembly of highly complex K48/K63 and K11/K48 branched ubiquitin chains, thereby recruiting p97/VCP, UCH37 and the proteasome. Degradation of neo-substrates directed by cIAP1-recruiting PROTACs also depends on UBE2N. These results reveal an unexpected role for K63-linked ubiquitin chains and UBE2N in degrader-induced proteasomal degradation and demonstrate the diversity of the ubiquitin code used for chemical hijacking.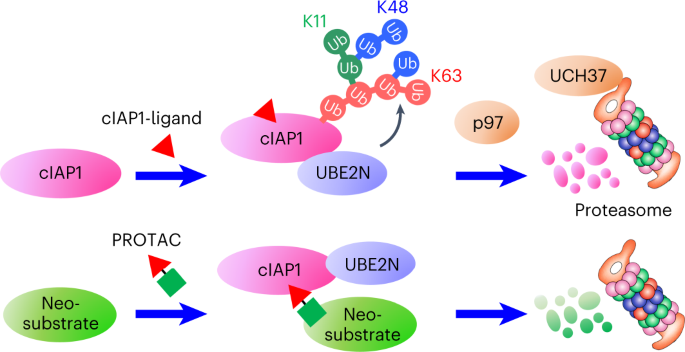 Access options
Access Nature and 54 other Nature Portfolio journals
Get Nature+, our best-value online-access subscription
$29.99 / 30 days
cancel any time
Subscribe to this journal
Receive 12 print issues and online access
$259.00 per year
only $21.58 per issue
Rent or buy this article
Prices vary by article type
from$1.95
to$39.95
Prices may be subject to local taxes which are calculated during checkout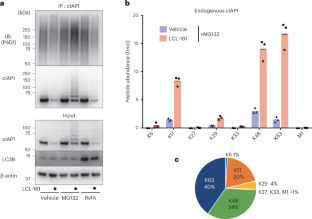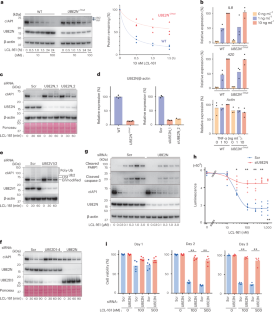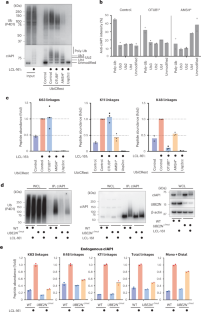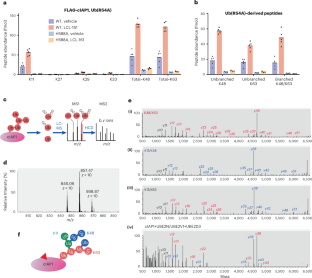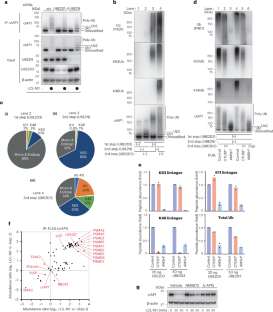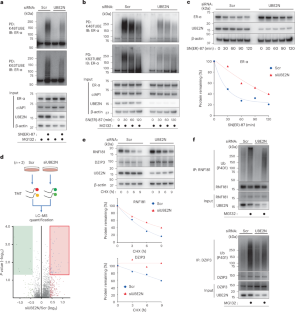 Similar content being viewed by others
Data availability
The raw datasets for large-scale proteomics analyses have been deposited to the ProteomeXchange Consortium via the PRIDE partner repository with the dataset identifier PXD029945. MS/MS spectra were blasted against the SwissProt-reviewed H. sapiens reference proteome (UniProt version 2017-10-25). Source data for western blots and graphs are presented in the Source Data files. Source data are provided with this paper.
References
Verma, R., Mohl, D. & Deshaies, R. J. Harnessing the power of proteolysis for targeted protein inactivation. Mol. Cell 77, 446–460 (2020).

Burslem, G. M. & Crews, C. M. Proteolysis-targeting chimeras as therapeutics and tools for biological discovery. Cell 181, 102–114 (2020).

Nalawansha, D. A. & Crews, C. M. PROTACs: an emerging therapeutic modality in precision medicine. Cell Chem. Biol. 27, 998–1014 (2020).

Mayor-Ruiz, C. et al. Plasticity of the cullin-RING ligase repertoire shapes sensitivity to ligand-induced protein degradation. Mol. Cell 75, 849–858 (2019).

Lu, G. et al. UBE2G1 governs the destruction of cereblon neomorphic substrates. eLife 7, e40958 (2018).

Hill, S. et al. Robust cullin-RING ligase function is established by a multiplicity of poly-ubiquitylation pathways. eLife 8, e51163 (2019).

Bekes, M., Langley, D. R. & Crews, C. M. PROTAC targeted protein degraders: the past is prologue. Nat. Rev. Drug Discov. 21, 181–200 (2022).

Jan, M., Sperling, A. S. & Ebert, B. L. Cancer therapies based on targeted protein degradation—lessons learned with lenalidomide. Nat. Rev. Clin. Oncol. 18, 401–417 (2021).

Wang, Y., Jiang, X., Feng, F., Liu, W. & Sun, H. Degradation of proteins by PROTACs and other strategies. Acta Pharm. Sin. B 10, 207–238 (2020).

Alabi, S. B. & Crews, C. M. Major advances in targeted protein degradation: PROTACs, LYTACs, and MADTACs. J. Biol. Chem. 296, 100647 (2021).

Pohl, C. & Dikic, I. Cellular quality control by the ubiquitin-proteasome system and autophagy. Science 366, 818–822 (2019).

Swatek, K. N. & Komander, D. Ubiquitin modifications. Cell Res. 26, 399–422 (2016).

Haakonsen, D. L. & Rape, M. Branching out: improved signaling by heterotypic ubiquitin chains. Trends Cell Biol. 29, 704–716 (2019).

Ye, Y. & Rape, M. Building ubiquitin chains: E2 enzymes at work. Nat. Rev. Mol. Cell Biol. 10, 755–764 (2009).

Gadd, M. S. et al. Structural basis of PROTAC cooperative recognition for selective protein degradation. Nat. Chem. Biol. 13, 514–521 (2017).

Kaiho-Soma, A. et al. TRIP12 promotes small-molecule-induced degradation through K29/K48-branched ubiquitin chains. Mol. Cell 81, 1411–1424 (2021).

Peltzer, N., Darding, M. & Walczak, H. Holding RIPK1 on the ubiquitin leash in TNFR1 signaling. Trends Cell Biol. 26, 445–461 (2016).

Varfolomeev, E. et al. IAP antagonists induce autoubiquitination of c-IAPs, NF-κB activation, and TNFα-dependent apoptosis. Cell 131, 669–681 (2007).

Cong, H. et al. Inhibitor of apoptosis protein (IAP) antagonists in anticancer agent discovery: current status and perspectives. J. Med. Chem. 62, 5750–5772 (2019).

Ohoka, N. et al. In vivo knockdown of pathogenic proteins via specific and nongenetic inhibitor of apoptosis protein (IAP)-dependent protein erasers (SNIPERs). J. Biol. Chem. 292, 4556–4570 (2017).

Tsuchiya, H. et al. In vivo ubiquitin linkage-type analysis reveals that the Cdc48-Rad23/Dsk2 axis contributes to K48-linked chain specificity of the proteasome. Mol. Cell 66, 488–502 (2017).

Xu, M., Skaug, B., Zeng, W. & Chen, Z. J. A ubiquitin replacement strategy in human cells reveals distinct mechanisms of IKK activation by TNFα and IL-1β. Mol. Cell 36, 302–314 (2009).

Tokunaga, F. et al. Involvement of linear polyubiquitylation of NEMO in NF-κB activation. Nat. Cell Biol. 11, 123–132 (2009).

Bertrand, M. J. et al. cIAP1 and cIAP2 facilitate cancer cell survival by functioning as E3 ligases that promote RIP1 ubiquitination. Mol. Cell 30, 689–700 (2008).

Park, S. M., Yoon, J. B. & Lee, T. H. Receptor interacting protein is ubiquitinated by cellular inhibitor of apoptosis proteins (c-IAP1 and c-IAP2) in vitro. FEBS Lett. 566, 151–156 (2004).

Hospenthal, M. K., Mevissen, T. E. & Komander, D. Deubiquitinase-based analysis of ubiquitin chain architecture using Ubiquitin Chain Restriction (UbiCRest). Nat. Protoc. 10, 349–361 (2015).

Michel, M. A. et al. Assembly and specific recognition of K29- and K33-linked polyubiquitin. Mol. Cell 58, 95–109 (2015).

Ohtake, F., Saeki, Y., Ishido, S., Kanno, J. & Tanaka, K. The K48-K63 branched ubiquitin chain regulates NF-κB signaling. Mol. Cell 64, 251–266 (2016).

Swatek, K. N. et al. Insights into ubiquitin chain architecture using Ub-clipping. Nature 572, 533–537 (2019).

Deol, K. K. et al. Proteasome-bound UCH37/UCHL5 debranches ubiquitin chains to promote degradation. Mol. Cell 80, 796–809 (2020).

Eddins, M. J., Carlile, C. M., Gomez, K. M., Pickart, C. M. & Wolberger, C. Mms2-Ubc13 covalently bound to ubiquitin reveals the structural basis of linkage-specific polyubiquitin chain formation. Nat. Struct. Mol. Biol. 13, 915–920 (2006).

Ohtake, F. et al. Ubiquitin acetylation inhibits polyubiquitin chain elongation. EMBO Rep. 16, 192–201 (2015).

Yau, R. G. et al. Assembly and function of heterotypic ubiquitin chains in cell-cycle and protein quality control. Cell 171, 918–933 (2017).

Naito, M., Ohoka, N., Shibata, N. & Tsukumo, Y. Targeted protein degradation by chimeric small molecules, PROTACs and SNIPERs. Front. Chem. 7, 849 (2019).

Schiemer, J. et al. Snapshots and ensembles of BTK and cIAP1 protein degrader ternary complexes. Nat. Chem. Biol. 17, 152–160 (2021).

Fulda, S. & Vucic, D. Targeting IAP proteins for therapeutic intervention in cancer. Nat. Rev. Drug Discov. 11, 109–124 (2012).

Wu, X. et al. Ubiquitin-conjugating enzyme Ubc13 controls breast cancer metastasis through a TAK1-p38 MAP kinase cascade. Proc. Natl Acad. Sci. USA 111, 13870–13875 (2014).

Komander, D. & Rape, M. The ubiquitin code. Annu. Rev. Biochem. 81, 203–229 (2012).

Ohtake, F., Tsuchiya, H., Saeki, Y. & Tanaka, K. K63 ubiquitylation triggers proteasomal degradation by seeding branched ubiquitin chains. Proc. Natl Acad. Sci. USA 115, E1401–E1408 (2018).

Leto, D. E. et al. Genome-wide CRISPR analysis identifies substrate-specific conjugation modules in ER-associated degradation. Mol. Cell 73, 377–389 (2019).

Takahashi, D. et al. AUTACs: cargo-specific degraders using selective autophagy. Mol. Cell 76, 797–810 (2019).

Yamano, K. et al. Critical role of mitochondrial ubiquitination and the OPTN–ATG9A axis in mitophagy. J. Cell Biol. 219, e201912144 (2020)

Ordureau, A. et al. Defining roles of PARKIN and ubiquitin phosphorylation by PINK1 in mitochondrial quality control using a ubiquitin replacement strategy. Proc. Natl Acad. Sci. USA 112, 6637–6642 (2015).

Meyer, H. J. & Rape, M. Enhanced protein degradation by branched ubiquitin chains. Cell 157, 910–921 (2014).

Nguyen, T. V. et al. p97/VCP promotes degradation of CRBN substrate glutamine synthetase and neosubstrates. Proc. Natl Acad. Sci. USA 114, 3565–3571 (2017).

Hodge, C. D., Spyracopoulos, L. & Glover, J. N. Ubc13: the Lys63 ubiquitin chain building machine. Oncotarget 7, 64471–64504 (2016).

Kolapalli, S. P. et al. RNA-binding RING E3-ligase DZIP3/hRUL138 stabilizes cyclin D1 to drive cell-cycle and cancer progression. Cancer Res. 81, 315–331 (2021).

Zhu, J. et al. The ubiquitin ligase RNF181 stabilizes ERα and modulates breast cancer progression. Oncogene 39, 6776–6788 (2020).

Ran, F. A. et al. Genome engineering using the CRISPR–Cas9 system. Nat. Protoc. 8, 2281–2308 (2013).

Ohtake, F., Tsuchiya, H., Tanaka, K. & Saeki, Y. Methods to measure ubiquitin chain length and linkage. Methods Enzymol. 618, 105–133 (2019).
Acknowledgements
We thank Y. Demizu for preliminary results, H. Tsuchiya for discussions and Y. Kawase and S. Ono for technical assistance. This work was supported, in part, by JSPS KAKENHI (grant nos. JP21H02433, JP18H05498 and JP20K21408 to F.O.; JP18H05498 to Y.S.; JP19H00997 to K.T.; JP18H05504 to A.O.; and JP18H05502 to M.N.), AMED-CREST (grant no. 21458950 to F.O.), the Takeda Science Foundation (to F.O.) and the Naito Foundation (to F.O.).
Ethics declarations
Competing interests
The authors declare no competing interests.
Peer review
Peer review information
Nature Chemical Biology thanks John Harling, Yogesh Kulathu and the other, anonymous, reviewer(s) for their contribution to the peer review of this work.
Additional information
Publisher's note Springer Nature remains neutral with regard to jurisdictional claims in published maps and institutional affiliations.
Supplementary information
Rights and permissions
Springer Nature or its licensor (e.g. a society or other partner) holds exclusive rights to this article under a publishing agreement with the author(s) or other rightsholder(s); author self-archiving of the accepted manuscript version of this article is solely governed by the terms of such publishing agreement and applicable law.
About this article
Cite this article
Akizuki, Y., Morita, M., Mori, Y. et al. cIAP1-based degraders induce degradation via branched ubiquitin architectures. Nat Chem Biol 19, 311–322 (2023). https://doi.org/10.1038/s41589-022-01178-1
Received:

Accepted:

Published:

Issue Date:

DOI: https://doi.org/10.1038/s41589-022-01178-1