Abstract
Detailed understanding of the mechanism by which Hsp70 chaperones protect cells against protein aggregation is hampered by the lack of a comprehensive characterization of the aggregates, which are typically heterogeneous. Here we designed a reporter chaperone substrate, MLucV, composed of a stress-labile luciferase flanked by stress-resistant fluorescent domains, which upon denaturation formed a discrete population of small aggregates. Combining Förster resonance energy transfer and enzymatic activity measurements provided unprecedented details on the aggregated, unfolded, Hsp70-bound and native MLucV conformations. The Hsp70 mechanism first involved ATP-fueled disaggregation and unfolding of the stable pre-aggregated substrate, which stretched MLucV beyond simply unfolded conformations, followed by native refolding. The ATP-fueled unfolding and refolding action of Hsp70 on MLucV aggregates could accumulate native MLucV species under elevated denaturing temperatures highly adverse to the native state. These results unambiguously exclude binding and preventing of aggregation from the non-equilibrium mechanism by which Hsp70 converts stable aggregates into metastable native proteins.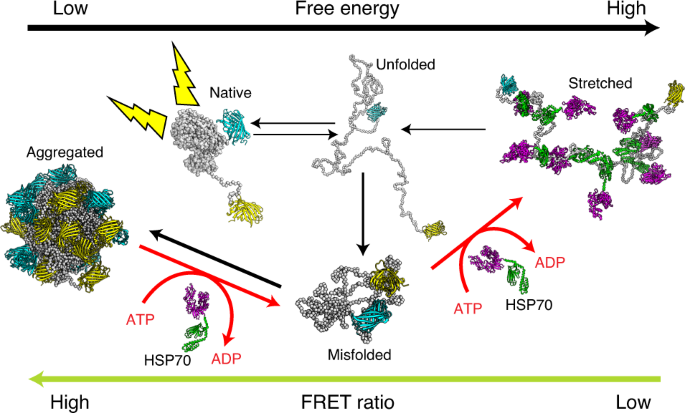 Data availability
All data shown in the present study are available within the main and supplementary figures and provided as source data (Excel files) together with the manuscript. PDB accessions of the models used to run molecular dynamics simulations are provided within the manuscript. Maps and sequences of the plasmids generated in this study are available at https://doi.org/10.6084/m9.figshare.20502495. All generated plasmids and reagents are available upon reasonable request to the corresponding authors. Source data are provided with this paper.
Code availability
Code used to run and analyze Molecular Dynamics simulations, including sample LAMMPS inputs (including computation of distances on the fly) and the LAMMPS patch implementing the coarse-grained potential are openly available on GitHub at https://github.com/saassenza/Hsp70Unfoldase.
References
Anfinsen, C. B. Principles that govern the folding of protein chains. Science 181, 223–230 (1973).

Dobson, C. M. Protein folding and misfolding. Nature 426, 884–90. (2003).

Rivas, G. & Minton, A. P. Macromolecular crowding in vitro, in vivo, and in between. Trends Biochem. Sci. 41, 970–981 (2016).

Ellis, R. J. Macromolecular crowding: an important but neglected aspect of the intracellular environment. Curr. Opin. Struct. Biol. 11, 114–119 (2001).

Goloubinoff, P. et al. Chaperones convert the energy from ATP into the nonequilibrium stabilization of native proteins. Nat. Chem. Biol. 14, 388–395 (2018).

Sharma, S. K. et al. The kinetic parameters and energy cost of the Hsp70 chaperone as a polypeptide unfoldase. Nat. Chem. Biol. 6, 914–920 (2010).

Hartl, F. U. Protein misfolding diseases. Annu. Rev. Biochem. 86, 21–26 (2017).

Rebeaud, M. E. et al. On the evolution of chaperones and cochaperones and the expansion of proteomes across the tree of life. Proc. Natl Acad. Sci. USA 118, e2020885118 (2021).

Finka, A., Mattoo, R. U. & Goloubinoff, P. Experimental milestones in the discovery of molecular chaperones as polypeptide unfolding enzymes. Annu. Rev. Biochem. 85, 715–742 (2016).

Sharma, S. et al. Monitoring protein conformation along the pathway of chaperonin-assisted folding. Cell 133, 142–153 (2008).

Fauvet, B. et al. Repair or degrade: the thermodynamic dilemma of cellular protein quality-control. Front Mol. Biosci. 8, 768888 (2021).

Kityk, R., Kopp, J. & Mayer, M. P. Molecular mechanism of J-domain-triggered ATP hydrolysis by Hsp70 chaperones. Mol. Cell 69, 227–237 e4 (2018).

Zhang, R., et al., J-domain protein chaperone circuits in proteostasis and disease. Trends Cell Biol. https://doi.org/10.1016/j.tcb.2022.05.004 (2022).

Nillegoda, N. B. et al. Evolution of an intricate J-protein network driving protein disaggregation in eukaryotes. eLife 6, e24560 (2017).

Gillis, J. et al. The DNAJB6 and DNAJB8 protein chaperones prevent intracellular aggregation of polyglutamine peptides. J. Biol. Chem. 288, 17225–17237 (2013).

Tiwari, S. et al. Unique structural modulation of a non-native substrate by cochaperone DnaJ. Biochemistry 52, 1011–1018 (2013).

Kmiecik et al. Feedback regulation of heat shock factor 1 (Hsf1) activity by Hsp70-mediated trimer unzipping and dissociation from DNA. EMBO J. 39, e104096 (2020).

Masser, A. E. et al. Cytoplasmic protein misfolding titrates Hsp70 to activate nuclear Hsf1. eLife 8, e47791 (2019).

Pierpaoli, E. V. et al. The power stroke of the DnaK/DnaJ/GrpE molecular chaperone system. J. Mol. Biol. 269, 757–68. (1997).

Han, W. & Christen, P. cis-Effect of DnaJ on DnaK in ternary complexes with chimeric DnaK/DnaJ-binding peptides. FEBS Lett. 563, 146–150 (2004).

De Los Rios, P. & Barducci, A. Hsp70 chaperones are non-equilibrium machines that achieve ultra-affinity by energy consumption. Elife 3, e02218 (2014).

De Los Rios, P. et al. Hsp70 chaperones accelerate protein translocation and the unfolding of stable protein aggregates by entropic pulling. Proc. Natl Acad. Sci. USA 103, 6166–6171 (2006).

Hinault, M. P. et al. Stable α-synuclein oligomers strongly inhibit chaperone activity of the Hsp70 system by weak interactions with J-domain co-chaperones. J. Biol. Chem. 285, 38173–38182 (2010).

Brehmer, D. et al. Influence of GrpE on DnaK-substrate interactions. J. Biol. Chem. 279, 27957–27964 (2004).

Diamant, S. et al. Size-dependent disaggregation of stable protein aggregates by the DnaK chaperone machinery. J. Biol. Chem. 275, 21107–21113 (2000).

Gupta, R. et al. Firefly luciferase mutants as sensors of proteome stress. Nat. Methods 8, 879–884 (2011).

Fritz, R. D. et al. A versatile toolkit to produce sensitive FRET biosensors to visualize signaling in time and space. Sci. Signal 6, rs12 (2013).

Wood, R. J. et al. A biosensor-based framework to measure latent proteostasis capacity. Nat. Commun. 9, 287 (2018).

Kopp, M. C. et al. In vitro FRET analysis of IRE1 and BiP association and dissociation upon endoplasmic reticulum stress. eLife 7, e30257 (2018).

Meisl, G. et al. Molecular mechanisms of protein aggregation from global fitting of kinetic models. Nat. Protoc. 11, 252–272 (2016).

Fauvet, B. et al. Bacterial Hsp90 facilitates the degradation of aggregation-prone Hsp70–Hsp40 substrates. Front Mol. Biosci. 8, 653073 (2021).

Glover, J. R. & Lindquist, S. Hsp104, Hsp70, and Hsp40: a novel chaperone system that rescues previously aggregated proteins. Cell 94, 73–82 (1998).

Goloubinoff, P. et al. Sequential mechanism of solubilization and refolding of stable protein aggregates by a bichaperone network. Proc. Natl Acad. Sci. USA 96, 13732–13737 (1999).

Winardhi, R.S., Tang, Q., You, H., Sheetz, M., Yan, J. The holdase function of Escherichia coli Hsp70 (DnaK) chaperone. Preprint at bioRxiv https://doi.org/10.1101/305854 (2018).

Hall, D. On the nature of the optimal form of the holdase-type chaperone stress response. FEBS Lett. 594, 43–66 (2020).

Imamoglu, R. et al. Bacterial Hsp70 resolves misfolded states and accelerates productive folding of a multi-domain protein. Nat. Commun. 11, 365 (2020).

Feifel, B. et al. Potassium ions and the molecular-chaperone activity of DnaK. Eur. J. Biochem. 237, 318–21. (1996).

Svetlov, M. S., Kolb, V. A. & Spirin, A. S. Folding of the firefly luciferase polypeptide chain with immobilized C-terminus. Mol. Biol. 41, 96–102 (2007).

Schindelin, J. et al. Fiji: an open-source platform for biological-image analysis. Nat. Methods 9, 676–682 (2012).

Assenza, S., et al., Efficient conversion of chemical energy into mechanical work by Hsp70 chaperones. Elife, 2019. 8.

Franks, N. P. et al. Structural basis for the inhibition of firefly luciferase by a general anesthetic. Biophys. J. 75, 2205–2211 (1998).

Ai, H. W. et al. Directed evolution of a monomeric, bright and photostable version of Clavularia cyan fluorescent protein: structural characterization and applications in fluorescence imaging. Biochem. J. 400, 531–40. (2006).

Rekas, A. et al. Crystal structure of venus, a yellow fluorescent protein with improved maturation and reduced environmental sensitivity. J. Biol. Chem. 277, 50573–50578 (2002).

Smith, W. W., Ho, P. Y. & O'Hern, C. S. Calibrated Langevin-dynamics simulations of intrinsically disordered proteins. Phys. Rev. E Stat. Nonlin Soft Matter Phys. 90, 042709 (2014).

Monera, O. D. et al. Relationship of sidechain hydrophobicity and α-helical propensity on the stability of the single-stranded amphipathic α-helix. J. Pept. Sci. 1, 319–329 (1995).

Bertelsen, E. B. et al. Solution conformation of wild-type E. coli Hsp70 (DnaK) chaperone complexed with ADP and substrate. Proc. Natl Acad. Sci. USA 106, 8471–8476 (2009).

Zhu, X. et al. Structural analysis of substrate binding by the molecular chaperone DnaK. Science 272, 1606–1614 (1996).

Assenza, S., De Los Rios, P. & Barducci, A. Quantifying the role of chaperones in protein translocation by computational modeling. Front Mol. Biosci. 2, 8 (2015).

Rudiger, S. et al. Substrate specificity of the DnaK chaperone determined by screening cellulose-bound peptide libraries. EMBO J. 16, 1501–1507 (1997).

Thompson, A. P. et al. LAMMPS—a flexible simulation tool for particle-based materials modeling at the atomic, meso, and continuum scales. Comput. Phys. Commun. 271, 108171 (2022).
Acknowledgements
This work was supported by grant 31003A_175453 from the Swiss National Fund and grant 90 3150/2 from the Israel Science Foundation to P.G. We thank D. M. Hatters (University of Melbourne) for sharing M-Barnase-V plasmid. We thank T. M. Kamdem and P. Tiwari for technical assistance with protein purifications. We also thank the Electron Microscopy Facility of the University of Lausanne.
Ethics declarations
Competing interests
The authors declare no competing interests.
Peer review
Peer review information
Nature Chemical Biology thanks Don Lamb, Hyun Soo Lee and the other, anonymous, reviewer(s) for their contribution to the peer review of this work.
Additional information
Publisher's note Springer Nature remains neutral with regard to jurisdictional claims in published maps and institutional affiliations.
Supplementary information
Supplementary Figs 1 and 2, and Supplementary Table 1.
Catalog numbers of commercial reagents.
Rights and permissions
Open Access This article is licensed under a Creative Commons Attribution 4.0 International License, which permits use, sharing, adaptation, distribution and reproduction in any medium or format, as long as you give appropriate credit to the original author(s) and the source, provide a link to the Creative Commons license, and indicate if changes were made. The images or other third party material in this article are included in the article's Creative Commons license, unless indicated otherwise in a credit line to the material. If material is not included in the article's Creative Commons license and your intended use is not permitted by statutory regulation or exceeds the permitted use, you will need to obtain permission directly from the copyright holder. To view a copy of this license, visit http://creativecommons.org/licenses/by/4.0/.
About this article
Cite this article
Tiwari, S., Fauvet, B., Assenza, S. et al. A fluorescent multi-domain protein reveals the unfolding mechanism of Hsp70. Nat Chem Biol 19, 198–205 (2023). https://doi.org/10.1038/s41589-022-01162-9
Received:

Accepted:

Published:

Issue Date:

DOI: https://doi.org/10.1038/s41589-022-01162-9
This article is cited by
Patricija van Oosten-Hawle
Sarah J. Backe
Andrew W. Truman

Cell Stress and Chaperones (2023)