Abstract
Cellular therapies remain constrained by the limited availability of sensors for disease markers. Here we present an integrated target-to-receptor pipeline for constructing a customizable advanced modular bispecific extracellular receptor (AMBER) that combines our generalized extracellular molecule sensor (GEMS) system with a high-throughput platform for generating designed ankyrin repeat proteins (DARPins). For proof of concept, we chose human fibrin degradation products (FDPs) as markers with high clinical relevance and screened a DARPin library for FDP binders. We built AMBERs equipped with 19 different DARPins selected from 160 hits, and found 4 of them to be functional as heterodimers with a known single-chain variable fragments binder. Tandem receptors consisting of combinations of the validated DARPins are also functional. We demonstrate applications of these AMBER receptors in vitro and in vivo by constructing designer cell lines that detect pathological concentrations of FDPs and respond with the production of a reporter and a therapeutic anti-thrombotic protein.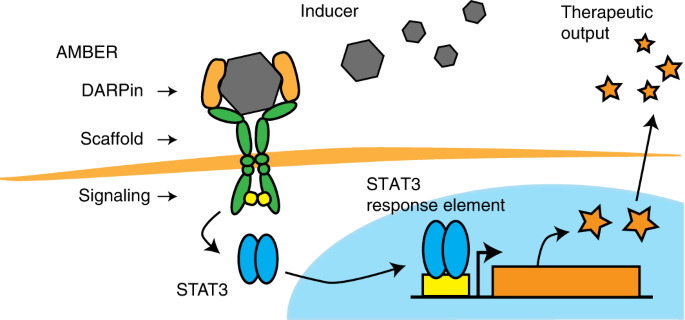 References
Scheller, L. & Fussenegger, M. From synthetic biology to human therapy: engineered mammalian cells. Curr. Opin. Biotechnol. 58, 108–116 (2019).

Mohammed, S. et al. Improving chimeric antigen receptor-modified T cell function by reversing the immunosuppressive tumor microenvironment of pancreatic cancer. Mol. Ther. 25, 249–258 (2017).

Schwarz, K. A., Daringer, N. M., Dolberg, T. B. & Leonard, J. N. Rewiring human cellular input–output using modular extracellular sensors. Nat. Chem. Biol. 13, 202–209 (2017).

Karatan, E. et al. Molecular recognition properties of FN3 monobodies that bind the Src SH3 domain. Chem. Biol. 11, 835–844 (2004).

Guellouz, A. et al. Selection of specific protein binders for pre-defined targets from an optimized library of artificial helicoidal repeat proteins (alphaRep). PLoS One 8, e71512 (2013).

Muyldermans, S. Nanobodies: natural single-domain antibodies. Ann. Rev. Biochem. 82, 775–797 (2013).

Binz, H. K. et al. High-affinity binders selected from designed ankyrin repeat protein libraries. Nat. Biotechnol. 22, 575–582 (2004).

Schilling, J., Schoppe, J. & Pluckthun, A. From DARPins to LoopDARPins: novel LoopDARPin design allows the selection of low picomolar binders in a single round of ribosome display. J. Mol. Biol. 426, 691–721 (2014).

Uchanski, T. et al. An improved yeast surface display platform for the screening of nanobody immune libraries. Sci. Rep. 9, 382 (2019).

Pluckthun, A. Ribosome display: a perspective. Methods Mol. Biol. 805, 3–28 (2012).

Dreier, B. & Pluckthun, A. Rapid selection of high-affinity binders using ribosome display. Methods Mol. Biol. 805, 261–286 (2012).

Dreier, B. & Pluckthun, A. Rapid selection of high-affinity binders using ribosome display. Methods Mol. Biol. 805, 261–286 (2012).

Pluckthun, A. Designed ankyrin repeat proteins (DARPins): binding proteins for research, diagnostics, and therapy. Annu. Rev. Pharmacol. Toxicol. 55, 489–511 (2015).

MacCallum, R. M., Martin, A. C. & Thornton, J. M. Antibody–antigen interactions: contact analysis and binding site topography. J. Mol. Biol. 262, 732–745 (1996).

Scheller, L., Strittmatter, T., Fuchs, D., Bojar, D. & Fussenegger, M. Generalized extracellular molecule sensor platform for programming cellular behavior. Nat. Chem. Biol. 14, 723 (2018).

Adam, S. S., Key, N. S. & Greenberg, C. S. D-dimer antigen: current concepts and future prospects. Blood 113, 2878–2887 (2009).

Benjamin, E. J. et al. Heart disease and stroke statistics – 2019 update: a report from the American Heart Association. Circulation 139, e56–e528 (2019).

Mohan, K. et al. Topological control of cytokine receptor signaling induces differential effects in hematopoiesis. Science https://doi.org/10.1126/science.aav7532 (2019).

Hansen, S. et al. Design and applications of a clamp for green fluorescent protein with picomolar affinity. Sci. Rep. 7, 16292 (2017).

Rothbauer, U. et al. Targeting and tracing antigens in live cells with fluorescent nanobodies. Nat. Methods 3, 887–889 (2006).

Kollman, J. M., Pandi, L., Sawaya, M. R., Riley, M. & Doolittle, R. F. Crystal structure of human fibrinogen. Biochemistry 48, 3877–3886 (2009).

Brown, J. H., Volkmann, N., Jun, G., Henschen-Edman, A. H. & Cohen, C. The crystal structure of modified bovine fibrinogen. Proc. Natl Acad. Sci. USA 97, 85–90 (2000).

Grieger, J. C. & Samulski, R. J. Packaging capacity of adeno-associated virus serotypes: impact of larger genomes on infectivity and postentry steps. J. Virol. 79, 9933–9944 (2005).

Laroche, Y. et al. Characterization of a recombinant single-chain molecule comprising the variable domains of a monoclonal-antibody specific for human fibrin fragment D-dimer. J. Biol. Chem. 266, 16343–16349 (1991).

Froehling, D. A. et al. Evaluation of a quantitative D-dimer latex immunoassay for acute pulmonary embolism diagnosed by computed tomographic angiography. Mayo Clin. Proc. 82, 556–560 (2007).

Kiew, L.-V. et al. Development of flexible electrochemical impedance spectroscopy-based biosensing platform for rapid screening of SARS-CoV-2 inhibitors. Biosens. Bioelectron. 183, 113213 (2021).

Bonaca, M. P. et al. Rivaroxaban in peripheral artery disease after revascularization. N. Engl. J. Med. 382, 1994–2004 (2020).

Blackmer, A. B., Oertel, M. D. & Valgus, J. M. Fondaparinux and the management of heparin-induced thrombocytopenia: the journey continues. Ann. Pharmacother. 43, 1636–1646 (2009).

Berry, C. N., Girardot, C., Lecoffre, C. & Lunven, C. Effects of the synthetic thrombin inhibitor argatroban on fibrin- or clot-incorporated thrombin: comparison with heparin and recombinant Hirudin. Thromb. Haemost. 72, 381–386 (1994).

Saba, H. I. & Morelli, G. A. The pathogenesis and management of disseminated intravascular coagulation. Clin. Adv. Hematol. Oncol. 4, 919–926 (2006).

Papageorgiou, C. et al. Disseminated intravascular coagulation: an update on pathogenesis, diagnosis, and therapeutic strategies. Clin. Appl Thromb. Hemost. 24, 8S–28S (2018).

Sohn, J. H. et al. Current status of the anticoagulant hirudin: its biotechnological production and clinical practice. Appl Microbiol Biot. 57, 606–613 (2001).

Baglin, T., Barrowcliffe, T. W., Cohen, A., Greaves, M. & Haematology, B. C. S. Guidelines on the use and monitoring of heparin. Brit J. Haematol. 133, 19–34 (2006).

Ganey, P. E. et al. Role of the coagulation system in acetaminophen-induced hepatotoxicity in mice. Hepatology 46, 1177–1186 (2007).

Ramachandran, A. & Jaeschke, H. Acetaminophen hepatotoxicity. Semin Liver Dis. 39, 221–234 (2019).

Ardaillou, N., Dray, L., Budzynski, A. Z., Marder, V. J. & Larrieu, M. J. The half-life of plasmic degradation products of human fibrinogen in rabbits. Thromb. Haemost. 37, 201–209 (1977).

Tanswell, P., Nieuwenhuizen, W. & Seifried, E. Pharmacokinetics of degradation products of fibrin and fibrinogen during alteplase therapy of acute myocardial-infarction. Fibrinolysis 7, 408–415 (1993).

Schilling, J., Schoppel, J., Sauer, E. & Pluckthun, A. Co-crystallization with conformation-specific designed ankyrin repeat proteins explains the conformational flexibility of BCL-W. J. Mol. Biol. 426, 2346–2362 (2014).

Zahnd, C., Sarkar, C. A. & Pluckthun, A. Computational analysis of off-rate selection experiments to optimize affinity maturation by directed evolution. Protein Eng. Des. Sel. 23, 175–184 (2010).

Madeira, F. et al. The EMBL-EBI search and sequence analysis tools APIs in 2019. Nucleic Acids Res. 47, W636–W641 (2019).

Kowarz, E., Loscher, D. & Marschalek, R. Optimized Sleeping Beauty transposons rapidly generate stable transgenic cell lines. Biotechnol. J. 10, 647–653 (2015).
Acknowledgements
The laboratory of M.F. is financially supported by a European Research Council advanced grant (ElectroGene, no.785800) and by the National Centre of Competence in Research (NCCR) for Molecular Systems Engineering. The laboratory of A.P. is supported by the Swiss National Science Foundation (SNF 310030_192689). This work was also partially supported by grants from the National Natural Science Foundation of China (NSFC: no.31971346, no.31861143016), the Science and Technology Commission of Shanghai Municipality (no.18JC1411000), and Fundamental Research Funds for the Central Universities to H.Y. We also thank the ECNU Multifunctional Platform for Innovation (011) for supporting the mouse experiments and the Instruments Sharing Platform of the School of Life Sciences, East China Normal University. We are grateful to S. Schmitt for help with size-exclusion chromatography, U. Lanner and A. Schmidt (Proteomics Core Facility, University of Basel) for support with mass spectroscopy, J. Sobek (Functional Genomics Center Zurich) for providing SPR affinity data, and M. Di Tacchio, A. Gumienny and T. Horn (D-BSSE) for help with cell sorting. We also thank D. Fuchs, V. Hällman, and P. Saxena (ETH Zurich) for critical readings of the manuscript and valuable discussions, C. Hamilton (University of Bern), B. Dreier (University of Zurich) for critical comments on the manuscript, and A. Beerlage (University Hospital Basel) and R. Strittmatter (Garmisch-Partenkirchen Hospital) for medical advice.
Ethics declarations
Competing interests
T.S., L.S. and M.F. are inventors on a patent describing the GEMS platform (US Patent App. 16/737,076). A.P. holds patents on DARPin technology (US8513164B2, US9365629B2, US7417130B2).
Peer review
Peer review information
Nature Chemical Biology thanks Zhilei Chen, Tara Deans and the other, anonymous, reviewer(s) for their contribution to the peer review of this work.
Additional information
Publisher's note Springer Nature remains neutral with regard to jurisdictional claims in published maps and institutional affiliations.
Supplementary information
Supplementary Figs 1–15, Supplementary Tables 1–3.
Supplementary data for Supplementary Figures
Rights and permissions
Open Access This article is licensed under a Creative Commons Attribution 4.0 International License, which permits use, sharing, adaptation, distribution and reproduction in any medium or format, as long as you give appropriate credit to the original author(s) and the source, provide a link to the Creative Commons license, and indicate if changes were made. The images or other third party material in this article are included in the article's Creative Commons license, unless indicated otherwise in a credit line to the material. If material is not included in the article's Creative Commons license and your intended use is not permitted by statutory regulation or exceeds the permitted use, you will need to obtain permission directly from the copyright holder. To view a copy of this license, visit http://creativecommons.org/licenses/by/4.0/.
About this article
Cite this article
Strittmatter, T., Wang, Y., Bertschi, A. et al. Programmable DARPin-based receptors for the detection of thrombotic markers. Nat Chem Biol 18, 1125–1134 (2022). https://doi.org/10.1038/s41589-022-01095-3
Received:

Accepted:

Published:

Issue Date:

DOI: https://doi.org/10.1038/s41589-022-01095-3