Abstract
Protein tertiary structure mimetics are valuable tools to target large protein–protein interaction interfaces. Here, we demonstrate a strategy for designing dimeric helix-hairpin motifs from a previously reported three-helix-bundle miniprotein that targets the receptor-binding domain (RBD) of severe acute respiratory syndrome-coronavirus-2 (SARS-CoV-2). Through truncation of the third helix and optimization of the interhelical loop residues of the miniprotein, we developed a thermostable dimeric helix-hairpin. The dimeric four-helix bundle competes with the human angiotensin-converting enzyme 2 (ACE2) in binding to RBD with 2:2 stoichiometry. Cryogenic-electron microscopy revealed the formation of dimeric spike ectodomain trimer by the four-helix bundle, where all the three RBDs from either spike protein are attached head-to-head in an open conformation, revealing a novel mechanism for virus neutralization. The proteomimetic protects hamsters from high dose viral challenge with replicative SARS-CoV-2 viruses, demonstrating the promise of this class of peptides that inhibit protein–protein interaction through target dimerization.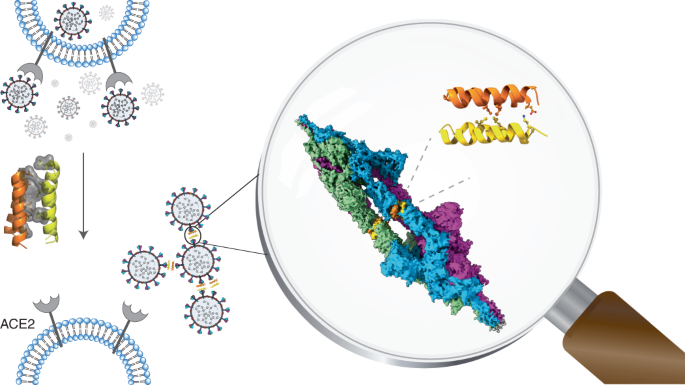 Data availability
The cryo-EM maps and atomic models have been deposited in the Electron Microscopy Data Bank and the PDB with accession codes: EMD-32388, EMD-33042 and PDB entry ID 7X7N. All other data are present as source data provided with this paper or in the Supplementary Information.
References
Pelay-Gimeno, M., Glas, A., Koch, O. & Grossmann, T. N. Structure-based design of inhibitors of protein-protein interactions: mimicking peptide binding epitopes. Angew. Chem. Int. Ed. Engl. 54, 8896–8927 (2015).

Horne, W. S. & Grossmann, T. N. Proteomimetics as protein-inspired scaffolds with defined tertiary folding patterns. Nat. Chem. 12, 331–337 (2020).

Efimov, A. V. Structure of alpha-alpha-hairpins with short connections. Protein Eng. 4, 245–250 (1991).

Braisted, A. C. & Wells, J. A. Minimizing a binding domain from protein A. Proc. Natl Acad. Sci. USA 93, 5688–5692 (1996).

Webster, J. M., Zhang, R., Gambhir, S. S., Cheng, Z. & Syud, F. A. Engineered two-helix small proteins for molecular recognition. Chem. Bio. Chem. 10, 1293–1296 (2009).

Checco, J. W. et al. Targeting diverse protein-protein interaction interfaces with α/β-peptides derived from the Z-domain scaffold. Proc. Natl Acad. Sci. USA 112, 4552–4557 (2015).

Adihou, H. et al. A protein tertiary structure mimetic modulator of the Hippo signalling pathway. Nat. Commun. 11, 5425 (2020).

Hong, S. H. et al. A Sos proteomimetic as a pan-Ras inhibitor. Proc. Natl Acad. Sci. USA 118, e2101027118 (2021).

Banner, D. W., Kokkinidis, M. & Tsernoglou, D. Structure of the ColE1 rop protein at 1.7 Å resolution. J. Mol. Biol. 196, 657–675 (1987).

Hill, R. B., Raleigh, D. P., Lombardi, A. & DeGrado, W. F. De novo design of helical bundles as models for understanding protein folding and function. Acc. Chem. Res. 33, 745–754 (2000).

Olofsson, S., Johansson, G. & Baltzer, L. Design, synthesis and solution structure of a helix-loop-helix dimer—a template for the rational design of catalytically active polypeptides. J. Chem. Soc., Perk Trans. 2, 2047–2056 (1995).

Lahr, S. J. et al. Analysis and design of turns in α-helical hairpins. J. Mol. Biol. 346, 1441–1454 (2005).

Lahiri, P., Verma, H., Ravikumar, A. & Chatterjee, J. Protein stabilization by tuning the steric restraint at the reverse turn. Chem. Sci. 9, 4600–4609 (2018).

Wu, D., Wu, T. T., Liu, Q. & Yang, Z. C. The SARS-CoV-2 outbreak: what we know. Int J. Infect. Dis. 94, 44–48 (2020).

Letko, M., Marzi, A. & Munster, V. Functional assessment of cell entry and receptor usage for SARS-CoV-2 and other lineage B betacoronaviruses. Nat. Microbiol 5, 562–569 (2020).

Hoffmann, M. et al. SARS-CoV-2 cell entry depends on ACE2 and TMPRSS2 and is blocked by a clinically proven protease inhibitor. Cell 181, 271–280 (2020).

Wang, P. et al. Antibody resistance of SARS-CoV-2 variants B.1.351 and B.1.1.7. Nature 593, 130–135 (2021).

Lan, J. et al. Structure of the SARS-CoV-2 spike receptor-binding domain bound to the ACE2 receptor. Nature 581, 215–220 (2020).

Linsky, T. W. et al. De novo design of potent and resilient hACE2 decoys to neutralize SARS-CoV-2. Science 370, 1208–1214 (2020).

Cao, L. et al. De novo design of picomolar SARS-CoV-2 miniprotein inhibitors. Science 370, 426–431 (2020).

Curreli, F. et al. Stapled peptides based on human Angiotensin-Converting Enzyme 2 (ACE2) potently inhibit SARS-CoV-2 infection in vitro. mBio 11, e02451–20 (2020).

Xiao, T. et al. A trimeric human angiotensin-converting enzyme 2 as an anti-SARS-CoV-2 agent. Nat. Struct. Mol. Biol. 28, 202–209 (2021).

Glasgow, A. et al. Engineered ACE2 receptor traps potently neutralize SARS-CoV-2. Proc. Natl Acad. Sci. USA 117, 28046–28055 (2020).

Malladi, S. K. et al. Design of a highly thermotolerant, immunogenic SARS-CoV-2 spike fragment. J. Biol. Chem. 296, 100025 (2021).

Morgan, D. C. et al. Stapled ACE2 peptidomimetics designed to target the SARS-CoV-2 spike protein do not prevent virus internalization. Pept. Sci. 113, e24217 (2021).

Maas, M. N., Hintzen, J. C. J., Löffler, P. M. G. & Mecinovič, J. Targeting SARS-CoV-2 spike protein by stapled hACE2 peptides. Chem. Commun. 57, 3283–3286 (2021).

Crick, F. H. C. The packing of α-helices—simple coiled-coils. Acta Crystallogr. 6, 689–697 (1953).

Woolfson, D. N. The design of coiled-coil structures and assemblies. Adv. Protein Chem. 70, 79–112 (2005).

Woolfson, D. N. & Alber, T. Predicting oligomerization states of coiled coils. Protein Sci. 4, 1596–1607 (1995).

Deng, Y. et al. Antiparallel four-stranded coiled coil specified by a 3-3-1 hydrophobic heptad repeat. Structure 14, 247–255 (2006).

Willis, M. A., Bishop, B., Regan, L. & Brunger, A. T. Dramatic structural and thermodynamic consequences of repacking a protein's hydrophobic core. Structure 8, 1319–1328 (2000).

Brazhnikov, E. V. & Efimov, A. V. Structure of α-α-hairpins with short connections in globular proteins. Mol. Biol. 35, 100–108 (2001).

Anil, B., Song, B., Tang, Y. & Raleigh, D. P. Exploiting the right side of the Ramachandran plot: substitution of glycines by d-alanine can significantly increase protein stability. J. Am. Chem. Soc. 126, 13194–13195 (2004).

Doig, A. J. & Baldwin, R. L. N- and C-capping preferences for all 20 amino-acids in α-helical peptides. Protein Sci. 4, 1325–1336 (1995).

Pramanick, I. et al. Conformational flexibility and structural variability of SARS-CoV2 S protein. Structure 29, 834–845 (2021).

Ke, Z. et al. Structures and distributions of SARS-CoV-2 spike proteins on intact virions. Nature 588, 498–502 (2020).

Stieh, D. J. et al. Aggregate complexes of HIV-1 induced by multimeric antibodies. Retrovirology 11, 78 (2014).

Imai, M. et al. Syrian hamsters as a small animal model for SARS-CoV-2 infection and countermeasure development. Proc. Natl Acad. Sci. USA 117, 16587–16595 (2020).

Malladi, S. K. et al. Immunogenicity and protective efficacy of a highly thermotolerant, trimeric SARS-CoV-2 receptor binding domain derivative. ACS Infect. Dis. 7, 2546–2564 (2021).

Vinkemeier, U., Moarefi, I., Darnell, J. E. & Kuriyan, J. Structure of the amino-terminal protein interaction domain of STAT-4. Science 279, 1048–1052 (1998).

Ståhl, S. et al. Affibody molecules in biotechnological and medical applications. Trends Biotechnol. 35, 691–712 (2017).

Barnard, A., Miles, J. A., Burslem, G. M., Barker, A. M. & Wilson, A. J. Multivalent helix mimetics for PPI-inhibition. Org. Biomol. Chem. 13, 258–264 (2015).

Saville, J. W. et al. Structural and biochemical rationale for enhanced spike protein fitness in delta and kappa SARS-CoV-2 variants. Nat. Commun. 13, 742 (2022).

Hanke, L. et al. A bispecific monomeric nanobody induces spike trimer dimers and neutralizes SARS-CoV-2 in vivo. Nat. Commun. 13, 155 (2022).

Watkins, A. M., Wuo, M. G. & Arora, P. S. Protein-protein interactions mediated by helical tertiary structure motifs. J. Am. Chem. Soc. 137, 11622–11630 (2015).

Ueda, T. et al. Enhanced suppression of a protein-protein interaction in cells using small-molecule covalent inhibitors basedon an N-acyl-N-alkyl sulfonamide warhead. J. Am. Chem. Soc. 143, 4766–4774 (2021).

Mallik, B. et al. Design and NMR characterization of active analogues of compstatin containing non-natural amino acids. J. Med. Chem. 48, 274–286 (2005).

Schuck, P. Size-distribution analysis of macromolecules by sedimentation velocity ultracentrifugation and lamm equation modeling. Biophys. J. 78, 1606–1619 (2000).

Grant, T., Rohou, A. & Grigorieff, N. cisTEM, user friendly software for single-particle image processing. eLife 7, e35383 (2018).

Zhou, T. et al. Cryo-EM structures of SARS-CoV-2 spike without and with ACE2 reveal a pH-dependent switch to mediate endosomal positioning of receptor-binding domains. Cell Host Microbe 28, 867–879 (2020).

Barad, B. A. et al. EMRinger: side chain-directed model and map validation for 3D cryo-electron microscopy. Nat. Methods 12, 943–946 (2015).

Percie du Sert, N. et al. The ARRIVE guidelines 2.0: updated guidelines for reporting animal research. PLoS Biol. 18, e3000410 (2020).

Osterrieder, N. et al. Age-dependent progression of SARS-CoV-2 infection in Syrian Hamsters. Viruses 12, 779–789 (2020).
Acknowledgements
We thank Mynvax Private Limited for support with protein expression and characterization; P. Bieniasz for providing SARS-CoV-2 spike and pHIV-1 NL4.3-∆env-nanoLuc constructs; BEI Resources for providing 293T-hACE2 cells and Gautam-da Basu for helpful input on this manuscript. This work was funded by Science and Engineering Research Board (SERB), Government of India (grant no. IPA/2020/000094) to J.C.; Ministry of Human Resource Development (MHRD), Government of India (grant no. STARS-1/171) to S.D.; SERB (grant no. IPA/2020/000168) to R.P.R.; Bill and Melinda Gates Foundation (grant no. INV-005948) and from the Office of the Principal Scientific Advisor, Government of India (grant no. SP/OPSA-20–0004) to R.V. We also acknowledge funding for infrastructural support from the following programs of the Government of India: DST- FIST, MHRD-FAST, the DBT-IISc Partnership Program, UGC Center for Advanced Study, a JC Bose Fellowship from DST to R.V. and Ramalingaswami fellowship from DBT to R.P.R. The DBT-IISc Partnership Program is acknowledged for the mass spectrometry, TEM and Computational facilities. We also acknowledge DBT-BUILDER Program (grant no. BT/INF/22/SP22844/2017) and DST-FIST (grant no. SR/FST/LSII-039/2015) for the National Cryo-EM facility at IISc, Bangalore.
Ethics declarations
Competing interests
B.K., I.P., S.K.M., R.S.R., S.D. and J.C. are coinventors on a provisional patent application covering the SIH peptides.
Peer review
Peer review information
Nature Chemical Biology thanks Sebastian Pomplun, Lance Stewart and Tianshu Xiao for their contribution to the peer review of this work.
Additional information
Publisher's note Springer Nature remains neutral with regard to jurisdictional claims in published maps and institutional affiliations.
Supplementary information
Supplementary Figs. 1–20, Tables 1–4, Note and References.
Cryo-EM 3D model of a single 3-RBD up spike protein bound to SIH-5.
Rights and permissions
Open Access This article is licensed under a Creative Commons Attribution 4.0 International License, which permits use, sharing, adaptation, distribution and reproduction in any medium or format, as long as you give appropriate credit to the original author(s) and the source, provide a link to the Creative Commons license, and indicate if changes were made. The images or other third party material in this article are included in the article's Creative Commons license, unless indicated otherwise in a credit line to the material. If material is not included in the article's Creative Commons license and your intended use is not permitted by statutory regulation or exceeds the permitted use, you will need to obtain permission directly from the copyright holder. To view a copy of this license, visit http://creativecommons.org/licenses/by/4.0/.
About this article
Cite this article
Khatri, B., Pramanick, I., Malladi, S.K. et al. A dimeric proteomimetic prevents SARS-CoV-2 infection by dimerizing the spike protein. Nat Chem Biol 18, 1046–1055 (2022). https://doi.org/10.1038/s41589-022-01060-0
Received:

Accepted:

Published:

Issue Date:

DOI: https://doi.org/10.1038/s41589-022-01060-0