Abstract
Drugs that target histone deacetylase (HDAC) entered the pharmacopoeia in the 2000s. However, some enigmatic phenotypes suggest off-target engagement. Here, we developed a quantitative chemical proteomics assay using immobilized HDAC inhibitors and mass spectrometry that we deployed to establish the target landscape of 53 drugs. The assay covers 9 of the 11 human zinc-dependent HDACs, questions the reported selectivity of some widely-used molecules (notably for HDAC6) and delineates how the composition of HDAC complexes influences drug potency. Unexpectedly, metallo-β-lactamase domain-containing protein 2 (MBLAC2) featured as a frequent off-target of hydroxamate drugs. This poorly characterized palmitoyl-CoA hydrolase is inhibited by 24 HDAC inhibitors at low nanomolar potency. MBLAC2 enzymatic inhibition and knockdown led to the accumulation of extracellular vesicles. Given the importance of extracellular vesicle biology in neurological diseases and cancer, this HDAC-independent drug effect may qualify MBLAC2 as a target for drug discovery.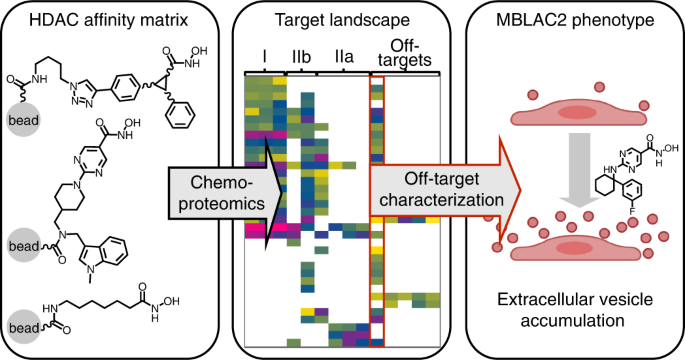 Relevant articles
Open Access articles citing this article.
Florian P. Bayer

,

Manuel Gander

…

Matthew The

Nature Communications Open Access 30 November 2023

Lukas Krauß

,

Carolin Schneider

…

Günter Schneider

Cancer and Metastasis Reviews Open Access 02 September 2023

Severin Lechner

,

Raphael R. Steimbach

…

Bernhard Kuster

Nature Communications Open Access 15 June 2023
Access options
Access Nature and 54 other Nature Portfolio journals
Get Nature+, our best-value online-access subscription
$29.99 / 30 days
cancel any time
Subscribe to this journal
Receive 12 print issues and online access
$259.00 per year
only $21.58 per issue
Rent or buy this article
Prices vary by article type
from$1.95
to$39.95
Prices may be subject to local taxes which are calculated during checkout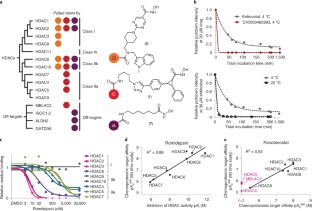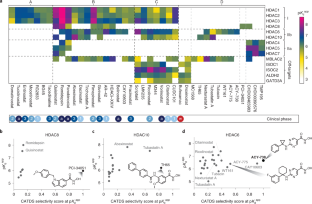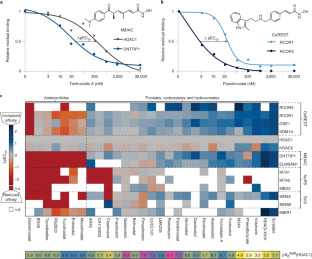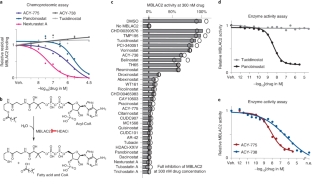 Data availability
Chemoproteomics data are freely accessible in ProteomicsDB (https://www.proteomicsdb.org). The mass spectrometry proteomics data, including the used Swiss-Prot reference database, have been deposited to the ProteomeXchange Consortium via the PRIDE partner repository with the dataset identifier PXD026657. The untargeted metabolomics data for lipidomics are made available on MetaboLights repository with the identifier MTBLS3557 and can further be accessed on Zenodo (https://zenodo.org/record/5914128#.Yfe59_jTVhE).
References
Bettica, P. et al. Histological effects of givinostat in boys with Duchenne muscular dystrophy. Neuromuscul. Disord. 26, 643–649 (2016).

Li, Y. & Seto, E. HDACs and HDAC inhibitors in cancer development and therapy. Cold Spring Harb. Perspect. Med. 6, a026831 (2016).

Saito, M. et al. Acetylation of intrinsically disordered regions regulates phase separation. Nat. Chem. Biol. 15, 51–61 (2019).

Federspiel, J. D., Greco, T. M., Lum, K. K. & Cristea, I. M. Hdac4 interactions in Huntington's disease viewed through the prism of multiomics. Mol. Cell. Proteomics 18, S92–S113 (2019).

Bardai, F. H. & D'Mello, S. R. Selective toxicity by HDAC3 in neurons: regulation by Akt and GSK3β. J. Neurosci. 31, 1746–1751 (2011).

Watson, P. J. et al. Insights into the activation mechanism of class I HDAC complexes by inositol phosphates. Nat. Commun. 7, 11262 (2016).

Guenther, M. G., Barak, O. & Lazar, M. A. The SMRT and N-CoR corepressors are activating cofactors for histone deacetylase 3. Mol. Cell. Biol. 21, 6091–6101 (2001).

Bantscheff, M. et al. Chemoproteomics profiling of HDAC inhibitors reveals selective targeting of HDAC complexes. Nat. Biotechnol. 29, 255–265 (2011).

Becher, I. et al. Chemoproteomics reveals time-dependent binding of histone deacetylase inhibitors to endogenous repressor complexes. ACS Chem. Biol. 9, 1736–1746 (2014).

Turnbull, R. E. et al. The MiDAC histone deacetylase complex is essential for embryonic development and has a unique multivalent structure. Nat. Commun. 11, 3252 (2020).

Weigt, D., Hopf, C. & Médard, G. Studying epigenetic complexes and their inhibitors with the proteomics toolbox. Clin. Epigenetics 8, 76 (2016).

Asfaha, Y. et al. Recent advances in class IIa histone deacetylases research. Bioorg. Med. Chem. 27, 115087 (2019).

Millard, C. J., Watson, P. J., Fairall, L. & Schwabe, J. W. R. Targeting class I histone deacetylases in a 'complex' environment. Trends Pharmacol. Sci. 38, 363–377 (2017).

Malgapo, M. I. P., Safadi, J. M. & Linder, M. E. Metallo-β-lactamase domain-containing protein 2 is S-palmitoylated and exhibits acyl-CoA hydrolase activity. J. Biol. Chem. 296, 100106 (2021).

Médard, G. et al. Optimized chemical proteomics assay for kinase inhibitor profiling. J. Proteome Res 14, 1574–1586 (2015).

Robers, M. B. et al. Target engagement and drug residence time can be observed in living cells with BRET. Nat. Commun. 6, 10091 (2015).

Bradner, J. E. et al. Chemical phylogenetics of histone deacetylases. Nat. Chem. Biol. 6, 238–243 (2010).

Becher, I. et al. Thermal profiling reveals phenylalanine hydroxylase as an off-target of panobinostat. Nat. Chem. Biol. 12, 908–910 (2016).

Samaras, P. et al. ProteomicsDB: a multi-omics and multi-organism resource for life science research. Nucleic Acids Res. 48, D1153–D1163 (2020).

Heinzlmeir, S. et al. Chemoproteomics-aided medicinal chemistry for the discovery of EPHA2 Inhibitors. ChemMedChem 12, 999–1011 (2017).

Balasubramanian, S. et al. A novel histone deacetylase 8 (HDAC8)-specific inhibitor PCI-34051 induces apoptosis in T-cell lymphomas. Leukemia 22, 1026–1034 (2008).

Shen, S. et al. Structural and in vivo characterization of tubastatin A, a widely used histone deacetylase 6 inhibitor. ACS Med. Chem. Lett. 11, 706–712 (2020).

Géraldy, M. et al. Selective inhibition of histone deacetylase 10: hydrogen bonding to the gatekeeper residue is implicated. J. Med. Chem. 62, 4426–4443 (2019).

Buggy, J. J. et al. CRA-024781: a novel synthetic inhibitor of histone deacetylase enzymes with antitumor activity in vitro and in vivo. Mol. Cancer Ther. 5, 1309–1317 (2006).

Heimburg, T. et al. Structure-based design and synthesis of novel inhibitors targeting HDAC8 from Schistosoma mansoni for the treatment of schistosomiasis. J. Med. Chem. 59, 2423–2435 (2016).

Bergman, J. A. et al. Selective histone deacetylase 6 inhibitors bearing substituted urea linkers inhibit melanoma cell growth. J. Med. Chem. 55, 9891–9899 (2012).

Runkle, K. B. et al. Inhibition of DHHC20-mediated EGFR palmitoylation creates a dependence on EGFR signaling. Mol. Cell 62, 385–396 (2016).

Huttlin, E. L. et al. Dual proteome-scale networks reveal cell-specific remodeling of the human interactome. Cell 184, 3022–3040.e28 (2021).

Kustatscher, G. et al. Co-regulation map of the human proteome enables identification of protein functions. Nat. Biotechnol. 37, 1361–1371 (2019).

Chao, O. S. et al. The HDAC6 inhibitor tubacin induces release of CD133+ extracellular vesicles from cancer cells. J. Cell. Biochem. 118, 4414–4424 (2017).

Trajkovic, K. et al. Ceramide triggers budding of exosome vesicles into multivesicular endosomes. Science 319, 1244–1247 (2008).

Lobera, M. et al. Selective class IIa histone deacetylase inhibition via a nonchelating zinc-binding group. Nat. Chem. Biol. 9, 319–325 (2013).

Bürli, R. W. et al. Design, synthesis, and biological evaluation of potent and selective class IIa histone deacetylase (HDAC) inhibitors as a potential therapy for Huntington's disease. J. Med. Chem. 56, 9934–9954 (2013).

Luckhurst, C. A. et al. Potent, selective, and CNS-penetrant tetrasubstituted cyclopropane class IIa histone deacetylase (HDAC) inhibitors. ACS Med. Chem. Lett. 7, 34–39 (2016).

Hailu, G. S. et al. Lysine deacetylase inhibitors in parasites: past, present, and future perspectives. J. Med. Chem. 60, 4780–4804 (2017).

Lin, A. et al. Off-target toxicity is a common mechanism of action of cancer drugs undergoing clinical trials. Sci. Transl. Med. 11, eaaw8412 (2019).

Hai, Y., Shinsky, S. A., Porter, N. J. & Christianson, D. W. Histone deacetylase 10 structure and molecular function as a polyamine deacetylase. Nat. Commun. 8, 15368 (2017).

Arrowsmith, C. H. et al. The promise and peril of chemical probes. Nat. Chem. Biol. 11, 536–541 (2015).

Oehme, I. et al. Histone deacetylase 10 promotes autophagy-mediated cell survival. Proc. Natl Acad. Sci. USA 110, E2592–E2601 (2013).

Ridinger, J. et al. Dual role of HDAC10 in lysosomal exocytosis and DNA repair promotes neuroblastoma chemoresistance. Sci. Rep. 8, 10039 (2018).

Fuller, N. O. et al. CoREST complex-selective histone deacetylase inhibitors show prosynaptic effects and an improved safety profile to enable treatment of synaptopathies. ACS Chem. Neurosci. 10, 1729–1743 (2019).

Mazitschek, R. & Payne, N. Resolving the deceptive isoform and complex selectivity of HDAC1/2 inhibitors. Cell Chem. Biol. 29, 1–13 (2022).

Reinecke, M. et al. Chemoproteomic selectivity profiling of PIKK and PI3K kinase inhibitors. ACS Chem. Biol. 14, 655–664 (2019).

Klaeger, S. et al. Chemical proteomics reveals ferrochelatase as a common off-target of kinase inhibitors. ACS Chem. Biol. 11, 1245–1254 (2016).

Gao, B. et al. Knockdown of ISOC1 inhibits the proliferation and migration and induces the apoptosis of colon cancer cells through the AKT/GSK-3β pathway. Carcinogenesis 41, 1123–1133 (2020).

Benoy, V. et al. Development of improved HDAC6 inhibitors as pharmacological therapy for axonal Charcot–Marie–Tooth disease. Neurotherapeutics 14, 417–428 (2017).

Gold, W. A., Lacina, T. A., Cantrill, L. C. & Christodoulou, J. MeCP2 deficiency is associated with reduced levels of tubulin acetylation and can be restored using HDAC6 inhibitors. J. Mol. Med. 93, 63–72 (2015).

Benoy, V. et al. HDAC6 is a therapeutic target in mutant GARS-induced Charcot–Marie–Tooth disease. Brain 141, 673–687 (2018).

Guo, W. et al. HDAC6 inhibition reverses axonal transport defects in motor neurons derived from FUS-ALS patients. Nat. Commun. 8, 861 (2017).

Wang, J. et al. Functional analysis of the purified anandamide-generating phospholipase D as a member of the metallo-β-lactamase family. J. Biol. Chem. 281, 12325–12335 (2006).

Cox, J. et al. Accurate proteome-wide label-free quantification by delayed normalization and maximal peptide ratio extraction, termed MaxLFQ. Mol. Cell. Proteomics 13, 2513–2526 (2014).

Berg, S. et al. ilastik: interactive machine learning for (bio)image analysis. Nat. Methods 16, 1226–1232 (2019).

Steimbach, R. R. et al. Aza-SAHA derivatives are selective histone deacetylase 10 chemical probes that inhibit polyamine deacetylation. Preprint at https://chemrxiv.org/engage/chemrxiv/article-details/615c1710b564b66c716cfbd4 (2021).

Jennings, B. C. et al. 2-Bromopalmitate and 2-(2-hydroxy-5-nitro-benzylidene)-benzo[b]thiophen-3-one inhibit DHHC-mediated palmitoylation in vitro. J. Lipid Res. 50, 233–242 (2009).

Okino, N., Tani, M., Imayama, S. & Ito, M. Purification and characterization of a novel ceramidase from Pseudomonas aeruginosa. J. Biol. Chem. 273, 14368–14373 (1998).

Tyanova, S. & Cox, J. Perseus: a bioinformatics platform for integrative analysis of proteomics data in cancer research. Methods Mol. Biol. 1711, 133–148 (2018).

Johnson, W. E., Li, C. & Rabinovic, A. Adjusting batch effects in microarray expression data using empirical Bayes methods. Biostatistics 8, 118–127 (2007).

Witting, M., Maier, T. V., Garvis, S. & Schmitt-Kopplin, P. Optimizing a ultrahigh pressure liquid chromatography-time of flight-mass spectrometry approach using a novel sub-2 μm core–shell particle for in depth lipidomic profiling of Caenorhabditis elegans. J. Chromatogr. A 1359, 91–99 (2014).

Tsugawa, H. et al. A lipidome atlas in MS-DIAL 4. Nat. Biotechnol. 38, 1159–1163 (2020).

Dieterle, F., Ross, A., Schlotterbeck, G. & Senn, H. Probabilistic quotient normalization as robust method to account for dilution of complex biological mixtures. Application in 1H NMR metabonomics. Anal. Chem. 78, 4281–4290 (2006).
Acknowledgements
We thank W. Greentree (Cornell University) and L. Wanat (Technical University of Munich) for technical support. We gratefully acknowledge funding by the Deutsche Forschungsgemeinschaft (DFG) (SFB 1309, project 401883058 and project 407391208). M.I.P.M. and M.E.L. acknowledge support from the National Institutes of Health (grant GM121540). Contributions by V.W. and J.K.P. are funded by the Bavarian State Ministry of Science and the Arts within the framework of the Bavarian Research Institute for Digital Transformation (bidt). A.K.M. acknowledges the Helmholtz Drug Initiative for financial support. We also thank the CHDI foundation for generously providing CHDI00465983 and CHDI00390576.
Ethics declarations
Competing interests
M.W. and B.K. are cofounders and shareholders of OmicScouts and msAId. They have no operational role in either company. The remaining authors declare no competing interests.
Peer review
Peer review information
Nature Chemical Biology thanks Christian Olsen, Hongyan Sun, Zheng-Jiang Zhu and the other, anonymous, reviewer(s) for their contribution to the peer review of this work.
Additional information
Publisher's note Springer Nature remains neutral with regard to jurisdictional claims in published maps and institutional affiliations.
Supplementary information
About this article
Cite this article
Lechner, S., Malgapo, M.I.P., Grätz, C. et al. Target deconvolution of HDAC pharmacopoeia reveals MBLAC2 as common off-target. Nat Chem Biol 18, 812–820 (2022). https://doi.org/10.1038/s41589-022-01015-5
Received:

Accepted:

Published:

Issue Date:

DOI: https://doi.org/10.1038/s41589-022-01015-5