Abstract
In nature, dynamic interactions between enzymes play a crucial role in defining cellular metabolism. By controlling the spatial and temporal organization of these supramolecular complexes called metabolons, natural metabolism can be tuned in a highly dynamic manner. Here, we repurpose the CRISPR–Cas6 family proteins as a synthetic strategy to create dynamic metabolons by combining the ease of RNA processing and the predictability of RNA hybridization for protein assembly. By disturbing RNA–RNA networks using toehold-mediated strand displacement reactions, on-demand assembly and disassembly are achieved using both synthetic RNA triggers and mCherry messenger RNA. Both direct and 'Turn-On' assembly of the pathway enzymes tryptophan-2-monooxygenase and indoleacetamide hydrolase can enhance indole-3-acetic acid production by up to ninefold. Even multimeric enzymes can be assembled to improve malate production by threefold. By interfacing with endogenous mRNAs, more complex metabolons may be constructed, resulting in a self-responsive metabolic machinery capable of adapting to changing cellular demand.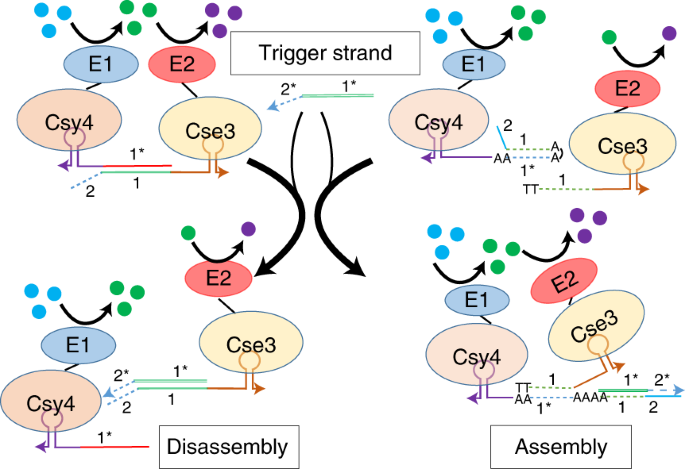 Access options
Access Nature and 54 other Nature Portfolio journals
Get Nature+, our best-value online-access subscription
$29.99 / 30 days
cancel any time
Subscribe to this journal
Receive 12 print issues and online access
$259.00 per year
only $21.58 per issue
Rent or buy this article
Get just this article for as long as you need it
$39.95
Prices may be subject to local taxes which are calculated during checkout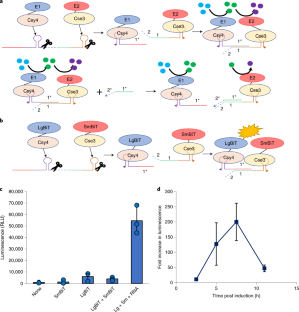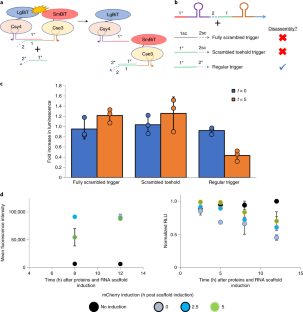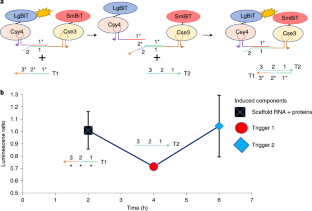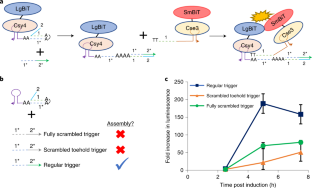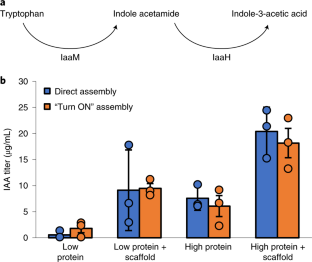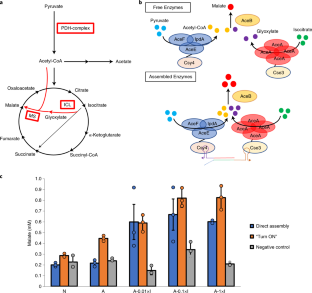 Data availability
Sequences of all constructs studied are included in the Supplementary Information. Source data are provided with this paper. Additional data are available from the corresponding author upon reasonable request.
References
Kim, B., Du, J., Eriksen, D. T. & Zhao, H. Combinatorial design of a highly efficient xylose-utilizing pathway in Saccharomyces cerevisiae for the production of cellulosic biofuels. Appl. Environ. Microbiol. 79, 931–941 (2013).

Da Silva, N. A. & Srikrishnan, S. Introduction and expression of genes for metabolic engineering applications in Saccharomyces cerevisiae. FEMS Yeast Res. 12, 197–214 (2012).

Westfall, P. J. et al. Production of amorphadiene in yeast, and its conversion to dihydroartemisinic acid, precursor to the antimalarial agent artemisinin. Proc. Natl Acad. Sci. USA 109, E111–E118 (2012).

Pitera, D. J., Paddon, C. J., Newman, J. D. & Keasling, J. D. Balancing a heterologous mevalonate pathway for improved isoprenoid production in Escherichia coli. Metab. Eng. 9, 193–207 (2007).

Li, N., Zeng, W., Xu, S. & Zhou, J. Toward fine-tuned metabolic networks in industrial microorganisms. Synth. Syst. Biotechnol. 5, 81–91 (2020).

Ferreira, R. et al. Model-assisted fine-tuning of central carbon metabolism in yeast through dCas9-based regulation. ACS Synth. Biol. 8, 2457–2463 (2019).

Toya, Y. & Shimizu, H. Flux controlling technology for central carbon metabolism for efficient microbial bio-production. Curr. Opin. Biotechnol. 64, 169–174 (2020).

Tai, M. & Stephanopoulos, G. Engineering the push and pull of lipid biosynthesis in oleaginous yeast Yarrowia lipolytica for biofuel production. Metab. Eng. 15, 1–9 (2013).

Lan, E. I. & Liao, J. C. ATP drives direct photosynthetic production of 1-butanol in cyanobacteria. Proc. Natl Acad. Sci. USA 109, 6018–6023 (2012).

Xu, P., Li, L., Zhang, F., Stephanopoulos, G. & Koffas, M. Improving fatty acids production by engineering dynamic pathway regulation and metabolic control. Proc. Natl Acad. Sci. USA 111, 11299–11304 (2014).

Zhang, F., Carothers, J. M. & Keasling, J. D. Design of a dynamic sensor-regulator system for production of chemicals and fuels derived from fatty acids. Nat. Biotech. 30, 354–359 (2012).

Win, M. N. & Smolke, C. D. A modular and extensible RNA-based gene-regulatory platform for engineering cellular function. Proc. Natl Acad. Sci. USA 104, 14283–14288 (2007).

Venayak, N., Anesiadis, N., Cluett, W. R. & Mahadevan, R. Engineering metabolism through dynamic control. Curr. Opin. Biotechnol. 34, 142–152 (2015).

Agapakis, C. M., Boyle, P. M. & Silver, P. A. Natural strategies for the spatial optimization of metabolism in synthetic biology. Nat. Chem. Biol. 8, 527–535 (2012).

Menard, L., Maughan, D. & Vigoreaux, J. The structural and functional coordination of glycolytic enzymes in muscle: evidence of a metabolon? Biology 3, 623–644 (2014).

Jørgensen, K. et al. Metabolon formation and metabolic channeling in the biosynthesis of plant natural products. Curr. Opin. Plant Biol. 8, 280–291 (2005).

Møller, B. L. Dynamic metabolons. Science 330, 1328–1329 (2010).

Laursen, T., Møller, B. L. & Bassard, J.-E. Plasticity of specialized metabolism as mediated by dynamic metabolons. Trends Plant Sci. 20, 20–32 (2015).

Dueber, J. E. et al. Synthetic protein scaffolds provide modular control over metabolic flux. Nat. Biotech. 27, 753–759 (2009).

Conrado, R. J., Varner, J. D. & DeLisa, M. P. Engineering the spatial organization of metabolic enzymes: mimicking nature's synergy. Curr. Opin. Biotechnol. 19, 492–499 (2008).

Chen, R. et al. Biomolecular scaffolds for enhanced signaling and catalytic efficiency. Curr. Opin. Biotechnol. 28, 59–68 (2014).

Berckman, E. A. & Chen, W. Exploiting dCas9 fusion proteins for dynamic assembly of synthetic metabolons. Chem. Commun. 55, 8219–8222 (2019).

Zhao, E. M. et al. Light-based control of metabolic flux through assembly of synthetic organelles. Nat. Chem. Biol. 15, 589–597 (2019).

Chen, R. P., Hunt, V. M., Mitkas, A. A., Siu, K.-H. & Chen, W. Controlling metabolic flux by toehold-mediated strand displacement. Curr. Opin. Biotechnol. 66, 150–157 (2020).

Sachdeva, G., Garg, A., Godding, D., Way, J. C. & Silver, P. A. In vivo co-localization of enzymes on RNA scaffolds increases metabolic production in a geometrically dependent manner. Nucleic Acids Res. 42, 9493–9503 (2014).

Delebecque, C. J., Lindner, A. B., Silver, P. A. & Aldaye, F. A. Organization of intracellular reactions with rationally designed RNA assemblies. Science 333, 470–474 (2011).

Siu, K. H. & Chen, W. Riboregulated toehold-gated gRNA for programmable CRISPR–Cas9 function. Nat. Chem. Biol. 15, 217–220 (2019).

Green, A. A., Silver, P. A., Collins, J. J. & Yin, P. Toehold switches: de-novo-designed regulators of gene expression. Cell 159, 925–939 (2014).

Chen, R. P., Blackstock, D., Sun, Q. & Chen, W. Dynamic protein assembly by programmable DNA strand displacement. Nat. Chem. 10, 474–481 (2018).

Carte, J., Wang, R., Li, H., Terns, R. M. & Terns, M. P. Cas6 is an endoribonuclease that generates guide RNAs for invader defense in prokaryotes. Genes Dev. 22, 3489–3496 (2008).

Niewoehner, O., Jinek, M. & Doudna, J. A. Evolution of CRISPR RNA recognition and processing by Cas6 endonucleases. Nucleic Acids Res. 42, 1341–1353 (2014).

Plagens, A. et al. In vitro assembly and activity of an archaeal CRISPR–Cas type I-A cascade interference complex. Nucleic Acids Res. 42, 5125–5138 (2014).

van der Oost, J., Westra, E. R., Jackson, R. N. & Wiedenheft, B. Unravelling the structural and mechanistic basis of CRISPR–Cas systems. Nat. Rev. Microbiol. 12, 479–492 (2014).

Sokolowski, R. D., Graham, S. & White, M. F. Cas6 specificity and CRISPR RNA loading in a complex CRISPR–Cas system. Nucleic Acids Res. 42, 6532–6541 (2014).

Sternberg, S. H., Haurwitz, R. E. & Doudna, J. A. Mechanism of substrate selection by a highly specific CRISPR endoribonuclease. RNA 18, 661–672 (2012).

Makarova, K. S. et al. Evolution and classification of the CRISPR–Cas systems. Nat. Rev. Microbiol. 9, 467–477 (2011).

Jore, M. M. et al. Structural basis for CRISPR RNA-guided DNA recognition by Cascade. Nat. Struct. Mol. Biol. 18, 529–536 (2011).

Hsu, P. D., Lander, E. S. & Zhang, F. Development and applications of CRISPR–Cas9 for genome engineering. Cell 157, 1262–1278 (2014).

Hall, M. P. et al. Engineered luciferase reporter from a deep sea shrimp utilizing a novel imidazopyrazinone substrate. ACS Chem. Biol. 7, 1848–1857 (2012).

Zadeh, J. N. et al. NUPACK: analysis and design of nucleic acid systems. J. Comput. Chem. 32, 170–173 (2011).

Meng, H. et al. Quantitative design of regulatory elements based on high-precision strength prediction using artificial neural network. PLoS ONE 8, e60288 (2013).

Zhu, L.-y et al. Spatial organization of heterologous metabolic system in vivo based on TALE. Sci. Rep. 6, 26065 (2016).

Ellis, G. A. et al. Artificial multienzyme scaffolds: pursuing in vitro substrate channeling with an overview of current progress. ACS Catal. 9, 10812–10869 (2019).

Škerlová, J., Berndtsson, J., Nolte, H., Ott, M. & Stenmark, P. Structure of the native pyruvate dehydrogenase complex reveals the mechanism of substrate insertion. Nat. Commun. 12, 5277 (2021).

Britton, K. L. et al. The structure and domain organization of Escherichia coli isocitrate lyase. Acta Crystallogr. D 57, 1209–1218 (2001).

Srinivas, N. et al. On the biophysics and kinetics of toehold-mediated DNA strand displacement. Nucleic Acids Res. 41, 10641–10658 (2013).

Charubin, K. & Papoutsakis, E. T. Direct cell-to-cell exchange of matter in a synthetic Clostridium syntrophy enables CO2 fixation, superior metabolite yields, and an expanded metabolic space. Metab. Eng. 52, 9–19 (2019).
Acknowledgements
This work was supported by grants from NSF (CBET1803008, MCB1817675 and MCB2013991).
Ethics declarations
Competing interests
A.A.M. and W.C. have filed a patent application ('Dynamic Control of Colocalization of Proteins', US patent application 16/751,793) describing the use of orthogonal Cas6 proteins for enzyme assembly and chemical synthesis.
Peer review
Peer review information
Nature Chemical Biology thanks Matthew Chang, Alexander Green and the other, anonymous, reviewer(s) for their contribution to the peer review of this work.
Additional information
Publisher's note Springer Nature remains neutral with regard to jurisdictional claims in published maps and institutional affiliations.
Supplementary information
Supplementary Tables 1–6.
About this article
Cite this article
Mitkas, A.A., Valverde, M. & Chen, W. Dynamic modulation of enzyme activity by synthetic CRISPR–Cas6 endonucleases. Nat Chem Biol 18, 492–500 (2022). https://doi.org/10.1038/s41589-022-01005-7
Received:

Accepted:

Published:

Issue Date:

DOI: https://doi.org/10.1038/s41589-022-01005-7
This article is cited by
Nature Chemical Biology (2022)