Abstract
The predominant approach for antibody generation remains animal immunization, which can yield exceptionally selective and potent antibody clones owing to the powerful evolutionary process of somatic hypermutation. However, animal immunization is inherently slow, not always accessible and poorly compatible with many antigens. Here, we describe 'autonomous hypermutation yeast surface display' (AHEAD), a synthetic recombinant antibody generation technology that imitates somatic hypermutation inside engineered yeast. By encoding antibody fragments on an error-prone orthogonal DNA replication system, surface-displayed antibody repertoires continuously mutate through simple cycles of yeast culturing and enrichment for antigen binding to produce high-affinity clones in as little as two weeks. We applied AHEAD to generate potent nanobodies against the SARS-CoV-2 S glycoprotein, a G-protein-coupled receptor and other targets, offering a template for streamlined antibody generation at large.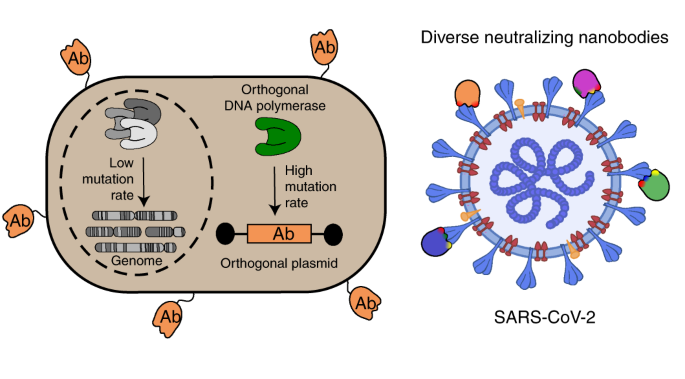 Data availability
All data generated for the present study are available upon request to the corresponding authors. pAW240 and its sequence are available at Addgene (plasmid 170791). NGS data are available at NCBI's SRA website https://www.ncbi.nlm.nih.gov/sra?term=SRP320370 (identifier biosample accession numbers SAMN19242322, SAMN19242323, SAMN19242324, SAMN19242325, SAMN19242326, SAMN19242327 and SAMN19242328).
References
Lu, R. M. et al. Development of therapeutic antibodies for the treatment of diseases. J. Biomed. Sci. 27, 1 (2020).

Gravbrot et al. Therapeutic monoclonal antibodies targeting immune checkpoints for the treatment of solid tumors. Antibodies 8, 51 (2019).

Czajka, T. F., Vance, D. J. & Mantis, N. J. Slaying SARS-CoV-2 one (single-domain) antibody at a time. Trends Microbiol. 29, 195–203 (2021).

Byrne, B., Stack, E., Gilmartin, N. & O'Kennedy, R. Antibody-based sensors: principles, problems and potential for detection of pathogens and associated toxins. Sensors 9, 4407–4445 (2009).

Yao, H. et al. Patient-derived SARS-CoV-2 mutations impact viral replication dynamics and infectivity in vitro and with clinical implications in vivo. Cell Discov. 6, 76 (2020).

Hanke, L. et al. An alpaca nanobody neutralizes SARS-CoV-2 by blocking receptor interaction. Nat. Commun. 11, 4420 (2020).

Schoof, M. et al. An ultrapotent synthetic nanobody neutralizes SARS-CoV-2 by stabilizing inactive spike. Science 370, 1473–1479 (2020).

Gray, A. et al. Animal-free alternatives and the antibody iceberg. Nat. Biotechnol. 38, 1234–1239 (2020).

Rajewsky, K. Clonal selection and learning in the antibody system. Nature 381, 751–758 (1996).

Mishra, A. K. & Mariuzza, R. A. Insights into the structural basis of antibody affinity maturation from next-generation sequencing. Front. Immunol. 9, 117 (2018).

Teng, G. & Papavasiliou, F. N. Immunoglobulin somatic hypermutation. Annu. Rev. Genet. 41, 107–120 (2007).

Boder, E. T., Raeeszadeh-Sarmazdeh, M. & Price, J. V. Engineering antibodies by yeast display. Arch. Biochem. Biophys. 526, 99–106 (2012).

Almagro, J. C., Pedraza-Escalona, M., Arrieta, H. I. & Pérez-Tapia, S. M. Phage display libraries for antibody therapeutic discovery and development. Antibodies 8, 44 (2019).

Baker, M. Reproducibility crisis: blame it on the antibodies. Nature 521, 274–276 (2015).

Voskuil, J. L. A. The challenges with the validation of research antibodies. F1000Res. 6, 161 (2017).

Ravikumar, A., Arrieta, A. & Liu, C. C. An orthogonal DNA replication system in yeast. Nat. Chem. Biol. 10, 175–177 (2014).

Ravikumar, A., Arzumanyan, G. A., Obadi, M. K. A., Javanpour, A. A. & Liu, C. C. Scalable, continuous evolution of genes at mutation rates above genomic error thresholds. Cell 175, 1946–1957 (2018).

Boder, E. T. & Wittrup, K. D. Yeast surface display for screening combinatorial polypeptide libraries. Nat. Biotechnol. 15, 553–557 (1997).

Wingler, L. M., McMahon, C., Staus, D. P., Lefkowitz, R. J. & Kruse, A. C. Distinctive activation mechanism for angiotensin receptor revealed by a synthetic nanobody. Cell 176, 479–490 (2019).

Neuberger, M. Antibodies: a paradigm for the evolution of molecular recognition. Biochem. Soc. Trans. 30, 341–350 (2002).

Muyldermans, S. Nanobodies: natural single-domain antibodies. Annu. Rev. Biochem. 82, 775–797 (2013).

Zavrtanik, U., Lukan, J., Loris, R., Lah, J. & Hadži, S. Structural basis of epitope recognition by heavy-chain camelid antibodies. J. Mol. Biol. 430, 4369–4386 (2018).

Manglik, A., Kobilka, B. K. & Steyaert, J. Nanobodies to study G protein-coupled receptor structure and function. Annu. Rev. Pharmacol. Toxicol. 57, 19–37 (2017).

Gray, A. C., Sidhu, S. S., Chandrasekera, P. C., Hendriksen, C. F. M. & Borrebaeck, C. A. K. Animal-based antibodies: obsolete. Science 353, 452–453 (2016).

Wingler, L. M. et al. Angiotensin and biased analogs induce structurally distinct active conformations within a GPCR. Science 367, 888–892 (2020).

Wang, Z., Mathias, A., Stavrou, S. & Neville, D. M. A new yeast display vector permitting free scFv amino termini can augment ligand binding affinities. Protein Eng. Des. Sel. 18, 337–343 (2005).

Rakestraw, J. A., Sazinsky, S. L., Piatesi, A., Antipov, E. & Wittrup, K. D. Directed evolution of a secretory leader for the improved expression of heterologous proteins and full-length antibodies in Saccharomyces cerevisiae. Biotechnol. Bioeng. 103, 1192–1201 (2009).

Zhong, Z., Ravikumar, A. & Liu, C. C. Tunable expression systems for orthogonal DNA replication. ACS Synth. Biol. 7, 2930–2934 (2018).

Makrides, S. C. et al. Extended in vivo half-life of human soluble complement receptor type 1 fused to a serum albumin-binding receptor. J. Pharmacol. Exp. Ther. 277, 534–542 (1996).

Renier, N. et al. IDISCO: a simple, rapid method to immunolabel large tissue samples for volume imaging. Cell 159, 896–910 (2014).

Chung, K. et al. Structural and molecular interrogation of intact biological systems. Nature 497, 332–337 (2013).

McMahon, C. et al. Yeast surface display platform for rapid discovery of conformationally selective nanobodies. Nat. Struct. Mol. Biol. 25, 289–296 (2018).

Fridy, P. C. et al. A robust pipeline for rapid production of versatile nanobody repertoires. Nat. Methods 11, 1253–1260 (2014).

Yan, R. et al. Structural basis for the recognition of SARS-CoV-2 by full-length human ACE2. Science 367, 1444–1448 (2020).

Cohen, J. 'Provocative results' boost hopes of antibody treatment for COVID-19. Science https://doi.org/10.1126/science.abf0591 (2020).

Hansen, J. et al. Studies in humanized mice and convalescent humans yield a SARS-CoV-2 antibody cocktail. Science 369, 1010–1014 (2020).

Greaney, A. J. et al. Complete mapping of mutations to the SARS-CoV-2 spike receptor-binding domain that escape antibody recognition. Cell Host Microbe 29, 44–57 (2020).

Starr, T. N. et al. Deep mutational scanning of SARS-CoV-2 receptor binding domain reveals constraints on folding and ACE2 binding. Cell 182, 1295–1310 (2020).

Lan, J. et al. Structure of the SARS-CoV-2 spike receptor-binding domain bound to the ACE2 receptor. Nature 581, 215–220 (2020).

Tang, J. W., Toovey, O. T. R., Harvey, K. N. & Hui, D. D. S. Introduction of the South African SARS-CoV-2 variant 501Y.V2 into the UK. J. Infect. 82, e8–e10 (2021).

Deng, X. et al. Transmission, infectivity, and neutralization of a spike L452R SARS-CoV-2 variant. Cell https://doi.org/10.1016/j.cell.2021.04.025 (2021).

Shin, J. E. et al. Protein design and variant prediction using autoregressive generative models. Nat. Commun. 12, 2403 (2021).

Wei, L. et al. Overlapping hotspots in CDRs are critical sites for V region diversification. Proc. Natl Acad. Sci. USA 112, E728–E737 (2015).

Ovchinnikov, V., Louveau, J. E., Barton, J. P., Karplus, M. & Chakraborty, A. K. Role of framework mutations and antibody flexibility in the evolution of broadly neutralizing antibodies. eLife 7, e33038 (2018).

Hess, G. T. et al. Directed evolution using dCas9-targeted somatic hypermutation in mammalian cells. Nat. Methods 13, 1036–1042 (2016).

Wright, S. The roles of mutation, inbreeding, crossbreeding and selection in evolution. Proc. Sixth Int. Congr. Genet. 1, 356–366 (1932).

Rix, G. et al. Scalable continuous evolution for the generation of diverse enzyme variants encompassing promiscuous activities. Nat. Commun. 11, 5644 (2020).

Rix, G. & Liu, C. C. Systems for in vivo hypermutation: a quest for scale and depth in directed evolution. Curr. Opin. Chem. Biol. 64, 20–26 (2021).

Wang, T., Badran, A. H., Huang, T. P. & Liu, D. R. Continuous directed evolution of proteins with improved soluble expression. Nat. Chem. Biol. 14, 972–980 (2018).

Gunge, N. & Sakaguchi, K. Intergeneric transfer of deoxyribonucleic acid killer plasmids, pGKl1 and pGKl2, from Kluyveromyces lactis into Saccharomyces cerevisiae by cell fusion. J. Bacteriol. 147, 155–160 (1981).

Gietz, R. D. & Schiestl, R. H. High-efficiency yeast transformation using the LiAc/SS carrier DNA/PEG method. Nat. Protoc. 2, 31–34 (2007).

Lee, M. E., DeLoache, W. C., Cervantes, B. & Dueber, J. E. A highly characterized yeast toolkit for modular, multipart assembly. ACS Synth. Biol. 4, 975–986 (2015).

Radoshitzky, S. R. et al. Transferrin receptor 1 is a cellular receptor for New World haemorrhagic fever arenaviruses. Nature 446, 92–96 (2007).

Zhang, F. et al. Efficient construction of sequence-specific TAL effectors for modulating mammalian transcription. Nat. Biotechnol. 29, 149–153 (2011).

Iyer, A. S. et al. Persistence and decay of human antibody responses to the receptor binding domain of SARS-CoV-2 spike protein in COVID-19 patients. Sci. Immunol. 5, eabe0367 (2020).
Acknowledgements
We thank W. Capel for assistance with nanobody purifications, Z. Zhong, C. Carlson, T. Loveless, A. Banks and other members of the Liu and Kruse groups for experimental assistance, materials and thoughtful discussions, and G. Arzumanyan for the pGA promoter mutations discovered in his OrthoRep continuous protein evolution experiments (unrelated to this study). We thank D. Trono (EPFL), F. Zhang (Broad Institute), H. Mou (Scripps Research) and M. Farzan (Scripps Research) for the gift of plasmids and cells used in our study. We also acknowledge the support of the Center for Macromolecular Interactions at Harvard Medical School. This work was funded by NIH 1DP2GM119163 (C.C.L.), NIH NIGMS 1R35GM136297 (C.C.L.), the Moore Inventor Fellowship (C.C.L.), the UCI COVID-19 Basic, Translational and Clinical Research Fund (C.C.L.), NIH DP5OD021345 (A.C.K.), a Vallee Scholars Award (A.C.K.), NIH NIAID R01AI146779 (A.G.S.), a Massachusetts Consortium on Pathogenesis Readiness (MassCPR; A.G.S.), training grants NIGMS T32GM007753 (B.M.H. and T.M.C.) and T32AI007245 (J.F.) and NIH NCI 1R01CA260415 (C.C.L., A.C.K. and D.S.M.).
Ethics declarations
Competing interests
Provisional patents (US Patent Application No. 63/123,558 and US Patent Application No. 63/111,860) have been filed on this work. A.C.K. is a co-founder and advisor of Tectonic Therapeutic, Inc., and of the Institute for Protein Innovation. C.C.L. is a co-founder of K2 Biotechnologies, Inc., which focuses on the use of continuous evolution technologies applied to antibody engineering.
Additional information
Peer review information Nature Chemical Biology thanks Theam Soon Lim and the other, anonymous, reviewer(s) for their contribution to the peer review of this work.
Publisher's note Springer Nature remains neutral with regard to jurisdictional claims in published maps and institutional affiliations.
Supplementary information
Supplementary Tables 1–4.
Information and activities for all anti-SARS-CoV-2 nanobodies characterized in this study.
About this article
Cite this article
Wellner, A., McMahon, C., Gilman, M.S.A. et al. Rapid generation of potent antibodies by autonomous hypermutation in yeast. Nat Chem Biol 17, 1057–1064 (2021). https://doi.org/10.1038/s41589-021-00832-4
Received:

Accepted:

Published:

Issue Date:

DOI: https://doi.org/10.1038/s41589-021-00832-4