Abstract
Unusual knot-like structures recently discovered in viral exoribonuclease-resistant RNAs (xrRNAs) prevent digestion by host RNases to create subgenomic RNAs enhancing infection and pathogenicity. xrRNAs are proposed to prevent digestion through mechanical resistance to unfolding. However, their unfolding force has not been measured, and the factors determining RNase resistance are unclear. Furthermore, how these knots fold remains unknown. Unfolding a Zika virus xrRNA with optical tweezers revealed that it was the most mechanically stable RNA yet observed. The knot formed by threading the 5′ end into a three-helix junction before pseudoknot interactions closed a ring around it. The pseudoknot and tertiary contacts stabilizing the threaded 5′ end were both required to generate extreme force resistance, whereas removing a 5′-end contact produced a low-force knot lacking RNase resistance. These results indicate mechanical resistance plays a central functional role, with the fraction of molecules forming extremely high-force knots determining the RNase resistance level.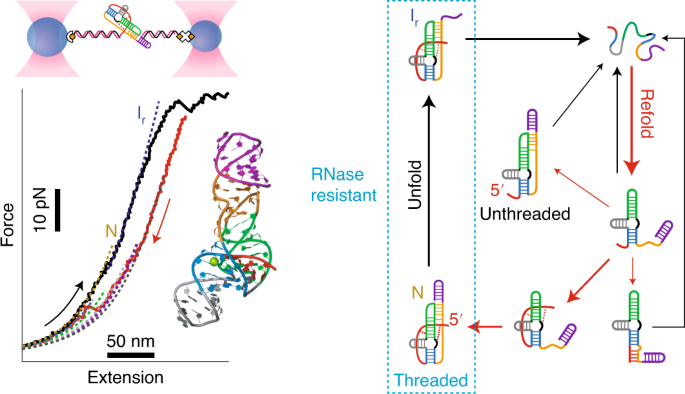 Access options
Subscribe to Journal
Get full journal access for 1 year
$119.00
only $9.92 per issue
All prices are NET prices.
VAT will be added later in the checkout.
Tax calculation will be finalised during checkout.
Rent or Buy article
Get time limited or full article access on ReadCube.
from$8.99
All prices are NET prices.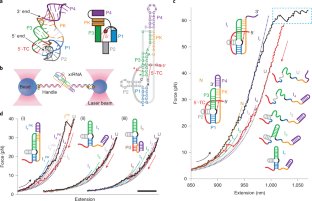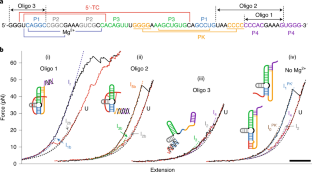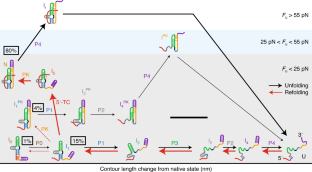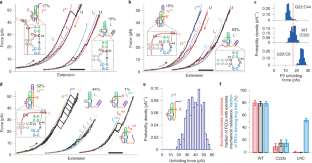 References
1.

Steckelberg, A.-L. et al. A folded viral noncoding RNA blocks host cell exoribonucleases through a conformationally dynamic RNA structure. Proc. Natl Acad. Sci. USA 115, 6404–6409 (2018).

2.

Chapman, E. G. et al. The structural basis of pathogenic subgenomic flavivirus RNA (sfRNA) production. Science 344, 307–310 (2014).

3.

Akiyama, B. M. et al. Zika virus produces noncoding RNAs using a multi-pseudoknot structure that confounds a cellular exonuclease. Science 354, 1148–1152 (2016).

4.

Steckelberg, A.-L., Vicens, Q., Costantino, D. A., Nix, J. C. & Kieft, J. S. The crystal structure of a Polerovirus exoribonuclease-resistant RNA shows how diverse sequences are integrated into a conserved fold. RNA 26, 1767–1776 (2020).

5.

Pijlman, G. P. et al. A highly structured, nuclease-resistant, noncoding RNA produced by flaviviruses is required for pathogenicity. Cell Host Microbe 4, 579–591 (2008).

6.

Funk, A. et al. RNA structures required for production of subgenomic flavivirus RNA. J. Virol. 84, 11407–11417 (2010).

7.

Dilweg, I. W., Gultyaev, A. P. & Olsthoorn, R. C. Structural features of an Xrn1-resistant plant virus RNA. RNA Biol. 16, 838–845 (2019).

8.

Gunawardene, C. D., Newburn, L. R. & White, K. A. A 212-nt long RNA structure in the tobacco necrosis virus-D RNA genome is resistant to Xrn degradation. Nucleic Acids Res. 47, 9329–9342 (2019).

9.

Steckelberg, A.-L., Vicens, Q. & Kieft, J. S. Exoribonuclease-resistant RNAs exist within both coding and noncoding subgenomic RNAs. mBio 9, e02461 (2018).

10.

Jinek, M., Coyle, S. M. & Doudna, J. A. Coupled 5′ nucleotide recognition and processivity in Xrn1-mediated mRNA decay. Mol. Cell 41, 600–608 (2011).

11.

Nagarajan, V. K., Jones, C. I., Newbury, S. F. & Green, P. J. XRN 5′→3′ exoribonucleases: structure, mechanisms and functions. Biochim. Biophys. Acta 1829, 590–603 (2013).

12.

Bavia, L., Mosimann, A. L. P., Aoki, M. N. & Duarte dos Santos, C. N. A glance at subgenomic flavivirus RNAs and microRNAs in flavivirus infections. Virol. J. 13, 84 (2016).

13.

Moon, S. L. et al. A noncoding RNA produced by arthropod-borne flaviviruses inhibits the cellular exoribonuclease XRN1 and alters host mRNA stability. RNA 18, 2029–2040 (2012).

14.

Schnettler, E. et al. Noncoding flavivirus RNA displays RNA interference suppressor activity in insect and mammalian cells. J. Virol. 86, 13486–13500 (2012).

15.

Manokaran, G. et al. Dengue subgenomic RNA binds TRIM25 to inhibit interferon expression for epidemiological fitness. Science 350, 217–221 (2015).

16.

Pompon, J. et al. Dengue subgenomic flaviviral RNA disrupts immunity in mosquito salivary glands to increase virus transmission. PLoS Path. 13, e1006535 (2017).

17.

Göertz, G. P. et al. Subgenomic flavivirus RNA binds the mosquito DEAD/H-box helicase ME31B and determines Zika virus transmission by Aedes aegypti. Proc. Natl Acad. Sci. USA 116, 19136–19144 (2019).

18.

Gould, E. A. & Solomon, T. Pathogenic flaviviruses. Lancet 371, 500–509 (2008).

19.

MacFadden, A. et al. Mechanism and structural diversity of exoribonuclease-resistant RNA structures in flaviviral RNAs. Nat. Commun. 9, 119 (2018).

20.

Niu, X. et al. Molecular mechanisms underlying the extreme mechanical anisotropy of the flaviviral exoribonuclease-resistant RNAs (xrRNAs). Nat. Commun. 11, 5496 (2020).

21.

Ritchie, D. B. & Woodside, M. T. Probing the structural dynamics of proteins and nucleic acids with optical tweezers. Curr. Opin. Struct. Biol. 34, 43–51 (2015).

22.

Wang, M. D., Yin, H., Landick, R., Gelles, J. & Block, S. M. Stretching DNA with optical tweezers. Biophys. J. 72, 1335–1346 (1997).

23.

Onoa, B. et al. Identifying kinetic barriers to mechanical unfolding of the T. thermophila ribozyme. Science 299, 1892–1895 (2003).

24.

Li, P. T. X., Bustamante, C. & Tinoco, I. Real-time control of the energy landscape by force directs the folding of RNA molecules. Proc. Natl Acad. Sci. USA 104, 7039–7044 (2007).

25.

Greenleaf, W. J., Frieda, K. L., Foster, D. A. N., Woodside, M. T. & Block, S. M. Direct observation of hierarchical folding in single riboswitch aptamers. Science 319, 630–633 (2008).

26.

Ritchie, D. B., Foster, D. A. N. & Woodside, M. T. Programmed −1 frameshifting efficiency correlates with RNA pseudoknot conformational plasticity, not resistance to mechanical unfolding. Proc. Natl Acad. Sci. USA 109, 16167–16172 (2012).

27.

Halma, M. T. J., Ritchie, D. B., Cappellano, T. R., Neupane, K. & Woodside, M. T. Complex dynamics under tension in a high-efficiency frameshift stimulatory structure. Proc. Natl Acad. Sci. USA 116, 19500–19505 (2019).

28.

Anthony, P. C., Perez, C. F., García-García, C. & Block, S. M. Folding energy landscape of the thiamine pyrophosphate riboswitch aptamer. Proc. Natl Acad. Sci. USA 109, 1485–1489 (2012).

29.

Chen, G., Chang, K.-Y., Chou, M.-Y., Bustamante, C. & Tinoco, I. Triplex structures in an RNA pseudoknot enhance mechanical stability and increase efficiency of –1 ribosomal frameshifting. Proc. Natl Acad. Sci. USA 106, 12706–12711 (2009).

30.

Smith, S. B., Cui, Y. & Bustamante, C. Overstretching B-DNA: the elastic response of individual double-stranded and single-stranded DNA molecules. Science 271, 795–799 (1996).

31.

Woodside, M. T. et al. Nanomechanical measurements of the sequence-dependent folding landscapes of single nucleic acid hairpins. Proc. Natl Acad. Sci. USA 103, 6190–6195 (2006).

32.

Thirumalai, D., Lee, N., Woodson, S. A. & Klimov, D. Early events in RNA folding. Annu. Rev. Phys. Chem. 52, 751–762 (2001).

33.

Suma, A., Coronel, L., Bussi, G. & Micheletti, C. Directional translocation resistance of Zika xrRNA. Nat. Commun. 11, 3749 (2020).

34.

Kieft, J. S., Rabe, J. L. & Chapman, E. G. New hypotheses derived from the structure of a flaviviral Xrn1-resistant RNA: Conservation, folding, and host adaptation. RNA Biol. 12, 1169–1177 (2015).

35.

Villordo, S. M., Filomatori, C. V., Sánchez-Vargas, I., Blair, C. D. & Gamarnik, A. V. Dengue virus RNA structure specialization facilitates host adaptation. PLoS Path. 11, e1004604 (2015).

36.

Chapman, E. G., Moon, S. L., Wilusz, J. & Kieft, J. S. RNA structures that resist degradation by Xrn1 produce a pathogenic Dengue virus RNA. eLife 3, e01892 (2014).

37.

Yin, H. et al. Transcription against an applied force. Science 270, 1653–1657 (1995).

38.

Liu, T. et al. Direct measurement of the mechanical work during translocation by the ribosome. eLife 3, e03406 (2014).

39.

Ziegler, F. et al. Knotting and unknotting of a protein in single molecule experiments. Proc. Natl Acad. Sci. USA 113, 7533–7538 (2016).

40.

Bustamante, A. et al. The energy cost of polypeptide knot formation and its folding consequences. Nat. Commun. 8, 1581 (2017).

41.

San Martín, Á. et al. Knots can impair protein degradation by ATP-dependent proteases. Proc. Natl Acad. Sci. USA 114, 9864–9869 (2017).

42.

Romani, A. M. Magnesium homeostasis in mammalian cells. Front Biosci. 12, 308–331 (2007).

43.

Neupane, K., Yu, H., Foster, D. A. N., Wang, F. & Woodside, M. T. Single-molecule force spectroscopy of the add adenine riboswitch relates folding to regulatory mechanism. Nucleic Acids Res. 39, 7677–7687 (2011).

44.

Neuman, K. C. & Block, S. M. Optical trapping. Rev. Sci. Instrum. 75, 2787–2809 (2004).

45.

Seol, Y., Skinner, G. M. & Visscher, K. Elastic properties of a single-stranded charged homopolymeric ribonucleotide. Phys. Rev. Lett. 93, 118102 (2004).

46.

Saenger, W. Principles of Nucleic Acid Structure (Springer, 1984).

47.

Halma, M. T. J., Ritchie, D. B. & Woodside, M. T. Conformational Shannon entropy of mRNA structures from force spectroscopy measurements predicts the efficiency of -1 programmed ribosomal frameshift stimulation. Phys. Rev. Lett. 126, 038102 (2021).

48.

Abramoff, M. D., Magalhaes, P. J. & Ram, S. J. Image processing with ImageJ. Biophotonics Int. 11, 36–42 (2004).
Acknowledgements
We thank J. Kieft for helpful discussions about xrRNAs and D. Ritchie for assistance in designing the optical tweezers assay. This work was supported by the Canadian Institutes of Health Research grant reference number MOP–142449 (to M.T.W), Alberta Innovates iCORE Strategic Chair (to M.T.W.) and the National Research Council Canada (to M.T.W.).
Ethics declarations
Competing interests
The authors declare no competing interests.
Additional information
Peer review information Nature Chemical Biology thanks Pan T. X. Li and the other, anonymous, reviewer(s) for their contribution to the peer review of this work.
Publisher's note Springer Nature remains neutral with regard to jurisdictional claims in published maps and institutional affiliations.
Supplementary information
Supplementary Figs. 1–4 and Tables 1–5.
About this article
Cite this article
Zhao, M., Woodside, M.T. Mechanical strength of RNA knot in Zika virus protects against cellular defenses. Nat Chem Biol 17, 975–981 (2021). https://doi.org/10.1038/s41589-021-00829-z
Received:

Accepted:

Published:

Issue Date: