Abstract
O-linked N-acetylglucosamine (O-GlcNAc) is an essential and dynamic post-translational modification that is presented on thousands of nucleocytoplasmic proteins. Interrogating the role of O-GlcNAc on a single target protein is crucial, yet challenging to perform in cells. Herein, we developed a nanobody-fused split O-GlcNAcase (OGA) as an O-GlcNAc eraser for selective deglycosylation of a target protein in cells. After systematic cellular optimization, we identified a split OGA with reduced inherent deglycosidase activity that selectively removed O-GlcNAc from the desired target protein when directed by a nanobody. We demonstrate the generality of the nanobody-fused split OGA using four nanobodies against five target proteins and use the system to study the impact of O-GlcNAc on the transcription factors c-Jun and c-Fos. The nanobody-directed O-GlcNAc eraser provides a new strategy for the functional evaluation and engineering of O-GlcNAc via the selective removal of O-GlcNAc from individual proteins directly in cells.

Access options
Subscribe to Journal
Get full journal access for 1 year
$59.00
only $4.92 per issue
All prices are NET prices.
VAT will be added later in the checkout.
Tax calculation will be finalised during checkout.
Rent or Buy article
Get time limited or full article access on ReadCube.
from$8.99
All prices are NET prices.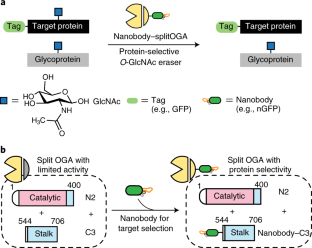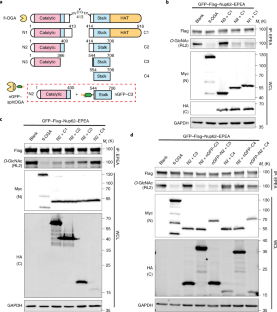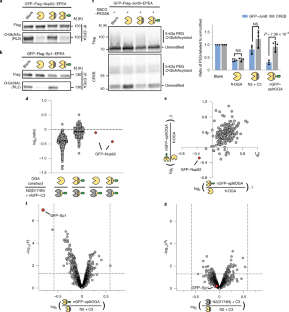 References
1.

Yang, X. & Qian, K. Protein O-GlcNAcylation: emerging mechanisms and functions. Nat. Rev. Mol. Cell Biol. 18, 452–465 (2017).

2.

Levine, Z. G. & Walker, S. The biochemistry of O-GlcNAc transferase: which functions make it essential in mammalian cells? Annu. Rev. Biochem. 85, 631–657 (2016).

3.

Alonso, J., Schimpl, M. & van Aalten, D. M. O-GlcNAcase: promiscuous hexosaminidase or key regulator of O-GlcNAc signaling? J. Biol. Chem. 289, 34433–34439 (2014).

4.

Yuzwa, S. A. & Vocadlo, D. J. O-GlcNAc and neurodegeneration: biochemical mechanisms and potential roles in Alzheimer's disease and beyond. Chem. Soc. Rev. 43, 6839–6858 (2014).

5.

Ma, J. & Hart, G. W. Protein O-GlcNAcylation in diabetes and diabetic complications. Expert Rev. Proteom. 10, 365–380 (2013).

6.

Slawson, C. & Hart, G. W. O-GlcNAc signalling: implications for cancer cell biology. Nat. Rev. Cancer 11, 678–684 (2011).

7.

Hart, G. W. Nutrient regulation of signaling and transcription. J. Biol. Chem. 294, 2211–2231 (2019).

8.

Gorelik, A. & van Aalten, D. M. F. Tools for functional dissection of site-specific O-GlcNAcylation. RSC Chem. Biol. 1, 98–109 (2020).

9.

Martin, S. E. S. et al. Structure-based evolution of low nanomolar O-GlcNAc transferase inhibitors. J. Am. Chem. Soc. 140, 13542–13545 (2018).

10.

Zhang, Z., Tan, E. P., VandenHull, N. J., Peterson, K. R. & Slawson, C. O-GlcNAcase expression is sensitive to changes in O-GlcNAc homeostasis. Front. Endocrinol. 5, 206 (2014).

11.

Yuzwa, S. A. et al. A potent mechanism-inspired O-GlcNAcase inhibitor that blocks phosphorylation of tau in vivo. Nat. Chem. Biol. 4, 483–490 (2008).

12.

Alfaro, J. F. et al. Tandem mass spectrometry identifies many mouse brain O-GlcNAcylated proteins including EGF domain-specific O-GlcNAc transferase targets. Proc. Natl Acad. Sci. USA 109, 7280–7285 (2012).

13.

Vosseller, K. et al. O-linked N-acetylglucosamine proteomics of postsynaptic density preparations using lectin weak affinity chromatography and mass spectrometry. Mol. Cell Proteom. 5, 923–934 (2006).

14.

Woo, C. M., Iavarone, A. T., Spiciarich, D. R., Palaniappan, K. K. & Bertozzi, C. R. Isotope-targeted glycoproteomics (IsoTaG): a mass-independent platform for intact N- and O-glycopeptide discovery and analysis. Nat. Methods 12, 561–567 (2015).

15.

Gorelik, A. et al. Genetic recoding to dissect the roles of site-specific protein O-GlcNAcylation. Nat. Struct. Mol. Biol. 26, 1071–1077 (2019).

16.

Hart, G. W., Slawson, C., Ramirez-Correa, G. & Lagerlof, O. Cross talk between O-GlcNAcylation and phosphorylation: roles in signaling, transcription, and chronic disease. Annu. Rev. Biochem. 80, 825–858 (2011).

17.

Ruan, H. B., Nie, Y. & Yang, X. Regulation of protein degradation by O-GlcNAcylation: crosstalk with ubiquitination. Mol. Cell Proteom. 12, 3489–3497 (2013).

18.

Ramirez, D. H. et al. Engineering a proximity-directed O-GlcNAc transferase for selective protein O-GlcNAcylation in cells. ACS Chem. Biol. 15, 1059–1066 (2020).

19.

Ingram, J. R., Schmidt, F. I. & Ploegh, H. L. Exploiting nanobodies' singular traits. Annu. Rev. Immunol. 36, 695–715 (2018).

20.

Li, B., Li, H., Lu, L. & Jiang, J. Structures of human O-GlcNAcase and its complexes reveal a new substrate recognition mode. Nat. Struct. Mol. Biol. 24, 362–369 (2017).

21.

Roth, C. et al. Structural and functional insight into human O-GlcNAcase. Nat. Chem. Biol. 13, 610–612 (2017).

22.

Elsen, N. L. et al. Insights into activity and inhibition from the crystal structure of human O-GlcNAcase. Nat. Chem. Biol. 13, 613–615 (2017).

23.

Gao, Y., Wells, L., Comer, F. I., Parker, G. J. & Hart, G. W. Dynamic O-glycosylation of nuclear and cytosolic proteins: cloning and characterization of a neutral, cytosolic β-N-acetylglucosaminidase from human brain. J. Biol. Chem. 276, 9838–9845 (2001).

24.

Rexach, J. E. et al. Quantification of O-glycosylation stoichiometry and dynamics using resolvable mass tags. Nat. Chem. Biol. 6, 645–651 (2010).

25.

Kirchhofer, A. et al. Modulation of protein properties in living cells using nanobodies. Nat. Struct. Mol. Biol. 17, 133–138 (2010).

26.

Butkinaree, C. et al. Characterization of β-N-acetylglucosaminidase cleavage by caspase-3 during apoptosis. J. Biol. Chem. 283, 23557–23566 (2008).

27.

Cetinbas, N., Macauley, M. S., Stubbs, K. A., Drapala, R. & Vocadlo, D. J. Identification of Asp174 and Asp175 as the key catalytic residues of human O-GlcNAcaseby functional analysis of site-directed mutants. Biochemistry 45, 3835–3844 (2006).

28.

Woo, C. M. et al. Mapping and quantification of over 2000 O-linked glycopeptides in activated human T cells with isotope-targeted glycoproteomics (Isotag). Mol. Cell Proteom. 17, 764–775 (2018).

29.

De Genst, E. J. et al. Structure and properties of a complex of α-synuclein and a single-domain camelid antibody. J. Mol. Biol. 402, 326–343 (2010).

30.

Ling, J. et al. A nanobody that recognizes a 14-residue peptide epitope in the E2 ubiquitin-conjugating enzyme UBC6e modulates its activity. Mol. Immunol. 114, 513–523 (2019).

31.

Traenkle, B. et al. Monitoring interactions and dynamics of endogenous β-catenin with intracellular nanobodies in living cells. Mol. Cell Proteom. 14, 707–723 (2015).

32.

Hess, J., Angel, P. & Schorpp-Kistner, M. AP-1 subunits: quarrel and harmony among siblings. J. Cell Sci. 117, 5965–5973 (2004).

33.

Tai, H. C., Khidekel, N., Ficarro, S. B., Peters, E. C. & Hsieh-Wilson, L. C. Parallel identification of O-GlcNAc-modified proteins from cell lysates. J. Am. Chem. Soc. 126, 10500–10501 (2004).

34.

Kim, S., Maynard, J. C., Strickland, A., Burlingame, A. L. & Milbrandt, J. Schwann cell O-GlcNAcylation promotes peripheral nerve remyelination via attenuation of the AP-1 transcription factor JUN. Proc. Natl Acad. Sci. USA 115, 8019–8024 (2018).

35.

Qiao, Y. et al. High glucose stimulates tumorigenesis in hepatocellular carcinoma cells through AGER-dependent O-GlcNAcylation of c-Jun. Diabetes 65, 619–632 (2016).

36.

Zhang, F. et al. O-GlcNAc modification is an endogenous inhibitor of the proteasome. Cell 115, 715–725 (2003).

37.

Ranuncolo, S. M., Ghosh, S., Hanover, J. A., Hart, G. W. & Lewis, B. A. Evidence of the involvement of O-GlcNAc-modified human RNA polymerase II CTD in transcription in vitro and in vivo. J. Biol. Chem. 287, 23549–23561 (2012).

38.

Hardiville, S. et al. TATA-box binding protein O-GlcNAcylation at T114 regulates formation of the B-TFIID complex and is critical for metabolic gene regulation. Mol. Cell 77, 1143–1152 (2020).

39.

Wu, T. et al. Targeted protein degradation as a powerful research tool in basic biology and drug target discovery. Nat. Struct. Mol. Biol. 27, 605–614 (2020).

40.

Siriwardena, S. U. et al. Phosphorylation-inducing chimeric small molecules. J. Am. Chem. Soc. 142, 14052–14057 (2020).

41.

Dong, J. X. et al. A toolbox of nanobodies developed and validated for use as intrabodies and nanoscale immunolabels in mammalian brain neurons. eLife 8, e48750 (2019).

42.

Koch, B. et al. Generation and validation of homozygous fluorescent knock-in cells using CRISPR–Cas9 genome editing. Nat. Protoc. 13, 1465–1487 (2018).

43.

Kuey, C., Larocque, G., Clarke, N. I. & Royle, S. J. Unintended perturbation of protein function using GFP nanobodies in human cells. J. Cell Sci. 132, jcs234955 (2019).

44.

Fridy, P. C. et al. A robust pipeline for rapid production of versatile nanobody repertoires. Nat. Methods 11, 1253–1260 (2014).

45.

Farrants, H. et al. Chemogenetic control of nanobodies. Nat. Methods 17, 279–282 (2020).

46.

Gil, A. A. et al. Optogenetic control of protein binding using light-switchable nanobodies. Nat. Commun. 11, 4044 (2020).

47.

Zhu, Y. et al. O-GlcNAc occurs cotranslationally to stabilize nascent polypeptide chains. Nat. Chem. Biol. 11, 319–325 (2015).

48.

Thompson, J. W., Griffin, M. E. & Hsieh-Wilson, L. C. Methods for the detection, study, and dynamic profiling of O-GlcNAc glycosylation. Methods Enzymol. 598, 101–135 (2018).

49.

Woo, C. M. & Bertozzi, C. R. Isotope targeted glycoproteomics (IsoTaG) to characterize intact, metabolically labeled glycopeptides from complex proteomes. Curr. Protoc. Chem. Biol. 8, 59–82 (2016).

50.

Huber, W., von Heydebreck, A., Sultmann, H., Poustka, A. & Vingron, M. Variance stabilization applied to microarray data calibration and to the quantification of differential expression. Bioinformatics 18, S96–S104 (2002).

51.

Perez-Riverol, Y. et al. The PRIDE database and related tools and resources in 2019: improving support for quantification data. Nucleic Acids Res. 47, D442–D450 (2019).
Acknowledgements
We thank P. Schwein and Z. Lin for helpful discussions and B. Budnik (principal scientist of the Harvard University Proteomics Facility). Support from the National Institutes of Health (U01CA242098-01, C.M.W.), the Burroughs Wellcome Fund, a Career Award at the Scientific Interface (C.M.W.), the Sloan Foundation (C.M.W.), the Merck Fellowship Fund and Harvard University is gratefully acknowledged.
Ethics declarations
Competing interests
Harvard University has filed a patent application (US Provisional Application No. 63/087,773, filed 5 October 2020) including work described herein. C.M.W., Y.G. and D.H.R. are inventors of this patent. All other authors declare no competing interests.
Additional information
Publisher's note Springer Nature remains neutral with regard to jurisdictional claims in published maps and institutional affiliations.
Peer review information Nature Chemical Biology thanks Jing Li and the other, anonymous, reviewer(s) for their contribution to the peer review of this work.
Supplementary information
Supplementary Figs. 1–20 and Table 1.
Statistical source data for Supplementary Fig. 4.
About this article
Cite this article
Ge, Y., Ramirez, D.H., Yang, B. et al. Target protein deglycosylation in living cells by a nanobody-fused split O-GlcNAcase. Nat Chem Biol 17, 593–600 (2021). https://doi.org/10.1038/s41589-021-00757-y
Received:

Revised:

Accepted:

Published:

Issue Date:
Further reading
Daniel H. Ramirez

,

Yun Ge

&

Christina M. Woo

Current Protocols (2021)