Abstract
Cariogenic Streptococcus mutans is known as a predominant etiological agent of dental caries due to its exceptional capacity to form biofilms. From strains of S. mutans isolated from dental plaque, we discovered, in the present study, a polyketide/nonribosomal peptide biosynthetic gene cluster, muf, which directly correlates with a strong biofilm-forming capability. We then identified the muf-associated bioactive product, mutanofactin-697, which contains a new molecular scaffold, along with its biosynthetic logic. Further mode-of-action studies revealed that mutanofactin-697 binds to S. mutans cells and also extracellular DNA, increases bacterial hydrophobicity, and promotes bacterial adhesion and subsequent biofilm formation. Our findings provided an example of a microbial secondary metabolite promoting biofilm formation via a physicochemical approach, highlighting the importance of secondary metabolism in mediating critical processes related to the development of dental caries.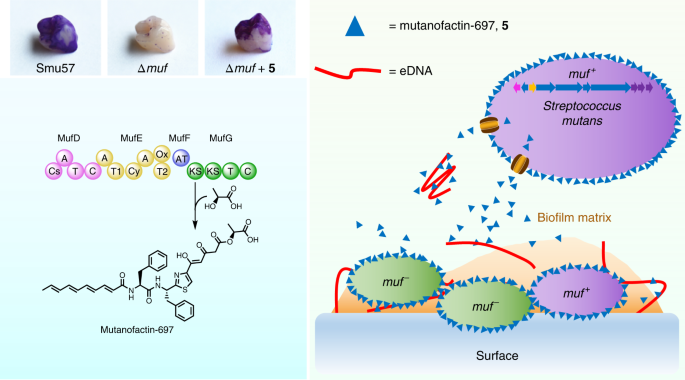 Your institute does not have access to this article
Access options
Subscribe to Nature+
Get immediate online access to the entire Nature family of 50+ journals
Subscribe to Journal
Get full journal access for 1 year
$119.00
only $9.92 per issue
All prices are NET prices.
VAT will be added later in the checkout.
Tax calculation will be finalised during checkout.
Buy article
Get time limited or full article access on ReadCube.
$32.00
All prices are NET prices.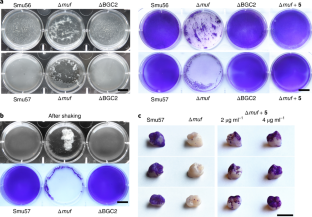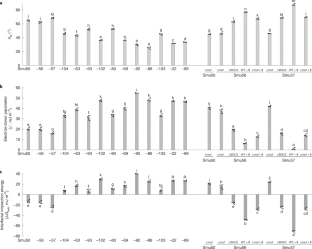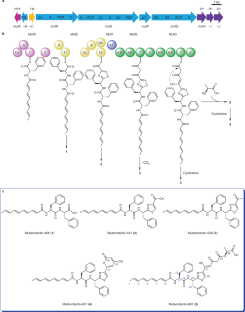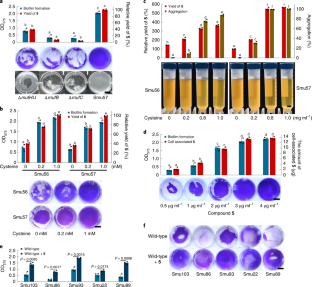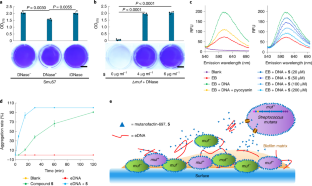 Data availability
The authors declare that all the data supporting the findings of the present study are available within the paper, the Supplementary Information and the Extended Data, and/or from the corresponding authors upon reasonable request. The MS raw data and searching results have been deposited to the ProteomeXchange Consortium via the PRIDE with the project accession no. PXD021641. The raw RNA-sequencing data have been deposited to the National Center for Biotechnology Information's Sequence Read Archive database with the BioProject ID PRJNA667030.
References
Helöe, L. A. & Haugejorden, O. 'The rise and fall' of dental caries: some global aspects of dental caries epidemiology. Comm. Dent. Oral. Epidemiol. 9, 294–299 (1981).

Marsh, P. D. Are dental diseases examples of ecological catastrophes? Microbiology 149, 279–294 (2003).

Pitts, N. B. et al. Dental caries. Nat. Rev. Dis. Prim. 3, 17030 (2017).

Petersen, P. E., Bourgeois, D., Ogawa, H., Estupinan-Day, S. & Ndiaye, C. The global burden of oral diseases and risks to oral health. Bull. World Health Organ. 83, 661–669 (2005).

Listl, S., Galloway, J., Mossey, P. A. & Marcenes, W. Global economic impact of dental diseases. J. Dent. Res. 94, 1355–1361 (2015).

Kuramitsu, H. K., He, X., Lux, R., Anderson, M. H. & Shi, W. Interspecies interactions within oral microbial communities. Microbiol. Mol. Biol. Rev. 71, 653–670 (2007).

Lamont, R. J., Koo, H. & Hajishengallis, G. The oral microbiota: dynamic communities and host interactions. Nat. Rev. Microbiol. 16, 745–759 (2018).

Kolenbrander, P. E. Oral microbial communities: biofilms, interactions, and genetic systems. Annu. Rev. Microbiol. 54, 413–437 (2000).

Loesche, W. J. Role of Streptococcus mutans in human dental decay. Microbiol. Rev. 50, 353–380 (1986).

Lemos, J. A. et al. The biology of Streptococcus mutans. Microbiol. Spectr. 7, https://doi.org/10.1128/microbiolspec.gpp3-0051-2018 (2019).

Matsumoto-Nakano, M. Role of Streptococcus mutans surface proteins for biofilm formation. Jpn Dent. Sci. Rev. 54, 22–29 (2018).

Walsh, C. T. & Tang, Y. Natural Product Biosynthesis: Chemical Logic and Enzymatic Machinery (Royal Society of Chemistry, 2017).

Donia, M. S. & Fischbach, M. A. Small molecules from the human microbiota. Science 349, 1254766 (2015).

Liu, L., Hao, T., Xie, Z., Horsman, G. P. & Chen, Y. Genome mining unveils widespread natural product biosynthetic capacity in human oral microbe Streptococcus mutans. Sci. Rep. 6, 37479 (2016).

Aleti, G. et al. Identification of the bacterial biosynthetic gene clusters of the oral microbiome illuminates the unexplored social language of bacteria during health and disease. mBio 10, 00321–19 (2019).

Bushin, L. B., Clark, K. A., Pelczer, I. & Seyedsayamdost, M. R. Charting an unexplored streptococcal biosynthetic landscape reveals a unique peptide cyclization motif. J. Am. Chem. Soc. 140, 17674–17684 (2018).

Joyner, P. M. et al. Mutanobactin A from the human oral pathogen Streptococcus mutans is a cross-kingdom regulator of the yeast–mycelium transition. Org. Biomol. Chem. 8, 5486–5489 (2010).

Zvanych, R. et al. Systems biosynthesis of secondary metabolic pathways within the oral human microbiome member Streptococcus mutans. Mol. Biosyst. 11, 97–104 (2015).

Hao, T. et al. An anaerobic bacterium host system for heterologous expression of natural product biosynthetic gene clusters. Nat. Commun. 10, 3665 (2019).

Tang, X. et al. Cariogenic Streptococcus mutans produces tetramic acid strain specific antibiotics that impair commensal colonization. ACS Infect. Dis. 6, 563–571 (2020).

Cornejo, O. E. et al. Evolutionary and population genomics of the cavity causing bacteria Streptococcus mutans. Mol. Biol. Evol. 30, 881–893 (2013).

Palmer, S. R. et al. Phenotypic heterogeneity of genomically-diverse isolates of Streptococcus mutans. PLoS ONE 8, e61358 (2013).

Hahnel, S., Rosentritt, M., Bürgers, R. & Handel, G. Adhesion of Streptococcus mutans NCTC 10449 to artificial teeth: an in-vitro study. J. Prosthet. Dent. 100, 309–315 (2008).

O'Toole, G., Kaplan, H. B. & Kolter, R. Biofilm formation as microbial development. Annu. Rev. Microbiol. 54, 49–79 (2000).

Matsui, R. & Cvitkovitch, D. Acid tolerance mechanisms utilized by Streptococcus mutans. Future Microbiol. 5, 403–417 (2010).

Chau, N. P. T., Pandit, S., Jung, J.-E. & Jeon, J.-G. Evaluation of Streptococcus mutans adhesion to fluoride varnishes and subsequent change in biofilm accumulation and acidogenicity. J. Dent. 42, 726–734 (2014).

van Loosdrecht, M. C. M., Lyklema, J., Norde, W. & Zehnder, A. J. B. Bacterial adhesion: a physicochemical approach. Microb. Ecol. 17, 1–15 (1989).

Absolom, D. R. et al. Surface thermodynamics of bacterial adhesion. Appl. Environ. Microbiol. 46, 90–97 (1983).

van Loosdrecht, M. C. M., Lyklema, J., Norde, W., Schraa, G. & Zehnder, A. J. B. The role of bacterial cell wall hydrophobicity in adhesion. Appl. Environ. Microbiol. 53, 1893–1897 (1987).

Vogler, E. A. Structure and reactivity of water at biomaterial surfaces. Adv. Colloid Interface Sci. 74, 69–117 (1998).

Van Oss, C. J. Interfacial Forces in Aqueous Media 2nd edn (Taylor & Francis, 2006).

Simões, L., Simões, M. & Vieira, M. Adhesion and biofilm formation on polystyrene by drinking water-isolated bacteria. Anton. Leeuw. 98, 317–329 (2010).

Stachelhaus, T., Mootz, H. D. & Marahiel, M. A. The specificity-conferring code of adenylation domains in nonribosomal peptide synthetases. Chem. Biol. 6, 493–505 (1999).

Kraas, F. I., Helmetag, V., Wittmann, M., Strieker, M. & Marahiel, M. A. Functional dissection of surfactin synthetase initiation module reveals insights into the mechanism of lipoinitiation. Chem. Biol. 17, 872–880 (2010).

Chen, H., O'Connor, S., Cane, D. E. & Walsh, C. T. Epothilone biosynthesis: assembly of the methylthiazolylcarboxy starter unit on the EpoB subunit. Chem. Biol. 8, 899–912 (2001).

Perlova, O. et al. Reconstitution of the myxothiazol biosynthetic gene cluster by Red/ET recombination and heterologous expression in Myxococcus xanthus. Appl. Environ. Microbiol. 72, 7485–7494 (2006).

Piel, J. Biosynthesis of polyketides by trans-AT polyketide synthases. Nat. Prod. Rep. 27, 996–1047 (2010).

Kosol, S., Jenner, M., Lewandowski, J. R. & Challis, G. L. Protein-protein interactions in trans-AT polyketide synthases. Nat. Prod. Rep. 35, 1097–1109 (2018).

Du, L. & Lou, L. PKS and NRPS release mechanisms. Nat. Prod. Rep. 27, 255–278 (2010).

Bloudoff, K. & Schmeing, T. M. Structural and functional aspects of the nonribosomal peptide synthetase condensation domain superfamily: discovery, dissection and diversity. Biochim. Biophys. Acta 1865, 1587–1604 (2017).

Müller, S. et al. Biosynthesis of crocacin involves an unusual hydrolytic release domain showing similarity to condensation domains. Chem. Biol. 21, 855–865 (2014).

Heathcote, M. L., Staunton, J. & Leadlay, P. F. Role of type II thioesterases: evidence for removal of short acyl chains produced by aberrant decarboxylation of chain extender units. Chem. Biol. 8, 207–220 (2001).

Cuthbertson, L. & Nodwell, J. R. The TetR family of regulators. Microbiol. Mol. Biol. Rev. 77, 440–475 (2013).

El-Khoury, N. et al. Spatio-temporal evolution of sporulation in Bacillus thuringiensis biofilm. Front. Microbiol. 7, 1222 (2016).

Yuan, X. Z. et al. Adsorption of surfactants on a Pseudomonas aeruginosa strain and the effect on cell surface lypohydrophilic property. Appl. Microbiol. Biotechnol. 76, 1189–1198 (2007).

Liu, B., Ge, N., Peng, B. & Pan, S. Kinetic and isotherm studies on the adsorption of tenuazonic acid from fruit juice using inactivated LAB. J. Food Eng. 224, 45–52 (2018).

Whitchurch, C. B., Tolker-Nielsen, T., Ragas, P. C. & Mattick, J. S. Extracellular DNA required for bacterial biofilm formation. Science 295, 1487 (2002).

Das, T., Kutty, S. K., Kumar, N. & Manefield, M. Pyocyanin facilitates extracellular DNA binding to Pseudomonas aeruginosa influencing cell surface properties and aggregation. PLoS ONE 8, e58299 (2013).

Strevett, K. A. & Chen, G. Microbial surface thermodynamics and applications. Res. Microbiol. 154, 329–335 (2003).

Hobley, L. et al. BslA is a self-assembling bacterial hydrophobin that coats the Bacillus subtilis biofilm. Proc. Natl Acad. Sci. USA 110, 13600–13605 (2013).

Blin, K. et al. antiSMASH 5.0: updates to the secondary metabolite genome mining pipeline. Nucleic Acids Res. 47, W81–W87 (2019).

Lau, P. C., Sung, C. K., Lee, J. H., Morrison, D. A. & Cvitkovitch, D. G. PCR ligation mutagenesis in transformable streptococci: application and efficiency. J. Microbiol. Methods 49, 193–205 (2002).

Kremer, B. H. et al. Characterization of the sat operon in Streptococcus mutans: evidence for a role of Ffh in acid tolerance. J. Bacteriol. 183, 2543–2552 (2001).

Li, L., Stoeckert, C. J. & Roos, D. S. OrthoMCL: identification of ortholog groups for eukaryotic genomes. Genome Res. 13, 2178–2189 (2003).

Kumar, S., Stecher, G., Li, M., Knyaz, C. & Tamura, K. MEGA X: molecular evolutionary genetics analysis across computing platforms. Mol. Biol. Evol. 35, 1547–1549 (2018).

Korenevsky, A. & Beveridge, T. J. The surface physicochemistry and adhesiveness of Shewanella are affected by their surface polysaccharides. Microbiology 153, 1872–1883 (2007).

Moon, K., Lim, C., Kim, S. & Oh, D. C. Facile determination of the absolute configurations of alpha-hydroxy acids by chiral derivatization coupled with liquid chromatography-mass spectrometry analysis. J. Chromatogr. A 1272, 141–144 (2013).

Freundlich, H. Ueber die adsorption in loesungen. Z. Phys. Chem. 57, 385–470 (1907).

Kwan, Y. H. et al. Comparative proteomics on deep-sea amphipods after in situ copper exposure. Environ. Sci. Technol. 53, 13981–13991 (2019).

Patro, R., Duggal, G., Love, M. I., Irizarry, R. A. & Kingsford, C. Salmon provides fast and bias-aware quantification of transcript expression. Nat. Methods 14, 417–419 (2017).
Acknowledgements
This work was financially supported by: grants from the Chan Zuckerberg Biohub Investigator Program to W.Z.; National Key R&D Programs of China (grant nos. 2018YFA0903200: MOST19SC04 and MOST19SC06), the China Ocean Mineral Resources Research and Development Association grant (grant no. COMRRDA17SC01) and Research Grant Council of HKSAR (grant no. C6026-19-A) to P.-Y.Q.; the Hong Kong Branch of Southern Marine Science and Engineering Guangdong Laboratory (Guangzhou) to W.Z. and P.-Y.Q. (grant no. SMSEGL20SC01); and the National Institutes of Health (grant no. R01 DE13239) to R.A.B. We thank J. G. Pelton (QB3, UC, Berkeley) for assistance with NMR measurements, A. T. Iavarone (QB3, UC, Berkeley) for assistance with MS experiments and D. Schichnes (CNR Biological Imaging Facility) and Z. Hu (UC, Berkeley) for assistance with microscope experiments.
Ethics declarations
Competing interests
The authors declare no competing interests.
Additional information
Publisher's note Springer Nature remains neutral with regard to jurisdictional claims in published maps and institutional affiliations.
Supplementary information
About this article
Cite this article
Li, ZR., Sun, J., Du, Y. et al. Mutanofactin promotes adhesion and biofilm formation of cariogenic Streptococcus mutans. Nat Chem Biol 17, 576–584 (2021). https://doi.org/10.1038/s41589-021-00745-2
Received:

Accepted:

Published:

Issue Date:

DOI: https://doi.org/10.1038/s41589-021-00745-2
Further reading
Amber M. Scharnow
William M. Wuest

Nature Chemical Biology (2021)