The cumbersome encoding of digital data to cellular DNA hinders the use of cells as living hard drives. A new approach transfers digital information directly into cellular DNA by converting electrical signals into stable and interpretable changes in the genomes of bacterial populations.
Access options
Subscribe to Journal
Get full journal access for 1 year
$169.00
only $14.08 per issue
All prices are NET prices.
VAT will be added later in the checkout.
Rent or Buy article
Get time limited or full article access on ReadCube.
from$8.99
All prices are NET prices.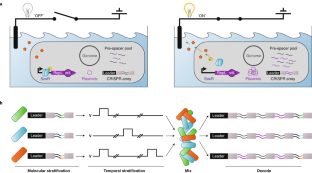 References
1.

Church, G. M., Gao, Y. & Kosuri, S. Science 337, 1628 (2012).

2.

Ceze, L., Nivala, J. & Strauss, K. Nat. Rev. Genet. 20, 456–466 (2019).

3.

Yim, S. S. et al. Nat. Chem. Biol. https://doi.org/10.1038/s41589-020-00711-4 (2020).

4.

Yosef, I., Goren, M. G. & Qimron, U. Nucleic Acids Res. 40, 5569–5576 (2012).

5.

Nuñez, J. K., Lee, A. S., Engelman, A. & Doudna, J. A. Nature 519, 193–198 (2015).

6.

Farzadfard, F. & Lu, T. K. Science 361, 870–875 (2018).

7.

Shipman, S. L., Nivala, J., Macklis, J. D. & Church, G. M. Science 353, aaf1175 (2016).

8.

Sheth, R. U., Yim, S. S., Wu, F. L. & Wang, H. H. Science 358, 1457–1461 (2017).

9.

Liu, Y. et al. Adv. Healthc. Mater. 6, 1700789 (2017).

10.

Tschirhart, T. et al. Nat. Commun. 8, 14030 (2017).
Ethics declarations
Competing interests
The authors declare no competing interests.
About this article
Cite this article
Bhattarai-Kline, S., Lear, S.K. & Shipman, S.L. One-step data storage in cellular DNA. Nat Chem Biol 17, 232–233 (2021). https://doi.org/10.1038/s41589-021-00737-2