Abstract
The β-barrel assembly machinery (BAM) inserts outer membrane β-barrel proteins (OMPs) in the outer membrane of Gram-negative bacteria. In Enterobacteriacea, BAM also mediates export of the stress sensor lipoprotein RcsF to the cell surface by assembling RcsF–OMP complexes. Here, we report the crystal structure of the key BAM component BamA in complex with RcsF. BamA adopts an inward-open conformation, with the lateral gate to the membrane closed. RcsF is lodged deep within the lumen of the BamA barrel, binding regions proposed to undergo outward and lateral opening during OMP insertion. On the basis of our structural and biochemical data, we propose a push-and-pull model for RcsF export following conformational cycling of BamA, and provide a mechanistic explanation for how RcsF uses its interaction with BamA to detect envelope stress. Our data also suggest that the flux of incoming OMP substrates is involved in the control of BAM activity.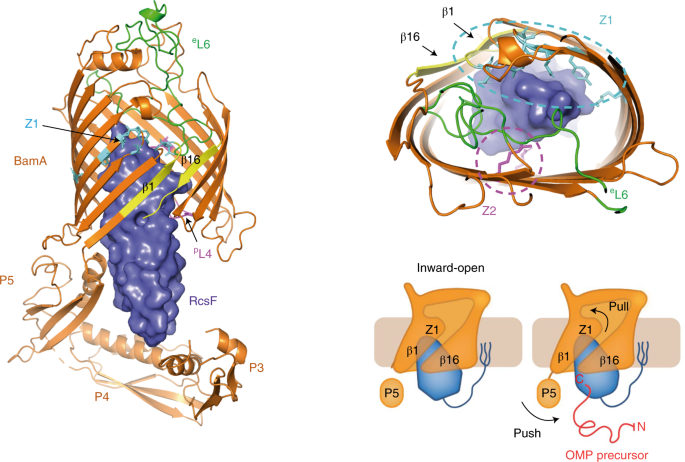 Access options
Subscribe to Journal
Get full journal access for 1 year
$119.00
only $9.92 per issue
All prices are NET prices.
VAT will be added later in the checkout.
Tax calculation will be finalised during checkout.
Rent or Buy article
Get time limited or full article access on ReadCube.
from$8.99
All prices are NET prices.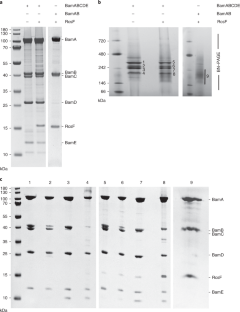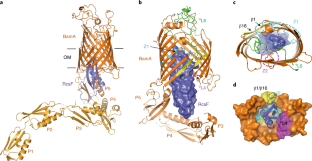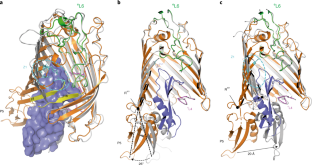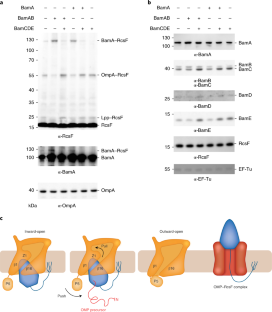 Data availability
Coordinates and structure factors have been deposited in the Protein Data Bank under accession number 6T1W. All other data generated or analyzed during this study are included in this published article and its Supplementary Information file. Source Data are provided with this paper.
References
1.

Noinaj, N., Gumbart, J. C. & Buchanan, S. K. The beta-barrel assembly machinery in motion. Nat. Rev. Microbiol. 15, 197–204 (2017).

2.

Hagan, C. L., Silhavy, T. J. & Kahne, D. beta-Barrel membrane protein assembly by the Bam complex. Annu. Rev. Biochem. 80, 189–210 (2011).

3.

Iadanza, M. G. et al. Lateral opening in the intact beta-barrel assembly machinery captured by cryo-EM. Nat. Commun. 7, 12865 (2016).

4.

Bakelar, J., Buchanan, S. K. & Noinaj, N. The structure of the beta-barrel assembly machinery complex. Science 351, 180–186 (2016).

5.

Gu, Y. et al. Structural basis of outer membrane protein insertion by the BAM complex. Nature 531, 64–69 (2016).

6.

Han, L. et al. Structure of the BAM complex and its implications for biogenesis of outer-membrane proteins. Nat. Struct. Mol. Biol. 23, 192–196 (2016).

7.

Wu, T. et al. Identification of a multicomponent complex required for outer membrane biogenesis in Escherichia coli. Cell 121, 235–245 (2005).

8.

Sklar, J. G. et al. Lipoprotein SmpA is a component of the YaeT complex that assembles outer membrane proteins in Escherichia coli. Proc. Natl Acad. Sci. USA 104, 6400–6405 (2007).

9.

Schiffrin, B., Brockwell, D. J. & Radford, S. E. Outer membrane protein folding from an energy landscape perspective. BMC Biol. 15, 123 (2017).

10.

Cho, S. H. et al. Detecting envelope stress by monitoring beta-barrel assembly. Cell 159, 1652–1664 (2014).

11.

Konovalova, A., Perlman, D. H., Cowles, C. E. & Silhavy, T. J. Transmembrane domain of surface-exposed outer membrane lipoprotein RcsF is threaded through the lumen of beta-barrel proteins. Proc. Natl Acad. Sci. USA 111, E4350–E4358 (2014).

12.

Tata, M. & Konovalova, A. Improper coordination of BamA and BamD results in bam complex jamming by a lipoprotein substrate. mBio https://doi.org/10.1128/mBio.00660-19 (2019).

13.

Hart, E. M., Gupta, M., Wuhr, M. & Silhavy, T. J. The synthetic phenotype of deltabamb deltabame double mutants results from a lethal jamming of the bam complex by the lipoprotein RcsF. mBio https://doi.org/10.1128/mBio.00662-19 (2019).

14.

Wall, E., Majdalani, N. & Gottesman, S. The complex Rcs regulatory cascade. Annu. Rev. Microbiol. 72, 111–139 (2018).

15.

Laloux, G. & Collet, J. F. Major Tom to ground control: how lipoproteins communicate extra-cytoplasmic stress to the decision center of the cell. J. Bacteriol. https://doi.org/10.1128/JB.00216-17 (2017).

16.

Hussein, N. A., Cho, S. H., Laloux, G., Siam, R. & Collet, J. F. Distinct domains of Escherichia coli IgaA connect envelope stress sensing and down-regulation of the Rcs phosphorelay across subcellular compartments. PLoS Genet. 14, e1007398 (2018).

17.

Kaur, H. et al. Identification of conformation-selective nanobodies against the membrane protein insertase BamA by an integrated structural biology approach. J. Biomol. NMR 73, 375–384 (2019).

18.

Albrecht, R. et al. Structure of BamA, an essential factor in outer membrane protein biogenesis. Acta Crystallogr. D Biol. Crystallogr. 70, 1779–1789 (2014).

19.

Ni, D. et al. Structural and functional analysis of the beta-barrel domain of BamA from Escherichia coli. FASEB J. 28, 2677–2685 (2014).

20.

Hartmann, J. B., Zahn, M., Burmann, I. M., Bibow, S. & Hiller, S. Sequence-specific solution NMR assignments of the beta-barrel insertase BamA to monitor its conformational ensemble at the atomic level. J. Am. Chem. Soc. 140, 11252–11260 (2018).

21.

Leverrier, P. et al. Crystal structure of the outer membrane protein RcsF, a new substrate for the periplasmic protein-disulfide isomerase DsbC. J. Biol. Chem. 286, 16734–16742 (2011).

22.

Rogov, V. V., Rogova, N. Y., Bernhard, F., Lohr, F. & Dotsch, V. A disulfide bridge network within the soluble periplasmic domain determines structure and function of the outer membrane protein RCSF. J. Biol. Chem. 286, 18775–18783 (2011).

23.

Calabrese, A. N. & Radford, S. E. Mass spectrometry-enabled structural biology of membrane proteins. Methods 147, 187–205 (2018).

24.

Zhang, M. et al. A genetically incorporated crosslinker reveals chaperone cooperation in acid resistance. Nat. Chem. Biol. 7, 671–677 (2011).

25.

Gu, Y., Zeng, Y., Wang, Z. & Dong, C. BamA beta16C strand and periplasmic turns are critical for outer membrane protein insertion and assembly. Biochem. J 474, 3951–3961 (2017).

26.

Noinaj, N., Kuszak, A. J., Balusek, C., Gumbart, J. C. & Buchanan, S. K. Lateral opening and exit pore formation are required for BamA function. Structure 22, 1055–1062 (2014).

27.

Okuda, S. & Tokuda, H. Lipoprotein sorting in bacteria. Annu. Rev. Microbiol. 65, 239–259 (2011).

28.

Storek, K. M. et al. Monoclonal antibody targeting the beta-barrel assembly machine of Escherichia coli is bactericidal. Proc. Natl Acad. Sci. USA 115, 3692–3697 (2018).

29.

Imai, Y. et al. A new antibiotic selectively kills Gram-negative pathogens. Nature 576, 459–464 (2019).

30.

Luther, A. et al. Chimeric peptidomimetic antibiotics against Gram-negative bacteria. Nature 576, 452–458 (2019).

31.

Hart, E. M. et al. A small-molecule inhibitor of BamA impervious to efflux and the outer membrane permeability barrier. Proc. Natl Acad. Sci. USA 116, 21748–21757 (2019).

32.

Majdalani, N., Hernandez, D. & Gottesman, S. Regulation and mode of action of the second small RNA activator of RpoS translation, RprA. Mol. Microbiol. 46, 813–826 (2002).

33.

Baba, T. et al. Construction of Escherichia coli K-12 in-frame, single-gene knockout mutants: the Keio collection. Mol. Syst. Biol. 2, 2006.0008 (2006).

34.

Yu, D. et al. An efficient recombination system for chromosome engineering in Escherichia coli. Proc. Natl Acad. Sci. USA 97, 5978–5983 (2000).

35.

Koskiniemi, S., Pranting, M., Gullberg, E., Nasvall, J. & Andersson, D. I. Activation of cryptic aminoglycoside resistance in Salmonella enterica. Mol. Microbiol. 80, 1464–1478 (2011).

36.

Roman-Hernandez, G., Peterson, J. H. & Bernstein, H. D. Reconstitution of bacterial autotransporter assembly using purified components. eLife 3, e04234 (2014).

37.

Kabsch, W. Xds. Acta Crystallogr. D Biol. Crystallogr. 66, 125–132 (2010).

38.

Tickle, I. J. et al. STARANISO http://staraniso.globalphasing.org/staraniso_FAQ.html (2018).

39.

McCoy, A. J. et al. Phaser crystallographic software. J. Appl. Cryst. 40, 658–674 (2007).

40.

Bricogne G. et al. BUSTER v.2.10.3 (ScienceOpen, 2017); https://www.scienceopen.com/document?vid=34a668bc-6e6f-4572-a548-6d19e78e1e30

41.

Emsley, P. & Cowtan, K. Coot: model-building tools for molecular graphics. Acta Crystallogr. D Biol. Crystallogr. 60, 2126–2132 (2004).

42.

Schmidt, C. & Robinson, C. V. A comparative cross-linking strategy to probe conformational changes in protein complexes. Nat. Protoc. 9, 2224–2236 (2014).

43.

James, J. M. B., Cryar, A. & Thalassinos, K. Optimization workflow for the analysis of cross-linked peptides using a quadrupole time-of-flight mass spectrometer. Anal. Chem. 91, 1808–1814 (2019).

44.

Iacobucci, C. et al. A cross-linking/mass spectrometry workflow based on MS-cleavable cross-linkers and the MeroX software for studying protein structures and protein-protein interactions. Nat. Protoc. 13, 2864–2889 (2018).

45.

Osborne, A. R. & Rapoport, T. A. Protein translocation is mediated by oligomers of the SecY complex with one SecY copy forming the channel. Cell 129, 97–110 (2007).

46.

Hussain, S. & Bernstein, H. D. The Bam complex catalyzes efficient insertion of bacterial outer membrane proteins into membrane vesicles of variable lipid composition. J. Biol. Chem. 293, 2959–2973 (2018).

47.

Miller, J. C. Experiments in Molecular Genetics (Cold Spring Harbor Laboratory Press, 1972).

48.

Sali, A. & Blundell, T. L. Comparative protein modelling by satisfaction of spatial restraints. J. Mol. Biol. 234, 779–815 (1993).

49.

Lomize, M. A., Pogozheva, I. D., Joo, H., Mosberg, H. I. & Lomize, A. L. OPM database and PPM web server: resources for positioning of proteins in membranes. Nucleic Acids Res. 40, D370–D376 (2012).

50.

Lee, J. et al. CHARMM-GUI membrane builder for complex biological membrane simulations with glycolipids and lipoglycans. J. Chem. Theory Comput. 15, 775–786 (2019).

51.

Wu, E. L. et al. E. coli outer membrane and interactions with OmpLA. Biophys. J. 106, 2493–2502 (2014).

52.

Fleming, P. J. et al. BamA POTRA domain interacts with a native lipid membrane surface. Biophys. J. 110, 2698–2709 (2016).

53.

Brooks, B. R. et al. CHARMM: the biomolecular simulation program. J. Comput. Chem. 30, 1545–1614 (2009).

54.

Perilla, J. R., Beckstein, O., Denning, E. J. & Woolf, T. B. Computing ensembles of transitions from stable states: dynamic importance sampling. J. Comput. Chem. 32, 196–209 (2011).

55.

Denning, E. J. & Woolf, T. B. Cooperative nature of gating transitions in K(+) channels as seen from dynamic importance sampling calculations. Proteins 78, 1105–1119 (2010).

56.

Humphrey, W., Dalke, A. & Schulten, K. VMD: visual molecular dynamics. J. Mol. Graph. 14, 33–38 (1996).
Acknowledgements
We thank A. Boujtat for technical help. We thank P. R. Chen (Peking University) for sharing DiZPK, H. Bernstein (NIH, Bethesda, USA) for providing strains and plasmids and M. Deghelt, G. Laloux, C. Goemans (EMBL, Heidelberg, Germany) and P. Leverrier for helpful suggestions and discussions, and for providing comments on the manuscript. We thank P. Legrand and staff at Soleil Synchrotron France and at Diamond Light Source UK for beamtime and their assistance during data collection. This work was supported, in part, by grants from the Fonds de la Recherche Scientifique (FNRS), from FRFS-WELBIO grants nos. WELBIO-CR-2015A-03 and WELBIO-CR-2019C-03, from the EOS Excellence in Research Program of the FWO and FRS-FNRS (no. G0G0818N), from the Fédération Wallonie-Bruxelles (no. ARC 17/22-087), from the European Commission via the International Training Network Train2Target (no. 721484), from the French region Ile-de-France (DIM Malinf) and from the BBSRC (nos. BB/P000037/1 and BB/M012573/1).
Ethics declarations
Competing interests
The authors declare no competing interests.
Additional information
Publisher's note Springer Nature remains neutral with regard to jurisdictional claims in published maps and institutional affiliations.
Supplementary information
Supplementary Tables 1–5.
DIMS simulation of the BamA–RcsF complex reproducing the proposed push-and-pull model. The simulation shows the transition of BamA from the inward-open to the outward-open conformation, with the POTRA5 domain moving towards the periplasmic exit of the lumen and pushing RcsF upwards. This movement is subsequently accompanied by the movement of strands 1–6 in BamA (Z1 domain) and the opening of the outward-facing extremity. The initial conformation of the system (BamA and RcsF) corresponds to the inward-open structure determined in this work (PDB: 6T1W) with the POTRA1–4 domains removed. The final conformation of BamA is similar to the outward-open structure (PDB: 5D0Q). The proteins are represented as cartoons (BamA and RcsF colored orange and blue, respectively), the explicit outer membrane is represented as sticks and the oxygen atoms of water molecules represented as red dots.
About this article
Cite this article
Rodríguez-Alonso, R., Létoquart, J., Nguyen, V.S. et al. Structural insight into the formation of lipoprotein-β-barrel complexes. Nat Chem Biol 16, 1019–1025 (2020). https://doi.org/10.1038/s41589-020-0575-0
Received:

Accepted:

Published:

Issue Date: