Tyrosine sulfation is a common post-translational modification known to play critical roles in multiple bioprocesses. A cleverly engineered mammalian expanded genetic code now enables the direct co-translational incorporation of tyrosine sulfates into proteins to study their function in cellular contexts.
Access options
Subscribe to Journal
Get full journal access for 1 year
$59.00
only $4.92 per issue
All prices are NET prices.
VAT will be added later in the checkout.
Tax calculation will be finalised during checkout.
Rent or Buy article
Get time limited or full article access on ReadCube.
from$8.99
All prices are NET prices.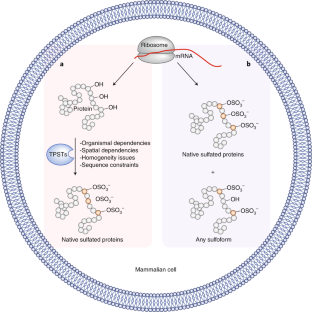 References
1.

Yang, Y.-S. et al. Molecules 20, 2138–2164 (2015).

2.

Stone, M. J., Chuang, S., Hou, X., Shoham, M. & Zhu, J. Z. N. Biotechnol. 25, 299–317 (2009).

3.

Luu, D. D. et al. Proc. Natl Acad. Sci. USA 116, 8525–8534 (2019).

4.

Pruitt, R. N. et al. Sci. Adv. 1, e1500245 (2015).

5.

Italia, J. et al. Nat. Chem. Biol. https://doi.org/10.1038/s41589-020-0493-1 (2020).

6.

Monigatti, F., Gasteiger, E., Bairoch, A. & Jung, E. Bioinformatics 18, 769–770 (2002).

7.

Li, X., Hitomi, J. & Liu, C. C. Biochemistry 57, 2903–2907 (2018).

8.

Liu, C. C. & Schultz, P. G. Nat. Biotechnol. 24, 1436–1440 (2006).

9.

Italia, J. S. et al. Nat. Chem. Biol. 13, 446–450 (2017).
Ethics declarations
Competing interests
The author declares no competing interests
About this article
Cite this article
Liu, C.C. A new path to tyrosine sulfation. Nat Chem Biol 16, 365–366 (2020). https://doi.org/10.1038/s41589-020-0482-4