A comprehensive genetic screen reveals new cellular trafficking factors and linker-dependent requirements for antibody–drug conjugate (ADC) cytotoxicity. These new insights may guide the design of optimized ADCs.
Access options
Access options
Subscribe to Journal
Get full journal access for 1 year
$187.00
only $15.58 per issue
All prices are NET prices.
VAT will be added later in the checkout.
Rent or Buy article
Get time limited or full article access on ReadCube.
from$8.99
All prices are NET prices.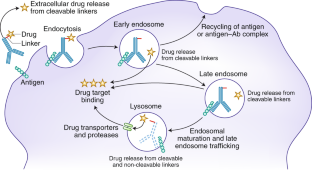 References
1.

Mukherjee, A. et al. Hum. Antibodies 27, 53–62 (2019).

2.

Coats, S.et al. Antibody-drug conjugates: future directions in clinical and translational strategies to improve the therapeutic index. Clin. Cancer Res. https://doi.org/10.1158/1078-0432.CCR-19-0272 (2019).

3.

Abdollahpour-Alitappeh, M. et al. J. Cell. Physiol. 234, 5628–5642 (2019).

4.

Tsui, C. K.et al. Nat. Chem. Biol. https://doi.org/10.1038/s41589-019-0342-2 (2019).

5.

Hamblett, K. J. et al. Cancer Res. 75, 5329–5340 (2015).

6.

Vaites, L. P., Paulo, J. A., Huttlin, E. L. & Harper, J. W. Mol. Cell. Biol. 38, e00392–17 (2017).

7.

Gébleux, R., Stringhini, M., Casanova, R., Soltermann, A. & Neri, D. Int. J. Cancer 140, 1670–1679 (2017).

8.

Kang, J. C. et al. Nat. Biotechnol. 37, 523–526 (2019).

9.

Chalouni, C. & Doll, S. J. Exp. Clin. Cancer Res. 37, 20 (2018).
Ethics declarations
Competing interests
The authors are employees of Seattle Genetics, a company engaged in the field of antibody–drug conjugates.