Abstract
The potent antibacterial lanthipeptide microvionin, isolated from a culture of Microbacterium arborescens, exhibits a new triamino-dicarboxylic acid moiety, termed avionin, and an unprecedented N-terminal guanidino fatty acid. We identified the corresponding biosynthetic gene cluster and reconstituted central steps of avionin biosynthesis in vitro. Genome mining and isolation of nocavionin from Nocardia terpenica revealed a widespread distribution of this lanthipeptide class, termed lipolanthines, which may be useful as future antimicrobial drugs.
Relevant articles
Open Access articles citing this article.
Shan Wang

,

Sixing Lin

…

Hai Deng

Nature Communications Open Access 26 August 2022

Mark C. Walker

,

Sara M. Eslami

…

Wilfred A. van der Donk

BMC Genomics Open Access 03 June 2020
Access options
Subscribe to Nature+
Get immediate online access to Nature and 55 other Nature journal
Subscribe to Journal
Get full journal access for 1 year
$119.00
only $9.92 per issue
All prices are NET prices.
VAT will be added later in the checkout.
Tax calculation will be finalised during checkout.
Buy article
Get time limited or full article access on ReadCube.
$32.00
All prices are NET prices.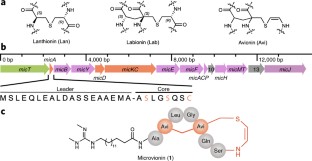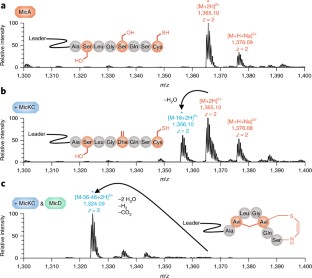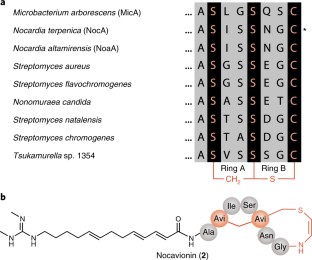 References
Arnison, P. G. et al. Nat. Prod. Rep. 30, 108–160 (2013).

Müller, W. M., Schmiederer, T., Ensle, P. & Süssmuth, R. D. Angew. Chem. Int. Ed. Engl. 49, 2436–2440 (2010).

Hsu, S.-T. D. et al. Nat. Struct. Mol. Biol. 11, 963–967 (2004).

Caetano, T., Süssmuth, R. D. & Mendo, S. Curr. Microbiol. 70, 364–368 (2015).

Somma, S., Merati, W. & Parenti, F. Antimicrob. Agents Chemother. 11, 396–401 (1977).

Meindl, K. et al. Angew. Chem. Int. Ed. Engl. 49, 1151–1154 (2010).

May, M. Nature 509, S4–S5 (2014).

Krawczyk, J. M. et al. Chem. Biol. 20, 111–122 (2013).

Sit, C. S., Yoganathan, S. & Vederas, J. C. Acc. Chem. Res. 44, 261–268 (2011).

Kupke, T., Kempter, C., Jung, G. & Götz, F. J. Biol. Chem. 270, 11282–11289 (1995).

Steenbergen, J. N., Alder, J., Thorne, G. M. & Tally, F. P. J. Antimicrob. Chemother. 55, 283–288 (2005).

Kraas, F. I., Helmetag, V., Wittmann, M., Strieker, M. & Marahiel, M. A. Chem. Biol. 17, 872–880 (2010).

Li, J. & Jensen, S. E. Chem. Biol. 15, 118–127 (2008).

Süssmuth, R. D. & Mainz, A. Angew. Chem. Int. Ed. Engl. 56, 3770–3821 (2017).

Hong, H., Fill, T. & Leadlay, P. F. Angew. Chem. Int. Ed. Engl. 52, 13096–13099 (2013).

Etchegaray, A. & Machini, M. T. in Microbial Pathogens and Strategies for Combating Them: Science, Technology and Education. Vol. 2 (ed. Méndez-Vilas, A.) 951–959 (Formatex Research Center, 2013).

Sardar, D., Lin, Z. & Schmidt, E. W. Chem. Biol. 22, 907–916 (2015).

Jungmann, N. A., van Herwerden, E. F., Hügelland, M. & Süssmuth, R. D. ACS Chem. Biol. 11, 69–76 (2016).

Völler, G. H. et al. ChemBioChem 13, 1174–1183 (2012).

Wang, H. & van der Donk, W. A. ACS Chem. Biol. 7, 1529–1535 (2012).

Cronan, J. E. & Thomas, J. Methods Enzymol. 459, 395–433 (2009).

Hertweck, C., Luzhetskyy, A., Rebets, Y. & Bechthold, A. Nat. Prod. Rep. 24, 162–190 (2007).

Li, B. et al. Science 311, 1464–1467 (2006).

Hoshino, Y. et al. Int. J. Syst. Evol. Microbiol. 57, 1456–1460 (2007).

Gago, G., Diacovich, L., Arabolaza, A., Tsai, S.-C. & Gramajo, H. FEMS Microbiol. Rev. 35, 475–497 (2011).

CLSI. Methods for Dilution Antimicrobial Susceptibility Tests for Bacteria That Grow Aerobically; Approved Standard—Tenth Edition. CLSI document M07-A10. (Wayne, PA, Clinical and Laboratory Standards Institute,2015).

Weber, T. et al. Nucleic Acids Res. 43, W237–W243 (2015).

States, D. J. & Gish, W. J. Comput. Biol. 1, 39–50 (1994).

Schwede, T., Kopp, J., Guex, N. & Peitsch, M. C. Nucleic Acids Res. 31, 3381–3385 (2003).

Florova, G., Kazanina, G. & Reynolds, K. A. Biochemistry 41, 10462–10471 (2002).

Gibson, D. G. et al. Nat. Methods 6, 343–345 (2009).

Andersen, K. R., Leksa, N. C. & Schwartz, T. U. Proteins Struct. Funct. Bioinforma. 81, 1857–1861 (2013).

Majer, F., Schmid, D. G., Altena, K., Bierbaum, G. & Kupke, T. J. Bacteriol. 184, 1234–1243 (2002).

Sievers, F. et al. Mol. Syst. Biol. 7, 539 (2011).

Bachmann, B. O. & Ravel, J. Chapter 8. methods for in silico prediction of microbial polyketide and nonribosomal peptide biosynthetic pathways from DNA sequence data. Methods Enzymol. 458, 181–217 (2009).
Acknowledgements
This research was supported by grants of the Deutsche Forschungsgemeinschaft (Project No.: SU 239/25-1). We thank L. Steinhäuser and R. Al Toma for helpful discussions and advice.
Ethics declarations
Competing interests
The authors declare no competing interests.
Additional information
Publisher's note: Springer Nature remains neutral with regard to jurisdictional claims in published maps and institutional affiliations.
Supplementary information
Supplementary Figures 1–17, Supplementary Tables 1–7, Supplementary Notes 1–2
About this article
Cite this article
Wiebach, V., Mainz, A., Siegert, MA.J. et al. The anti-staphylococcal lipolanthines are ribosomally synthesized lipopeptides. Nat Chem Biol 14, 652–654 (2018). https://doi.org/10.1038/s41589-018-0068-6
Received:

Accepted:

Published:

Issue Date:

DOI: https://doi.org/10.1038/s41589-018-0068-6