Abstract
DNA methylation plays a critical role in spermatogenesis, as evidenced by the male sterility of DNA methyltransferase (DNMT) mutant mice. Here, we report a division of labor in the establishment of the methylation landscape of male germ cells and its functions in spermatogenesis. Although DNMT3C is essential for preventing retrotransposons from interfering with meiosis, DNMT3A broadly methylates the genome (with the exception of DNMT3C-dependent retrotransposons) and controls spermatogonial stem cell (SSC) plasticity. By reconstructing developmental trajectories through single-cell RNA sequencing and profiling chromatin states, we found that Dnmt3A mutant SSCs can only self-renew and no longer differentiate in association with spurious enhancer activation that enforces an irreversible stem cell gene program. Our findings therefore highlight a key function of DNA methylation in male fertility: the epigenetic programming of SSC commitment to differentiation and lifelong spermatogenesis supply.
Access options
Subscribe to Nature+
Get immediate online access to Nature and 55 other Nature journal
Subscribe to Journal
Get full journal access for 1 year
$79.00
only $6.58 per issue
All prices are NET prices.
VAT will be added later in the checkout.
Tax calculation will be finalised during checkout.
Buy article
Get time limited or full article access on ReadCube.
$32.00
All prices are NET prices.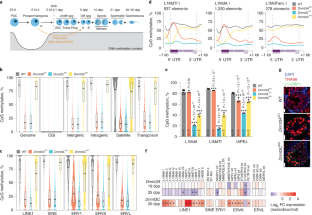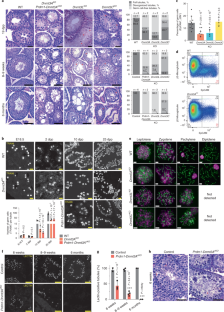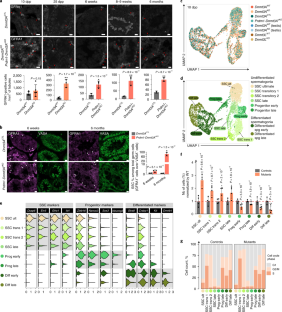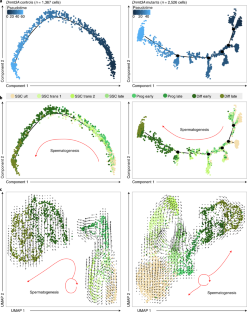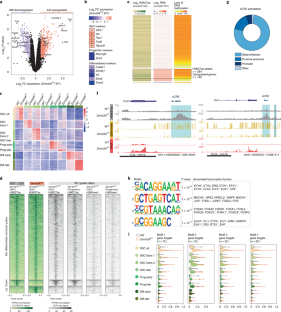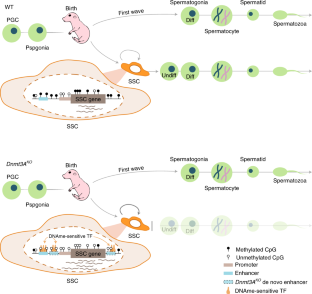 Data availability
Data supporting the findings of this study are available in the main text and the supplementary materials. All sequencing data generated here have been deposited in the Gene Expression Omnibus under accession number GSE162724. Source data are provided with this paper.
Public datasets are available under the following accession numbers: H3K36me2 ChIP-seq in E16.5 prospermatogonia and WGBS on Nsd1 control and Nsd1KO mice in E16.5 prospermatogonia, GSE148150; H3K27ac and H3K4me1 ChIP-seq in ID4-GFPbright and ID4-GFPdim from mouse prepuberal testes, GSE131657; H3K27ac ChIP-seq in prospermatogonia at E13.5 and 1 dpp, DRA006633; assay for transposase-accessible chromatin with sequencing and H3K27me3 ChIP-seq in prospermatogonia at E13.5, E17.5, E19.5 and postnatal day 2, GSE121118. Source data are provided with this paper.
Code availability
We relied on existing published analysis tools, as indicated in Methods. No new analysis tools were generated; scripts used to analyze the data using the published tools are available upon request.
References
Greenberg, M. V. C. & Bourc'his, D. The diverse roles of DNA methylation in mammalian development and disease. Nat. Rev. Mol. Cell Biol. 20, 590–607 (2019).

Weber, M. et al. Distribution, silencing potential and evolutionary impact of promoter DNA methylation in the human genome. Nat. Genet. 39, 457–466 (2007).

Stadler, M. B. et al. DNA-binding factors shape the mouse methylome at distal regulatory regions. Nature 480, 490–495 (2011).

Xie, W. et al. Epigenomic analysis of multilineage differentiation of human embryonic stem cells. Cell 153, 1134–1148 (2013).

Gifford, C. A. et al. Transcriptional and epigenetic dynamics during specification of human embryonic stem cells. Cell 153, 1149–1163 (2013).

Yin, Y. et al. Impact of cytosine methylation on DNA binding specificities of human transcription factors. Science 356, eaaj2239 (2017).

Luo, C., Hajkova, P. & Ecker, J. R. Dynamic DNA methylation: In the right place at the right time. Science 361, 1336–1340 (2018).

Lord, T. & Oatley, J. M. Regulation of spermatogonial stem cell maintenance and self-renewal. In The Biology of Mammalian Spermatogonia 91–129 (Springer, 2017).

Kubo, N. et al. DNA methylation and gene expression dynamics during spermatogonial stem cell differentiation in the early postnatal mouse testis. BMC Genomics 16, 624 (2015).

Bourc'his, D., Xu, G.-L., Lin, C.-S., Bollman, B. & Bestor, T. H. Dnmt3L and the establishment of maternal genomic imprints. Science 294, 2536–2539 (2001).

Kaneda, M. et al. Essential role for de novo DNA methyltransferase Dnmt3a in paternal and maternal imprinting. Nature 429, 900–903 (2004).

Barau, J. et al. The DNA methyltransferase DNMT3C protects male germ cells from transposon activity. Science 354, 909–912 (2016).

Bourc'his, D. & Bestor, T. H. Meiotic catastrophe and retrotransposon reactivation in male germ cells lacking Dnmt3L. Nature 431, 96–99 (2004).

Zamudio, N. et al. DNA methylation restrains transposons from adopting a chromatin signature permissive for meiotic recombination. Genes Dev. 29, 1256–1270 (2015).

Yaman, R. & Grandjean, V. Timing of entry of meiosis depends on a mark generated by DNA methyltransferase 3a in testis. Mol. Reprod. Dev. 73, 390–397 (2006).

Kato, Y. et al. Role of the Dnmt3 family in de novo methylation of imprinted and repetitive sequences during male germ cell development in the mouse. Hum. Mol. Genet. 16, 2272–2280 (2007).

Lengner, C. J. et al. Oct4 expression is not required for mouse somatic stem cell self-renewal. Cell Stem Cell 1, 403–415 (2007).

Shovlin, T. C. et al. Sex-specific promoters regulate Dnmt3L expression in mouse germ cells. Hum. Reprod. 22, 457–467 (2007).

Shirane, K., Miura, F., Ito, T. & Lorincz, M. C. NSD1-deposited H3K36me2 directs de novo methylation in the mouse male germline and counteracts Polycomb-associated silencing. Nat. Genet. 52, 1088–1098 (2020).

Okano, M., Bell, D. W., Haber, D. A. & Li, E. DNA methyltransferases Dnmt3a and Dnmt3b are essential for de novo methylation and mammalian development. Cell 99, 247–257 (1999).

Ohinata, Y. et al. Blimp1 is a critical determinant of the germ cell lineage in mice. Nature 436, 207–213 (2005).

Yoshida, S. et al. The first round of mouse spermatogenesis is a distinctive program that lacks the self-renewing spermatogonia stage. Development 133, 1495–1505 (2006).

Law, N. C., Oatley, M. J. & Oatley, J. M. Developmental kinetics and transcriptome dynamics of stem cell specification in the spermatogenic lineage. Nat. Commun. 10, 2787 (2019).

Chan, F. et al. Functional and molecular features of the Id4+ germline stem cell population in mouse testes. Genes Dev. 28, 1351–1362 (2014).

Helsel, A. R. et al. ID4 levels dictate the stem cell state in mouse spermatogonia. Development 144, 624–634 (2017).

Lord, T. & Oatley, J. M. A revised Asingle model to explain stem cell dynamics in the mouse male germline. Reproduction 154, R55–R64 (2017).

Hermann, B. P. et al. The mammalian spermatogenesis single-cell transcriptome, from spermatogonial stem cells to spermatids. Cell Rep. 25, 1650–1667.e8 (2018).

Green, C. D. et al. A comprehensive roadmap of murine spermatogenesis defined by single-cell RNA-seq. Dev. Cell 46, 651–667.e10 (2018).

Vasiliauskaitė, L. et al. Defective germline reprogramming rewires the spermatogonial transcriptome. Nat. Struct. Mol. Biol. 25, 394–404 (2018).

Roy Choudhury, D. et al. Microarray-based analysis of cell-cycle gene expression during spermatogenesis in the mouse. Biol. Reprod. 83, 663–675 (2010).

Suzuki, S., McCarrey, J. R. & Hermann, B. P. An mTORC1-dependent switch orchestrates the transition between mouse spermatogonial stem cells and clones of progenitor spermatogonia. Cell Rep. 34, 108752 (2021).

La Manno, G. et al. RNA velocity of single cells. Nature 560, 494–498 (2018).

King, A. D. et al. Reversible regulation of promoter and enhancer histone landscape by DNA methylation in mouse embryonic stem cells. Cell Rep. 17, 289–302 (2016).

Jermann, P., Hoerner, L., Burger, L. & Schubeler, D. Short sequences can efficiently recruit histone H3 lysine 27 trimethylation in the absence of enhancer activity and DNA methylation. Proc. Natl Acad. Sci. U S A 111, E3415–E3421 (2014).

Brinkman, A. B. et al. Sequential ChIP-bisulfite sequencing enables direct genome-scale investigation of chromatin and DNA methylation cross-talk. Genome Res. 22, 1128–1138 (2012).

Cheng, K. et al. Unique epigenetic programming distinguishes regenerative spermatogonial stem cells in the developing mouse testis. iScience 23, 101596 (2020).

Yamanaka, S. et al. Broad heterochromatic domains open in gonocyte development prior to de novo DNA methylation.Dev. Cell 51, 21–34.e5 (2019).

Kawabata, Y. et al. Sex-specific histone modifications in mouse fetal and neonatal germ cells. Epigenomics 11, 543–561 (2019).

Smith, A. M. et al. A novel mode of enhancer evolution: the Tal1 stem cell enhancer recruited a MIR element to specifically boost its activity. Genome Res. 18, 1422–1432 (2008).

Domcke, S. et al. Competition between DNA methylation and transcription factors determines binding of NRF1. Nature 528, 575–579 (2015).

Lea, A. J. et al. Genome-wide quantification of the effects of DNA methylation on human gene regulation. Elife 7, 1–27 (2018).

Stephens, D. C. & Poon, G. M. K. Differential sensitivity to methylated DNA by ETS-family transcription factors is intrinsically encoded in their DNA-binding domains. Nucleic Acids Res. 44, 8671–8681 (2016).

Song, H.-W. & Wilkinson, M. F. Transcriptional control of spermatogonial maintenance and differentiation. Semin. Cell Dev. Biol. 30, 14–26 (2014).

Zhang, T., Oatley, J., Bardwell, V. J. & Zarkower, D. DMRT1 is required for mouse spermatogonial stem cell maintenance and replenishment. PLoS Genet. 12, e1006293 (2016).

Wu, H. et al. Dnmt3a-dependent nonpromoter DNA methylation facilitates transcription of neurogenic genes. Sci. (80-.). 329, 444–448 (2010).

Izzo, F. et al. DNA methylation disruption reshapes the hematopoietic differentiation landscape. Nat. Genet. 52, 378–387 (2020).

Ketkar, S. et al. Remethylation of Dnmt3a−/− hematopoietic cells is associated with partial correction of gene dysregulation and reduced myeloid skewing. Proc. Natl Acad. Sci. U S A 117, 3123–3134 (2020).

Challen, G. A. et al. Dnmt3a is essential for hematopoietic stem cell differentiation. Nat. Genet. 44, 23–31 (2012).

Jeong, M. et al. Loss of Dnmt3a immortalizes hematopoietic stem cells in vivo. Cell Rep. 23, 1–10 (2018).

Lewandoski, M., Wassarman, K. M. & Martin, G. R. Zp3–cre, a transgenic mouse line for the activation or inactivation of loxP-flanked target genes specifically in the female germ line. Curr. Biol. 7, 148–151 (1997).

Miura, F. et al. Highly efficient single-stranded DNA ligation technique improves low-input whole-genome bisulfite sequencing by post-bisulfite adaptor tagging. Nucleic Acids Res. 47, e85–e85 (2019).

Skene, P. J. & Henikoff, S. An efficient targeted nuclease strategy for high-resolution mapping of DNA binding sites. Elife 6, 1–35 (2017).

Didion, J. P., Martin, M. & Collins, F. S. Atropos: specific, sensitive, and speedy trimming of sequencing reads. PeerJ 5, e3720 (2017).

Illingworth, R. S. et al. Orphan CpG islands identify numerous conserved promoters in the mammalian genome. PLoS Genet. 6, e1001134 (2010).

Feng, H., Conneely, K. N. & Wu, H. A Bayesian hierarchical model to detect differentially methylated loci from single nucleotide resolution sequencing data. Nucleic Acids Res. 42, e69–e69 (2014).

Dobin, A. et al. STAR: ultrafast universal RNA-seq aligner. Bioinformatics 29, 15–21 (2013).

Velte, E. K. et al. Differential RA responsiveness directs formation of functionally distinct spermatogonial populations at the initiation of spermatogenesis in the mouse. Development 146, dev173088 (2019).

Qiu, X. et al. Reversed graph embedding resolves complex single-cell trajectories. Nat. Methods 14, 979–982 (2017).

Lane, N. et al. Resistance of IAPs to methylation reprogramming may provide a mechanism for epigenetic inheritance in the mouse. Genesis 35, 88–93 (2003).

Zhou, Y. et al. Metascape provides a biologist-oriented resource for the analysis of systems-level datasets. Nat. Commun. 10, 1523 (2019).
Acknowledgements
We are grateful for support and feedback from members of the Bourc'his laboratory. We thank N. Fayaubost and the Institut Curie in vivo experiment platform for animal care, M. Greenberg for critical reading of the manuscript and N. Servant for bioinformatic assistance. We thank A. Clark for the Prdm1-Cre and Oct4-eGFP mice, J. Oatley for the Id4-GFP mouse and K. Laband and J. Dumont for the anti-SYCP3 antibody. We acknowledge the ICGex NGS platform of Institut Curie (supported by grants ANR-10-EQPX-03, Equipex and ANR-10-INBS-09-08, France Génomique) and the Cell and Tissue Imaging Platform-PICT-IBiSA (member of France-Bioimaging, ANR-10-INBS-04) of the Genetics and Developmental Biology Department (UMR3215/U934) of the Institut Curie. The laboratory of D.B. is part of the LABEX DEEP (ANR-11-LABX-0044 and ANR-10-IDEX-0001-02). This work was supported by a grant from the Agence Nationale pour la Recherche (ANR-17-CE12-00013-01), the Fondation Bettencourt Schueller and the Fondation pour la Recherche Médicale (FRM Team Label). M.D. was supported by PhD fellowships from Région Île-de-France and Fondation pour la Recherche Médicale. L.B. is the recipient of a PhD Boehringer Ingelheim Fonds fellowship.
Ethics declarations
Competing interests
The authors declare no competing interests.
Peer review
Peer review information
Nature Genetics thanks Matthew Lorincz and the other, anonymous, reviewer(s) for their contribution to the peer review of this work. Peer reviewer reports are available.
Additional information
Publisher's note Springer Nature remains neutral with regard to jurisdictional claims in published maps and institutional affiliations.
Supplementary information
Source data
Unprocessed Gel referring to Dura_ED_Fig2i.
Unprocessed Gel referring to Dura_ED_Fig2i.
About this article
Cite this article
Dura, M., Teissandier, A., Armand, M. et al. DNMT3A-dependent DNA methylation is required for spermatogonial stem cells to commit to spermatogenesis. Nat Genet 54, 469–480 (2022). https://doi.org/10.1038/s41588-022-01040-z
Received:

Accepted:

Published:

Issue Date:

DOI: https://doi.org/10.1038/s41588-022-01040-z
This article is cited by
Xin Wang
Anne Ramat
Mo-Fang Liu

Nature Reviews Molecular Cell Biology (2022)