Abstract
Spleen tyrosine kinase (SYK) is a critical immune signaling molecule and therapeutic target. We identified damaging monoallelic SYK variants in six patients with immune deficiency, multi-organ inflammatory disease such as colitis, arthritis and dermatitis, and diffuse large B cell lymphomas. The SYK variants increased phosphorylation and enhanced downstream signaling, indicating gain of function. A knock-in (SYK-Ser544Tyr) mouse model of a patient variant (p.Ser550Tyr) recapitulated aspects of the human disease that could be partially treated with a SYK inhibitor or transplantation of bone marrow from wild-type mice. Our studies demonstrate that SYK gain-of-function variants result in a potentially treatable form of inflammatory disease.
Access options
Subscribe to Journal
Get full journal access for 1 year
$59.00
only $4.92 per issue
All prices are NET prices.
VAT will be added later in the checkout.
Tax calculation will be finalised during checkout.
Rent or Buy article
Get time limited or full article access on ReadCube.
from$8.99
All prices are NET prices.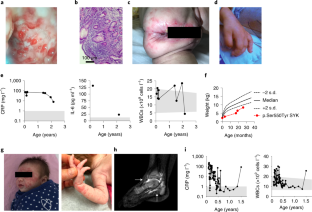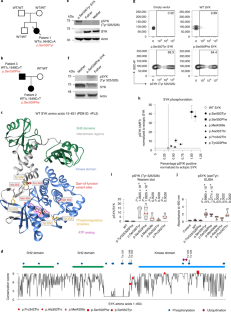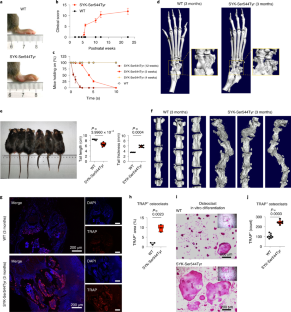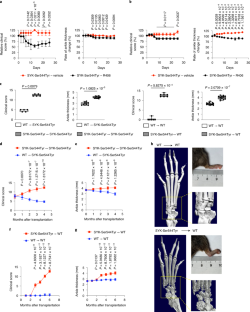 Data availability
The identified SYK variants have been submitted to the ClinVar database (https://www.ncbi.nlm.nih.gov/clinvar/) with the IDs SCV001450452 [c.1649C>A, p.Ser550Tyr], SCV001450453 [c.1649C>T, p.Ser550Phe], SCV001450454 [c.1024C>A, p.Pro342Thr], SCV001450455 [c.1350G>A, p.Met450Ile] and SCV001450456 [c.1057G>A, p.Ala353Thr]. The whole-exome sequencing data will not be made publicly available as they contain information that could compromise research participant privacy/consent. Information on the whole-exome sequencing raw data supporting the findings of this study is available from the corresponding authors upon request. Publicly available datasets/databases used in this study include the COSMIC database (https://cancer.sanger.ac.uk/cosmic), Kinase.com (http://www.kinase.com/human/kinome/) and the RCSB Protein Databank (PDB, https://www.rcsb.org/). Source data are provided with this paper.
References
1.

Mocsai, A., Ruland, J. & Tybulewicz, V. L. The SYK tyrosine kinase: a crucial player in diverse biological functions. Nat. Rev. Immunol. 10, 387–402 (2010).

2.

Dennehy, K. M. et al. Syk kinase is required for collaborative cytokine production induced through Dectin-1 and Toll-like receptors. Eur. J. Immunol. 38, 500–506 (2008).

3.

Turner, M. et al. Perinatal lethality and blocked B-cell development in mice lacking the tyrosine kinase Syk. Nature 378, 298–302 (1995).

4.

Cheng, A. M. et al. Syk tyrosine kinase required for mouse viability and B-cell development. Nature 378, 303–306 (1995).

5.

Jakus, Z., Simon, E., Balazs, B. & Mocsai, A. Genetic deficiency of Syk protects mice from autoantibody-induced arthritis. Arthritis Rheum. 62, 1899–1910 (2010).

6.

Arpaia, E., Shahar, M., Dadi, H., Cohen, A. & Roifman, C. M. Defective T cell receptor signaling and CD8+ thymic selection in humans lacking zap-70 kinase. Cell 76, 947–958 (1994).

7.

Kircher, M. et al. A general framework for estimating the relative pathogenicity of human genetic variants. Nat. Genet. 46, 310–315 (2014).

8.

Sada, K., Zhang, J. & Siraganian, R. P. Point mutation of a tyrosine in the linker region of Syk results in a gain of function. J. Immunol. 164, 338–344 (2000).

9.

Pine, P. R. et al. Inflammation and bone erosion are suppressed in models of rheumatoid arthritis following treatment with a novel Syk inhibitor. Clin. Immunol. 124, 244–257 (2007).

10.

Villasenor, A. G. et al. Structural insights for design of potent spleen tyrosine kinase inhibitors from crystallographic analysis of three inhibitor complexes. Chem. Biol. Drug Des. 73, 466–470 (2009).

11.

Gradler, U. et al. Structural and biophysical characterization of the Syk activation switch. J. Mol. Biol. 425, 309–333 (2013).

12.

Gaffen, S. L., Jain, R., Garg, A. V. & Cua, D. J. The IL-23–IL-17 immune axis: from mechanisms to therapeutic testing. Nat. Rev. Immunol. 14, 585–600 (2014).

13.

Korn, T., Bettelli, E., Oukka, M. & Kuchroo, V. K. IL-17 and Th17 Cells. Annu. Rev. Immunol. 27, 485–517 (2009).

14.

Taams, L. S., Steel, K. J. A., Srenathan, U., Burns, L. A. & Kirkham, B. W. IL-17 in the immunopathogenesis of spondyloarthritis. Nat. Rev. Rheumatol. 14, 453–466 (2018).

15.

Shao, Y. et al. CRISPR/Cas-mediated genome editing in the rat via direct injection of one-cell embryos. Nat. Protoc. 9, 2493–2512 (2014).

16.

Keller, B. et al. High SYK expression drives constitutive activation of CD21low B cells. J. Immunol. 198, 4285–4292 (2017).

17.

Csete, D. et al. Hematopoietic or osteoclast-specific deletion of Syk leads to increased bone mass in experimental mice. Front. Immunol. 10, 937 (2019).

18.

Yang, G., Chen, X., Yan, Z., Zhu, Q. & Yang, C. CD11b promotes the differentiation of osteoclasts induced by RANKL through the spleen tyrosine kinase signalling pathway. J. Cell Mol. Med. 21, 3445–3452 (2017).

19.

Can, G. et al. The Syk inhibitor fostamatinib decreases the severity of colonic mucosal damage in a rodent model of colitis. J. Crohns Colitis 9, 907–917 (2015).

20.

Hang, L. et al. Downregulation of the Syk signaling pathway in intestinal dendritic cells is sufficient to induce dendritic cells that inhibit colitis. J. Immunol. 197, 2948–2957 (2016).

21.

Hug, E., Hobeika, E., Reth, M. & Jumaa, H. Inducible expression of hyperactive Syk in B cells activates Blimp-1-dependent terminal differentiation. Oncogene 33, 3730–3741 (2014).

22.

Young, R. M. et al. Mouse models of non-Hodgkin lymphoma reveal Syk as an important therapeutic target. Blood 113, 2508–2516 (2009).

23.

Schmitz, R. et al. Genetics and pathogenesis of diffuse large B-cell lymphoma. N. Engl. J. Med. 378, 1396–1407 (2018).

24.

Munshi, M. et al. SYK is activated by mutated MYD88 and drives pro-survival signaling in MYD88 driven B-cell lymphomas. Blood Cancer J. 10, 12 (2020).

25.

Davis, R. E. et al. Chronic active B-cell-receptor signalling in diffuse large B-cell lymphoma. Nature 463, 88–92 (2010).

26.

Tate, J. G. et al. COSMIC: the Catalogue of Somatic Mutations in Cancer. Nucleic Acids Res. 47, D941–D947 (2019).

27.

Ruhe, J. E. et al. Genetic alterations in the tyrosine kinase transcriptome of human cancer cell lines. Cancer Res. 67, 11368–11376 (2007).

28.

Malik, A. et al. SYK-CARD9 signaling axis promotes gut fungi-mediated inflammasome activation to restrict colitis and colon cancer. Immunity 49, 515–530 (2018).

29.

Krisenko, M. O. & Geahlen, R. L. Calling in SYK: SYK's dual role as a tumor promoter and tumor suppressor in cancer. Biochim. Biophys. Acta 1853, 254–263 (2015).

30.

Kunwar, S., Devkota, A. R. & Ghimire, D. K. Fostamatinib, an oral spleen tyrosine kinase inhibitor, in the treatment of rheumatoid arthritis: a meta-analysis of randomized controlled trials. Rheumatol. Int. 36, 1077–1087 (2016).

31.

Genovese, M. C. et al. An oral Syk kinase inhibitor in the treatment of rheumatoid arthritis: a three-month randomized, placebo-controlled, phase II study in patients with active rheumatoid arthritis that did not respond to biologic agents. Arthritis Rheum. 63, 337–345 (2011).

32.

Deng, G. M., Kyttaris, V. C. & Tsokos, G. C. Targeting Syk in autoimmune rheumatic diseases. Front. Immunol. 7, 78 (2016).

33.

Rolf, M. G. et al. In vitro pharmacological profiling of R406 identifies molecular targets underlying the clinical effects of fostamatinib. Pharm. Res. Perspect. 3, e00175 (2015).

34.

Leshchiner, E. S. et al. Small-molecule inhibitors directly target CARD9 and mimic its protective variant in inflammatory bowel disease. Proc. Natl Acad. Sci. USA 114, 11392–11397 (2017).

35.

Cao, Z. et al. Ubiquitin ligase TRIM62 regulates CARD9-mediated anti-fungal immunity and intestinal inflammation. Immunity 43, 715–726 (2015).

36.

Zong, X. N. & Li, H. Construction of a new growth references for China based on urban Chinese children: comparison with the WHO growth standards. PLoS ONE 8, e59569 (2013).

37.

Salzer, E. et al. RASGRP1 deficiency causes immunodeficiency with impaired cytoskeletal dynamics. Nat. Immunol. 17, 1352–1360 (2016).

38.

Ozen, A. et al. CD55 deficiency, early-onset protein-losing enteropathy, and thrombosis. N. Engl. J. Med. 377, 52–61 (2017).

39.

McLaren, W. et al. The ensembl variant effect predictor. Genome Biol. 17, 122 (2016).

40.

Castel, S. E., Levy-Moonshine, A., Mohammadi, P., Banks, E. & Lappalainen, T. Tools and best practices for data processing in allelic expression analysis. Genome Biol. 16, 195 (2015).

41.

The 1000 Genomes Project Consortium A global reference for human genetic variation. Nature 526, 68–74 (2015).

42.

Pan, J., Thoeni, C., Muise, A., Yeger, H. & Cutz, E. Multilabel immunofluorescence and antigen reprobing on formalin-fixed paraffin-embedded sections: novel applications for precision pathology diagnosis. Mod. Pathol. 29, 557–569 (2016).

43.

Landau, M. et al. ConSurf 2005: the projection of evolutionary conservation scores of residues on protein structures. Nucleic Acids Res. 33, W299–W302 (2005).

44.

Glaser, F. et al. ConSurf: identification of functional regions in proteins by surface-mapping of phylogenetic information. Bioinformatics 19, 163–164 (2003).

45.

van Maanen, M. A. et al. Stimulation of nicotinic acetylcholine receptors attenuates collagen-induced arthritis in mice. Arthritis Rheum. 60, 114–122 (2009).

46.

Lutz, M. B. et al. An advanced culture method for generating large quantities of highly pure dendritic cells from mouse bone marrow. J. Immunol. Methods 223, 77–92 (1999).

47.

Coria, L. M. et al. A Brucella spp. protease inhibitor limits antigen lysosomal proteolysis, increases cross-presentation, and enhances CD8+ T cell responses. J. Immunol. 196, 4014–4029 (2016).

48.

Wan, Y., Chong, L. W. & Evans, R. M. PPAR-γ regulates osteoclastogenesis in mice. Nat. Med. 13, 1496–1503 (2007).

49.

Kawano, H. et al. Suppressive function of androgen receptor in bone resorption. Proc. Natl Acad. Sci. USA 100, 9416–9421 (2003).

50.

Schneider, C. A., Rasband, W. S. & Eliceiri, K. W. NIH Image to ImageJ: 25 years of image analysis. Nat. Methods 9, 671–675 (2012).

51.

Rueden, C. T. et al. ImageJ2: ImageJ for the next generation of scientific image data. BMC Bioinform. 18, 529 (2017).

52.

Schindelin, J. et al. Fiji: an open-source platform for biological-image analysis. Nat. Methods 9, 676–682 (2012).
Acknowledgements
We thank the patients, their families and all healthy individuals who actively participated in this study. We thank K. Fiedler for assistance with patient-related materials and H.-B. Shu (Wuhan University, China) for providing plasmids. We acknowledge the contribution to this research through access to the data and findings generated by the 100,000 Genomes Project. The 100,000 Genomes Project is managed by Genomics England Limited (a wholly owned company of the Department of Health). The 100,000 Genomes Project and/or research infrastructure are funded by the National Institute for Health Research, the National Health Service England, the Wellcome Trust, Cancer Research UK and the Medical Research Council. The 100,000 Genomes Project uses data provided by patients and collected by the National Health Service as part of their care and support. We acknowledge the contribution of the Oxford IBD cohort study and the Gastrointestinal Illness Biobank, which are supported by the NIHR Biomedical Research Centre, Oxford. We acknowledge the contribution of the VEOIBD.org Consortium. D.L., Z.Z., X.C. and Liren Wang are funded by the National Key R&D Program of China (2019YFA0110802). Lin Wang and Y.H. are funded by the JiuJiu Charitable Trust. Lin Wang was supported by a Chinese Government Scholarship. C.K. and D.K. are funded by the German Research Foundation CRC1054 Project A05 and the Care-for-Rare Foundation. H.H.U. and D.A. are supported by the NIHR Biomedical Research Centre, Oxford. Q.L. and D.L. were supported by a Crohn's and Colitis Canada, Canadian Association of Gastroenterology, and Canadian Institutes of Health Research (CIHR) Fellowships. K.B. is supported by a European Research Council Consolidator Grant (iDysChart, ERC grant agreement number 820074). B.G. receives support through the DFG SFB1160/2_B5, under Germany's Excellence Strategy (CIBSS – EXC-2189 – Project ID 390939984, and RESIST – EXC 2155 – Project ID 39087428); through the E-rare program of the EU, managed by the DFG, grant code GR1617/14-1/iPAD; and through the 'Netzwerke Seltener Erkrankungen' of the German Ministry of Education and Research (BMBF), grant code GAIN_ 01GM1910A. W.H.A.K. was supported by operating grants from the CIHR (PJT-156095 and PJT-153168). S.H., K.R.E. and H.R.G. were funded by the Wellcome Trust (207556_Z_17_Z). A.M.M., C.K., S.B.S., H.H.U., I.D. and S.C.N. are funded by the Leona M. and Harry B. Helmsley Charitable Trust. A.M.M., C.K. and S.B.S. are funded by an NIH (RC2DK122532) grant. A.M.M. is funded by a Canada Research Chair (Tier 1) in Pediatric IBD, a CIHR Foundation grant and NIDDK NIH (RC2DK118640). D.L., Z.Z., X.C. and Liren Wang are funded by the National Key R&D Program of China (2019YFA0110802) and National Natural Science Foundation of China (no. 32025023).
Ethics declarations
Competing interests
The authors declare no competing interests.
Additional information
Peer review information Nature Genetics thanks Ivona Aksentijevich, Geert van Loo and the other, anonymous, reviewer(s) for their contribution to the peer review of this work.
Publisher's note Springer Nature remains neutral with regard to jurisdictional claims in published maps and institutional affiliations.
Supplementary information
Supplementary Note, Methods and Figs. 1–7
About this article
Cite this article
Wang, L., Aschenbrenner, D., Zeng, Z. et al. Gain-of-function variants in SYK cause immune dysregulation and systemic inflammation in humans and mice. Nat Genet 53, 500–510 (2021). https://doi.org/10.1038/s41588-021-00803-4
Received:

Accepted:

Published:

Issue Date: