Abstract
Many chromatin-binding proteins and protein complexes that regulate transcription also bind RNA. One of these, Polycomb repressive complex 2 (PRC2), deposits the H3K27me3 mark of facultative heterochromatin and is required for stem cell differentiation. PRC2 binds RNAs broadly in vivo and in vitro. Yet, the biological importance of this RNA binding remains unsettled. Here, we tackle this question in human induced pluripotent stem cells by using multiple complementary approaches. Perturbation of RNA–PRC2 interaction by RNase A, by a chemical inhibitor of transcription or by an RNA-binding-defective mutant all disrupted PRC2 chromatin occupancy and localization genome wide. The physiological relevance of PRC2–RNA interactions is further underscored by a cardiomyocyte differentiation defect upon genetic disruption. We conclude that PRC2 requires RNA binding for chromatin localization in human pluripotent stem cells and in turn for defining cellular state.
Your institute does not have access to this article
Relevant articles
Open Access articles citing this article.
Wei Wen Teo

,

Xinang Cao

…

Daniel G. Tenen

Communications Biology Open Access 11 April 2022

Haining Zhou

,

Chad B. Stein

…

Danesh Moazed

Nature Open Access 30 March 2022

Sabrina Fischer

,

Lisa Marie Weber

&

Robert Liefke

Epigenetics & Chromatin Open Access 22 February 2022
Access options
Subscribe to Nature+
Get immediate online access to the entire Nature family of 50+ journals
Subscribe to Journal
Get full journal access for 1 year
$59.00
only $4.92 per issue
All prices are NET prices.
VAT will be added later in the checkout.
Tax calculation will be finalised during checkout.
Buy article
Get time limited or full article access on ReadCube.
$32.00
All prices are NET prices.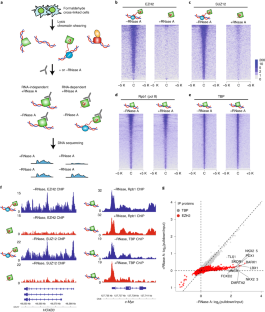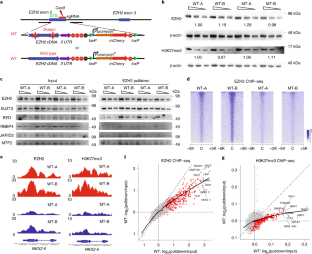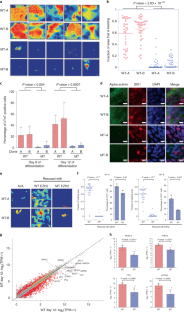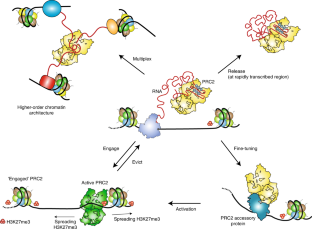 Data availability
Genomic data have been uploaded to GEO (accession GSE128135). All data, plasmids and cell lines used in the analysis are available upon request. Plasmids and cell lines are available upon request subject to a material transfer agreement (UBMTA) with the University of Colorado Boulder. Custom computational codes are available upon request as well as in GitHub (https://github.com/taeyoungh/PRC2). Gene set information for GSEA is available at https://www.gsea-msigdb.org/gsea/msigdb/index.jsp. Source data are provided with this paper.
References
Hudson, W. H. & Ortlund, E. A. The structure, function and evolution of proteins that bind DNA and RNA. Nat. Rev. Mol. Cell Biol. 15, 749–760 (2014).

Hendrickson, D. G., Kelley, D. R., Tenen, D., Bernstein, B. & Rinn, J. L. Widespread RNA binding by chromatin-associated proteins. Genome Biol. 17, 28 (2016).

Long, Y., Wang, X., Youmans, D. T. & Cech, T. R. How do lncRNAs regulate transcription? Sci. Adv. 3, eaao2110 (2017).

Khalil, A. M. et al. Many human large intergenic noncoding RNAs associate with chromatin-modifying complexes and affect gene expression. Proc. Natl Acad. Sci. USA 106, 11667–11672 (2009).

Cao, R. et al. Role of histone H3 lysine 27 methylation in polycomb-group silencing. Science 298, 1039–1043 (2002).

Muller, J. & Verrijzer, P. Biochemical mechanisms of gene regulation by polycomb group protein complexes. Curr. Opin. Genet. Dev. 19, 150–158 (2009).

Schuettengruber, B. & Cavalli, G. Recruitment of Polycomb group complexes and their role in the dynamic regulation of cell fate choice. Development 136, 3531–3542 (2009).

Margueron, R. & Reinberg, D. The Polycomb complex PRC2 and its mark in life. Nature 469, 343–349 (2011).

Helin, K. & Dhanak, D. Chromatin proteins and modifications as drug targets. Nature 502, 480–488 (2013).

Pasini, D., Bracken, A. P., Hansen, J. B., Capillo, M. & Helin, K. The polycomb group protein Suz12 is required for embryonic stem cell differentiation. Mol. Cell. Biol. 27, 3769–3779 (2007).

Laugesen, A., Hojfeldt, J. W. & Helin, K. Molecular mechanisms directing PRC2 recruitment and H3K27 methylation. Mol. Cell 74, 8–18 (2019).

Davidovich, C. & Cech, T. R. The recruitment of chromatin modifiers by long noncoding RNAs: lessons from PRC2. RNA 21, 2007–2022 (2015).

Wang, X. et al. Molecular analysis of PRC2 recruitment to DNA in chromatin and its inhibition by RNA. Nat. Struct. Mol. Biol. 24, 1028–1038 (2017).

Beltran, M. et al. The interaction of PRC2 with RNA or chromatin is mutually antagonistic. Genome Res. 26, 896–907 (2016).

Kaneko, S., Son, J., Bonasio, R., Shen, S. S. & Reinberg, D. Nascent RNA interaction keeps PRC2 activity poised and in check. Genes Dev. 28, 1983–1988 (2014).

Cifuentes-Rojas, C., Hernandez, A. J., Sarma, K. & Lee, J. T. Regulatory interactions between RNA and Polycomb repressive complex 2. Mol. Cell 55, 171–185 (2014).

Wei, C. et al. RBFox2 binds nascent RNA to globally regulate Polycomb complex 2 targeting in mammalian genomes. Mol. Cell 62, 875–889 (2016).

Guil, S. et al. Intronic RNAs mediate EZH2 regulation of epigenetic targets. Nat. Struct. Mol. Biol. 19, 664–670 (2012).

Piunti, A. & Shilatifard, A. Epigenetic balance of gene expression by Polycomb and COMPASS families. Science 352, aad9780 (2016).

Riising, E. M. et al. Gene silencing triggers Polycomb repressive complex 2 recruitment to CpG islands genome wide. Mol. Cell 55, 347–360 (2014).

Youmans, D. T., Schmidt, J. C. & Cech, T. R. Live-cell imaging reveals the dynamics of PRC2 and recruitment to chromatin by SUZ12-associated subunits. Genes Dev. 32, 794–805 (2018).

Beltran, M. et al. G-tract RNA removes Polycomb repressive complex 2 from genes. Nat. Struct. Mol. Biol. 26, 899–909 (2019).

Davidovich, C. et al. Toward a consensus on the binding specificity and promiscuity of PRC2 for RNA. Mol. Cell 57, 552–558 (2015).

Davidovich, C., Zheng, L., Goodrich, K. J. & Cech, T. R. Promiscuous RNA binding by Polycomb repressive complex 2. Nat. Struct. Mol. Biol. 20, 1250–1273 (2013).

Wang, X. et al. Targeting of Polycomb repressive complex 2 to RNA by short repeats of consecutive guanines. Mol. Cell 65, 1056–1067 e5 (2017).

Long, Y. et al. Conserved RNA-binding specificity of polycomb repressive complex 2 is achieved by dispersed amino acid patches in EZH2. eLife 6, e31558 (2017).

Abruzzi, K. C., Lacadie, S. & Rosbash, M. Biochemical analysis of TREX complex recruitment to intronless and intron-containing yeast genes. EMBO J. 23, 2620–2631 (2004).

Thompson, P. J. et al. hnRNP K coordinates transcriptional silencing by SETDB1 in embryonic stem cells. PLoS Genet. 11, e1004933 (2015).

Casale, A. M., Cappucci, U., Fanti, L. & Piacentini, L. Heterochromatin protein 1 (HP1) is intrinsically required for post-transcriptional regulation of Drosophila Germline Stem Cell (GSC) maintenance. Sci. Rep. 9, 4372 (2019).

Bernstein, E. et al. Mouse polycomb proteins bind differentially to methylated histone H3 and RNA and are enriched in facultative heterochromatin. Mol. Cell Biol. 26, 2560–2569 (2006).

Barutcu, A. R., Blencowe, B. J. & Rinn, J. L. Differential contribution of steady-state RNA and active transcription in chromatin organization. EMBO Rep. 20, e48068 (2019).

Lee, C. H. et al. Automethylation of PRC2 promotes H3K27 methylation and is impaired in H3K27M pediatric glioma. Genes Dev. 33, 1428–1440 (2019).

Wang, X. et al. Regulation of histone methylation by automethylation of PRC2. Genes Dev. 33, 1416–1427 (2019).

Miyaoka, Y. et al. Isolation of single-base genome-edited human iPS cells without antibiotic selection. Nat. Methods 11, 291–U345 (2014).

Mandegar, M. A. et al. CRISPR interference efficiently induces specific and reversible gene silencing in human iPSCs. Cell Stem Cell 18, 541–553 (2016).

Wang, J. et al. Identification of LBX2 as a novel causal gene of atrial septal defect. Int. J. Cardiol. 265, 188–194 (2018).

Ochi, H. & Westerfield, M. Lbx2 regulates formation of myofibrils. BMC Dev. Biol. 9, 13 (2009).

Hoffmann, A. D. et al. Foxf genes integrate tbx5 and hedgehog pathways in the second heart field for cardiac septation. PLoS Genet. 10, e1004604 (2014).

Lian, X. et al. Directed cardiomyocyte differentiation from human pluripotent stem cells by modulating Wnt/β-catenin signaling under fully defined conditions. Nat. Protoc. 8, 162–175 (2013).

Delgado-Olguin, P. et al. Epigenetic repression of cardiac progenitor gene expression by Ezh2 is required for postnatal cardiac homeostasis. Nat. Genet. 44, 343–347 (2012).

Amendt, B. A., Sutherland, L. B. & Russo, A. F. Transcriptional antagonism between Hmx1 and Nkx2.5 for a shared DNA-binding site. J. Biol. Chem. 274, 11635–11642 (1999).

Rinn, J. L. et al. Functional demarcation of active and silent chromatin domains in human HOX loci by noncoding RNAs. Cell 129, 1311–1323 (2007).

Zhao, J. et al. Genome-wide identification of Polycomb-associated RNAs by RIP-seq. Mol. Cell 40, 939–953 (2010).

Tsai, M. C. et al. Long noncoding RNA as modular scaffold of histone modification complexes. Science 329, 689–693 (2010).

Yu, J. R., Lee, C. H., Oksuz, O., Stafford, J. M. & Reinberg, D. PRC2 is high maintenance. Genes Dev. 33, 903–935 (2019).

Lee, C. H. et al. Allosteric activation dictates PRC2 activity independent of its recruitment to chromatin. Mol. Cell 70, 422–434 e6 (2018).

Oksuz, O. et al. Capturing the onset of PRC2-mediated repressive domain formation. Mol. Cell 70, 1149–1162 e5 (2018).

Pirrotta, V. Polycomb Bodies. in The Functional Nucleus (eds Bazett-Jones, D. P., & Dellaire, G.) 157–173 (Springer, 2016).

Cheutin, T. & Cavalli, G. Polycomb silencing: from linear chromatin domains to 3D chromosome folding. Curr. Opin. Genet. Dev. 25, 30–37 (2014).

Schertzer, M. D. et al. lncRNA-induced spread of Polycomb controlled by genome architecture, RNA abundance, and CpG island DNA. Mol. Cell 75, 523–537 e10 (2019).

Fang, H. et al. Trans- and cis-acting effects of the lncRNA Firre on epigenetic and structural features of the inactive X chromosome. Preprint at https://www.biorxiv.org/content/10.1101/687236v1 (2019).

Hacisuleyman, E. et al. Topological organization of multichromosomal regions by the long intergenic noncoding RNA Firre. Nat. Struct. Mol. Biol. 21, 198–206 (2014).

Martin, M. Cutadapt removes adapter sequences from high-throughput sequencing reads. EMBnet. J. 17, 10–12 (2011).

Li, H. & Durbin, R. Fast and accurate short read alignment with Burrows–Wheeler transform. Bioinformatics 25, 1754–1760 (2009).

Zhang, Y. et al. Model-based analysis of ChIP-Seq (MACS). Genome Biol. 9, R137 (2008).

Kharchenko, P. V., Tolstorukov, M. Y. & Park, P. J. Design and analysis of ChIP-seq experiments for DNA-binding proteins. Nat. Biotechnol. 26, 1351–1359 (2008).

Wickham, H. Ggplot2: Elegant Graphics for Data Analysis (Springer, 2009).

O'Leary, N. A. et al. Reference sequence (RefSeq) database at NCBI: current status, taxonomic expansion, and functional annotation. Nucleic Acids Res. 44, D733–D745 (2016).

Love, M. I., Huber, W. & Anders, S. Moderated estimation of fold change and dispersion for RNA-seq data with DESeq2. Genome Biol. 15, 550 (2014).

Strimmer, K. fdrtool: a versatile R package for estimating local and tail area-based false discovery rates. Bioinformatics 24, 1461–1462 (2008).

Cong, L. et al. Multiplex genome engineering using CRISPR/Cas systems. Science 339, 819–823 (2013).

Xi, L. H., Schmidt, J. C., Zaug, A. J., Ascarrunz, D. R. & Cech, T. R. A novel two-step genome editing strategy with CRISPR–Cas9 provides new insights into telomerase action and TERT gene expression. Genome Biol. 16, 231 (2015).

Liao, Y., Smyth, G. K. & Shi, W. featureCounts: an efficient general purpose program for assigning sequence reads to genomic features. Bioinformatics 30, 923–930 (2014).

The Gene Ontology Consortium. The Gene Ontology Resource: 20 years and still GOing strong. Nucleic Acids Res. 47, D330–D338 (2019).

Ashburner, M. et al. Gene ontology: tool for the unification of biology. Nat. Genet. 25, 25–29 (2000).

Liberzon, A. et al. Molecular signatures database (MSigDB) 3.0. Bioinformatics 27, 1739–1740 (2011).

Wu, D. & Smyth, G. K. Camera: a competitive gene set test accounting for inter-gene correlation. Nucleic Acids Res. 40, e133 (2012).

Huebsch, N. et al. Automated video-based analysis of contractility and calcium flux in human-induced pluripotent stem cell-derived cardiomyocytes cultured over different spatial scales. Tissue Eng. Part C Methods 21, 467–479 (2015).
Acknowledgements
We thank L. Leinwand, O. Uhlenbeck, D. Youmans, T. Rowland, and Cech and Rinn laboratory members for useful discussions and technical assistance. We thank core facility directors J. Dragavon (BioFrontiers Advanced Light Microscopy Core), T. Nahreini (Biochemistry Cell Culture Facility and Flow Cytometry Shared Core; grant no. S10ODO21601), A. Scott (BioFrontiers Next Generation Sequencing Facility) and D. Timmons (BioFrontiers IT). We also thank B. Conklin (Gladstone Institute) for providing the WTC-11 iPSC cell line, J. Wheeler and J. Silver (CU-Boulder) for protocols of iPSC culture, M. Regnier (University of Washington) for advice on cardiomyocyte differentiation, N. Huebsch (Washington University in St. Louis) for providing the motion-tracking MATLAB platform/algorithm, and R. Parker and C. Decker (CU-Boulder) for access to the DeltaVision microscope. Y.L. is supported by NIH K99 award no. K99GM132546. T.R.C. is an investigator of the Howard Hughes Medical Institute (HHMI). J.L.R. is an HHMI Faculty Scholar and holds a Marvin H. Caruthers Endowed Chair for Early Career Faculty. J.L.R. and T.H. are supported by NIH P01 award no. P01GM099117.
Ethics declarations
Competing interests
T.R.C. is on the Merck board and is a consultant for Storm Therapeutics.
Additional information
Publisher's note Springer Nature remains neutral with regard to jurisdictional claims in published maps and institutional affiliations.
Supplementary information
Source data
Uncropped immunoblot from Fig. 2.
Uncropped immunoblot from Extended Data Fig. 5f.
Uncropped immunoblot from Extended Data Fig. 10a.
About this article
Cite this article
Long, Y., Hwang, T., Gooding, A.R. et al. RNA is essential for PRC2 chromatin occupancy and function in human pluripotent stem cells. Nat Genet 52, 931–938 (2020). https://doi.org/10.1038/s41588-020-0662-x
Received:

Accepted:

Published:

Issue Date:

DOI: https://doi.org/10.1038/s41588-020-0662-x