Abstract
Oncogenic KRAS mutations and inactivation of the APC tumor suppressor co-occur in colorectal cancer (CRC). Despite efforts to target mutant KRAS directly, most therapeutic approaches focus on downstream pathways, albeit with limited efficacy. Moreover, mutant KRAS alters the basal metabolism of cancer cells, increasing glutamine utilization to support proliferation. We show that concomitant mutation of Apc and Kras in the mouse intestinal epithelium profoundly rewires metabolism, increasing glutamine consumption. Furthermore, SLC7A5, a glutamine antiporter, is critical for colorectal tumorigenesis in models of both early- and late-stage metastatic disease. Mechanistically, SLC7A5 maintains intracellular amino acid levels following KRAS activation through transcriptional and metabolic reprogramming. This supports the increased demand for bulk protein synthesis that underpins the enhanced proliferation of KRAS-mutant cells. Moreover, targeting protein synthesis, via inhibition of the mTORC1 regulator, together with Slc7a5 deletion abrogates the growth of established Kras-mutant tumors. Together, these data suggest SLC7A5 as an attractive target for therapy-resistant KRAS-mutant CRC.
Your institute does not have access to this article
Relevant articles
Open Access articles citing this article.
Yian Wang

,

Qijia Yan

…

Wei Xiong

Molecular Cancer Open Access 28 February 2022

Ning-Ning Liu

,

Na Jiao

…

Hui Wang

Nature Microbiology Open Access 27 January 2022

Zhongjian Chen

,

Chenxi Yang

…

Junping Liu

BMC Cancer Open Access 17 November 2021
Access options
Subscribe to Nature+
Get immediate online access to the entire Nature family of 50+ journals
Subscribe to Journal
Get full journal access for 1 year
$59.00
only $4.92 per issue
All prices are NET prices.
VAT will be added later in the checkout.
Tax calculation will be finalised during checkout.
Buy article
Get time limited or full article access on ReadCube.
$32.00
All prices are NET prices.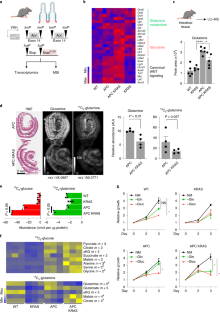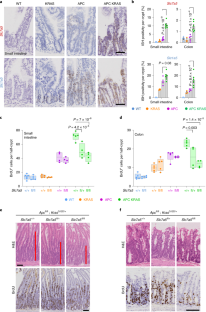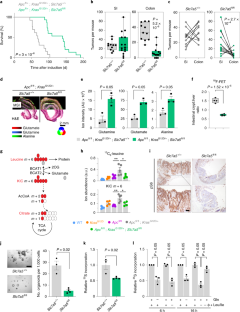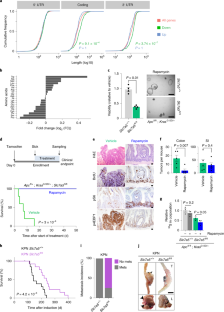 References
Muzny, D. M. et al. Comprehensive molecular characterization of human colon and rectal cancer. Nature 487, 330–337 (2012).

Faller, W. J. et al. mTORC1-mediated translational elongation limits intestinal tumour initiation and growth. Nature 517, 497–500 (2015).

Maddocks, O. D. K. et al. Modulating the therapeutic response of tumours to dietary serine and glycine starvation. Nature 544, 372–376 (2017).

Schwitalla, S. et al. Intestinal tumorigenesis initiated by dedifferentiation and acquisition of stem-cell-like properties. Cell 152, 25–38 (2013).

Hung, K. E. et al. Development of a mouse model for sporadic and metastatic colon tumors and its use in assessing drug treatment. Proc. Natl Acad. Sci. USA 107, 1565–1570 (2010).

Haigis, K. M. et al. Differential effects of oncogenic K-Ras and N-Ras on proliferation, differentiation and tumor progression in the colon. Nat. Genet. 40, 600–608 (2008).

Ng, K. et al. Phase II study of everolimus in patients with metastatic colorectal adenocarcinoma previously treated with bevacizumab-, fluoropyrimidine-, oxaliplatin-, and irinotecan-based regimens. Clin. Cancer Res. 19, 3987–3995 (2013).

Spindler, K.-L. G. et al. Phase II trial of temsirolimus alone and in combination with irinotecan for KRAS mutant metastatic colorectal cancer: outcome and results of KRAS mutational analysis in plasma. Acta Oncol. 52, 963–970 (2013).

Gimple, R. C. & Wang, X. RAS: striking at the core of the oncogenic circuitry. Front. Oncol. 9, 965 (2019).

White, E. Exploiting the bad eating habits of Ras-driven cancers. Genes Dev. 27, 2065–2071 (2013).

Son, J. et al. Glutamine supports pancreatic cancer growth through a KRAS-regulated metabolic pathway. Nature 496, 101–105 (2013).

Mayers, J. R. & Vander Heiden, M. G. Famine versus feast: understanding the metabolism of tumors in vivo. Trends Biochem. Sci. 40, 130–140 (2015).

Guinney, J. et al. The consensus molecular subtypes of colorectal cancer. Nat. Med. 21, 1350–1356 (2015).

Davidson, S. M. et al. Environment impacts the metabolic dependencies of Ras-driven non-small cell lung cancer. Cell Metab. 23, 517–528 (2016).

Biancur, D. E. et al. Compensatory metabolic networks in pancreatic cancers upon perturbation of glutamine metabolism. Nat. Commun. 8, 15965 (2017).

Mayers, J. R. et al. Tissue of origin dictates branched-chain amino acid metabolism in mutant Kras-driven cancers. Science 353, 1161–1165 (2016).

McBrayer, S. K. et al. Transaminase inhibition by 2-hydroxyglutarate impairs glutamate biosynthesis and redox homeostasis in glioma. Cell 175, 101–116 (2018).

César-Razquin, A. et al. A call for systematic research on solute carriers. Cell 162, 478–487 (2015).

Nicklin, P. et al. Bidirectional transport of amino acids regulates mTOR and autophagy. Cell 136, 521–534 (2009).

Saito, Y. et al. LLGL2 rescues nutrient stress by promoting leucine uptake in ER+ breast cancer. Nature 569, 275–279 (2019).

Collins, M. A. et al. Oncogenic Kras is required for both the initiation and maintenance of pancreatic cancer in mice. J. Clin. Invest. 122, 639–653 (2012).

Elorza, A. et al. HIF2α acts as an mTORC1 activator through the amino acid carrier SLC7A5. Mol. Cell 48, 681–691 (2012).

Grzes, K. M. et al. Control of amino acid transport coordinates metabolic reprogramming in T-cell malignancy. Leukemia 31, 2771–2779 (2017).

Barker, N. et al. Crypt stem cells as the cells-of-origin of intestinal cancer. Nature 457, 608–611 (2009).

Mizushima, N. & Komatsu, M. Autophagy: renovation of cells and tissues. Cell 147, 728–741 (2011).

Di Nicolantonio, F. et al. Deregulation of the PI3K and KRAS signaling pathways in human cancer cells determines their response to everolimus. J. Clin. Invest. 120, 2858–2866 (2010).

Buck, E. et al. Rapamycin synergizes with the epidermal growth factor receptor inhibitor erlotinib in non-small-cell lung, pancreatic, colon, and breast tumors. Mol. Cancer Ther. 5, 2676–2684 (2006).

Skrzypczak, M. et al. Modeling oncogenic signaling in colon tumors by multidirectional analyses of microarray data directed for maximization of analytical reliability. PLoS ONE 5, e13091 (2010).

Dong, H. K. et al. Whole genome analysis for liver metastasis gene signatures in colorectal cancer. Int. J. Cancer 121, 2005–2012 (2007).

Kaiser, S. et al. Transcriptional recapitulation and subversion of embryonic colon development by mouse colon tumor models and human colon cancer. Genome Biol. 8, R131 (2007).

Marisa, L. et al. Gene expression classification of colon cancer into molecular subtypes: characterization, validation, and prognostic value. PLoS Med. 10, e1001453 (2013).

Jackstadt, R. et al. Epithelial NOTCH signaling rewires the tumor microenvironment of colorectal cancer to drive poor-prognosis subtypes and metastasis. Cancer Cell 36, 319–336 (2019).

Gaglio, D. et al. Oncogenic K‐Ras decouples glucose and glutamine metabolism to support cancer cell growth. Mol. Syst. Biol. 7, 523 (2011).

Romero, R. et al. Keap1 loss promotes Kras-driven lung cancer and results in dependence on glutaminolysis. Nat. Med. 23, 1362–1368 (2017).

Hosios, A. M. et al. Amino acids rather than glucose account for the majority of cell mass in proliferating mammalian cells. Dev. Cell 36, 540–549 (2016).

Commisso, C. et al. Macropinocytosis of protein is an amino acid supply route in Ras-transformed cells. Nature 497, 633–637 (2013).

el Marjou, F. et al. Tissue-specific and inducible Cre-mediated recombination in the gut epithelium. Genesis 39, 186–193 (2004).

Shibata, H. et al. Rapid colorectal adenoma formation initiated by conditional targeting of the APC gene. Science 278, 120–133 (1997).

Jackson, E. L. et al. Analysis of lung tumor initiation and progression using conditional expression of oncogenic K-ras. Genes Dev. 15, 3243–3248 (2001).

Sinclair, L. V. et al. Control of amino-acid transport by antigen receptors coordinates the metabolic reprogramming essential for T cell differentiation. Nat. Immunol. 14, 500–508 (2013).

Barker, N. et al. Identification of stem cells in small intestine and colon by marker gene Lgr5. Nature 449, 1003–1007 (2007).

Jonkers, J. et al. Synergistic tumor suppressor activity of BRCA2 and p53 in a conditional mouse model for breast cancer. Nat. Genet. 29, 418–425 (2001).

Murtaugh, L. C., Stanger, B. Z., Kwan, K. M. & Melton, D. A. Notch signaling controls multiple steps of pancreatic differentiation. Proc. Natl Acad. Sci. USA 100, 14920–14925 (2003).

Finlay, M. R. V. et al. Discovery of a thiadiazole–pyridazine-based allosteric glutaminase 1 inhibitor series that demonstrates oral bioavailability and activity in tumor xenograft models. J. Med. Chem. 62, 6540–6560 (2019).

Dannhorn, A. et al. Universal sample preparation unlocking multimodal molecular tissue imaging. Anal. Chem. 92, 11080–11088 (2020).

Chambers, M. C. et al. A cross-platform toolkit for mass spectrometry and proteomics. Nat. Biotechnol. 30, 918–920 (2012).

Race, A. M., Styles, I. B. & Bunch, J. Inclusive sharing of mass spectrometry imaging data requires a converter for all. J. Proteomics 75, 5111–5112 (2012).

Race, A. M. et al. SpectralAnalysis: software for the masses. Anal. Chem. 88, 9451–9458 (2016).

Dexter, A., Race, A. M., Styles, I. B. & Bunch, J. Testing for multivariate normality in mass spectrometry imaging data: a robust statistical approach for clustering evaluation and the generation of synthetic mass spectrometry imaging data sets. Anal. Chem. 88, 10893–10899 (2016).

Sakamaki, J. I. et al. Bromodomain protein BRD4 Is a transcriptional repressor of autophagy and lysosomal function. Mol. Cell 66, 517–532 (2017).

Liu, R. et al. Why weight? Modelling sample and observational level variability improves power in RNA-seq analyses. Nucleic Acids Res. 43, e97 (2015).

Charif, D. & Lobry, J. R. SeqinR 1.0-2: a contributed package to the R project for statistical computing devoted to biological sequences retrieval and analysis 207–232 (Springer, 2007).

Chen, E. Y. et al. Enrichr: interactive and collaborative HTML5 gene list enrichment analysis tool. BMC Bioinformatics 14, 128 (2013).

Langfelder, P. & Horvath, S. WGCNA: an R package for weighted correlation network analysis. BMC Bioinformatics 9, 559 (2008).

Lewis, D. Y. et al. [18F]fluoroethyltyrosine-induced Cerenkov luminescence improves image-guided surgical resection of glioma. Theranostics 8, 3991–4002 (2018).

Schindelin, J. et al. Fiji: an open-source platform for biological-image analysis. Nat. Methods 9, 676–682 (2012).
Acknowledgements
We are grateful to the CRUK Beatson Institute Central Services, Histology Service, the Transgenic Technology Laboratory and the Biological Services Unit for technical support and all members of the Sansom lab for discussion of the data and manuscript. O.J.S. was supported by grants from CRUK (A21139, A12481 and A17196) and the ERC (311301). A.K.N, G.H., R.T.S., C.J.N., T.M., A.M.R., A.D., Z.T., R.J.A.G. and J.B. were supported by the CRUK Rosetta Grand Challenge grant (A25045 to J.B. and O.J.S.). F.C., R.A.R., D. Sumpton, C.N., G.M.M., E.G., S. Tardito and A.D.C. were supported by the CRUK Beatson Institute core grant (A17196 to O.J.S.). S.K.F. was supported by Pancreatic Cancer UK Future Leaders Academy (to O.J.S.). N.V. was supported by the Wellcome Trust (201487 to O.J.S.). D.M.G. was supported by an ERC grant (311301 to O.J.S.). J.R.P.K. was supported by a CRUK Programme Award (A24388 to M.B. and O.J.S.). R.J. was supported by a Marie Skłodowska-Curie Actions postdoctoral fellowship (ERC 659666). J.D.G.L. was supported by an MRC Clinical Research Training Fellowship (MR/N021800/1). K.G. was supported by the CRUK Grand Challenge Specificancer Grand Challenge Consortium (A29055 to O.J.S.). Holly Hall. was supported by BB/N017005/1. M.B. was supported by the CRUK Beatson Institute core grant 29252. S.B.M. and P.D.D. were supported by a CRUK Early Detection award (C50686/A29834). GLS inhibitor (described in ref. 44) was provided by AstraZeneca and CRUK Therapeutic Discovery Laboratories. We thank M. Pasca di Magliano (University of Michigan) for providing us with the doxycycline-inducible KrasG12D mouse. We thank A. Dannhorn (AstraZeneca) for establishment of the MSI sample preparation method and A. Dannhorn and N. Strittmatter (AstraZeneca) for DESI optimization. We thank the members of the CRUK Rosetta Grand Challenge Consortium for participating in this study.
Ethics declarations
Competing interests
S.T.B. is an employee and shareholder of AstraZeneca. The other authors declare no competing interests.
Additional information
Peer review information Nature Genetics thanks Thales Papagiannakopoulos, Louis Vermeulen and the other, anonymous, reviewer(s) for their contribution to the peer review of this work.
Publisher's note Springer Nature remains neutral with regard to jurisdictional claims in published maps and institutional affiliations.
Supplementary information
Source data
Unprocessed western blots for Extended Data Fig. 2c
Unprocessed western blots for Extended Data Fig. 7b
About this article
Cite this article
Najumudeen, A.K., Ceteci, F., Fey, S.K. et al. The amino acid transporter SLC7A5 is required for efficient growth of KRAS-mutant colorectal cancer. Nat Genet 53, 16–26 (2021). https://doi.org/10.1038/s41588-020-00753-3
Received:

Accepted:

Published:

Issue Date:

DOI: https://doi.org/10.1038/s41588-020-00753-3