Abstract
Expression quantitative trait loci (eQTLs) studies provide associations of genetic variants with gene expression but fall short of pinpointing functionally important eQTLs. Here, using H3K27ac HiChIP assays, we mapped eQTLs overlapping active cis-regulatory elements that interact with their target gene promoters (promoter-interacting eQTLs, pieQTLs) in five common immune cell types (Database of Immune Cell Expression, Expression quantitative trait loci and Epigenomics (DICE) cis-interactome project). This approach allowed us to identify functionally important eQTLs and show mechanisms that explain their cell-type restriction. We also devised an approach to eQTL discovery that relies on HiChIP-based promoter interaction maps as a structural framework for deciding which SNPs to test for association with gene expression, and observe ultra-long-distance pieQTLs (>1 megabase away), including several disease-risk variants. We validated the functional role of pieQTLs using reporter assays, CRISPRi, dCas9-tiling guides and Cas9-mediated base-pair editing. In this article we present a method for functional eQTL discovery and provide insights into relevance of noncoding variants for cell-specific gene regulation and for disease association beyond conventional eQTL mapping.
Relevant articles
Open Access articles citing this article.
Claire Marchal

,

Nivedita Singh

…

Anand Swaroop

Nature Communications Open Access 07 October 2022

Bhuwan Khatri

,

Kandice L. Tessneer

…

Christopher J. Lessard

Nature Communications Open Access 27 July 2022

Caojie Liu

,

Qiuchan Xiong

…

Ning Kang

Nature Communications Open Access 13 April 2022
Access options
Subscribe to Nature+
Get immediate online access to Nature and 55 other Nature journal
Subscribe to Journal
Get full journal access for 1 year
$79.00
only $6.58 per issue
All prices are NET prices.
VAT will be added later in the checkout.
Tax calculation will be finalised during checkout.
Buy article
Get time limited or full article access on ReadCube.
$32.00
All prices are NET prices.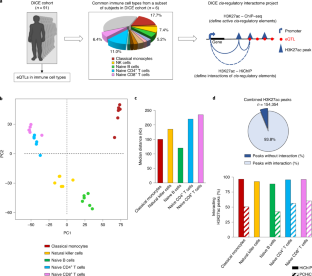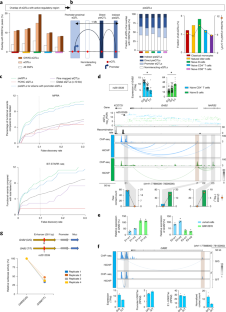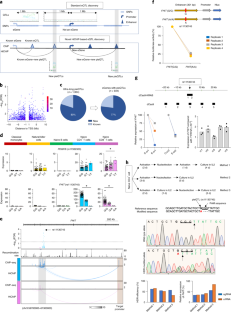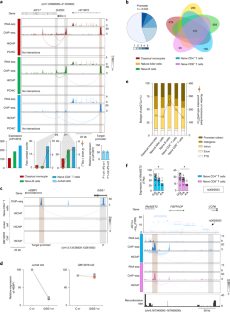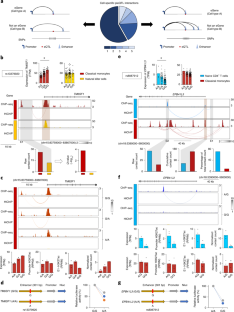 Data availability
The DICE project provides anonymized data for public access at http://dice-database.org. Individual-specific RNA-sequencing and genotype data are available from the database of Genotypes and Phenotypes (dbGaP) (accession number: phs001703.v1.p1). Individual-specific HiChIP and ChIP–seq data are available from dbGaP (accession number: phs001703.v3.p1). The list of pieQTLs for each cell type is available through https://dice-database.org. All downloaded data are available through public repositories such as Gencode, dbGaP, PheGenI, 1000 Genomes Project, IHEC data portal, GEO and SRA. Further information and requests for reagents may be directed to the corresponding author/lead contacts, Pandurangan Vijayanand (vijay@lji.org) and Ferhat Ay (ferhatay@lji.org).
References
MacArthur, J. et al. The new NHGRI-EBI Catalog of published genome-wide association studies (GWAS Catalog). Nucleic Acids Res. 45, D896–D901 (2017).

International HapMap Consortium. A haplotype map of the human genome. Nature 437, 1299–1320 (2005).

McCarthy, M. I. et al. Genome-wide association studies for complex traits: consensus, uncertainty and challenges. Nat. Rev. Genet. 9, 356–369 (2008).

GTEx Consortium. The genotype-tissue expression (GTEx) project. Nat. Genet. 45, 580–585 (2013).

Carithers, L. J. & Moore, H. M. The genotype-tissue expression (GTEx) project. Biopreserv. Biobank. 13, 307–308 (2015).

Keen, J. C. & Moore, H. M. The genotype-tissue expression (GTEx) project: linking clinical data with molecular analysis to advance personalized medicine. J. Pers. Med. 5, 22–29 (2015).

Schmiedel, B. J. et al. Impact of genetic polymorphisms on human immune cell gene expression. Cell 175, 1701–1715.e16 (2018).

Schmiedel, B. J. et al. 17q21 asthma-risk variants switch CTCF binding and regulate IL-2 production by T cells. Nat. Commun. 7, 13426 (2016).

Smemo, S. et al. Obesity-associated variants within FTO form long-range functional connections with IRX3. Nature 507, 371–375 (2014).

Mumbach, M. R. et al. Enhancer connectome in primary human cells identifies target genes of disease-associated DNA elements. Nat. Genet. 49, 1602–1612 (2017).

Consortium, E. P. An integrated encyclopedia of DNA elements in the human genome. Nature 489, 57–74 (2012).

Roadmap Epigenomics Consortium et al. Integrative analysis of 111 reference human epigenomes. Nature 518, 317–330 (2015).

Yao, L., Berman, B. P. & Farnham, P. J. Demystifying the secret mission of enhancers: linking distal regulatory elements to target genes. Crit. Rev. Biochem. Mol. Biol. 50, 550–573 (2015).

Schoenfelder, S. & Fraser, P. Long-range enhancer–promoter contacts in gene expression control. Nat. Rev. Genet. 20, 437–455 (2019).

Stadhouders, R., Filion, G. J. & Graf, T. Transcription factors and 3D genome conformation in cell-fate decisions. Nature 569, 345–354 (2019).

Javierre, B. M. et al. Lineage-specific genome architecture links enhancers and non-coding disease variants to target gene promoters. Cell 167, 1369–1384.e19 (2016).

Fang, R. et al. Mapping of long-range chromatin interactions by proximity ligation-assisted ChIP-seq. Cell Res. 26, 1345–1348 (2016).

Bhattacharyya, S., Chandra, V., Vijayanand, P. & Ay, F. Identification of significant chromatin contacts from HiChIP data by FitHiChIP. Nat. Commun. 10, 4221 (2019).

Schoenfelder, S., Javierre, B. M., Furlan-Magaril, M., Wingett, S. W. & Fraser, P. Promoter capture Hi-C: high-resolution, genome-wide profiling of promoter interactions. J. Vis. Exp. 136, e57320 (2018).

Aguiar, V. R. C., Cesar, J., Delaneau, O., Dermitzakis, E. T. & Meyer, D. Expression estimation and eQTL mapping for HLA genes with a personalized pipeline. PLoS Genet. 15, e1008091 (2019).

Ay, F. & Noble, W. S. Analysis methods for studying the 3D architecture of the genome. Genome Biol. 16, 183 (2015).

Dobbyn, A. et al. Landscape of conditional eQTL in dorsolateral prefrontal cortex and co-localization with schizophrenia GWAS. Am. J. Hum. Genet. 102, 1169–1184 (2018).

Consortium, G. T. et al. Genetic effects on gene expression across human tissues. Nature 550, 204–213 (2017).

Tewhey, R. et al. Direct identification of hundreds of expression-modulating variants using a multiplexed reporter assay. Cell 165, 1519–1529 (2016).

Kalita, C. A. et al. High-throughput characterization of genetic effects on DNA–protein binding and gene transcription. Genome Res. 28, 1701–1708 (2018).

Benner, C. et al. FINEMAP: efficient variable selection using summary data from genome-wide association studies. Bioinformatics 32, 1493–1501 (2016).

Gilbert, L. A. et al. Genome-scale CRISPR-mediated control of gene repression and activation. Cell 159, 647–661 (2014).

Litchfield, K. et al. Identification of 19 new risk loci and potential regulatory mechanisms influencing susceptibility to testicular germ cell tumor. Nat. Genet. 49, 1133–1140 (2017).

Wang, Z. et al. Meta-analysis of five genome-wide association studies identifies multiple new loci associated with testicular germ cell tumor. Nat. Genet. 49, 1141–1147 (2017).

Litchfield, K. et al. Identification of four new susceptibility loci for testicular germ cell tumour. Nat. Commun. 6, 8690 (2015).

Smallwood, A. & Ren, B. Genome organization and long-range regulation of gene expression by enhancers. Curr. Opin. Cell Biol. 25, 387–394 (2013).

Dao, L. T. M. et al. Genome-wide characterization of mammalian promoters with distal enhancer functions. Nat. Genet. 49, 1073–1081 (2017).

Jung, I. et al. A compendium of promoter-centered long-range chromatin interactions in the human genome. Nat. Genet. 51, 1442–1449 (2019).

Thormann, V. et al. Genomic dissection of enhancers uncovers principles of combinatorial regulation and cell type-specific wiring of enhancer–promoter contacts. Nucleic Acids Res. 46, 2868–2882 (2018).

Schmitt, A. D. et al. A compendium of chromatin contact maps reveals spatially active regions in the human genome. Cell Rep. 17, 2042–2059 (2016).

Kong, A. et al. A high-resolution recombination map of the human genome. Nat. Genet. 31, 241–247 (2002).

Kong, A. et al. Fine-scale recombination rate differences between sexes, populations and individuals. Nature 467, 1099–1103 (2010).

Seumois, G. et al. Epigenomic analysis of primary human T cells reveals enhancers associated with TH2 memory cell differentiation and asthma susceptibility. Nat. Immunol. 15, 777–788 (2014).

Servant, N. et al. HiC-Pro: an optimized and flexible pipeline for Hi-C data processing. Genome Biol. 16, 259 (2015).

Langmead, B. & Salzberg, S. L. Fast gapped-read alignment with Bowtie 2. Nat. Methods 9, 357–359 (2012).

Ay, F., Bailey, T. L. & Noble, W. S. Statistical confidence estimation for Hi-C data reveals regulatory chromatin contacts. Genome Res. 24, 999–1011 (2014).

Heinz, S. et al. Simple combinations of lineage-determining transcription factors prime cis-regulatory elements required for macrophage and B cell identities. Mol. Cell 38, 576–589 (2010).

Love, M. I., Huber, W. & Anders, S. Moderated estimation of fold change and dispersion for RNA-seq data with DESeq2. Genome Biol. 15, 550 (2014).

Ramos, E. M. et al. Phenotype–Genotype Integrator (PheGenI): synthesizing genome-wide association study (GWAS) data with existing genomic resources. Eur. J. Hum. Genet. 22, 144–147 (2014).

Deng, J. E., Sham, P. C. & Li, M. X. SNPTracker: a swift tool for comprehensive tracking and unifying dbSNP rs IDs and genomic coordinates of massive sequence variants. G3 (Bethesda) 6, 205–207 (2015).

Purcell, S. et al. PLINK: a tool set for whole-genome association and population-based linkage analyses. Am. J. Hum. Genet 81, 559–575 (2007).

1000 Genomes Project Consortium et al. A global reference for human genetic variation. Nature 526, 68–74 (2015).
Acknowledgements
We thank the La Jolla Institute (LJI) Flow Cytometry Core for assisting with cell sorting; the LJI's Clinical Studies Core for organizing sample collection; and the IGM Genomics Center at the University of California in San Diego for technical support with genotyping of tissue donors. We thank J.A. Greenbaum (LJI) and B. Ha (LJI) for data submission to dbGaP. We also thank the members of Ay and Vijayanand laboratories for their valuable comments and suggestions. This work was funded by NIH grants no. R24-AI108564 (P.V., F.A., B.P., M.K.) and no. R01-HL114093 (P.V.), the William K. Bowes Jr Foundation (P.V.), grant no. R35-GM128938 (F.A.) and grant no. UL1-TR002550 (P.M.). Utilized equipment was supported by the NIH grants no. S10RR027366 (BD FACSAria II) and no. S10-OD016262 (Illumina HiSeq 2500).
Ethics declarations
Competing interests
The authors declare no competing interests.
Additional information
Peer review information Nature Genetics thanks the anonymous reviewers for their contribution to the peer review of this work.
Publisher's note Springer Nature remains neutral with regard to jurisdictional claims in published maps and institutional affiliations.
Supplementary information
Supplementary Tables 1–5.
About this article
Cite this article
Chandra, V., Bhattacharyya, S., Schmiedel, B.J. et al. Promoter-interacting expression quantitative trait loci are enriched for functional genetic variants. Nat Genet 53, 110–119 (2021). https://doi.org/10.1038/s41588-020-00745-3
Received:

Accepted:

Published:

Issue Date:

DOI: https://doi.org/10.1038/s41588-020-00745-3