Abstract
The poor outcomes in esophageal adenocarcinoma (EAC) prompted us to interrogate the pattern and timing of metastatic spread. Whole-genome sequencing and phylogenetic analysis of 388 samples across 18 individuals with EAC showed, in 90% of patients, that multiple subclones from the primary tumor spread very rapidly from the primary site to form multiple metastases, including lymph nodes and distant tissues—a mode of dissemination that we term 'clonal diaspora'. Metastatic subclones at autopsy were present in tissue and blood samples from earlier time points. These findings have implications for our understanding and clinical evaluation of EAC.
Relevant articles
Open Access articles citing this article.
Jonathan L. Moore

,

Manil Subesinghe

…

S. S. Zeki

European Radiology Open Access 15 March 2023

Mei Lin

,

Xiao-Long Zhang

…

Ming-Yuan Chen

Nature Communications Open Access 04 February 2023

Thomas G. Paulson

,

Patricia C. Galipeau

…

Xiaohong Li

Nature Communications Open Access 28 April 2022
Access options
Access Nature and 54 other Nature Portfolio journals
Get Nature+, our best-value online-access subscription
$29.99 per month
cancel any time
Subscribe to this journal
Receive 12 print issues and online access
$189.00 per year
only $15.75 per issue
Rent or buy this article
Get just this article for as long as you need it
$39.95
Prices may be subject to local taxes which are calculated during checkout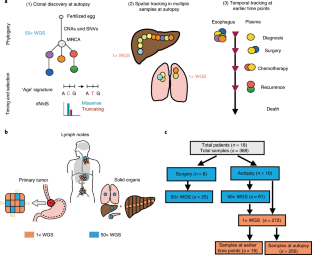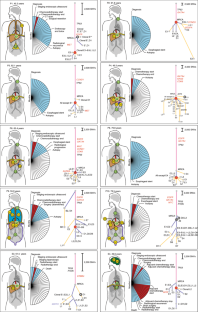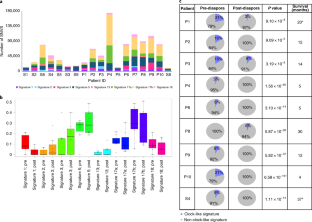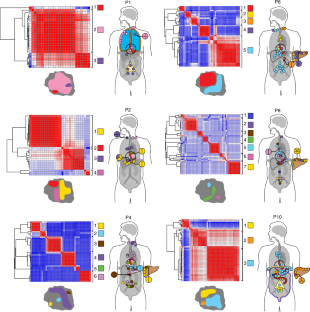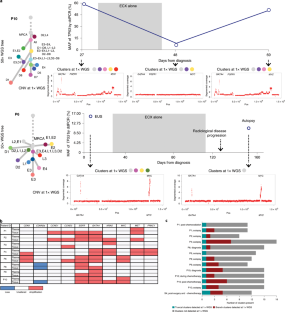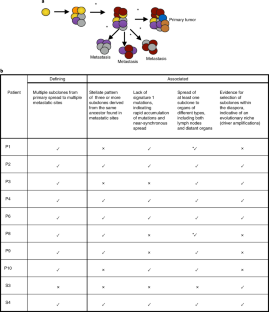 Data availability
Sequencing data that support the findings of this paper have been deposited in the European Genome-phenome Archive with the accession code EGAD00001005434.
Code availability
All code required to reproduce the analysis outlined in this manuscript can be found in the Methods and Supplementary Methods. There are no restrictions to the accessibility of this code.
References
Sporn, M. B. The war on cancer. Lancet 347, 1377–1381 (1996).

Waterman, T. A. et al. The prognostic importance of immunohistochemically detected node metastases in resected esophageal adenocarcinoma. Ann. Thorac. Surg. 78, 1161–1169 (2004).

Matsuda, S., Takeuchi, H., Kawakubo, H. & Kitagawa, Y. Three-field lymph node dissection in esophageal cancer surgery. J. Thorac. Dis. 9, S731–S740 (2017).

Lou, F. et al. Esophageal cancer recurrence patterns and implications for surveillance. J. Thorac. Oncol. 8, 1558–1562 (2013).

Smyth, E. C. et al. Oesophageal cancer. Nat. Rev. Dis. Primers 3, 17048 (2017).

Cunningham, D. et al. Capecitabine and oxaliplatin for advanced esophagogastric cancer. N. Engl. J. Med. 358, 36–46 (2008).

Greaves, M. & Maley, C. C. Clonal evolution in cancer. Nature 481, 306–313 (2012).

Klein, C. A. Parallel progression of primary tumours and metastases. Nat. Rev. Cancer 9, 302–312 (2009).

Davis, A., Gao, R. & Navin, N. Tumor evolution: linear, branching, neutral or punctuated? Biochim. Biophys. Acta 1867, 151–161 (2017).

Yates, L. R. & Campbell, P. J. Evolution of the cancer genome. Nat. Rev. Genet. 13, 795–806 (2012).

Nik-Zainal, S. et al. The life history of 21 breast cancers. Cell 149, 994–1007 (2012).

Murugaesu, N. et al. Tracking the genomic evolution of esophageal adenocarcinoma through neoadjuvant chemotherapy. Cancer Discov. 5, 821–831 (2015).

Gerstung, M. et al. The evolutionary history of 2,658 cancers. Preprint at bioRxiv https://doi.org/10.1101/161562 (2018).

Secrier, M. et al. Mutational signatures in esophageal adenocarcinoma define etiologically distinct subgroups with therapeutic relevance. Nat. Genet. 48, 1131–1141 (2016).

Dulak, A. M. et al. Gastrointestinal adenocarcinomas of the esophagus, stomach, and colon exhibit distinct patterns of genome instability and oncogenesis. Cancer Res. 72, 4383–4393 (2012).

Weaver, J. M. et al. Ordering of mutations in preinvasive disease stages of esophageal carcinogenesis. Nat. Genet. 46, 837–843 (2014).

Ross-Innes, C. S. et al. Whole-genome sequencing provides new insights into the clonal architecture of Barrett's esophagus and esophageal adenocarcinoma. Nat. Genet. 47, 1038–1046 (2015).

Dulak, A. M. et al. Exome and whole-genome sequencing of esophageal adenocarcinoma identifies recurrent driver events and mutational complexity. Nat. Genet. 45, 478–486 (2013).

Nones, K. et al. Genomic catastrophes frequently arise in esophageal adenocarcinoma and drive tumorigenesis. Nat. Commun. 5, 5224 (2014).

Frankell, A. M. et al. The landscape of selection in 551 esophageal adenocarcinomas defines genomic biomarkers for the clinic. Nat. Genet. 51, 506–516 (2019).

Yates, L. R. et al. Subclonal diversification of primary breast cancer revealed by multiregion sequencing. Nat. Med. 21, 751–759 (2015).

Rodriguez-Martin, B. et al. Pan-cancer analysis of whole genomes reveals driver rearrangements promoted by LINE-1 retrotransposition in human tumours. Preprint at bioRxiv https://doi.org/10.1101/179705 (2018).

Ajani, J. A. et al. Esophageal and esophagogastric junction cancers, version 1.2015. J. Natl Compr. Canc. Netw. 13, 194–227 (2015).

Yachida, S. et al. Distant metastasis occurs late during the genetic evolution of pancreatic cancer. Nature 467, 1114–1117 (2010).

Sottoriva, A. et al. Intratumor heterogeneity in human glioblastoma reflects cancer evolutionary dynamics. Proc. Natl Acad. Sci. USA 110, 4009–4014 (2013).

Mariette, C. et al. Pattern of recurrence following complete resection of esophageal carcinoma and factors predictive of recurrent disease. Cancer 97, 1616–1623 (2003).

Alexandrov, L. B. et al. Signatures of mutational processes in human cancer. Nature 500, 415–421 (2013).

Liu, D. et al. Mutational patterns in chemotherapy resistant muscle-invasive bladder cancer. Nat. Commun. 8, 2193 (2017).

Behjati, S. et al. Mutational signatures of ionizing radiation in second malignancies. Nat. Commun. 7, 12605 (2016).

Dentro, S. C. et al. Portraits of genetic intra-tumour heterogeneity and subclonal selection across cancer types. Preprint at bioRxiv https://doi.org/10.1101/312041 (2018).

Lodato, M. A. et al. Aging and neurodegeneration are associated with increased mutations in single human neurons. Science 359, 555–559 (2018).

Gao, Z., Wyman, M. J., Sella, G. & Przeworski, M. Interpreting the dependence of mutation rates on age and time. PLoS Biol. 14, e1002355 (2016).

Letouze, E. et al. Mutational signatures reveal the dynamic interplay of risk factors and cellular processes during liver tumorigenesis. Nat. Commun. 8, 1315 (2017).

Blokzijl, F. et al. Tissue-specific mutation accumulation in human adult stem cells during life. Nature 538, 260–264 (2016).

Alexandrov, L. B. et al. Clock-like mutational processes in human somatic cells. Nat. Genet. 47, 1402–1407 (2015).

Pienta, K. J., Robertson, B. A., Coffey, D. S. & Taichman, R. S. The cancer diaspora: metastasis beyond the seed and soil hypothesis. Clin. Cancer Res. 19, 5849–5855 (2013).

Gundem, G. et al. The evolutionary history of lethal metastatic prostate cancer. Nature 520, 353–357 (2015).

Foulds, L. The experimental study of tumor progression: a review. Cancer Res. 14, 327–339 (1954).

Naxerova, K. et al. Origins of lymphatic and distant metastases in human colorectal cancer. Science 357, 55–60 (2017).

Sottoriva, A. et al. A Big Bang model of human colorectal tumor growth. Nat. Genet. 47, 209–216 (2015).

Sjoquist, K. M. et al. Survival after neoadjuvant chemotherapy or chemoradiotherapy for resectable oesophageal carcinoma: an updated meta-analysis. Lancet Oncol. 12, 681–692 (2011).

Gabriel, E. et al. Novel calculator to estimate overall survival benefit from neoadjuvant chemoradiation in patients with esophageal adenocarcinoma. J. Am. Coll. Surg. 224, 884–894.e1 (2017).

Burt, B. M. et al. Utility of adjuvant chemotherapy after neoadjuvant chemoradiation and esophagectomy for esophageal cancer. Ann. Surg. 266, 297–304 (2017).

Pasquali, S. et al. Survival after neoadjuvant and adjuvant treatments compared to surgery alone for resectable esophageal carcinoma: a network meta-analysis. Ann. Surg. 265, 481–491 (2017).

Parikh, A. R. et al. Liquid versus tissue biopsy for detecting acquired resistance and tumor heterogeneity in gastrointestinal cancers. Nat. Med. 25, 1415–1421 (2019).

Van Roy, N. et al. Shallow whole genome sequencing on circulating cell-free DNA allows reliable noninvasive copy-number profiling in neuroblastoma patients. Clin. Cancer Res. 23, 6305–6314 (2017).

Hu, Z. et al. Quantitative evidence for early metastatic seeding in colorectal cancer. Nat. Genet. 51, 1113–1122 (2019).

Robinson, D. R. et al. Integrative clinical genomics of metastatic cancer. Nature 548, 297–303 (2017).

Bolli, N. et al. Heterogeneity of genomic evolution and mutational profiles in multiple myeloma. Nat. Commun. 5, 2997 (2014).

Martincorena, I. et al. Universal patterns of selection in cancer and somatic tissues. Cell 171, 1029–1041.e21 (2017).

Japanese Gastric Cancer Association. Japanese classification of gastric carcinoma: 3rd English edition. Gastric Cancer 14, 101–112 (2011).

Jiao, W., Vembu, S., Deshwar, A. G., Stein, L. & Morris, Q. Inferring clonal evolution of tumors from single nucleotide somatic mutations. BMC Bioinformatics 15, 35 (2014).

Kuipers, J., Jahn, K., Raphael, B. J. & Beerenwinkel, N. Single-cell sequencing data reveal widespread recurrence and loss of mutational hits in the life histories of tumors. Genome Res. 27, 1885–1894 (2017).
Acknowledgements
Above all, we are indebted to the patients who donated tissue samples to this project and thank them and their families who supported them through it. We also thank the following individuals for help with study set-up, patient liaison and tissue collection: B. Smith, N. Chinyama, V. Sujendran, P. Safranek, A. Xanthos, T. Nuckcheddy-Grant, R. de la Rue, S. Zeki, R. Fels Elliott, P. Collins, K. Puttock, S. Rabey and staff at Arthur Rank Hospice and L. A. Wylie for scientific discussion and contribution. We thank the OCCAMS Consortium for providing the vehicle through which funding for the ICGC was obtained. We are grateful to S. Tavaré (a Fellow of the Royal Society) for guidance and support for the esophageal WGS project as a part of the ICGC. We also thank J. Westmoreland (LMB Visual Aids) for graphic art expertise. Thanks also go to the Cancer Research UK Cambridge Institute Genomics Core for technical expertise. We thank the Human Research Tissue Bank, which is supported by the National Institute for Health Research (NIHR) Cambridge Biomedical Research Centre, at Addenbrooke's Hospital. Additional infrastructure support was provided by the Cancer Research UK-funded Experimental Cancer Medicine Centre in Cambridge. Computation by D.C.W. used the Oxford Biomedical Research Computing facility—a joint development between the Wellcome Centre for Human Genetics and the Big Data Institute, supported by Health Data Research UK and the NIHR Oxford Biomedical Research Centre. A.N. was funded through an MRC Clinical Research Fellowship. The work (including 1× WGS sequencing) was funded through the above, an MRC core grant (RG84369) and an NIHR Research Professorship (RG67258) to R.C.F. Funding for sample sequencing (50× WGS) was through the ICGC, and was funded by a program grant from Cancer Research UK (RG66287). All OCCAMS samples that were part of the surgical/endoscopy cohort were obtained from Cambridge patients. D.C.W. is funded by the Li Ka Shing Foundation and NIHR Oxford Biomedical Research Centre.
Ethics declarations
Competing interests
The authors declare no competing interests.
Additional information
Publisher's note Springer Nature remains neutral with regard to jurisdictional claims in published maps and institutional affiliations.
Supplementary information
Supplementary Figs. 1–5, Tables 1–4, 10 and 12–15, and Supplementary Note
Supplementary Tables 5–9, 11 and 16
About this article
Cite this article
Noorani, A., Li, X., Goddard, M. et al. Genomic evidence supports a clonal diaspora model for metastases of esophageal adenocarcinoma. Nat Genet 52, 74–83 (2020). https://doi.org/10.1038/s41588-019-0551-3
Received:

Accepted:

Published:

Issue Date:

DOI: https://doi.org/10.1038/s41588-019-0551-3