Maternal high-fat diet has a negative impact on fertility—including an apparent direct effect on early development. In this issue, a new study connects this phenotype to depletion of Stella protein in oocytes, demonstrating environmental regulation of a maternal-effect gene.
Access options
Subscribe to Journal
Get full journal access for 1 year
$225.00
only $18.75 per issue
All prices are NET prices.
VAT will be added later in the checkout.
Rent or Buy article
Get time limited or full article access on ReadCube.
from$8.99
All prices are NET prices.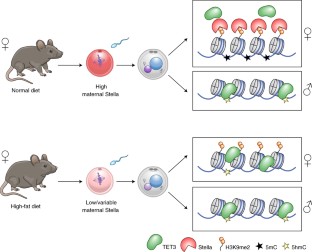 References
1.

Sato, M. et al. Mech. Dev. 113, 91–94 (2002).

2.

Saitou, M., Barton, S. C. & Surani, M. A. Nature 418, 293–300 (2002).

3.

Payer, B. et al. Curr. Biol. 13, 2110–2117 (2003).

4.

Bortvin, A., Goodheart, M., Liao, M. & Page, D. C. BMC Dev. Biol. 4, 2 (2004).

5.

Nakamura, T. et al. Nature 486, 415–419 (2012).

6.

Huang, Y. et al. eLife 6, 589 (2017).

7.

Nakamura, T. et al. Nat. Cell Biol. 9, 64–71 (2007).

8.

Han, L. et al. Nat. Genet. https://doi.org/10.1038/s41588-018-0055-6 (2018).

9.

Amouroux, R. et al. Nature 18, 225–233 (2016).
Ethics declarations
Competing interests
The authors declare no competing interests.
About this article
Cite this article
Leitch, H.G., Hajkova, P. Eggs sense high-fat diet. Nat Genet 50, 318–319 (2018). https://doi.org/10.1038/s41588-018-0068-1
Further reading
Fenglin Zhang

,

Han Su

,

Min Song

,

Jisong Zheng

,

Fangfang Liu

,

Cong Yuan

,

Qin Fu

,

Shuang Chen

,

Xiaotong Zhu

,

Lina Wang

,

Ping Gao

,

Gang Shu

,

Qingyan Jiang

&

Songbo Wang

Journal of Agricultural and Food Chemistry (2019)