Abstract
The mechanisms by which mitochondrial metabolism supports cancer anabolism remain unclear. Here, we found that genetic and pharmacological inactivation of pyruvate dehydrogenase A1 (PDHA1), a subunit of the pyruvate dehydrogenase complex (PDC), inhibits prostate cancer development in mouse and human xenograft tumor models by affecting lipid biosynthesis. Mechanistically, we show that in prostate cancer, PDC localizes in both the mitochondria and the nucleus. Whereas nuclear PDC controls the expression of sterol regulatory element-binding transcription factor (SREBF)-target genes by mediating histone acetylation, mitochondrial PDC provides cytosolic citrate for lipid synthesis in a coordinated manner, thereby sustaining anabolism. Additionally, we found that PDHA1 and the PDC activator pyruvate dehydrogenase phosphatase 1 (PDP1) are frequently amplified and overexpressed at both the gene and protein levels in prostate tumors. Together, these findings demonstrate that both mitochondrial and nuclear PDC sustain prostate tumorigenesis by controlling lipid biosynthesis, thus suggesting this complex as a potential target for cancer therapy.
Relevant articles
Open Access articles citing this article.
Jie Jiang

,

Xinli Zhan

…

Haishun Qu

Scientific Reports Open Access 26 March 2023

Shiheng Liu

,

Xian Xia

…

Z. Hong Zhou

Cell Discovery Open Access 22 November 2022

Alicia-Marie K. Beier

,

Martin Puhr

…

Holger H. H. Erb

Journal of Cancer Research and Clinical Oncology Open Access 23 September 2022
Access options
Access Nature and 54 other Nature Portfolio journals
Get Nature+, our best-value online-access subscription
$29.99 / 30 days
cancel any time
Subscribe to this journal
Receive 12 print issues and online access
$189.00 per year
only $15.75 per issue
Rent or buy this article
Get just this article for as long as you need it
$39.95
Prices may be subject to local taxes which are calculated during checkout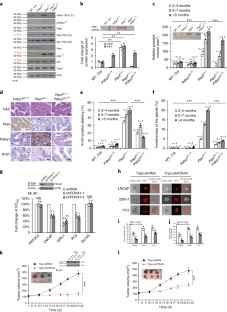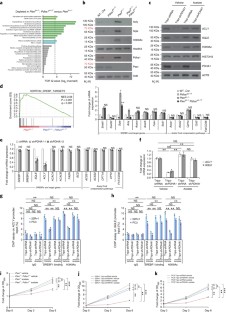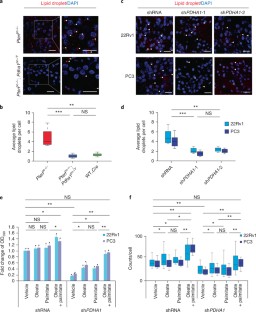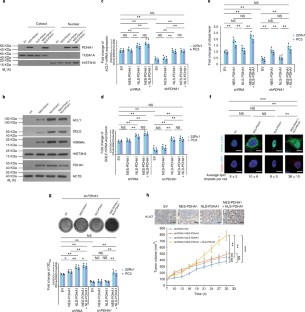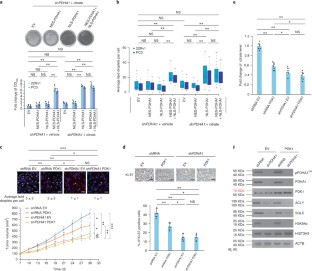 References
Zong, W. X., Rabinowitz, J. D. & White, E. Mitochondria and cancer. Mol. Cell 61, 667–676 (2016).

LeBleu, V. S. et al. PGC-1α mediates mitochondrial biogenesis and oxidative phosphorylation in cancer cells to promote metastasis. Nat. Cell. Biol. 16, 992–1003 (2014).

Marin-Valencia, I. et al. Analysis of tumor metabolism reveals mitochondrial glucose oxidation in genetically diverse human glioblastomas in the mouse brain in vivo. Cell Metab. 15, 827–837 (2012).

Vazquez, F. et al. PGC1α expression defines a subset of human melanoma tumors with increased mitochondrial capacity and resistance to oxidative stress. Cancer Cell 23, 287–301 (2013).

Viale, A. et al. Oncogene ablation-resistant pancreatic cancer cells depend on mitochondrial function. Nature 514, 628–632 (2014).

Ahn, C. S. & Metallo, C. M. Mitochondria as biosynthetic factories for cancer proliferation. Cancer Metab. 3, 1 (2015).

Weinberg, S. E. & Chandel, N. S. Targeting mitochondria metabolism for cancer therapy. Nat. Chem. Biol. 11, 9–15 (2015).

Vyas, S., Zaganjor, E. & Haigis, M. C. Mitochondria and cancer. Cell 166, 555–566 (2016).

Hensley, C. T. et al. Metabolic heterogeneity in human lung tumors. Cell 164, 681–694 (2016).

Davidson, S. M. et al. Environment impacts the metabolic dependencies of Ras-driven non-small cell lung cancer. Cell Metab. 23, 517–528 (2016).

Wieland, O. H. The mammalian pyruvate dehydrogenase complex: structure and regulation. Rev. Physiol. Biochem. Pharmacol. 96, 123–170 (1983).

Kolobova, E., Tuganova, A., Boulatnikov, I. & Popov, K. M. Regulation of pyruvate dehydrogenase activity through phosphorylation at multiple sites. Biochem. J. 358, 69–77 (2001).

Roche, T. E. et al. Distinct regulatory properties of pyruvate dehydrogenase kinase and phosphatase isoforms. Prog. Nucleic Acid Res. Mol. Biol. 70, 33–75 (2001).

Trotman, L. C. et al. Pten dose dictates cancer progression in the prostate. PLoS Biol. 1, E59 (2003).

Chen, Z. et al. Crucial role of p53-dependent cellular senescence in suppression of Pten-deficient tumorigenesis. Nature 436, 725–730 (2005).

Alimonti, A. et al. Subtle variations in Pten dose determine cancer susceptibility. Nat. Genet. 42, 454–458 (2010).

Wu, X. et al. Generation of a prostate epithelial cell-specific Cre transgenic mouse model for tissue-specific gene ablation. Mech. Dev. 101, 61–69 (2001).

Johnson, M. T. et al. Inactivation of the murine pyruvate dehydrogenase (Pdha1) gene and its effect on early embryonic development. Mol. Genet. Metab. 74, 293–302 (2001).

Kaplon, J. et al. A key role for mitochondrial gatekeeper pyruvate dehydrogenase in oncogene-induced senescence. Nature 498, 109–112 (2013).

Vacanti, N. M. et al. Regulation of substrate utilization by the mitochondrial pyruvate carrier. Mol. Cell 56, 425–435 (2014).

Yang, C. et al. Glutamine oxidation maintains the TCA cycle and cell survival during impaired mitochondrial pyruvate transport. Mol. Cell 56, 414–424 (2014).

Rajagopalan, K. N. et al. Metabolic plasticity maintains proliferation in pyruvate dehydrogenase deficient cells. Cancer Metab. 3, 7 (2015).

Sutendra, G. et al. A nuclear pyruvate dehydrogenase complex is important for the generation of acetyl-CoA and histone acetylation. Cell 158, 84–97 (2014).

Nagaraj, R. et al. Nuclear localization of mitochondrial TCA cycle enzymes as a critical step in mammalian zygotic genome activation. Cell 168, 210–223 (2017). e211 (2017).

Briggs, M. R., Yokoyama, C., Wang, X., Brown, M. S. & Goldstein, J. L. Nuclear protein that binds sterol regulatory element of low density lipoprotein receptor promoter. I. Identification of the protein and delineation of its target nucleotide sequence. J. Biol. Chem. 268, 14490–14496 (1993).

Wang, X. et al. Nuclear protein that binds sterol regulatory element of low density lipoprotein receptor promoter. II. Purification and characterization. J. Biol. Chem. 268, 14497–14504 (1993).

Porstmann, T. et al. SREBP activity is regulated by mTORC1 and contributes to Akt-dependent cell growth. Cell Metab. 8, 224–236 (2008).

Han, J. et al. The CREB coactivator CRTC2 controls hepatic lipid metabolism by regulating SREBP1. Nature 524, 243–246 (2015).

Hatzivassiliou, G. et al. ATP citrate lyase inhibition can suppress tumor cell growth. Cancer Cell 8, 311–321 (2005).

Wellen, K. E. et al. ATP-citrate lyase links cellular metabolism to histone acetylation. Science 324, 1076–1080 (2009).

Helms, M. W. et al. Squalene epoxidase, located on chromosome 8q24.1, is upregulated in 8q+ breast cancer and indicates poor clinical outcome in stage I and II disease. Br. J. Cancer 99, 774–780 (2008).

Stevenson, J., Luu, W., Kristiana, I. & Brown, A. J. Squalene mono-oxygenase, a key enzyme in cholesterol synthesis, is stabilized by unsaturated fatty acids. Biochem. J. 461, 435–442 (2014).

Zhao, S. et al. ATP-citrate lyase controls a glucose-to-acetate metabolic switch. Cell Rep. 17, 1037–1052 (2016).

Bulusu, V. et al. Acetate recapturing by nuclear acetyl-CoA synthetase 2 prevents loss of histone acetylation during oxygen and serum limitation. Cell Rep. 18, 647–658 (2017).

Metallo, C. M. et al. Reductive glutamine metabolism by IDH1 mediates lipogenesis under hypoxia. Nature 481, 380–384 (2011).

Mullen, A. R. et al. Reductive carboxylation supports growth in tumour cells with defective mitochondria. Nature 481, 385–388 (2011).

Currie, E., Schulze, A., Zechner, R., Walther, T. C. & Farese, R. V. Jr. Cellular fatty acid metabolism and cancer. Cell Metab. 18, 153–161 (2013).

Aguzzi, A. & Altmeyer, M. Phase separation: linking cellular compartmentalization to disease. Trends Cell Biol. 26, 547–558 (2016).

Kim, J. W., Tchernyshyov, I., Semenza, G. L. & Dang, C. V. HIF-1-mediated expression of pyruvate dehydrogenase kinase: a metabolic switch required for cellular adaptation to hypoxia. Cell Metab. 3, 177–185 (2006).

Papandreou, I., Cairns, R. A., Fontana, L., Lim, A. L. & Denko, N. C. HIF-1 mediates adaptation to hypoxia by actively downregulating mitochondrial oxygen consumption. Cell Metab. 3, 187–197 (2006).

Dupuy, F. et al. PDK1-dependent metabolic reprogramming dictates metastatic potential in breast cancer. Cell Metab. 22, 577–589 (2015).

Mager, J. & Blank, I. Synthesis of fluoropyruvic acid and some of its biological properties. Nature 173, 126–127 (1954).

Avi-Dor, Y. & Mager, J. The effect of fluoropyruvate on the respiration of animal-tissue preparations. Biochem. J. 63, 613–618 (1956).

Chari-Bitron, A. & Avi-Dor, Y. Effect of fluoropyruvate on the swelling, phosphorylative activity and respiration of guinea-pig liver mitochondria. Biochem. J. 71, 572–578 (1959).

Du, J. et al. Inhibition of mitochondrial pyruvate transport by zaprinast causes massive accumulation of aspartate at the expense of glutamate in the retina. J. Biol. Chem. 288, 36129–36140 (2013).

Yuan, M., Breitkopf, S. B., Yang, X. & Asara, J. M. A positive/negative ion-switching, targeted mass spectrometry-based metabolomics platform for bodily fluids, cells, and fresh and fixed tissue. Nat. Protoc. 7, 872–881 (2012).

Hitosugi, T. et al. Tyrosine phosphorylation of mitochondrial pyruvate dehydrogenase kinase 1 is important for cancer metabolism. Mol. Cell 44, 864–877 (2011).

Kerr, E. M., Gaude, E., Turrell, F. K., Frezza, C. & Martins, C. P. Mutant Kras copy number defines metabolic reprogramming and therapeutic susceptibilities. Nature 531, 110–113 (2016).

Bonnet, S. et al. A mitochondria-K+ channel axis is suppressed in cancer and its normalization promotes apoptosis and inhibits cancer growth. Cancer Cell 11, 37–51 (2007).

Vander Heiden, M. G., Cantley, L. C. & Thompson, C. B. Understanding the Warburg effect: the metabolic requirements of cell proliferation. Science 324, 1029–1033 (2009).

Costello, L. C. & Franklin, R. B. Aconitase activity, citrate oxidation, and zinc inhibition in rat ventral prostate. Enzyme 26, 281–287 (1981).

Costello, L. C., Liu, Y., Franklin, R. B. & Kennedy, M. C. Zinc inhibition of mitochondrial aconitase and its importance in citrate metabolism of prostate epithelial cells. J. Biol. Chem. 272, 28875–28881 (1997).

Costello, L. C., Liu, Y., Zou, J. & Franklin, R. B. The pyruvate dehydrogenase E1 alpha gene is testosterone and prolactin regulated in prostate epithelial cells. Endocr. Res. 26, 23–39 (2000).

Torrano, V. et al. The metabolic co-regulator PGC1alpha suppresses prostate cancer metastasis. Nat. Cell Biol. 18, 645–656 (2016).

Maitland, N. J. et al. In vitro models to study cellular differentiation and function in human prostate cancers. Radiat. Res. 155, 133–142 (2001).

Subramanian, A. et al. Gene set enrichment analysis: a knowledge-based approach for interpreting genome-wide expression profiles. Proc. Natl. Acad. Sci. USA 102, 15545–15550 (2005).

Merico, D., Isserlin, R., Stueker, O., Emili, A. & Bader, G. D. Enrichment map: a network-based method for gene-set enrichment visualization and interpretation. PLoS One 5, e13984 (2010).

Delaleu, N., Nguyen, C. Q., Tekle, K. M., Jonsson, R. & Peck, A. B. Transcriptional landscapes of emerging autoimmunity: transient aberrations in the targeted tissue's extracellular milieu precede immune responses in Sjögren's syndrome. Arthritis Res. Ther. 15, R174 (2013).

Zhao, J. et al. TIP30 induces apoptosis under oxidative stress through stabilization of p53 messenger RNA in human hepatocellular carcinoma. Cancer Res. 68, 4133–4141 (2008).

Lukacs, R. U., Goldstein, A. S., Lawson, D. A., Cheng, D. & Witte, O. N. Isolation, cultivation and characterization of adult murine prostate stem cells. Nat. Protoc. 5, 702–713 (2010).

Breitkopf, S. B. et al. A relative quantitative positive/negative ion switching method for untargeted lipidomics via high resolution LC-MS/MS from any biological source. Metabolomics 13, 30 (2017).
Acknowledgements
We thank all members of the IOR/IRB animal core facility for technical assistance and animal work, and M. Yuan and S.B. Breitkopf for help with metabolomic analysis. The mass spectrometry work was partially supported by NIH grants P01-CA120964 (J.M.A.) and P30-CA006516 (J.M.A.). Cholesterol measurements in prostate cancer cell lines were supported by an AIRC Investigator Grant (IG 2016 ID 19104) and a CARIPARO Pediatric Research Grant. The work of A.M. was funded by Fondazione Umberto Veronesi and Associazione Italiana Ricerca sul Cancro and Fondazione Cassa di Risparmio di Firenze (grant 19515 to P.C. and A.M.) and AIRC (grant 8797 to P.C.). We thank E. Ragazzi (Department of Pharmaceutical and Pharmacological Sciences, University of Padova) for multivariate statistical analysis. The work of A. Carracedo was supported by the Department of Education of the Basque Government (IKERTALDE IT1106-16), the BBVA Foundation, the MINECO (SAF2016-79381-R (FEDER/EU), Severo Ochoa Excellence Accreditation SEV-2016-0644) and the European Research Council (Starting Grant 336343, PoC 754627). The participation of A. Carracedo as part of CIBERONC was cofunded with FEDER funds. This work was supported by a Swiss National Science Foundation (SNF) grant Ambizione (PZ00P3_136612/1), a European Research Council Starting Grant (ERCsg 261342), a European Society for Medical Oncology (ESMO) Translational Research Award to A. Alimonti, a Dr. Josef Steiner Cancer Research Award and a Swiss Bridge Award to A. Alimonti, and a Fondazione IBSA fellowship award to J.C. We thank N.J. Maitland (University of York) and D. Peeper (Netherlands Cancer Institute) for providing reagents.
Ethics declarations
Competing interests
The authors declare no competing financial interests.
Additional information
Publisher's note: Springer Nature remains neutral with regard to jurisdictional claims in published maps and institutional affiliations.
Integrated supplementary information
Supplementary information
Supplementary Figures 1–15 and Supplementary Note.
Supplementary Tables 1–11.
About this article
Cite this article
Chen, J., Guccini, I., Di Mitri, D. et al. Compartmentalized activities of the pyruvate dehydrogenase complex sustain lipogenesis in prostate cancer. Nat Genet 50, 219–228 (2018). https://doi.org/10.1038/s41588-017-0026-3
Received:

Accepted:

Published:

Issue Date:

DOI: https://doi.org/10.1038/s41588-017-0026-3