A recent observational study reports that after cardiac surgery, clinical outcomes differ significantly between patients with the same stage of acute kidney injury (AKI) depending on the diagnosis criteria used: urine output, serum creatinine or both. This finding emphasizes the limitations of current criteria for AKI risk stratification and diagnosis.
Refers to Howitt, S. H. et al. The KDIGO acute kidney injury guidelines for cardiac surgery patients in critical care: a validation study. BMC Nephrol. 19, 149–156 (2018).
Acute kidney injury (AKI) is now a reportable complication and the focus of multiple quality improvement initiatives worldwide. However, new data from McCollum and colleagues1 suggest that current criteria for patient diagnosis and risk stratification need to be refined.
AKI was reportedly first recognized as a clinical entity by Baywaters and Beall who used the term 'acute renal failure' to describe the cause of death after crush injuries sustained during the London blitz of World War II (1940–1941). However, a widely accepted biochemical definition of AKI did not exist until the introduction of the Risk, Injury, Failure, Loss, End-stage (RIFLE) criteria in 2004 (ref.2), which replaced more than 35 previous definitions. The RIFLE criteria evolved to incorporate changes proposed by the Acute Kidney Injury Network (AKIN)3 and this refinement led to the introduction of the Kidney Disease: Improving Global Outcomes (KDIGO)4 definition and staging system for AKI in 2012 (Fig. 1). RIFLE and subsequent criteria have now been validated in more than 3 million people, and a vast amount of clinical and epidemiological data has been collected. Notably, a clear association between AKI stages defined by these criteria and patient outcomes has been consistently shown in a large number of studies5. However, the RIFLE criteria were not originally intended for the prediction of clinical outcomes but were rather aimed at improving AKI diagnosis and patient risk stratification.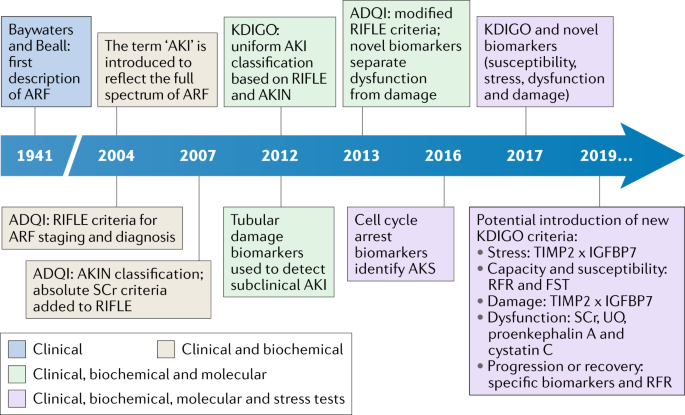 The recent discovery of novel biomarkers of tubular damage, such as neutrophil gelatinase-associated lipocalin, insulin-like growth factor-binding protein 7 and tissue inhibitor of metalloproteinases 2, supports the concept of AKI as a disease continuum, which begins long before kidney injury can be detected using the functional markers serum creatinine (SCr) and urine output (UO)6. In fact, some patients with subclinical AKI have likely already experienced acute tubular damage and these early injuries might also be associated with adverse outcomes6. These novel biomarkers enable diagnosis of AKI at the molecular level and can identify different pathophysiological pathways of kidney injury, enable differentiation between AKI phenotypes and increase the precision of AKI diagnosis.
The current KDIGO guidelines assign the same stage of AKI to patients regardless of whether they fulfil the UO criteria, SCr criteria or both criteria for that stage4. In order to assess differences in the outcomes of patients diagnosed with the same stage of AKI using these different criteria, McCollum and colleagues1 carried out a single-centre observational study in adults undergoing elective cardiac surgery with cardiopulmonary bypass. The frequency of AKI after cardiac surgery in this study was fairly high (36.1%), probably because, unlike many previous studies, UO criteria were incorporated into AKI diagnosis and because patients on mechanical cardiac support and those undergoing cardiac transplantation were included. All patients who met any of the criteria for an individual stage of AKI were included in the analysis for that stage, regardless of whether they subsequently progressed to a higher stage. However, for comparison of survival outcomes between patients with different stages of AKI, patients were retrospectively separated into subgroups according to the maximum AKI stage attained. Overall, 772 (34.1%) patients met the criteria for stage 1 AKI, and 222 of these 772 patients (28.8%) progressed to stage 2 AKI.
The study reports several interesting findings. First, almost half of the patients were staged by UO criteria alone, a higher frequency than previously reported. Second, after multivariable adjustment, the researchers identified an incremental increase within each AKI stage in the risk of prolonged intensive care unit stay, renal replacement therapy and mortality depending on the criteria used for AKI staging. Specifically, patients who met the UO criteria alone had the lowest risk, followed by a moderate risk for patients who met the SCr criteria alone and the highest risk for those who met both criteria. Third, survival analyses revealed comparable mortality risk between some AKI subgroups. For example, patients with stage 2 AKI by UO criteria and those with stage 1 AKI by SCr criteria had similar outcomes. Furthermore, the mortality risk in patients with stage 1 AKI by UO criteria alone was not significantly higher than in individuals without AKI (HR 1.4; 95% CI 0.9–2.3; P = 0.18). Similar results were reported in a 2015 retrospective analysis of critically ill patients7. In this analysis, the outcomes in patients with stage 1 AKI according to UO criteria but without AKI according to SCr criteria were comparable to that of patients with no AKI. Mortality was greatest in those patients who met both AKI criteria7.
The discrepancy in outcomes between patients diagnosed with the same stage of AKI by different criteria is not surprising. Although alteration in UO is a sensitive marker of AKI, it is not very specific. For example, ultrafiltration is commonly used to reduce perioperative fluid excess and UO decreases as ultrafiltration volume increases8. However, information on perioperative fluid management — particularly whether ultrafiltration during cardiopulmonary bypass was performed — is not provided in this study. Whether or not oliguria as defined by current AKI criteria reflects true kidney injury or haemoconcentration owing to perioperative ultrafiltration remains unknown.
Clearly, the currently available tools for diagnosis of AKI are not capable of accurately assessing risk or fully reflecting the heterogeneous nature of AKI. Hopefully, the future incorporation of novel tubular damage biomarkers will help clinicians to distinguish AKI from changes in renal function that are not associated with adverse outcomes. For example, patients diagnosed with AKI by UO criteria who also have increases in the levels of damage biomarkers may have significantly different outcomes from those with oliguria but no increase in biomarker levels. In addition, dynamic evaluation of renal function will further increase our ability to identify inter-individual differences in renal capacity and susceptibility to injury, even among individuals with normal glomerular filtration rate9. For example, among patients with stage 1 AKI, those with intact renal functional reserve might have significantly different outcomes from those with reduced renal functional reserve. Furthermore, normalization of SCr levels may not be an indication of complete recovery after an episode of AKI and changes in damage biomarkers might help stratify these patients10. A thorough discussion regarding risk stratification and articulated diagnosis of AKI is expected at the upcoming KDIGO consensus conference. The odyssey of risk stratification in AKI continues but hopefully within the next 5–10 years we will have more robust methods for diagnosis and staging of AKI.
References
1.

Howitt, S. H. et al. The KDIGO acute kidney injury guidelines for cardiac surgery patients in critical care: a validation study. BMC Nephrol. 19, 149–156 (2018).

2.

Bellomo, R. et al. Acute renal failure - definition, outcome measures, animal models, fluid therapy and information technology needs: the Second International Consensus Conference of the Acute Dialysis Quality Initiative (ADQI) Group. Crit. Care. 8, R204–R212 (2004).

3.

Mehta, R. L. et al. Acute Kidney Injury Network: report of an initiative to improve outcomes in acute kidney injury. Crit. Care. 11, R31 (2007).

4.

Kidney Disease: Improving Global Outcomes (KDIGO) Acute Kidney Injury Work Group. KDIGO Clinical Practice Guideline for Acute Kidney Injury. Kidney Int. Suppl. 2, 1–138 (2012).

5.

Uchino, S. et al. An assessment of the RIFLE criteria for acute renal failure in hospitalized patients. Crit. Care Med. 34, 1913–1917 (2006).

6.

Haase, M., Kellum, J. A. & Ronco, C. Subclinical AKI — an emerging syndrome with important consequences. Nat. Rev. Nephrol. 8, 735–739 (2012).

7.

Kellum, J. A. et al. Classifying AKI by urine output versus serum creatinine level. J. Am. Soc. Nephrol. 26, 2231–2238 (2015).

8.

Mongero, L. et al. The effect of ultrafiltration on end-cardiopulmonary bypass hematocrit during cardiac surgery. Perfusion 33, 367–374 (2018).

9.

Husain-Syed, F. et al. Preoperative renal functional reserve predicts risk of acute kidney injury after cardiac operation. Ann. Thorac Surg. 105, 1094–1101 (2018).

10.

Husain-Syed, F. et al. Persistent decrease of renal functional reserve in patients after cardiac surgery-associated acute kidney injury despite clinical recovery. Nephrol. Dial Tranplant. https://doi.org/10.1093/ndt/gfy227 (2018).
Rights and permissions
To obtain permission to re-use content from this article visit RightsLink.