The majority of men with suspected prostate cancer undergo 12-core biopsy sampling guided by transrectal ultrasonography (TRUS); however, this procedure often leads to false-negative diagnoses, often resulting in undertreatment and/or the need for further clinical monitoring. Now, prospective data from a large cohort of men requiring diagnostic investigations for suspected prostate cancer demonstrates the potential of MRI-targeted prostate biopsy, either alone, or in combination with TRUS-guided sampling, to overcome these limitations.
A total of 2,180 men with an elevated serum prostate-specific antigen level or an abnormal digital rectal examination, with MRI-visible lesions, underwent combined biopsy sampling, involving both TRUS-guided and MRI-guided approaches. Among the 2,103 patients whose data were eligible for analysis, 408 underwent radical prostatectomy (RP).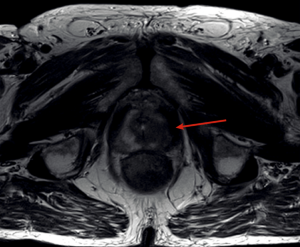 Both methods resulted in a diagnosis of prostate cancer in approximately half of all men (52.5% with TRUS-guided sampling and 51.5% with MRI-guided sampling). However, MRI-guided procedures resulted in significantly fewer diagnoses of low-grade disease (Gleason grade group 1; P = 0.01) and significantly more diagnoses with high-grade disease (Gleason grade groups 3, 4 and 5; P = 0.004, P < 0.001, and P = 0.003, respectively) relative to the TRUS-guided approach.
Addition of data from MRI-guided sampling to that obtained with TRUS resulted in a diagnosis of prostate cancer in an additional 208 men (9.9%), of whom 59 were diagnosed with clinically significant disease (defined as Gleason grade group ≥3). This combination also resulted in 74 new diagnoses of clinically insignificant prostate cancer (Gleason grade group 1) and 134 men with grade group 1 disease being reclassified as having grade group ≥2 disease.
A total of 404 men subsequently underwent RP, of whom 58 (14.4%) had their grade group upgraded on examination of the surgical specimen, including upgrading to clinically significant disease in 3.5%. When classified using only a single diagnostic procedure, 41.6% and 16.8% of patients with prostate cancer diagnosed using only TRUS-guided biopsy required upgrading and upgrading to clinically significant disease, respectively, compared with 30.9% and 8.7% for MRI-targeted sampling (P ≤ 0.002 for all comparisons). Fewer than 4% of patients diagnosed using any modality required downstaging following RP.
These findings support the use of combined biopsy sampling, which provides the lowest level of diagnostic uncertainty. When only one diagnostic procedure is possible, MRI-targeted biopsy seems to be superior to the TRUS-guided approach. Nonetheless, a subset of clinically significant cancers will continue to go undetected using MRI-targeted biopsy alone.
References
Original article
Ahdoot, M. et al. MRI-targeted, systematic, and combined biopsy for prostate cancer diagnosis. N. Engl. J. Med. 382, 917–928 (2020)
Related article
Lomas, D. J. & Ahmed, H. U. All change in the prostate cancer diagnostic pathway. Nat. Rev. Clin. Oncol. https://doi.org/10.1038/s41571-020-0332-z (2020)
About this article
Cite this article
Sidaway, P. MRI, TRUS or both?. Nat Rev Clin Oncol 17, 274 (2020). https://doi.org/10.1038/s41571-020-0358-2