The affordability of newly approved anticancer agents is a challenge to many national health services and reimbursement systems. Therefore, we have developed an approach based upon the adoption of a novel model of price setting and herein provide examples of how it might be implemented. This model is intended to alter the balance between social and economic entrepreneurship.
This is a preview of subscription content
Access options
Subscribe to Journal
Get full journal access for 1 year
$59.00
only $4.92 per issue
All prices are NET prices.
VAT will be added later in the checkout.
Tax calculation will be finalised during checkout.
Rent or Buy article
Get time limited or full article access on ReadCube.
from$8.99
All prices are NET prices.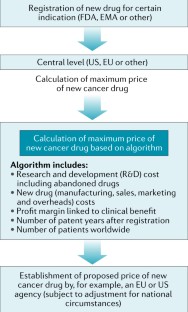 References
1.

International Agency for Research on Cancer & World Health Organization. Globocan 2012: estimated cancer incidence, mortality and prevalence worldwide in 2012. IARC http://globocan.iarc.fr/Pages/fact_sheets_cancer.aspx (2017).

2.

Luengo-Fernandez, R. et al. Economic burden of cancer across the European Union: a population-based cost analysis. Lancet Oncol. 14, 1165–1174 (2013).

3.

Davis, C. et al. Availability of evidence of benefits on overall survival and quality of life of cancer drugs approved by European Medicines Agency: retrospective cohort study of drug approvals 2009–2013. BMJ 359, j4530 (2017).

4.

Chandra, A., Shafrin, J. & Dhawan, R. Utility of cancer value frameworks for patients, payers, and physicians. JAMA. 315, 2069–2070 (2016).

5.

OncLive. Enzalutamide pricing debate goes to Washington. OncLive http://www.onclive.com/publications/oncology-business-news/2016/may-2016/enzalutamide-pricing-debate-goes-to-washington (2016).

6.

Orphan Druganaut Blog. What is the price of orphan drug ruxolitinib? Orphan Druganaut Blog https://orphandruganaut.wordpress.com/2012/09/18/what-is-the-price-of-orphan-drug-ruxolitinib (2012).

7.

DiMasi, J. A., Grabowski, H. G. & Hansen, R. W. Innovation in the pharmaceutical industry: new estimates of R&D costs. J. Health Econ. 47, 20–33 (2016).

8.

Prasad, V. & Mailankody, S. Research and development spending to bring a single cancer drug to market and revenues after approval. JAMA Intern. Med. 177, 1569–1575 (2017).

9.

Marseille, E. et al. Thresholds for the cost–effectiveness of interventions: alternative approaches. Bull. World Health Organ. 93, 118–124 (2015).

10.

American Society of Clinical Oncology. American Society of Clinical Oncology position statement on addressing the affordability of cancer drugs. ASCO https://www.asco.org/sites/new-www.asco.org/files/content-files/blog-release/documents/2017-ASCO-Position-Statement-Affordability-Cancer-Drugs.pdf (2017).
Ethics declarations
Competing interests
C.U.-d.G. has received unrestricted grants for research within the Erasmus University from Amgen, Astellas, AstraZeneca, Bayer, Boehringer Ingelheim, Genzyme, Gilead, Janssen-Cilag, Merck, Roche and Sanofi. B.L. has received personal fees from Agros Pharmaceuticals, Astellas, ASTEX, Celgene, Clear Creek Bio, F. Hoffman-La Roche, Novartis and Seattle Genetics.
Supplementary information
Supplementary file 2 Explanation of algorithm of cost price calculation for new (cancer) drugs with an application to enzalutamide and ruxolitinib
About this article
Cite this article
Uyl-de Groot, C.A., Löwenberg, B. Sustainability and affordability of cancer drugs: a novel pricing model. Nat Rev Clin Oncol 15, 405–406 (2018). https://doi.org/10.1038/s41571-018-0027-x