Finding the best approximation to the exact functional of electron density is the central challenge of density functional theory (DFT). In 2005, Zhao, Schultz and Truhlar paved the way to the development of approximate DFT functionals that can offer universally accurate treatment of different chemical systems and properties.
Access options
Subscribe to Journal
Get full journal access for 1 year
$99.00
only $8.25 per issue
All prices are NET prices.
VAT will be added later in the checkout.
Tax calculation will be finalised during checkout.
Rent or Buy article
Get time limited or full article access on ReadCube.
from$8.99
All prices are NET prices.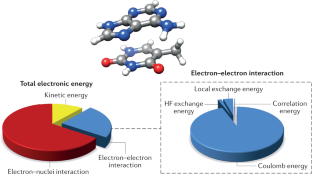 References
1.

Hohenberg, P. & Kohn, W. Inhomogeneous electron gas. Phys. Rev. 136, B864 (1964).

2.

Zhao, Y., Schultz, N. E. & Truhlar, D. G. Exchange-correlation functional with broad accuracy for metallic and nonmetallic compounds, kinetics, and noncovalent interactions. J. Chem. Phys. 123, 161103 (2005).

3.

Zhao, Y., Schultz, N. E. & Truhlar, D. G. Design of density functionals by combining the method of constraint satisfaction with parametrization for thermochemistry, thermochemical kinetics, and noncovalent interactions. J. Chem. Theory Comput. 2, 364–382 (2006).

4.

Peverati, R. & Truhlar, D. G. Quest for a universal density functional: the accuracy of density functionals across a broad spectrum of databases in chemistry and physics. Philos. Trans. R. Soc. A 372, 20120476 (2014).

5.

Mardirossian, N. & Head-Gordon, M. Thirty years of density functional theory in computational chemistry: an overview and extensive assessment of 200 density functionals. Mol. Phys. 115, 2315–2372 (2017).
Ethics declarations
Competing interests
The authors declare no competing interests.
About this article
Cite this article
Pernal, K., Hapka, M. In pursuit of universality. Nat Rev Chem 5, 520–521 (2021). https://doi.org/10.1038/s41570-021-00297-y