Results from a prospective study by Santema and colleagues suggest that women with heart failure and reduced ejection fraction might need lower doses of standard heart failure drugs than men. However, this conclusion was formed on the basis of data from a small proportion of the population studied and might only be relevant to participants taking β-blockers.
Access options
Subscribe to Journal
Get full journal access for 1 year
$59.00
only $4.92 per issue
All prices are NET prices.
VAT will be added later in the checkout.
Tax calculation will be finalised during checkout.
Rent or Buy article
Get time limited or full article access on ReadCube.
from$8.99
All prices are NET prices.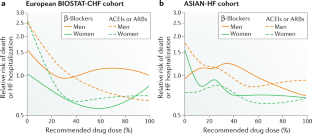 References
1.

Ponikowski, P. et al. 2016 ESC guidelines for the diagnosis and treatment of acute and chronic heart failure. Eur. J. Heart Fail. 18, 891–975 (2016).

2.

Hajahmadi, M. et al. Muscle wasting in young patients with dilated cardiomyopathy. J. Cachexia Sarcopenia Muscle 8, 542–248 (2017).

3.

Santema, B. T. et al. Identifying optimal doses of heart failure medications in men compared with women: a prospective, observational, cohort study. Lancet 394, 1254–1263 (2019).

4.

Voors, A. A. et al. A systems biology study to tailored treatment in chronic heart failure: rationale, design, and baseline characteristics of BIOSTAT-CHF. Eur. J. Heart Fail. 18, 716–726 (2016).

5.

Ouwerkerk, W. et al. Determinants and clinical outcome of uptitration of ACE-inhibitors and beta-blockers in patients with heart failure: a prospective European study. Eur. Heart J. 38, 1883–1890 (2017).

6.

Lam, C. S. et al. Asian Sudden Cardiac Death in Heart Failure (ASIAN-HF) registry. Eur. J. Heart Fail. 15, 928–936 (2013).
Ethics declarations
Competing interests
The author declares no competing interests.
About this article
Cite this article
Coats, A.J.S. Drug dosing for heart failure: does sex or size matter?. Nat Rev Cardiol 16, 705–706 (2019). https://doi.org/10.1038/s41569-019-0298-7