Abstract
Clonal dominance arises when the descendants (clones) of one or a few founder cells contribute disproportionally to the final structure during collective growth1,2,3,4,5,6,7,8. In contexts such as bacterial growth, tumorigenesis and stem cell reprogramming2,3,4, this phenomenon is often attributed to pre-existing propensities for dominance, whereas in stem cell homeostasis, neutral drift dynamics are invoked5,6. The mechanistic origin of clonal dominance during development, where it is increasingly documented1,6,7,8, is less understood. Here, we investigate this phenomenon in the Drosophila melanogaster follicle epithelium, a system in which the joint growth dynamics of cell lineage trees can be reconstructed. We demonstrate that clonal dominance can emerge spontaneously, in the absence of pre-existing biases, as a collective property of evolving excitable networks through coupling of divisions among connected cells. Similar mechanisms have been identified in forest fires and evolving opinion networks9,10,11; we show that the spatial coupling of excitable units explains a critical feature of the development of the organism, with implications for tissue organization and dynamics1,12,13.
Access options
Access Nature and 54 other Nature Portfolio journals
Get Nature+, our best-value online-access subscription
$29.99 per month
cancel any time
Subscribe to this journal
Receive 12 print issues and online access
$209.00 per year
only $17.42 per issue
Rent or buy this article
Get just this article for as long as you need it
$39.95
Prices may be subject to local taxes which are calculated during checkout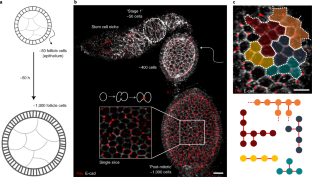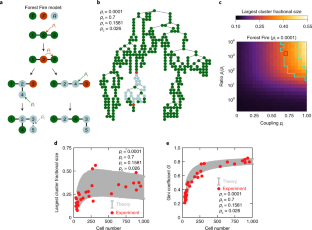 References
Gupta, V. & Poss, K. D. Clonally dominant cardiomyocytes direct heart morphogenesis. Nature 484, 479–484 (2012).

Hall, B. A., Piterman, N., Hajnal, A. & Fisher, J. Emergent stem cell homeostasis in the C. elegans germline is revealed by hybrid modeling. Biophys. J. 109, 428–438 (2015).

Luria, S. E. & Delbrück, M. Mutations of bacteria from virus sensitivity to virus resistance. Genetics 48, 491–511 (1943).

Shakiba, N. et al. Cell competition during reprogramming gives rise to dominant clones. Science 346, eaan0925 (2019).

Lopez-Garcia, C., Klein, A. M., Simons, B. D. & Winton, D. J. Intestinal stem cell replacement follows a pattern of neutral drift. Science 330, 822–825 (2010).

Snippert, H. J. et al. Intestinal crypt homeostasis results from neutral competition between symmetrically dividing Lgr5 stem cells. Cell 143, 134–144 (2010).

Kamimoto, K. et al. Heterogeneity and stochastic growth regulation of biliary epithelial cells dictate dynamic epithelial tissue remodeling. eLife 5, e15034 (2016).

Sereti, K.-I. et al. Analysis of cardiomyocyte clonal expansion during mouse heart development and injury. Nat. Commun. 9, 754 (2018).

Mikhailov A. S. in Nonlinear Wave Processes in Excitable Media NATO ASI Series Vol. 244 (eds Holden A. V. et al.) 127–144 (Springer, 1991).

Bak, P., Chen, K. & Tang, C. A forest-fire model and some thoughts on turbulence. Phys. Lett. A 147, 297–300 (1990).

Pei, S., Tang, S. & Zheng, Z. Detecting the influence of spreading in social networks with excitable sensor networks. PLoS One 10, e0124848 (2015).

Clayton, E. et al. A single type of progenitor cell maintains normal epidermis. Nature 446, 185–189 (2007).

Imran Alsous, J., Villoutreix, P., Stoop, N., Shvartsman, S. Y. & Dunkel, J. Entropic effects in cell lineage tree packings. Nat. Phys. 14, 1016–1021 (2018).

King, R. C. Ovarian Development in Drosophila Melanogaster (Academic Press, 1970).

Margolis, J. & Spradling, A. C. Identification and behavior of epithelial stem cells in the Drosophila ovary. Development 121, 3797–3807 (1995).

King, R. C. & Vanoucek, E. G. Oogenesis in adult Drosophila melanogaster. X. Studies on the behavior of the follicle cells. Growth 24, 333–338 (1960).

Deng, W.-M., Althauser, C. & Ruohola-Baker, H. Notch-Delta signaling induces a transition from mitotic cell cycle to endocycles in Drosophila follicle cells. Development 128, 4737–4746 (2001).

Airoldi, S. J., McLean, P. F., Shimada, Y. & Cooley, L. Intercellular protein movement in syncytial Drosophila follicle cells. J. Cell Sci. 124, 4077–4086 (2011).

McLean, P. F. & Cooley, L. Protein equilibration through somatic ring canals in Drosophila. Science 340, 1445–1447 (2013).

McLean, P. F. & Cooley, L. Bridging the divide. Fly 8, 12–18 (2013).

Buckingham, M. E. & Meilhac, S. M. Tracing cells for tracking cell lineage and clonal behavior. Dev. Cell 21, 394–409 (2011).

Nystul, T. & Spradling, A. C. Regulation of epithelial stem cell replacement and follicle formation in the Drosophila ovary. Genetics 184, 503–515 (2010).

Dorfman, R. A formula for the Gini coefficient. Rev. Econ. Stat. 61, 146–149 (1979).

Xu, S., Böttcher, L. & Chou, T. Diversity in biology: definitions, quantification and models. Phys. Biol. 17, 031001 (2020).

Sutton, J. Gibrat's legacy. J. Econ. Lit. 35, 40–59 (1997).

Barabási, A.-L. & Albert, R. Emergence of scaling in random networks. Science 286, 509–512 (1999).

Sawamiphak, S., Kontarakis, Z., Filosa, A., Reischauer, S. & Stainier, D. Y. R. Transient cardiomyocyte fusion regulates cardiac development in zebrafish. Nat. Commun. 8, 1525 (2017).

Kromer, J., Khaledi-Nasab, A., Schimansky-Geier, L. & Neiman, A. B. Emergent stochastic oscillations and signal detection in tree networks of excitable elements. Sci. Rep. 7, 3956 (2017).

Tyson, J. J. Modeling the cell division cycle: cdc2 and cyclin interactions. Proc. Natl Acad. Sci. USA 88, 7328–7332 (1991).

Hochegger, H., Takeda, S. & Hunt, T. Cyclin-dependent kinases and cell-cycle transitions: does one fit all? Nat. Rev. Mol. Cell Biol. 9, 910–916 (2008).

Shcherbata, H. R., Althauser, C., Findley, S. D. & Ruohola-Baker, H. The mitotic-to-endocycle switch in Drosophila follicle cells is executed by Notch-dependent regulation of G1/S, G2/M and M/G1 cell-cycle transitions. Development 131, 3169–3181 (2004).

Drossel, B. & Schwabl, F. Self-organized critical forest-fire model. Phys. Rev. Lett. 69, 1629–1632 (1992).

Puliafito, A. et al. Collective and single cell behavior in epithelial contact inhibition. Proc. Natl Acad. Sci. USA 109, 739–744 (2012).

Datar, S. A., Jacobs, H. W., de la Cruz, A. F. A., Lehner, C. F. & Edgar, B. A. The Drosophila Cyclin D–Cdk4 complex promotes cellular growth. EMBO J. 19, 4543–4554 (2000).

Batchelor, E., Loewer, A., Mock, C. & Lahav, G. Stimulus‐dependent dynamics of p53 in single cells. Mol. Syst. Biol. 7, 488 (2011).

Roan, H.-Y., Tseng, T.-Z. & Chen, C.-H. Whole-body clonal mapping identifies giant dominant clones in zebrafish skin epidermis. Development 148, dev199669 (2021).

Wong, L. C. & Schedl, P. Dissection of Drosophila ovaries. J. Vis. Exp. 1, 52 (2006).

Imaris v.8.3.1 (Bitplane Inc., 2016).

Prasad, M., Jang, A. C.-C., Starz-Gaiano, M., Melani, M. & Montell, D. J. A protocol for culturing Drosophila melanogaster stage 9 egg chambers for live imaging. Nat. Protoc. 2, 2467–2473 (2007).

Jia, D., Xu, Q., Xie, Q., Mio, W. & Deng, W.-M. Automatic stage identification of Drosophila egg chamber based on DAPI images. Sci. Rep. 6, 18850 (2016).
Acknowledgements
We thank G. Laevsky for expert help with imaging and E. Coen for advice on how to improve the manuscript and broaden its scope. We thank E. Wieschaus, T. Schüpbach, A. Berezhkovskii, M. Krajnc, S. Dutta and C. Tarnita for helpful discussions, D. Hellwig for assistance with movie making, J. Jackson for manuscript editing and the Martin Lab (Biology, Massachusetts Institute of Technology) for lab stocks and microscopy. This work was supported by the United States National Institutes of Health (research project grant no. R01GM134204-02) (S.Y.S.) and by the Slovenian Research Agency (research core funding no. P1-0055) (J.R.).
Ethics declarations
Competing interests
The authors declare no competing interests.
Additional information
Peer review information Nature Physics thanks Jordi Garcia-Ojalvo, Denise Montell and the other, anonymous, reviewer(s) for their contribution to the peer review of this work.
Publisher's note Springer Nature remains neutral with regard to jurisdictional claims in published maps and institutional affiliations.
Supplementary information
About this article
Cite this article
Imran Alsous, J., Rozman, J., Marmion, R.A. et al. Clonal dominance in excitable cell networks. Nat. Phys. 17, 1391–1395 (2021). https://doi.org/10.1038/s41567-021-01383-0
Received:

Accepted:

Published:

Issue Date:

DOI: https://doi.org/10.1038/s41567-021-01383-0