Nonlinearity and topology are both linked to symmetries, but what happens when the two are combined is not a trivial question. In a nonlinear photonic higher-order topological insulator, solitons localize on the corners together with the topological modes.
Access options
Subscribe to Journal
Get full journal access for 1 year
$99.00
only $8.25 per issue
All prices are NET prices.
VAT will be added later in the checkout.
Tax calculation will be finalised during checkout.
Rent or Buy article
Get time limited or full article access on ReadCube.
from$8.99
All prices are NET prices.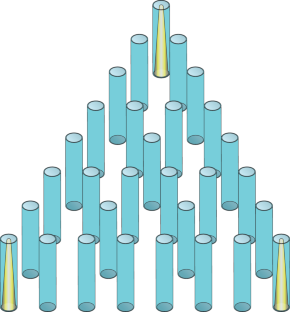 References
1.

Kirsch, M. S. et al. Nat. Phys. https://doi.org/10.1038/s41567-021-01275-3 (2021).

2.

Hasan, M. Z. & Kane, C. L. Rev. Mod. Phys. 82, 3045–3067 (2010).

3.

Benalcazar, W. A., Bernevig, B. A. & Hughes, T. L. Science 357, 61–66 (2017).

4.

Ablowitz, M. J., Curtis, C. W. & Ma, Y.-P. 2D Mater. 2, 024003 (2015).

5.

Mukherjee, S. & Rechtsman, M. C. Science 368, 856–859 (2020).

6.

Maczewsky, L. J. et al. Science 370, 701–704 (2020).

7.

Roushan, P. et al. Nat. Phys. 13, 146–151 (2017).

8.

Salerno, G., Palumbo, G., Goldman, N. & Di Liberto, M. Phys. Rev. Res. 2, 013348 (2020).
Ethics declarations
Competing interests
The author declares no competing interests.
About this article
Cite this article
Salerno, G. Topology puts solitons in the corner. Nat. Phys. 17, 980–981 (2021). https://doi.org/10.1038/s41567-021-01282-4