An elegant experiment showing that acoustic waves are amplified after scattering by a rotating body demonstrates an effect predicted in 1971 by Yakov Zel'dovich. This result has implications for the understanding of scattering from black holes.
Access options
Subscribe to Journal
Get full journal access for 1 year
$99.00
only $8.25 per issue
All prices are NET prices.
VAT will be added later in the checkout.
Tax calculation will be finalised during checkout.
Rent or Buy article
Get time limited or full article access on ReadCube.
from$8.99
All prices are NET prices.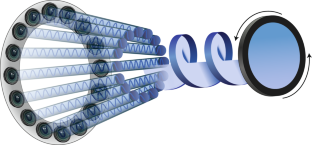 References
1.

Zel'dovich, Y. P. JETP Lett. 14, 180–181 (1971).

2.

Faccio, D. & Wright, E. M. Phys. Rev. Lett. 123, 44301 (2019).

3.

Cromb, M. et al. Nat. Phys. https://doi.org/10.1038/s41567-020-0944-3 (2020).

4.

Demore, C. E. M. et al. Phys. Rev. Lett. 108, 194301 (2012).

5.

Padgett, M., Courtial, J. & Allen, L. Phys. Today 57, 35–40 (2004).

6.

Shen, Y. et al. Light Sci. Appl. 8, 90 (2019).

7.

Baudoin, M. et al. Sci. Adv. 5, eaav1967 (2019).

8.

Marzo, A., Caleap, M. & Drinkwater, B. W. Phys. Rev. Lett. 120, 044301 (2018).
About this article
Cite this article
Drinkwater, B.W. An acoustic black hole. Nat. Phys. 16, 1010–1011 (2020). https://doi.org/10.1038/s41567-020-0954-1