Experiments show how the magnetic order in antiferromagnets can be manipulated through lattice vibrations excited by a laser. This induces a large and reversible magnetic moment at very high speed.
Access options
Subscribe to Journal
Get full journal access for 1 year
$99.00
only $8.25 per issue
All prices are NET prices.
VAT will be added later in the checkout.
Tax calculation will be finalised during checkout.
Rent or Buy article
Get time limited or full article access on ReadCube.
from$8.99
All prices are NET prices.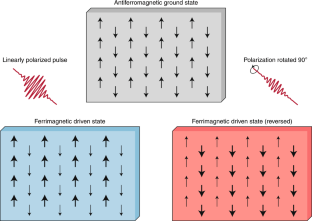 References
1.

Disa, A. S. et al. Nat. Phys. https://doi.org/10.1038/s41567-020-0936-3 (2020).

2.

Maehrlein, S. F. et al. Sci. Adv. 4, eaar5164 (2018).

3.

Dornes, C. et al. Nature 565, 209–212 (2019).

4.

Radaelli, P. G. Phys. Rev. B 97, 085145 (2018).

5.

Först, M. et al. Nat. Phys. 7, 854–856 (2011).

6.

Nova, T. F. et al. Nat. Phys. 13, 132–137 (2017).

7.

Juraschek, D. M., Fechner, M., Balatsky, A. V. & Spaldin, N. A. Phys. Rev. Mater. 1, 014401 (2017).
About this article
Cite this article
Juraschek, D.M., Narang, P. Shaken not strained. Nat. Phys. 16, 900–901 (2020). https://doi.org/10.1038/s41567-020-0937-2