Abstract
The use of coherent light for precision measurements has been a key driving force for numerous research directions, ranging from biomedical optics1,2 to semiconductor manufacturing3. Recent work demonstrates that the precision of such measurements can be substantially improved by tailoring the spatial profile of light fields used for estimating an observable system parameter4,5,6,7,8,9,10. These advances naturally raise the intriguing question of which states of light can provide the ultimate measurement precision11. Here we introduce a general approach to determine the optimal coherent states of light for estimating any given parameter, regardless of the complexity of the system. Our analysis reveals that the light fields delivering the ultimate measurement precision are eigenstates of a Hermitian operator that quantifies the Fisher information from the system's scattering matrix12. To illustrate this concept, we experimentally show that these maximum information states can probe the phase or the position of an object that is hidden by a disordered medium with a precision improved by an order of magnitude compared with unoptimized states. Our results enable optimally precise measurements in arbitrarily complex systems, thus establishing a new benchmark for metrology and imaging applications3,13.
Access options
Subscribe to Nature+
Get immediate online access to the entire Nature family of 50+ journals
Subscribe to Journal
Get full journal access for 1 year
$99.00
only $8.25 per issue
All prices are NET prices.
VAT will be added later in the checkout.
Tax calculation will be finalised during checkout.
Buy article
Get time limited or full article access on ReadCube.
$32.00
All prices are NET prices.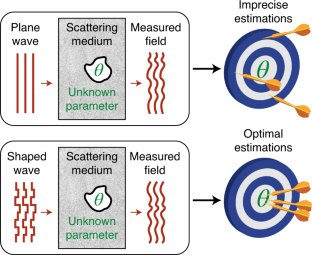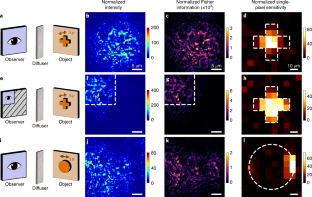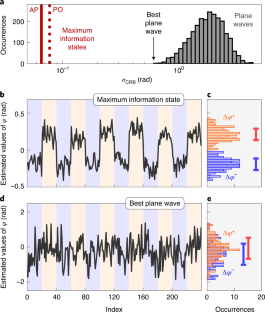 Data availability
Source data are provided with this paper. All other data that support the plots within this paper and other findings of this study are available from the corresponding author on reasonable request.
References
Park, Y., Depeursinge, C. & Popescu, G. Quantitative phase imaging in biomedicine. Nat. Photon. 12, 578–589 (2018).

Taylor, R. W. & Sandoghdar, V. Interferometric scattering microscopy: seeing single nanoparticles and molecules via Rayleigh scattering. Nano Lett. 19, 4827–4835 (2019).

Osten, W. & Reingand, N. Optical Imaging and Metrology: Advanced Technologies (John Wiley & Sons, 2012).

van Putten, E. G., Lagendijk, A. & Mosk, A. P. Nonimaging speckle interferometry for high-speed nanometer-scale position detection. Opt. Lett. 37, 1070–1072 (2012).

Shechtman, Y., Sahl, S. J., Backer, A. S. & Moerner, W. Optimal point spread function design for 3D imaging. Phys. Rev. Lett. 113, 133902 (2014).

Balzarotti, F. et al. Nanometer resolution imaging and tracking of fluorescent molecules with minimal photon fluxes. Science 355, 606–612 (2017).

Ambichl, P. et al. Super- and anti-principal-modes in multimode waveguides. Phys. Rev. X 7, 041053 (2017).

Yuan, G. H. & Zheludev, N. I. Detecting nanometric displacements with optical ruler metrology. Science 364, 771–775 (2019).

Juffmann, T., de los Ríos Sommer, A. & Gigan, S. Local optimization of wave-fronts for optimal sensitivity phase imaging (LowPhi). Opt. Commun. 454, 124484 (2020).

Bouchet, D., Carminati, R. & Mosk, A. P. Influence of the local scattering environment on the localization precision of single particles. Phys. Rev. Lett. 124, 133903 (2020).

Giovannetti, V., Lloyd, S. & Maccone, L. Advances in quantum metrology. Nat. Photon. 5, 222–229 (2011).

Rotter, S. & Gigan, S. Light fields in complex media: mesoscopic scattering meets wave control. Rev. Mod. Phys. 89, 015005 (2017).

Barrett, H. H. & Myers, K. J. Foundations of Image Science (John Wiley & Sons, 2013).

Kay, S. Fundamentals of Statistical Processing Vol. I (Prentice Hall, 1993).

Ambichl, P. et al. Focusing inside disordered media with the generalized Wigner-Smith operator. Phys. Rev. Lett. 119, 033903 (2017).

Horodynski, M. et al. Optimal wave fields for micromanipulation in complex scattering environments. Nat. Photon. 14, 149–153 (2020).

Mosk, A. P., Lagendijk, A., Lerosey, G. & Fink, M. Controlling waves in space and time for imaging and focusing in complex media. Nat. Photon. 6, 283–292 (2012).

Fang, P., Zhao, L. & Tian, C. Concentration-of-measure theory for structures and fluctuations of waves. Phys. Rev. Lett. 121, 140603 (2018).

Braunstein, S. L., Caves, C. M. & Milburn, G. J. Generalized uncertainty relations: theory, examples, and Lorentz invariance. Ann. Phys. 247, 135–173 (1996).

Zhou, E. H., Ruan, H., Yang, C. & Judkewitz, B. Focusing on moving targets through scattering samples. Optica 1, 227–232 (2014).

Ma, C., Xu, X., Liu, Y. & Wang, L. V. Time-reversed adapted-perturbation (TRAP) optical focusing onto dynamic objects inside scattering media. Nat. Photon. 8, 931–936 (2014).

Ruan, H. et al. Focusing light inside scattering media with magnetic-particle-guided wavefront shaping. Optica 4, 1337–1343 (2017).

Carpenter, J., Eggleton, B. J. & Schröder, J. Observation of Eisenbud–Wigner–Smith states as principal modes in multimode fibre. Nat. Photon. 9, 751–757 (2015).

Xiong, W. et al. Spatiotemporal control of light transmission through a multimode fiber with strong mode coupling. Phys. Rev. Lett. 117, 053901 (2016).

Hodaei, H. et al. Enhanced sensitivity at higher-order exceptional points. Nature 548, 187–191 (2017).

Chen, W., Kaya Özdemir, S., Zhao, G., Wiersig, J. & Yang, L. Exceptional points enhance sensing in an optical microcavity. Nature 548, 192–196 (2017).

Gérardin, B., Laurent, J., Derode, A., Prada, C. & Aubry, A. Full transmission and reflection of waves propagating through a maze of disorder. Phys. Rev. Lett. 113, 173901 (2014).

Shi, Z. & Genack, A. Z. Transmission eigenvalues and the bare conductance in the crossover to Anderson localization. Phys. Rev. Lett. 108, 043901 (2012).

Giovannetti, V., Lloyd, S. & Maccone, L. Quantum metrology. Phys. Rev. Lett. 96, 010401 (2006).

Fiderer, L. J., Fraïsse, J. M. & Braun, D. Maximal quantum Fisher information for mixed states. Phys. Rev. Lett. 123, 250502 (2019).

Popoff, S. M. et al. Measuring the transmission matrix in optics: an approach to the study and control of light propagation in disordered media. Phys. Rev. Lett. 104, 100601 (2010).

Pai, P., Bosch, J. & Mosk, A. P. Optical transmission matrix measurement sampled on a dense hexagonal lattice. OSA Contin. 3, 637–648 (2020).

Takeda, M., Ina, H. & Kobayashi, S. Fourier-transform method of fringe-pattern analysis for computer-based topography and interferometry. J. Opt. Soc. Am. 72, 156–160 (1982).

Cuche, E., Marquet, P. & Depeursinge, C. Spatial filtering for zero-order and twin-image elimination in digital off-axis holography. Appl. Opt. 39, 4070–4075 (2000).
Acknowledgements
We thank M. van Beurden, J. Bosch, S. Faez, M. Horodynski, M. Kühmayer, P. Pai and J. Seifert for insightful discussions and P. Jurrius, D. Killian and C. de Kok for technical support. This work was supported by the Netherlands Organization for Scientific Research NWO (Vici grant number 68047618 and Perspective project number P16-08) and by the Austrian Science Fund (FWF) under project number P32300 (WAVELAND).
Ethics declarations
Competing interests
The authors declare no competing interests.
Additional information
Peer review information Nature Physics thanks Sébastien Popoff and Chushun Tian for their contribution to the peer review of this work.
Publisher's note Springer Nature remains neutral with regard to jurisdictional claims in published maps and institutional affiliations.
Supplementary information
About this article
Cite this article
Bouchet, D., Rotter, S. & Mosk, A.P. Maximum information states for coherent scattering measurements. Nat. Phys. 17, 564–568 (2021). https://doi.org/10.1038/s41567-020-01137-4
Received:

Accepted:

Published:

Issue Date:

DOI: https://doi.org/10.1038/s41567-020-01137-4