Observing accreting black holes in the early Universe allows precise comparison of clocks over intercontinental distances on Earth. This is achieved with a novel observation strategy using the next generation of very long baseline interferometry systems.
Access options
Subscribe to Journal
Get full journal access for 1 year
$59.00
only $4.92 per issue
All prices are NET prices.
VAT will be added later in the checkout.
Tax calculation will be finalised during checkout.
Rent or Buy article
Get time limited or full article access on ReadCube.
from$8.99
All prices are NET prices.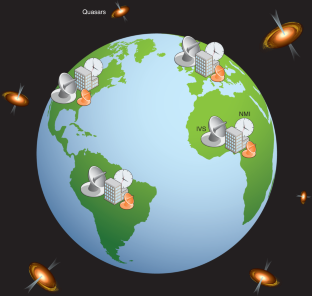 References
1.

Brewer, S. M. et al. Phys. Rev. Lett. 123, 033201 (2019).

2.

Riehle, F., Gill, P., Arias, F. & Robertsson, L. Metrologia 55, 188–200 (2018).

3.

Pizzocaro, M. et al. Nat. Phys. https://doi.org/10.1038/s41567-020-01038-6 (2020).

4.

Petrachenko, B. et al. NASA Technical Memorandum NASA/TM-2009-214180 (NASA, 2009).

5.

Fey, A. L. et al. Astron. J. 150, 58 (2015).

6.

Denker, H. et al. J. Geod. 92, 487–516 (2018).

7.

Nothnagel, A., Artz, T., Behrend, D. & Malkin, Z. J. Geod. 91, 711–721 (2017).

8.

Anderson, J. M. & Xu, M. H. JGR Solid Earth 123, 10162–10190 (2018).

9.

Niell, A. et al. Radio Sci. 53, 1269–1291 (2018).
Ethics declarations
Competing interests
The author declares no competing interests.
About this article
Cite this article
Haas, R. Clock comparison using black holes. Nat. Phys. 17, 164–165 (2021). https://doi.org/10.1038/s41567-020-01071-5
Further reading
Mamoru Sekido

,

Kazuhiro Takefuji

,

Hideki Ujihara

,

Tetsuro Kondo

,

Masanori Tsutsumi

,

Eiji Kawai

,

Hidekazu Hachisu

,

Nils Nemitz

,

Marco Pizzocaro

,

Cecilia Clivati

,

Federico Perini

,

Monia Negusini

,

Giuseppe Maccaferri

,

Roberto Ricci

,

Mauro Roma

,

Claudio Bortolotti

,

Kunitaka Namba

,

Jun'ichi Komuro

,

Ryuichi Ichikawa

,

Tomonari Suzuyama

,

Ken-ichi Watabe

,

Julia Leute

,

Gérard Petit

,

Davide Calonico

&

Tetsuya Ido

Journal of Geodesy (2021)