Abstract
Collective cell migration offers a rich field of study for non-equilibrium physics and cellular biology, revealing phenomena such as glassy dynamics, pattern formation and active turbulence. However, how mechanical and chemical signalling are integrated at the cellular level to give rise to such collective behaviours remains unclear. We address this by focusing on the highly conserved phenomenon of spatiotemporal waves of density and extracellular signal-regulated kinase (ERK) activation, which appear both in vitro and in vivo during collective cell migration and wound healing. First, we propose a biophysical theory, backed by mechanical and optogenetic perturbation experiments, showing that patterns can be quantitatively explained by a mechanochemical coupling between active cellular tensions and the mechanosensitive ERK pathway. Next, we demonstrate how this biophysical mechanism can robustly induce long-ranged order and migration in a desired orientation, and we determine the theoretically optimal wavelength and period for inducing maximal migration towards free edges, which fits well with experimentally observed dynamics. We thereby provide a bridge between the biophysical origin of spatiotemporal instabilities and the design principles of robust and efficient long-ranged migration.
Access options
Subscribe to Journal
Get full journal access for 1 year
$169.00
only $14.08 per issue
All prices are NET prices.
VAT will be added later in the checkout.
Rent or Buy article
Get time limited or full article access on ReadCube.
from$8.99
All prices are NET prices.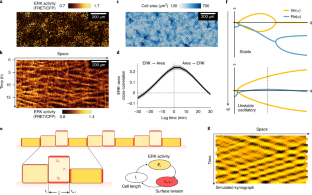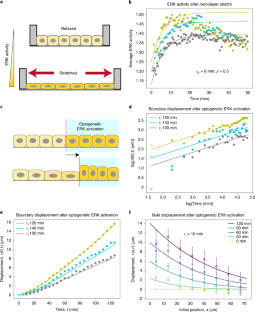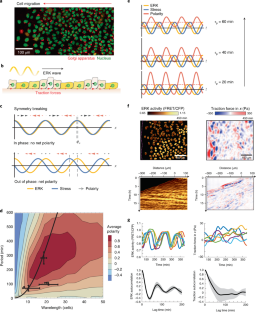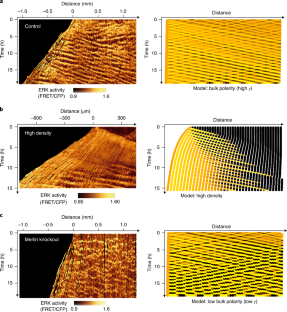 Code availability
All code used in this study is available from the corresponding authors upon reasonable request.
References
1.

Friedl, P. & Gilmour, D. Collective cell migration in morphogenesis, regeneration and cancer. Nat. Rev. Mol. Cell Biol. 10, 445–457 (2009).

2.

Aragona, M. et al. Defining stem cell dynamics and migration during wound healing in mouse skin epidermis. Nat. Commun. 8, 14684 (2017).

3.

Park, S. et al. Tissue-scale coordination of cellular behaviour promotes epidermal wound repair in live mice. Nat. Cell Biol. 19, 155–163 (2017).

4.

Krndija, D. et al. Active cell migration is critical for steady-state epithelial turnover in the gut. Science 365, 705–710 (2019).

5.

Marchetti, M. C. et al. Hydrodynamics of soft active matter. Rev. Mod. Phys. 85, 1143–1189 (2013).

6.

Alert, R. & Trepat, X. Physical models of collective cell migration. Annu. Rev. Condens. Matter Phys. 11, 77–101 (2020).

7.

Poujade, M. et al. Collective migration of an epithelial monolayer in response to a model wound. Proc. Natl Acad. Sci. USA 104, 15988–15993 (2007).

8.

Trepat, X. et al. Physical forces during collective cell migration. Nat. Phys. 5, 426–430 (2009).

9.

Angelini, T. E. et al. Glass-like dynamics of collective cell migration. Proc. Natl Acad. Sci. USA 108, 4714–4719 (2011).

10.

Blanch-Mercader, C. et al. Turbulent dynamics of epithelial cell cultures. Phys. Rev. Lett. 120, 208101 (2018).

11.

Serra-Picamal, X. et al. Mechanical waves during tissue expansion. Nat. Phys. 8, 628–634 (2012).

12.

Zaritsky, A. et al. Propagating waves of directionality and coordination orchestrate collective cell migration. PLoS Comput. Biol. 10, e1003747 (2014).

13.

Rodriguez-Franco, P. et al. Long-lived force patterns and deformation waves at repulsive epithelial boundaries. Nat. Mater. 16, 1029–1037 (2017).

14.

Notbohm, J. et al. Cellular contraction and polarization drive collective cellular motion. Biophys. J. 110, 2729–2738 (2016).

15.

Tlili, S. et al. Collective cell migration without proliferation: density determines cell velocity and wave velocity. R. Soc. Open Sci. 5, 172421 (2018).

16.

Peyret, G. et al. Sustained oscillations of epithelial cell sheets. Biophys. J. 117, 464–478 (2019).

17.

Petrolli, V. et al. Confinement-induced transition between wavelike collective cell migration modes. Phys. Rev. Lett. 122, 168101 (2019).

18.

Basan, M., Elgeti, J., Hannezo, E., Rappel, W. J. & Levine, H. Alignment of cellular motility forces with tissue flow as a mechanism for efficient wound healing. Proc. Natl Acad. Sci. USA 110, 2452–2459 (2013).

19.

Garcia, S. et al. Physics of active jamming during collective cellular motion in a monolayer. Proc. Natl Acad. Sci. USA 112, 15314–15319 (2015).

20.

Banerjee, S., Utuje, K. J. & Marchetti, M. C. Propagating stress waves during epithelial expansion. Phys. Rev. Lett. 114, 228101 (2015).

21.

Yabunaka, S. & Marcq, P. Emergence of epithelial cell density waves. Soft Matter 13, 7046–7052 (2017).

22.

Blanch-Mercader, C. & Casademunt, J. Hydrodynamic instabilities, waves and turbulence in spreading epithelia. Soft Matter 13, 6913–6928 (2017).

23.

Harvey, C. D. et al. A genetically encoded fluorescent sensor of ERK activity. Proc. Natl Acad. Sci. USA 105, 19264–19269 (2008).

24.

Komatsu, N. et al. Development of an optimized backbone of FRET biosensors for kinases and GTPases. Mol. Biol. Cell 22, 4647–4656 (2011).

25.

Aoki, K. et al. Propagating wave of ERK activation orients collective cell migration. Dev. Cell 43, 305–317 (2017).

26.

Hiratsuka, T. et al. Intercellular propagation of extracellular signal-regulated kinase activation revealed by in vivo imaging of mouse skin. eLife 4, e05178 (2015).

27.

Hino, N. et al. ERK-mediated mechanochemical waves direct collective cell polarization. Dev. Cell 53, 646–660 (2020).

28.

de la Cova, C., Townley, R., Regot, S. & Greenwald, I. A real-time biosensor for ERK activity reveals signaling dynamics during C. elegans cell fate specification. Dev. Cell 42, 542–553 (2017).

29.

Moreno, E., Valon, L., Levillayer, F. & Levayer, R. Competition for space induces cell elimination through compaction-driven ERK downregulation. Curr. Biol. 29, 23–34 (2019).

30.

Johnson, H. E. et al. The spatiotemporal limits of developmental Erk signaling. Dev. Cell 40, 185–192 (2017).

31.

Howard, J., Grill, S. W. & Bois, J. S. Turing's next steps: the mechanochemical basis of morphogenesis. Nat. Rev. Mol. Cell Biol. 12, 392–398 (2011).

32.

Hannezo, E. & Heisenberg, C. P. Mechanochemical feedback loops in development and disease. Cell 178, 12–25 (2019).

33.

Szabo, B. et al. Phase transition in the collective migration of tissue cells: experiment and model. Phys. Rev. E 74, 061908 (2006).

34.

Matsubayashi, Y., Ebisuya, M., Honjoh, S. & Nishida, E. ERK activation propagates in epithelial cell sheets and regulates their migration during wound healing. Curr. Biol. 14, 731–735 (2004).

35.

Hannezo, E., Prost, J. & Joanny, J. F. Theory of epithelial sheet morphology in three dimensions. Proc. Natl Acad. Sci. USA 111, 27–32 (2014).

36.

Alt, S., Ganguly, P. & Salbreux, G. Vertex models: from cell mechanics to tissue morphogenesis. Phil. Trans. R. Soc. B 372, 20150520 (2017).

37.

Fouchard, J. et al. Curling of epithelial monolayers reveals coupling between active bending and tissue tension. Proc. Natl Acad. Sci. USA 117, 9377–9383 (2020).

38.

Heisenberg, C. P. & Bellaiche, Y. Forces in tissue morphogenesis and patterning. Cell 153, 948–962 (2013).

39.

Lin, S. Z., Li, B., Lan, G. & Feng, X. Q. Activation and synchronization of the oscillatory morphodynamics in multicellular monolayer. Proc. Natl Acad. Sci. USA 114, 8157–8162 (2017).

40.

Das, T. et al. A molecular mechanotransduction pathway regulates collective migration of epithelial cells. Nat. Cell Biol. 17, 276–287 (2015).

41.

Weber, G. F., Bjerke, M. A. & DeSimone, D. W. A mechanoresponsive cadherin-keratin complex directs polarized protrusive behavior and collective cell migration. Dev. Cell 22, 104–115 (2012).

42.

Nakajima, A., Ishihara, S., Imoto, D. & Sawai, S. Rectified directional sensing in long-range cell migration. Nat. Commun. 5, 5367 (2014).

43.

Xiong, Y., Huang, C. H., Iglesias, P. A. & Devreotes, P. N. Cells navigate with a local-excitation, global-inhibition-biased excitable network. Proc. Natl Acad. Sci. USA 107, 17079–17086 (2010).

44.

Anon, E. et al. Cell crawling mediates collective cell migration to close undamaged epithelial gaps. Proc. Natl Acad. Sci. USA 109, 10891–10896 (2012).

45.

Bui, J., Conway, D. E., Heise, R. L. & Weinberg, S. H. Mechanochemical coupling and junctional forces during collective cell migration. Biophys. J. 117, 170–183 (2019).

46.

Recho, P., Hallou, A. & Hannezo, E. Theory of mechanochemical patterning in biphasic biological tissues. Proc. Natl Acad. Sci. USA 116, 5344–5349 (2019).

47.

Qin, X. et al. A biochemical network controlling basal myosin oscillation. Nat. Commun. 9, 1210 (2018).

48.

Bailles, A. et al. Genetic induction and mechanochemical propagation of a morphogenetic wave. Nature 572, 467–473 (2019).

49.

Pinheiro, D. & Bellaiche, Y. Mechanical force-driven adherens junction remodeling and epithelial dynamics. Dev. Cell 47, 3–19 (2018).

50.

Hamouda, M. S., Labouesse, C. & Chalut, K. J. Nuclear mechanotransduction in stem cells. Curr. Opin. Cell Biol. 64, 97–104 (2020).

51.

Ogura, Y., Wen, F. L., Sami, M. M., Shibata, T. & Hayashi, S. A switch-like activation relay of EGFR-ERK signaling regulates a wave of cellular contractility for epithelial invagination. Dev. Cell 46, 162–172 (2018).

52.

Aoki, K. et al. Stochastic ERK activation induced by noise and cell-to-cell propagation regulates cell density-dependent proliferation. Mol. Cell 52, 529–540 (2013).

53.

Isomura, A. & Kageyama, R. Ultradian oscillations and pulses: coordinating cellular responses and cell fate decisions. Development 141, 3627–3636 (2014).

54.

Naito, Y., Hino, K., Bono, H. & Ui-Tei, K. CRISPRdirect: software for designing CRISPR/Cas guide RNA with reduced off-target sites. Bioinformatics 31, 1120–1123 (2015).
Acknowledgements
We would like to thank G. Tkacik and all of the members of the Hannezo and Hirashima groups for useful discussions, X. Trepat for help on traction force microscopy and M. Matsuda for use of the lab facility. E.H. acknowledges grants from the Austrian Science Fund (FWF) (P 31639) and the European Research Council (851288). T.H. acknowledges a grant from JST, PRESTO (JPMJPR1949). This project has received funding from the European Union's Horizon 2020 research and innovation programme under the Marie Skłodowska-Curie grant agreement no. 665385 (to D.B.), from JSPS KAKENHI grant no. 17J02107 (to N.H.) and from the SPIRITS 2018 of Kyoto University (to E.H. and T.H.).
Ethics declarations
Competing interests
The authors declare no competing interests.
Additional information
Publisher's note Springer Nature remains neutral with regard to jurisdictional claims in published maps and institutional affiliations.
Supplementary information
About this article
Cite this article
Boocock, D., Hino, N., Ruzickova, N. et al. Theory of mechanochemical patterning and optimal migration in cell monolayers. Nat. Phys. (2020). https://doi.org/10.1038/s41567-020-01037-7
Received:

Accepted:

Published:
Further reading
Gabriel Shatkin

,

Benjamin Yeoman

,

Katherine Birmingham

,

Parag Katira

&

Adam J. Engler

APL Bioengineering (2020)

Tamara A. Tambyah

,

Ryan J. Murphy

,

Pascal R. Buenzli

&

Matthew J. Simpson

Proceedings of the Royal Society A: Mathematical, Physical and Engineering Sciences (2020)