Abstract
Superpositions of states with macroscopically different properties, named 'cats' after Schrödinger's Gedanken experiment, are extraordinarily sensitive probes of their environment. They can be used to investigate the decoherence mechanism and the quantum-to-classical transition1,2,3,4,5, as well as to realize quantum-enabled sensors6 with promising applications. We report here the creation of a 'circular cat', namely an atom in a superposition of two circular Rydberg states with huge opposite magnetic momenta. It is an exquisite probe of the magnetic field, able to perform a single-shot detection of a 13 nT field in only 20 μs. This single-atom cat is as sensitive as a set of 1,800 ordinary atoms, demonstrating the usefulness of Rydberg state engineering for quantum-enabled technologies.
Relevant articles
Open Access articles citing this article.
W. Wang

,

Z.-J. Chen

…

L. Sun

Nature Communications Open Access 09 June 2022

Nature Communications Open Access 26 September 2019
Access options
Subscribe to Nature+
Get immediate online access to Nature and 55 other Nature journal
Subscribe to Journal
Get full journal access for 1 year
$99.00
only $8.25 per issue
All prices are NET prices.
VAT will be added later in the checkout.
Tax calculation will be finalised during checkout.
Buy article
Get time limited or full article access on ReadCube.
$32.00
All prices are NET prices.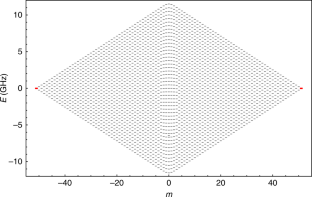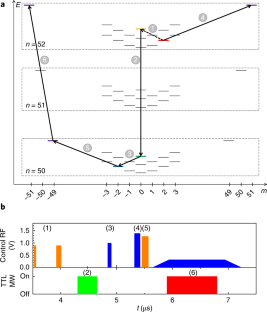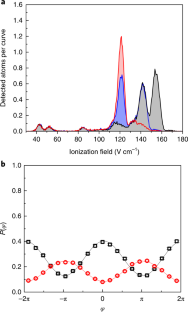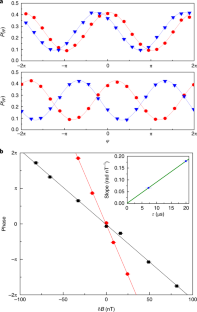 Data availability
The data that support the plots within this paper and other findings of this study are available from the corresponding author upon reasonable request.
References
Greiner, M., Mandel, O., Hänsch, T. W. & Bloch, I. Collapse and revival of the matter wave field of a Bose–Einstein condensate. Nature 519, 51–54 (2002).

Raimond, J.-M. & Haroche, S. Exploring the Quantum (Oxford Univ. Press, New York, 2006).

Deléglise, S. et al. Reconstruction of non-classical cavity field states with snapshots of their decoherence. Nature 455, 510–514 (2008).

Wang, C. et al. A Schrödinger cat living in two boxes. Science 352, 1087–1091 (2016).

Johnson, K. G., Wong-Campos, J. D., Neyenhuis, B., Mizrahi, J. & MonroeUltrafast, C. Creation of large Schrödinger cat states of an atom. Nat. Commun. 8, 697 (2017).

Facon, A. et al. A sensitive electrometer based on a Rydberg atom in a Schrödinger-cat state. Nature 535, 262–265 (2016).

Ripka, P. Review of fluxgate sensors. Sens. Actuat. A 33, 129–141 (1992).

Hämäläinen, M., Hari, R., Ilmoniemi, R. J., Knuutila, J. & Lounasmaa, O. V. Magnetoencephalography—theory, instrumentation, and applications to noninvasive studies of the working human brain. Rev. Mod. Phys. 65, 413–497 (1993).

Sander, T. H. et al. Magnetoencephalography with a chip-scale atomic magnetometer. Biomed. Opt. Express 3, 981–990 (2012).

Le Sage, D. et al. Optical magnetic imaging of living cells. Nature 496, 486–489 (2013).

Jensen, K. et al. Non-invasive detection of animal nerve impulses with an atomic magnetometer operating near quantum limited sensitivity. Sci. Rep. 6, 29638 (2016).

Swithenby, S. J. SQUIDs and their applications in the measurement of weak magnetic fields. J. Phys. E 13, 801–813 (1980).

Kominis, I. K., Kornack, T. W., Allred, J. C. & Romalis, M. V. A subfemtotesla multichannel atomic magnetometer. Nature 422, 596–599 (2003).

Wasilewski, W. et al. Quantum noise limited and entanglement-assisted magnetometry. Phys. Rev. Lett. 104, 133601 (2010).

Bal, M., Deng, C., Orgiazzi, J.-L., Ong, F. R. & Lupascu, A. Ultrasensitive magnetic field detection using a single artificial atom. Nat. Commun. 3, 1324 (2012).

Wildermuth, S. et al. Bose–Einstein condensates: microscopic magnetic-field imaging. Nature 435, 440 (2005).

Vengalattore, M. et al. High-resolution magnetometry with a spinor Bose–Einstein condensate. Phys. Rev. Lett. 98, 200801 (2007).

Ockeloen, C. F., Schmied, R., Riedel, M. F. & Treutlein, P. Quantum metrology with a scanning probe atom interferometer. Phys. Rev. Lett. 111, 143001 (2013).

Müssel, W., Strobel, H., Linnemann, D., Hume, D. B. & Oberthaler, M. K. Scalable spin squeezing for quantum-enhanced magnetometry with Bose–Einstein condensates. Phys. Rev. Lett. 113, 103004 (2014).

Ruster, T. et al. Entanglement-based DC magnetometry with separated ions. Phys. Rev. X 7, 031050 (2017).

Taylor, J. M. et al. High-sensitivity diamond magnetometer with nanoscale resolution. Nat. Phys. 4, 810–816 (2008).

Balasubramanian, G. et al. Nanoscale imaging magnetometry with diamond spins under ambient conditions. Nature 455, 648–651 (2008).

Maze, J. R. et al. Nanoscale magnetic sensing with an individual electronic spin in diamond. Nature 455, 644–647 (2008).

Maiwald, R. et al. Stylus ion trap for enhanced access and sensing. Nat. Phys. 5, 551–554 (2009).

Baumgart, I., Cai, J.-M., Retzker, A., Plenio, M. B. & Wunderlich, Ch Ultrasensitive magnetometer using a single atom. Phys. Rev. Lett. 116, 240801 (2016).

Chalopin, T. et al. Quantum-enhanced sensing using non-classical spin states of a highly magnetic atom. Nat. Commun. 9, 4955 (2018).

Signoles, A. et al. Coherent transfer between low-angular-momentum and circular Rydberg states. Phys. Rev. Lett. 118, 253603 (2017).

Patsch, S. et al. Fast and accurate circularization of a Rydberg atom. Phys. Rev. A 97, 053418 (2018).

Nguyen, T. L. et al. Towards quantum simulation with circular Rydberg atoms. Phys. Rev. X 8, 011032 (2018).

Hanneke, D., Fogwell Hoogerheide, S. & Gabrielse, G. Cavity control of a single-electron quantum cyclotron: measuring the electron magnetic moment. Phys. Rev. A 83, 052122 (2011).
Acknowledgements
The authors thank Ch. Koch and S. Patsch for useful discussions. The authors acknowledge financial support from the European Union under the Research and Innovation action project 'RYSQ' (640378) and from the Agence Nationale de la Recherche under project 'SNOCAR' (167754).
Ethics declarations
Competing interests
The authors declare no competing interests.
Additional information
Publisher's note: Springer Nature remains neutral with regard to jurisdictional claims in published maps and institutional affiliations.
Supplementary information
About this article
Cite this article
Dietsche, E.K., Larrouy, A., Haroche, S. et al. High-sensitivity magnetometry with a single atom in a superposition of two circular Rydberg states. Nat. Phys. 15, 326–329 (2019). https://doi.org/10.1038/s41567-018-0405-4
Received:

Accepted:

Published:

Issue Date:

DOI: https://doi.org/10.1038/s41567-018-0405-4
This article is cited by
Nature Communications (2022)

Nature Communications (2019)