Gold atoms are stripped of 72 of their electrons to form nitrogen-like Au72+ ions inside extremely hot plasmas by irradiating gold foils and nanowires with highly relativistic femtosecond laser pulses.
Access options
Subscribe to Journal
Get full journal access for 1 year
$59.00
only $4.92 per issue
All prices are NET prices.
VAT will be added later in the checkout.
Tax calculation will be finalised during checkout.
Rent or Buy article
Get time limited or full article access on ReadCube.
from$8.99
All prices are NET prices.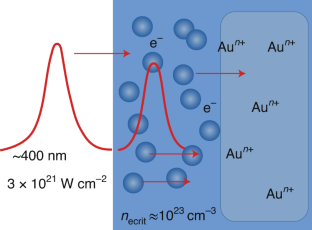 References
1.

Umstadter, D. Phys. Plasmas 8, 1774–1785 (2001).

2.

Hollinger, R. et al. Nat. Photon. https://doi.org/10.1038/s41566-020-0666-1 (2020).

3.

Wang, Y. et al. Opt. Lett. 42, 3828–3831 (2017).

4.

Palaniyappan, S. et al. Nat. Phys. 8, 763–769 (2012).

5.

Purvis, M. et al. Nat. Photon. 7, 796–800 (2013).

6.

Moreau, A. et al. Plasma Phys. Control. Fusion 62, 014013 (2020).

7.

Bargsten, C. et al. Sci. Adv. 3, e1601558 (2017).
Ethics declarations
Competing interests
The authors declare no competing interests.
About this article
Cite this article
Van Dao, L., Hannaford, P. Extreme ionization of gold atoms. Nat. Photonics 14, 598–599 (2020). https://doi.org/10.1038/s41566-020-0694-x