Abstract
Atomically strong light pulses can drive sub-optical-cycle dynamics. When the Rabi frequency—the rate of energy exchange between light and matter—exceeds the optical carrier frequency, fascinating non-perturbative strong-field phenomena emerge, such as high-harmonic generation and lightwave transport. Here, we explore a related novel subcycle regime of ultimately strong light–matter interaction without a coherent driving field. We use the vacuum fluctuations of nanoantennas to drive cyclotron resonances of two-dimensional electron gases to vacuum Rabi frequencies exceeding the carrier frequency. Femtosecond photoactivation of a switch element inside the cavity disrupts this 'deep-strong coupling' more than an order of magnitude faster than the oscillation cycle of light. The abrupt modification of the vacuum ground state causes spectrally broadband polarization oscillations confirmed by our quantum model. In the future, this subcycle shaping of hybrid quantum states may trigger cavity-induced quantum chemistry, vacuum-modified transport or cavity-controlled superconductivity, opening new scenarios for non-adiabatic quantum optics.
Relevant articles
Open Access articles citing this article.
Longqing Cong

,

Jiaguang Han

…

Ranjan Singh

Nature Communications Open Access 26 November 2021
Access options
Subscribe to Nature+
Get immediate online access to the entire Nature family of 50+ journals
Subscribe to Journal
Get full journal access for 1 year
$99.00
only $8.25 per issue
All prices are NET prices.
VAT will be added later in the checkout.
Tax calculation will be finalised during checkout.
Buy article
Get time limited or full article access on ReadCube.
$32.00
All prices are NET prices.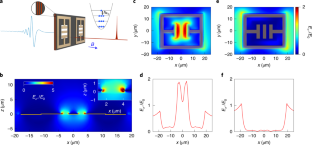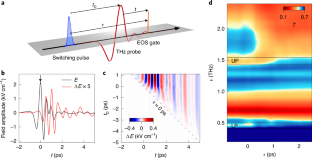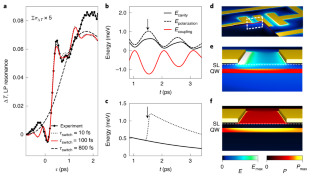 Data availability
The data that support the plots within this paper and other findings of this study are available from the corresponding authors upon reasonable request.
References
Corkum, P. B. & Krausz, F. Attosecond science. Nat. Phys. 3, 381–387 (2007).

Mücke, O. D., Tritschler, T., Wegener, M., Morgner, U. & Kärtner, F. X. Signatures of carrier-wave Rabi flopping in GaAs. Phys. Rev. Lett. 87, 057401 (2001).

Hohenleutner, M. et al. Real-time observation of interfering crystal electrons in high-harmonic generation. Nature 523, 572–575 (2015).

Langer, F. et al. Lightwave-driven quasiparticle collisions on a subcycle timescale. Nature 533, 225–229 (2016).

Garg, M. et al. Multi-petahertz electronic metrology. Nature 538, 359–363 (2016).

Schultze, M. et al. Attosecond band-gap dynamics in silicon. Science 346, 1348–1352 (2014).

Ludwig, M. et al. Sub-femtosecond electron transport in a nanoscale gap. Nat. Phys. 16, 341–345 (2020).

Kockum, A. F., Miranowicz, A., De Liberato, S., Savasta, S. & Nori, F. Ultrastrong coupling between light and matter. Nat. Rev. Phys. 1, 19–40 (2019).

Forn-Díaz, P., Lamata, L., Rico, E., Kono, J. & Solano, E. Ultrastrong coupling regimes of light-matter interaction. Rev. Mod. Phys. 91, 025005 (2019).

Li, X. et al. Vacuum Bloch–Siegert shift in Landau polaritons with ultra-high cooperativity. Nat. Photon. 12, 324–329 (2018).

Paravicini-Bagliani, G. L. et al. Magneto-transport controlled by Landau polariton states. Nat. Phys. 15, 186–190 (2019).

Orgiu, E. et al. Conductivity in organic semiconductors hybridized with the vacuum field. Nat. Mater. 14, 1123–1129 (2015).

Thomas, A. et al. Tilting a ground-state reactivity landscape by vibrational strong coupling. Science 363, 615–619 (2019).

Chikkaraddy, R. et al. Single-molecule strong coupling at room temperature in plasmonic nanocavities. Nature 535, 127–130 (2016).

Anappara, A. et al. Signatures of the ultrastrong light-matter coupling regime. Phys. Rev. B 79, 201303(R) (2009).

Günter, A. et al. Sub-cycle switch-on of ultrastrong light–matter interaction. Nature 458, 178–181 (2009).

Todorov, Y. et al. Ultrastrong light-matter coupling regime with polariton dots. Phys. Rev. Lett. 105, 196402 (2010).

Scalari, G. et al. Ultrastrong coupling of the cyclotron transition of a 2D electron gas to a THz metamaterial. Science 335, 1323–1326 (2012).

Bayer, A. et al. Terahertz light-matter interaction beyond unity coupling strength. Nano Lett. 17, 6340–6344 (2017).

Keller, J. et al. Few-electron ultrastrong light-matter coupling at 300 GHz with nanogap hybrid LC microcavities. Nano Lett. 17, 7410–7415 (2017).

Yoshihara, F. et al. Superconducting qubit–oscillator circuit beyond the ultrastrong-coupling regime. Nat. Phys. 13, 44–47 (2017).

De Liberato, S. Light-matter decoupling in the deep strong coupling regime: the breakdown of the Purcell effect. Phys. Rev. Lett. 112, 016401 (2014).

Ciuti, C., Bastard, G. & Carusotto, I. Quantum vacuum properties of the intersubband cavity polariton field. Phys. Rev. B 72, 115303 (2005).

Schlawin, F., Cavalleri, A. & Jaksch, D. Cavity-mediated electron-photon superconductivity. Phys. Rev. Lett. 122, 133602 (2019).

Thomas, A. et al. Exploring superconductivity under strong coupling with the vacuum electromagnetic field. Preprint at https://arxiv.org/abs/1911.01459v2 (2019).

De Liberato, S., Ciuti, C. & Carusotto, I. Quantum vacuum radiation spectra from a semiconductor microcavity with a time-modulated vacuum Rabi frequency. Phys. Rev. Lett. 98, 103602 (2007).

Wilson, C. M. et al. Observation of the dynamical Casimir effect in a superconducting circuit. Nature 479, 376–379 (2011).

Hawking, S. W. Black hole explosions? Nature 248, 30–31 (1974).

Chen, H.-T. et al. Experimental demonstration of frequency-agile terahertz metamaterials. Nat. Photon. 2, 295–298 (2008).

Bühler, J., Allerbeck, J., Fitzky, G., Brida, D. & Leitenstorfer, A. Terahertz shockwaves generated by a precise subcycle cut of the electric field. Optica 5, 821–824 (2018).

Riek, C. et al. Subcycle quantum electrodynamics. Nature 541, 376–379 (2017).

Benea-Chelmus, I. C., Settembrini, F. F., Scalari, G. & Faist, J. Electric field correlation measurements on the electromagnetic vacuum state. Nature 414, 286–289 (2001).

Hopfield, J. J. Theory of the contribution of excitons to the complex dielectric constant of crystals. Phys. Rev. 112, 1555–1567 (1958).

Kindt, J. T. & Schmuttenmaer, C. A. Theory for determination of the low-frequency time-dependent response function in liquids using time-resolved terahertz pulse spectroscopy. J. Chem. Phys. 110, 8589–8596 (1999).

Huber, R. et al. How many-particle interactions develop after ultrafast excitation of an electron–hole plasma. Nature 414, 286–289 (2001).
Acknowledgements
The work in Regensburg was supported by the Deutsche Forschungsgemeinschaft (DFG) through grant numbers LA 3307/1-2, BO 3140/3-2 and HU 1598/2 as well as by the European Research Council (ERC) under the European Union's Horizon 2020 research and innovation programme by grant agreement number 305003, Ultrafast quantum physics on the sub-cycle time scale (QUANTUMsubCYCLE), and through Future and Emerging Technologies (FET) grant number 737017, Mid- and far-IR optoelectronic devices based on Bose-Einstein condensation (MIR-BOSE).
Ethics declarations
Competing interests
The authors declare no competing interests.
Additional information
Publisher's note Springer Nature remains neutral with regard to jurisdictional claims in published maps and institutional affiliations.
Supplementary information
About this article
Cite this article
Halbhuber, M., Mornhinweg, J., Zeller, V. et al. Non-adiabatic stripping of a cavity field from electrons in the deep-strong coupling regime. Nat. Photonics 14, 675–679 (2020). https://doi.org/10.1038/s41566-020-0673-2
Received:

Accepted:

Published:

Issue Date:

DOI: https://doi.org/10.1038/s41566-020-0673-2
Further reading
Longqing Cong
Jiaguang Han
Ranjan Singh

Nature Communications (2021)