The manipulation of the quantum properties of light involves its technically challenging strong interaction with matter. Now, an experiment shows that when light propagates through a waveguide it only takes a weakly coupled line of atoms to single out its photons, or bunch them together, unveiling and controlling its quantum nature.
Access options
Subscribe to Journal
Get full journal access for 1 year
$59.00
only $4.92 per issue
All prices are NET prices.
VAT will be added later in the checkout.
Tax calculation will be finalised during checkout.
Rent or Buy article
Get time limited or full article access on ReadCube.
from$8.99
All prices are NET prices.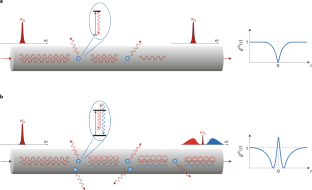 References
1.

Shields, A. J. Nat. Photon. 1, 215–223 (2007).

2.

Chang, D. E., Vuletić, V. & Lukin, M. D. Nat. Photon. 8, 685–694 (2014).

3.

Reiserer, A., Kalb, N., Rempe, G. & Ritter, S. Nature 508, 237–240 (2014).

4.

Ornelas-Huertas, D. P. et al. Optica 7, 813–819 (2020).

5.

Türschmann, P. et al. Nanophotonics 8, 1641–1657 (2019).

6.

Prasad, A. S. et al. Nat. Photon. https://doi.org/10.1038/s41566-020-0692-z (2020).

7.

Lodahl, P. et al. Nature 541, 473–480 (2017).

8.

Wan, N. H. et al. Nature 583, 226–231 (2020).
Ethics declarations
Competing interests
The author declares no competing interests.
About this article
Cite this article
Solano, P. Guiding light to non-classicality. Nat. Photonics 14, 716–718 (2020). https://doi.org/10.1038/s41566-020-00719-1