Efficient photon upconversion is desired for applications ranging from molecular sensing to solar-energy harvesting. Now, the population of hidden triplet state electrons, created on dye antennas and rare-earth-doped nanoparticles, has been amplified to brighten upconversion by five orders of magnitude.
Access options
Subscribe to Journal
Get full journal access for 1 year
$169.00
only $14.08 per issue
All prices are NET prices.
VAT will be added later in the checkout.
Rent or Buy article
Get time limited or full article access on ReadCube.
from$8.99
All prices are NET prices.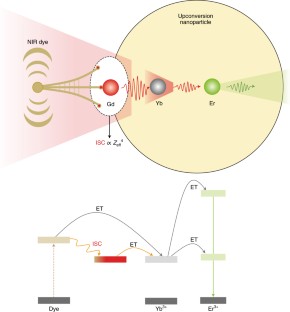 References
1.

Wang, F. et al. Light Sci. Appl. 7, 18007 (2018).

2.

Jin, D. Nat. Photon. 10, 567–569 (2016).

3.

Garfield, D. J. et al. Nat. Photon. https://doi.org/s41566-018-0156-x (2018).

4.

Zou, W., Visser, C., Maduro, J., Pshenichnikov, M. & Hummelen, J. Nat. Photon. 6, 560–564 (2012).

5.

Chen, G. et al. Nano Lett. 15, 7400–7407 (2015).

6.

Wu, X. et al. Nanoscale 7, 18424–18428 (2015).

7.

Mongin, C., Garakyaraghi, S., Razgoniaeva, N., Zamkov, M. & Castellano, F. Science 351, 369–372 (2016).

8.

Zhou, J. et al. Nat. Photon. 12, 154–158 (2018).
About this article
Cite this article
Zhou, J., Jin, D. Triplet state brightens upconversion. Nature Photon 12, 378–379 (2018). https://doi.org/10.1038/s41566-018-0188-2