Abstract
The role of the Arctic Ocean ecosystem in climate regulation may depend on the responses of marine microorganisms to environmental change. We applied genome-resolved metagenomics to 41 Arctic seawater samples, collected at various depths in different seasons during the Tara Oceans Polar Circle expedition, to evaluate the ecology, metabolic potential and activity of resident bacteria and archaea. We assembled 530 metagenome-assembled genomes (MAGs) to form the Arctic MAGs catalogue comprising 526 species. A total of 441 MAGs belonged to species that have not previously been reported and 299 genomes showed an exclusively polar distribution. Most Arctic MAGs have large genomes and the potential for fast generation times, both of which may enable adaptation to a copiotrophic lifestyle in nutrient-rich waters. We identified 38 habitat generalists and 111 specialists in the Arctic Ocean. We also found a general prevalence of 14 mixotrophs, while chemolithoautotrophs were mostly present in the mesopelagic layer during spring and autumn. We revealed 62 MAGs classified as key Arctic species, found only in the Arctic Ocean, showing the highest gene expression values and predicted to have habitat-specific traits. The Artic MAGs catalogue will inform our understanding of polar microorganisms that drive global biogeochemical cycles.
Relevant articles
Open Access articles citing this article.
David K. Ngugi

,

Silvia G. Acinas

…

Carlos M. Duarte

Nature Communications Open Access 13 March 2023

Sage Albright

&

Stilianos Louca

Scientific Data Open Access 09 February 2023

Rachael Lappan

,

Guy Shelley

…

Chris Greening

Nature Microbiology Open Access 06 February 2023
Access options
Access Nature and 54 other Nature Portfolio journals
Get Nature+, our best-value online-access subscription
$29.99 per month
cancel any time
Subscribe to this journal
Receive 12 digital issues and online access to articles
$119.00 per year
only $9.92 per issue
Rent or buy this article
Get just this article for as long as you need it
$39.95
Prices may be subject to local taxes which are calculated during checkout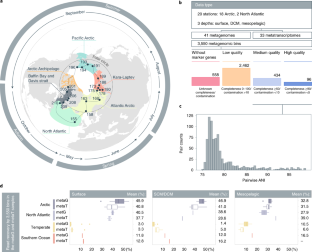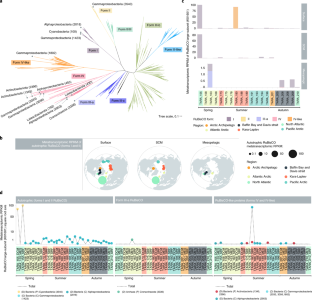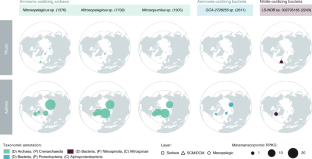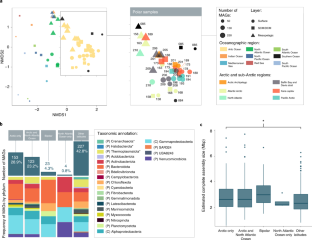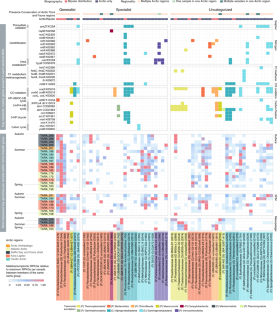 References
IPCC. IPCC Special Report on the Ocean and Cryosphere in a Changing Climate (in the press).

Cavicchioli, R. et al. Scientists' warning to humanity: microorganisms and climate change. Nat. Rev. Microbiol. 17, 569–586 (2019).

Meltofte, H. (ed.) Arctic Biodiversity Assessment: Status and Trends in Arctic Biodiversity (CAFF International Secretariat, 2013).

Wassmann, P. & Reigstad, M. Future Arctic Ocean seasonal ice zones and implications for pelagic-benthic coupling. Oceanography 24, 220–231 (2011).

Bunse, C. & Pinhassi, J. Marine bacterioplankton seasonal succession dynamics. Trends Microbiol. 25, 494–505 (2017).

Olli, K. et al. Seasonal variation in vertical flux of biogenic matter in the marginal ice zone and the central Barents Sea. J. Mar. Syst. 38, 189–204 (2002).

Riedel, A., Michel, C., Gosselin, M. & LeBlanc, B. Winter–spring dynamics in sea-ice carbon cycling in the coastal Arctic Ocean. J. Mar. Syst. 74, 918–932 (2008).

Joli, N., Monier, A., Logares, R. & Lovejoy, C. Seasonal patterns in Arctic prasinophytes and inferred ecology of Bathycoccus unveiled in an Arctic winter metagenome. ISME J. 11, 1372–1385 (2017).

Alonso-Sáez, L., Sánchez, O., Gasol, J. M., Balagué, V. & Pedrós-Alio, C. Winter-to-summer changes in the composition and single-cell activity of near-surface Arctic prokaryotes. Environ. Microbiol. 10, 2444–2454 (2008).

Alonso-Sáez, L. et al. Role for urea in nitrification by polar marine Archaea. Proc. Natl Acad. Sci. USA 109, 17989–17994 (2012).

Boetius, A., Anesio, A. M., Deming, J. W., Mikucki, J. A. & Rapp, J. Z. Microbial ecology of the cryosphere: sea ice and glacial habitats. Nat. Rev. Microbiol. 13, 677–690 (2015).

Circumpolar Biodiversity Monitoring Program, Conservation of Arctic Flora and Fauna. State of the Arctic Marine Biodiversity Report (Conservation of Arctic Flora and Fauna International Secretariat, 2017).

Kirchman, D. L., Cottrell, M. T. & Lovejoy, C. The structure of bacterial communities in the western Arctic Ocean as revealed by pyrosequencing of 16S rRNA genes. Environ. Microbiol. 12, 1132–1143 (2010).

Galand, P. E., Casamayor, E. O., Kirchman, D. L., Potvin, M. & Lovejoy, C. Unique archaeal assemblages in the Arctic Ocean unveiled by massively parallel tag sequencing. ISME J. 3, 860–869 (2009).

Pedrós-Alió, C., Potvin, M. & Lovejoy, C. Diversity of planktonic microorganisms in the Arctic Ocean. Prog. Oceanogr. 139, 233–243 (2015).

Amaral-Zettler, L. et al. in Life in the World's Oceans: Diversity, Distribution, and Abundance (ed. McIntyre, A. D.) 221–245 (Blackwell Publishing Ltd, 2010).

Christman, G. D., Cottrell, M. T., Popp, B. N., Gier, E. & Kirchman, D. L. Abundance, diversity, and activity of ammonia-oxidizing prokaryotes in the coastal Arctic Ocean in summer and winter. Appl. Environ. Microbiol. 77, 2026–2034 (2011).

Alonso-Sáez, L., Galand, P. E., Casamayor, E. O., Pedrós-Alió, C. & Bertilsson, S. High bicarbonate assimilation in the dark by Arctic bacteria. ISME J. 4, 1581–1590 (2010).

Galand, P. E., Lovejoy, C., Pouliot, J., Garneau, M.-È. & Vincent, W. F. Microbial community diversity and heterotrophic production in a coastal Arctic ecosystem: a stamukhi lake and its source waters. Limnol. Oceanogr. 53, 813–823 (2008).

Nguyen, D. et al. Winter diversity and expression of proteorhodopsin genes in a polar ocean. ISME J. 9, 1835–1845 (2015).

Cifuentes-Anticevic, J. et al. Proteorhodopsin phototrophy in Antarctic coastal waters. mSphere 6, e00525–21 (2021).

Ghiglione, J.-F. et al. Pole-to-pole biogeography of surface and deep marine bacterial communities. Proc. Natl Acad. Sci. USA 109, 17633–17638 (2012).

Salazar, G. et al. Gene expression changes and community turnover differentially shape the global ocean metatranscriptome. Cell 179, 1068–1083.e21 (2019).

Kraemer, S., Ramachandran, A., Colatriano, D., Lovejoy, C. & Walsh, D. A. Diversity and biogeography of SAR11 bacteria from the Arctic Ocean. ISME J. 14, 79–90 (2020).

Cao, S. et al. Structure and function of the Arctic and Antarctic marine microbiota as revealed by metagenomics. Microbiome 8, 47 (2020).

Sunagawa, S. et al. Tara Oceans: towards global ocean ecosystems biology. Nat. Rev. Microbiol. 18, 428–445 (2020).

Bowers, R. M. et al. Minimum information about a single amplified genome (MISAG) and a metagenome-assembled genome (MIMAG) of bacteria and archaea. Nat. Biotechnol. 35, 725–731 (2017).

Parks, D. H. et al. A standardized bacterial taxonomy based on genome phylogeny substantially revises the tree of life. Nat. Biotechnol. 36, 996–1004 (2018).

Delmont, T. O. et al. Nitrogen-fixing populations of Planctomycetes and Proteobacteria are abundant in surface ocean metagenomes. Nat. Microbiol. 3, 804–813 (2018).

Ibarbalz, F. M. et al. Global trends in marine plankton diversity across kingdoms of life. Cell 179, 1084–1097.e21 (2019).

Aagaard, K., Swift, J. H. & Carmack, E. C. Thermohaline circulation in the Arctic Mediterranean Seas. J. Geophys. Res. Oceans 90, 4833–4846 (1985).

Dupont, C. L. et al. Genomes and gene expression across light and productivity gradients in eastern subtropical Pacific microbial communities. ISME J. 9, 1076–1092 (2015).

Franzosa, E. A. et al. Relating the metatranscriptome and metagenome of the human gut. Proc. Natl Acad. Sci. USA 111, E2329–E2338 (2014).

Jones, S. E. & Lennon, J. T. Dormancy contributes to the maintenance of microbial diversity. Proc. Natl Acad. Sci. USA 107, 5881–5886 (2010).

Mestre, M. & Höfer, J. The microbial conveyor belt: connecting the globe through dispersion and dormancy. Trends Microbiol. 29, 482–492 (2021).

Ciufo, S. et al. Using average nucleotide identity to improve taxonomic assignments in prokaryotic genomes at the NCBI. Int. J. Syst. Evol. Microbiol. 68, 2386–2392 (2018).

Chaumeil, P-A., Mussig, A. J., Hugenholtz, P. & Parks, D. H. GTDB-Tk: a toolkit to classify genomes with the Genome Taxonomy Database. Bioinformatics 36, 1925–1927 (2019).

Nelson, W. C., Tully, B. J. & Mobberley, J. M. Biases in genome reconstruction from metagenomic data. PeerJ 8, e10119 (2020).

Alneberg, J. et al. Ecosystem-wide metagenomic binning enables prediction of ecological niches from genomes. Commun. Biol. 3, 119 (2020).

Tully, B. J., Graham, E. D. & Heidelberg, J. F. The reconstruction of 2,631 draft metagenome-assembled genomes from the global oceans. Sci. Data 5, 170203 (2018).

Christensen, M. & Nilsson, A. E. Arctic sea ice and the communication of climate change. Pop. Commun. 15, 249–268 (2017).

Jaffe, A. L., Castelle, C. J., Dupont, C. L. & Banfield, J. F. Lateral gene transfer shapes the distribution of RuBisCO among candidate phyla radiation bacteria and DPANN Archaea. Mol. Biol. Evol. 36, 435–446 (2019).

Kono, T. et al. A RuBisCO-mediated carbon metabolic pathway in methanogenic archaea. Nat. Commun. 8, 14007 (2017).

Sato, T., Atomi, H. & Imanaka, T. Archaeal type III RuBisCOs function in a pathway for AMP metabolism. Science 315, 1003–1006 (2007).

Tabita, F. R., Satagopan, S., Hanson, T. E., Kreel, N. E. & Scott, S. S. Distinct form I, II, III, and IV Rubisco proteins from the three kingdoms of life provide clues about Rubisco evolution and structure/function relationships. J. Exp. Bot. 59, 1515–1524 (2008).

Yelton, A. P. et al. Global genetic capacity for mixotrophy in marine picocyanobacteria. ISME J. 10, 2946–2957 (2016).

Cordero, P. R. F. et al. Atmospheric carbon monoxide oxidation is a widespread mechanism supporting microbial survival. ISME J. 13, 2868–2881 (2019).

King, G. M. & Weber, C. F. Distribution, diversity and ecology of aerobic CO-oxidizing bacteria. Nat. Rev. Microbiol. 5, 107–118 (2007).

Sunagawa, S. et al. Ocean plankton. Structure and function of the global ocean microbiome. Science 348, 1261359 (2015).

Sul, W. J., Oliver, T. A., Ducklow, H. W., Amaral-Zettler, L. A. & Sogin, M. L. Marine bacteria exhibit a bipolar distribution. Proc. Natl Acad. Sci. USA 110, 2342–2347 (2013).

Roller, B. R. K., Stoddard, S. F. & Schmidt, T. M. Exploiting rRNA operon copy number to investigate bacterial reproductive strategies. Nat. Microbiol. 1, 16160 (2016).

Levins, R. Evolution in Changing Environments: Some Theoretical Explorations (Princeton Univ. Press, 1968).

Colwell, R. K. & Futuyma, D. J. On the measurement of niche breadth and overlap. Ecology 52, 567–576 (1971).

Massana, R. & Logares, R. Eukaryotic versus prokaryotic marine picoplankton ecology. Environ. Microbiol. 15, 1254–1261 (2013).

Székely, A. J., Berga, M. & Langenheder, S. Mechanisms determining the fate of dispersed bacterial communities in new environments. ISME J. 7, 61–71 (2013).

Brooks, J. P. et al. The truth about metagenomics: quantifying and counteracting bias in 16S rRNA studies. BMC Microbiol. 15, 66 (2015).

Logares, R. et al. Biogeography of bacterial communities exposed to progressive long-term environmental change. ISME J. 7, 937–948 (2013).

Ruiz-González, C. et al. Higher contribution of globally rare bacterial taxa reflects environmental transitions across the surface ocean. Mol. Ecol. 28, 1930–1945 (2019).

Staley, J. T. & Gosink, J. J. Poles apart: biodiversity and biogeography of sea ice bacteria. Annu. Rev. Microbiol. 53, 189–215 (1999).

Chaffron, S. et al. Environmental vulnerability of the global ocean epipelagic plankton community interactome. Sci. Adv. 7, eabg1921 (2021).

Estrada, E. Characterization of topological keystone species: local, global and "meso-scale" centralities in food webs. Ecol. Complex. 4, 48–57 (2007).

Parks, D. H. et al. Recovery of nearly 8,000 metagenome-assembled genomes substantially expands the tree of life. Nat. Microbiol. 2, 1533–1542 (2017).

Tully, B. J., Sachdeva, R., Graham, E. D. & Heidelberg, J. F. 290 metagenome-assembled genomes from the Mediterranean Sea: a resource for marine microbiology. PeerJ 2017, e3558 (2017).

Deep ocean metagenomes provide insight into the metabolic architecture of bathypelagic microbial communities. Commun. Biol. 4, 604 (2021).

Pesant, S. et al. Open science resources for the discovery and analysis of Tara Oceans data. Sci. Data 2, 150023 (2015).

Alberti, A. et al. Viral to metazoan marine plankton nucleotide sequences from the Tara Oceans expedition. Sci. Data 4, 170093 (2017).

Li, D., Liu, C.-M., Luo, R., Sadakane, K. & Lam, T.-W. MEGAHIT: an ultra-fast single-node solution for large and complex metagenomics assembly via succinct de Bruijn graph. Bioinformatics 31, 1674–1676 (2015).

Li, W. & Godzik, A. Cd-hit: a fast program for clustering and comparing large sets of protein or nucleotide sequences. Bioinformatics 22, 1658–1659 (2006).

Langmead, B. & Salzberg, S. L. Fast gapped-read alignment with Bowtie 2. Nat. Methods 9, 357–359 (2012).

Li, H. et al. The Sequence Alignment/Map format and SAMtools. Bioinformatics 25, 2078–2079 (2009).

Kang, D. D., Froula, J., Egan, R. & Wang, Z. MetaBAT, an efficient tool for accurately reconstructing single genomes from complex microbial communities. PeerJ 3, e1165 (2015).

Parks, D. H., Imelfort, M., Skennerton, C. T., Hugenholtz, P. & Tyson, G. W. CheckM: assessing the quality of microbial genomes recovered from isolates, single cells, and metagenomes. Genome Res. 25, 1043–1055 (2015).

Huang, X. & Madan, A. CAP3: a DNA sequence assembly program. Genome Res. 9, 868–877 (1999).

Seemann, T. Prokka: rapid prokaryotic genome annotation. Bioinformatics 30, 2068–2069 (2014).

Kanehisa, M. & Goto, S. KEGG: Kyoto Encyclopedia of Genes and Genomes. Nucleic Acids Res. 28, 27–30 (2000).

Buchfink, B., Xie, C. & Huson, D. H. Fast and sensitive protein alignment using DIAMOND. Nat. Methods 12, 59–60 (2015).

Wheeler, T. J. & Eddy, S. R. nhmmer: DNA homology search with profile HMMs. Bioinformatics 29, 2487–2489 (2013).

Jain, C., Rodriguez-R, L. M., Phillipy, A. M., Konstantinidis, K. T. & Aluru, S. High throughput ANI analysis of 90K prokaryotic genomes reveals clear species boundaries. Nat. Commun. 9, 5114 (2018).

Lawrence, M. et al. Software for computing and annotating genomic ranges. PLoS Comput. Biol. 9, e1003118 (2013).

Vieira-Silva, S. & Rocha, E. P. C. The systemic imprint of growth and its uses in ecological (meta)genomics. PLoS Genet. 6, e1000808 (2010).

Pertea, G. & Pertea, M. GFF utilities: GffRead and GffCompare. F1000Res. 9, ISCB Comm J-304 (2020).

Aylward, F. O. & Santoro, A. E. Heterotrophic Thaumarchaeota with ultrasmall genomes are widespread in the ocean. mSystems 5, e00415–20 (2020).

Sievers, F. et al. Fast, scalable generation of high-quality protein multiple sequence alignments using Clustal Omega. Mol. Syst. Biol. 7, 539 (2011).

Price, M. N., Dehal, P. S. & Arkin, A. P. FastTree 2––approximately maximum-likelihood trees for large alignments. PLoS ONE 5, e9490 (2010).

Letunic, I. & Bork, P. Interactive Tree Of Life (iTOL) v4: recent updates and new developments. Nucleic Acids Res. 47, W256–W259 (2019).

Louca, S., Doebeli, M. & Parfrey, L. W. Correcting for 16S rRNA gene copy numbers in microbiome surveys remains an unsolved problem. Microbiome 6, 41 (2018).
Acknowledgements
Tara Oceans (which includes both the Tara Oceans and Tara Oceans Polar Circle expeditions) would not exist without the leadership of the Tara Ocean Foundation and the continuous support of 23 institutes (http://oceans.taraexpeditions.org). We thank SHOOK Studio for assistance with designing the figures. This work acknowledges the 'Severo Ochoa Centre of Excellence' accreditation (CEX2019-000928-S). We thank the commitment of the following sponsors and research funding agencies: the Spanish Ministry of Economy and Competitiveness (project MAGGY, grant no. CTM2017-87736-R and Polar EcoGen PID2020-116489RB-I00), Horizon 2020-Research and Innovation Framework Programme (Atlantic ECOsystems assessment, forecasting & sustainability, grant no. H2020-BG-2019-2), Centre National de la Recherche Scientifique (in particular Groupement de Recherche GDR3280 and the Research Federation for the study of Global Ocean Systems Ecology and Evolution, FR2022/Tara Oceans-GOSEE), European Molecular Biology Laboratory, Genoscope/Commissariat à l'Énergie Atomique et aux Énergies Alternatives, the French Ministry of Research and the French Government's 'Investissements d'Avenir' programmes OCEANOMICS (project no. ANR-11-BTBR-0008), FRANCE GENOMIQUE (project no. ANR-10-INBS-09-08), MEMO LIFE (project no. ANR-10-LABX-54), Paris Sciences et Lettres University (project no. ANR-11-IDEX-0001-02), Eidgenössische Technische Hochschule Zürich and Helmut Horten Foundation, the Swiss National Foundation (project no. 205321_184955), MEXT/JSPS/KAKENHI (project nos. 16H06429, 16K21723, 16H06437 and 18H02279). We also thank the support and commitment of agnès b. and E. Bourgois, the Prince Albert II de Monaco Foundation, the Veolia Foundation, Region Bretagne, Lorient Agglomération, Serge Ferrari, World Courier and King Abdullah University of Science and Technology. The global sampling effort was enabled by countless scientists and crews who sampled aboard the Tara from 2009 to 2013. We thank Mercator/Coriolis and ACRI-ST for providing daily satellite data during the expedition. We also thank the countries who graciously granted sampling permissions. All data reported herein are fully and freely available from the date of publication, with no restrictions; all of the analyses, publications and ownership of data are free from legal entanglement or restriction by the various nations whose waters the Tara Oceans expeditions sampled in. This article is contribution number 122 of Tara Oceans.
Ethics declarations
Competing interests
The authors declare no competing interests.
Additional information
Peer review information Nature Microbiology thanks Eric Collins, David Pearce and the other, anonymous, reviewer(s) for their contribution to the peer review of this work. Peer reviewer reports are available.
Publisher's note Springer Nature remains neutral with regard to jurisdictional claims in published maps and institutional affiliations.
Supplementary information
About this article
Cite this article
Royo-Llonch, M., Sánchez, P., Ruiz-González, C. et al. Compendium of 530 metagenome-assembled bacterial and archaeal genomes from the polar Arctic Ocean. Nat Microbiol 6, 1561–1574 (2021). https://doi.org/10.1038/s41564-021-00979-9
Received:

Accepted:

Published:

Issue Date:

DOI: https://doi.org/10.1038/s41564-021-00979-9