Abstract
Respiratory syncytial virus (RSV) causes respiratory illness in children, immunosuppressed individuals and the elderly. However, the viral factors influencing the clinical outcome of RSV infections remain poorly defined. Defective viral genomes (DVGs) can suppress virus replication by competing for viral proteins and by stimulating antiviral immunity. We studied the association between detection of DVGs of the copy-back type and disease severity in three RSV A-confirmed cohorts. In hospitalized children, detection of DVGs in respiratory samples at or around the time of admission associated strongly with more severe disease, higher viral load and a stronger pro-inflammatory response. Interestingly, in experimentally infected adults, the presence of DVGs in respiratory secretions differentially associated with RSV disease severity depending on when DVGs were detected. Detection of DVGs early after infection associated with low viral loads and mild disease, whereas detection of DVGs late after infection, especially if DVGs were present for prolonged periods, associated with high viral loads and severe disease. Taken together, we demonstrate that the kinetics of DVG accumulation and duration could predict clinical outcome of RSV A infection in humans, and thus could be used as a prognostic tool to identify patients at risk of worse clinical disease.
Your institute does not have access to this article
Access options
Subscribe to Nature+
Get immediate online access to the entire Nature family of 50+ journals
Subscribe to Journal
Get full journal access for 1 year
$119.00
only $9.92 per issue
All prices are NET prices.
VAT will be added later in the checkout.
Tax calculation will be finalised during checkout.
Buy article
Get time limited or full article access on ReadCube.
$32.00
All prices are NET prices.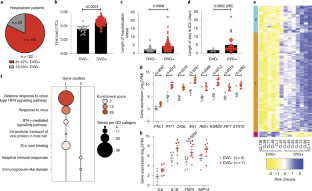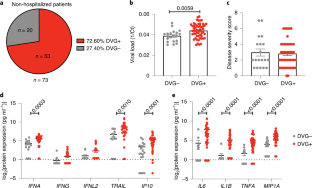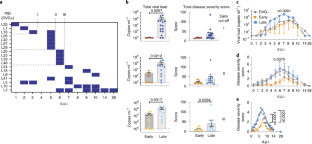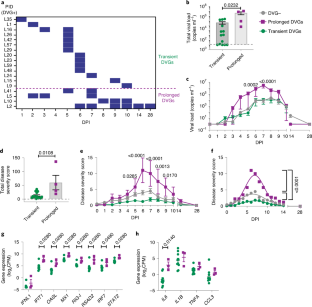 Data availability
All data associated with this study are present in the paper or the supplementary materials. Raw sequence data are deposited on SRA or GEO (Fig.1, PRJNA681672; Fig.2 and S1A, GSE146925 and Fig.6, GSE166161). Source data are provided with this paper.
References
Hall, C. B. et al. The burden of respiratory syncytial virus infection in young children. N. Engl. J. Med. 360, 588–598 (2009).

Pneumonia Etiology Research for Child Health (PERCH) Study Group. Causes of severe pneumonia requiring hospital admission in children without HIV infection from Africa and Asia: the PERCH multi-country case–control study. Lancet 394, 757–779 (2019).

Falsey, A. R., Hennessey, P. A., Formica, M. A., Cox, C. & Walsh, E. E. Respiratory syncytial virus infection in elderly and high-risk adults. N. Engl. J. Med. 352, 1749–1759 (2005).

Shi, T. et al. Global, regional, and national disease burden estimates of acute lower respiratory infections due to respiratory syncytial virus in young children in 2015: a systematic review and modelling study. Lancet 390, 946–958 (2017).

Meissner, H. C. et al. Immunoprophylaxis with palivizumab, a humanized respiratory syncytial virus monoclonal antibody, for prevention of respiratory syncytial virus infection in high risk infants: a consensus opinion. Pediatr. Infect. Dis. J. 18, 223–231 (1999).

Schmidt, R. et al. Palivizumab in the prevention of severe respiratory syncytial virus infection in children with congenital heart disease; a novel cost–utility modeling study reflecting evidence-based clinical pathways in Spain. Health Econ. Rev. 7, 47 (2017).

Cai, W. et al. Risk factors for hospitalized respiratory syncytial virus disease and its severe outcomes. Influenza Other Respir Viruses 14, 658–670 (2020).

Garofalo, R. P. et al. Macrophage inflammatory protein-1alpha (not T helper type 2 cytokines) is associated with severe forms of respiratory syncytial virus bronchiolitis. J. Infect. Dis. 184, 393–399 (2001).

Geerdink, R. J., Pillay, J., Meyaard, L. & Bont, L. Neutrophils in respiratory syncytial virus infection: a target for asthma prevention. J. Allergy Clin. Immunol. 136, 838–847 (2015).

Heinonen, S. et al. Immune profiles provide insights into respiratory syncytial virus disease severity in young children. Sci. Transl. Med. 12, eaaw0268 (2020).

Hull, J., Thomson, A. & Kwiatkowski, D. Association of respiratory syncytial virus bronchiolitis with the interleukin 8 gene region in UK families. Thorax 55, 1023–1027 (2000).

Resch, B., Kurath, S. & Manzoni, P. Epidemiology of respiratory syncytial virus infection in preterm infants. Open Microbiol. J. 5, 135–143 (2011).

Buckingham, S. C., Bush, A. J. & Devincenzo, J. P. Nasal quantity of respiratory syncytical virus correlates with disease severity in hospitalized infants. Pediatr. Infect. Dis. J. 19, 113–117 (2000).

DeVincenzo, J. P., El Saleeby, C. M. & Bush, A. J. Respiratory syncytial virus load predicts disease severity in previously healthy infants. J. Infect. Dis. 191, 1861–1868 (2005).

Fodha, I. et al. Respiratory syncytial virus infections in hospitalized infants: association between viral load, virus subgroup, and disease severity. J. Med. Virol. 79, 1951–1958 (2007).

Garcia-Maurino, C. et al. Viral load dynamics and clinical disease severity in infants with respiratory syncytial virus infection. J. Infect. Dis. 219, 1207–1215 (2019).

Hall, C. B. et al. Occurrence of groups A and B of respiratory syncytial virus over 15 years: associated epidemiologic and clinical characteristics in hospitalized and ambulatory children. J. Infect. Dis. 162, 1283–1290 (1990).

Hasegawa, K. et al. Respiratory syncytial virus genomic load and disease severity among children hospitalized with bronchiolitis: multicenter cohort studies in the United States and Finland. J. Infect. Dis. 211, 1550–1559 (2015).

Thielen, B. K. et al. Summer outbreak of severe RSV-B disease, Minnesota, 2017 associated with emergence of a genetically distinct viral lineage. J. Infect. Dis. 222, 288–297 (2020).

Piedra, F. A. et al. The interdependencies of viral load, the innate immune response, and clinical outcome in children presenting to the emergency department with respiratory syncytial virus-associated bronchiolitis. PLoS ONE 12, e0172953 (2017).

Tapia, K. et al. Defective viral genomes arising in vivo provide critical danger signals for the triggering of lung antiviral immunity. PLoS Pathog. 9, e1003703 (2013).

Sun, Y. et al. Immunostimulatory defective viral genomes from respiratory syncytial virus promote a strong innate antiviral response during infection in mice and humans. PLoS Pathog. 11, e1005122 (2015).

Lazzarini, R. A., Keene, J. D. & Schubert, M. The origins of defective interfering particles of the negative-strand RNA viruses. Cell 26, 145–154 (1981).

Leppert, M., Kort, L. & Kolakofsky, D. Further characterization of sendai virus DI-RNAs: a model for their generation. Cell 12, 539–552 (1977).

Perrault, J. in Initiation Signal in Viral Gene Expression (ed. Shatkin, A. J.) 151–207 (Springer, 1981).

Huang, A. S. & Baltimore, D. Defective viral particles and viral disease processes. Nature 226, 325–327 (1970).

Henle, W. & Henle, G. Interference of inactive virus with the propagation of virus of influenza. Science 98, 87–89 (1943).

Von Mangus, P. Propagation of the PR8 strain of influenza A virus in chick embryos. II. The formation of incomplete virus following inoculation of large doses of seed virus. Acta Pathol. Microbiol. Scand. 28, 278–293 (1951).

Von Magnus, P. Incomplete forms of influenza virus. Adv. Virus Res. 2, 59–79 (1954).

Lopez, C. B. Defective viral genomes: critical danger signals of viral infections. J. Virol. 88, 8720–8723 (2014).

Weber, M. & Weber, F. RIG-I-like receptors and negative-strand RNA viruses: RLRly bird catches some worms. Cytokine Growth Factor Rev. 25, 621–628 (2014).

Sun, Y. et al. A specific sequence in the genome of respiratory syncytial virus regulates the generation of copy-back defective viral genomes. PLoS Pathog. 15, e1007707 (2019).

Habibi, M. S. et al. Impaired antibody-mediated protection and defective IgA B-cell memory in experimental infection of adults with respiratory syncytial virus. Am. J. Respir. Crit. Care Med. 191, 1040–1049 (2015).

Vasilijevic, J. et al. Reduced accumulation of defective viral genomes contributes to severe outcome in influenza virus infected patients. PLoS Pathog. 13, e1006650 (2017).

Uusitupa, E., Waris, M. & Heikkinen, T. Association of viral load with disease severity in outpatient children with respiratory syncytial virus infection. J. Infect. Dis. 222, 298–304 (2020).

Martin, E. T., Kuypers, J., Wald, A. & Englund, J. A. Multiple versus single virus respiratory infections: viral load and clinical disease severity in hospitalized children. Influenza Other Respir. Viruses 6, 71–77 (2012).

Franz, A. et al. Correlation of viral load of respiratory pathogens and co-infections with disease severity in children hospitalized for lower respiratory tract infection. J. Clin. Virol. 48, 239–245 (2010).

Jansen, R. R. et al. Quantitation of respiratory viruses in relation to clinical course in children with acute respiratory tract infections. Pediatr. Infect. Dis. J. 29, 82–84 (2010).

Shi, T. et al. Risk factors for respiratory syncytial virus associated with acute lower respiratory infection in children under five years: systematic review and meta-analysis. J. Glob. Health 5, 020416 (2015).

van Elden, L. J. et al. Applicability of a real-time quantitative PCR assay for diagnosis of respiratory syncytial virus infection in immunocompromised adults. J. Clin. Microbiol. 41, 4378–4381 (2003).

Larkin, E. K. et al. Objectives, design and enrollment results from the infant susceptibility to pulmonary infections and asthma following RSV exposure study (INSPIRE). BMC Pulm. Med. 15, 45 (2015).

Rodriguez, H., Hartert, T. V., Gebretsadik, T., Carroll, K. N. & Larkin, E. K. A simple respiratory severity score that may be used in evaluation of acute respiratory infection. BMC Res. Notes 9, 85 (2016).

Jozwik, A. et al. RSV-specific airway resident memory CD8+ T cells and differential disease severity after experimental human infection. Nat. Commun. 6, 10224 (2015).

Jackson, G. G., Dowling, H. F., Spiesman, I. G. & Boand, A. V. Transmission of the common cold to volunteers under controlled conditions. I. The common cold as a clinical entity. Arch. Intern Med 101, 267–278 (1958).

Perkins, S. M. et al. Comparison of a real-time reverse transcriptase PCR assay and a culture technique for quantitative assessment of viral load in children naturally infected with respiratory syncytial virus. J. Clin. Microbiol. 43, 2356–2362 (2005).

Rennard, S. I. et al. Estimation of volume of epithelial lining fluid recovered by lavage using urea as marker of dilution. J. Appl. Physiol. (1985) 60, 532–538 (1986).

Amorim, C. F. et al. Variable gene expression and parasite load predict treatment outcome in cutaneous leishmaniasis. Sci. Transl. Med. 11, eaax4204 (2019).

Turi, K. N. et al. Infant viral respiratory infection nasal immune-response patterns and their association with subsequent childhood recurrent wheeze. Am. J. Respir. Crit. Care Med. 198, 1064–1073 (2018).
Acknowledgements
For the Cohort 1 study, we thank DBMI for pulling the data from the data warehouse and S. Worthen and S. Masters for IRB approval and grant support. We thank D. P. Beiting for the help of host transcriptome analysis. We also thank V. Bernhauerova for the help with statistics. Funding was received from NIH R01 AI137092 and R01 AI137062 for C.B.L., NIH U19 AI095227, UL1 RR024975 and K24 AI077930 for T.H., and the Medical Research Council (G0902266) and Wellcome Trust (087805/Z/08/Z) for C.C. C.C. is supported by the Biomedical Research Centre award to Imperial College Healthcare NHS Trust. Infrastructure support for C.C. was provided by the NIHR Imperial Biomedical Research Centre and the NIHR Imperial Clinical Research Facility. The views expressed are those of the authors and not necessarily those of the NHS, the NIHR or the Department of Health and Social Care.
Ethics declarations
Competing interests
The authors declare no competing interests.
Additional information
Peer review information Nature Microbiology thanks Shirit Einav and the other, anonymous, reviewer(s) for their contribution to the peer review of this work. Peer reviewer reports are available.
Publisher's note Springer Nature remains neutral with regard to jurisdictional claims in published maps and institutional affiliations.
Supplementary information
About this article
Cite this article
Felt, S.A., Sun, Y., Jozwik, A. et al. Detection of respiratory syncytial virus defective genomes in nasal secretions is associated with distinct clinical outcomes. Nat Microbiol 6, 672–681 (2021). https://doi.org/10.1038/s41564-021-00882-3
Received:

Accepted:

Published:

Issue Date:

DOI: https://doi.org/10.1038/s41564-021-00882-3