Abstract
Bacteria respond to changes in their environment with specific transcriptional programmes, but even within genetically identical populations these programmes are not homogenously expressed1. Such transcriptional heterogeneity between individual bacteria allows genetically clonal communities to develop a complex array of phenotypes1, examples of which include persisters that resist antibiotic treatment and metabolically specialized cells that emerge under nutrient-limiting conditions2. Fluorescent reporter constructs have played a pivotal role in deciphering heterogeneous gene expression within bacterial populations3 but have been limited to recording the activity of single genes in a few genetically tractable model species, whereas the vast majority of bacteria remain difficult to engineer and/or even to cultivate. Single-cell transcriptomics is revolutionizing the analysis of phenotypic cell-to-cell variation in eukaryotes, but technical hurdles have prevented its robust application to prokaryotes. Here, using an improved poly(A)-independent single-cell RNA-sequencing protocol, we report the faithful capture of growth-dependent gene expression patterns in individual Salmonella and Pseudomonas bacteria across all RNA classes and genomic regions. These transcriptomes provide important reference points for single-cell RNA-sequencing of other bacterial species, mixed microbial communities and host–pathogen interactions.
Your institute does not have access to this article
Relevant articles
Open Access articles citing this article.
Kylie Renee James

,

Rasa Elmentaite

…

Georgina Louise Hold

Mucosal Immunology Open Access 30 November 2021

Benjamin Cole

,

Dominique Bergmann

…

Diane E. Dickel

Communications Biology Open Access 12 August 2021

Marc Schulte

,

Katharina Olschewski

&

Michael Hensel

Communications Biology Open Access 04 May 2021
Access options
Subscribe to Nature+
Get immediate online access to the entire Nature family of 50+ journals
Subscribe to Journal
Get full journal access for 1 year
$119.00
only $9.92 per issue
All prices are NET prices.
VAT will be added later in the checkout.
Tax calculation will be finalised during checkout.
Buy article
Get time limited or full article access on ReadCube.
$32.00
All prices are NET prices.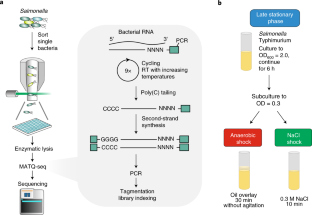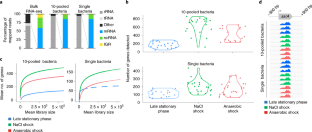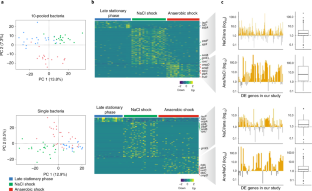 References
Ackermann, M. A functional perspective on phenotypic heterogeneity in microorganisms. Nat. Rev. Microbiol. 13, 497–508 (2015).

Gollan, B., Grabe, G., Michaux, C. & Helaine, S. Bacterial persisters and infection: past, present, and progressing. Annu. Rev. Microbiol. 73, 359–385 (2019).

Kreibich, S. & Hardt, W. D. Experimental approaches to phenotypic diversity in infection. Curr. Opin. Microbiol. 27, 25–36 (2015).

Gasch, A. P. et al. Single-cell RNA sequencing reveals intrinsic and extrinsic regulatory heterogeneity in yeast responding to stress. PLoS Biol. 15, e2004050 (2017).

Muller, L. S. M. et al. Genome organization and DNA accessibility control antigenic variation in trypanosomes. Nature 563, 121–125 (2018).

Stubbington, M. J. T., Rozenblatt-Rosen, O., Regev, A. & Teichmann, S. A. Single-cell transcriptomics to explore the immune system in health and disease. Science 358, 58–63 (2017).

Kang, Y. et al. Transcript amplification from single bacterium for transcriptome analysis. Genome Res. 21, 925–935 (2011).

Wang, J., Chen, L., Chen, Z. & Zhang, W. RNA-seq based transcriptomic analysis of single bacterial cells. Integr. Biol. (Camb.) 7, 1466–1476 (2015).

Avital, G. et al. scDual-Seq: mapping the gene regulatory program of Salmonella infection by host and pathogen single-cell RNA-sequencing. Genome Biol. 18, 200 (2017).

Betin, V. et al. Hybridization-based capture of pathogen mRNA enables paired host–pathogen transcriptional analysis. Sci. Rep. 9, 19244 (2019).

Penaranda, C. & Hung, D. T. Single-cell RNA sequencing to understand host–pathogen interactions. ACS Infect. Dis. 5, 336–344 (2019).

Milo, R. & Phillips, R. Cell Biology by the Numbers (Garland Science, 2015).

Bagnoli, J. W. et al. Sensitive and powerful single-cell RNA sequencing using mcSCRB-seq. Nat. Commun. 9, 2937 (2018).

Taniguchi, Y. et al. Quantifying E. coli proteome and transcriptome with single-molecule sensitivity in single cells. Science 329, 533–538 (2010).

Sheng, K., Cao, W., Niu, Y., Deng, Q. & Zong, C. Effective detection of variation in single-cell transcriptomes using MATQ-seq. Nat. Methods 14, 267–270 (2017).

Kroger, C. et al. An infection-relevant transcriptomic compendium for Salmonella enterica serovar Typhimurium. Cell Host Microbe 14, 683–695 (2013).

Smirnov, A. et al. Grad-seq guides the discovery of ProQ as a major small RNA-binding protein. Proc. Natl Acad. Sci. USA 113, 11591–11596 (2016).

Chao, Y. et al. In vivo cleavage map illuminates the central role of RNase E in coding and non-coding RNA pathways. Mol. Cell 65, 39–51 (2017).

Hor, J., Matera, G., Vogel, J., Gottesman, S. & Storz, G. Trans-acting small RNAs and their effects on gene expression in Escherichia coli and Salmonella enterica. EcoSal Plus https://doi.org/10.1128/ecosalplus.ESP-0030-2019 (2020).

Westermann, A. J. et al. Dual RNA-seq unveils noncoding RNA functions in host–pathogen interactions. Nature 529, 496–501 (2016).

Westermann, A. J. & Vogel, J. Host–pathogen transcriptomics by dual RNA-seq. Methods Mol. Biol. 1737, 59–75 (2018).

Picelli, S. et al. Smart-seq2 for sensitive full-length transcriptome profiling in single cells. Nat. Methods 10, 1096–1098 (2013).

Brennecke, P. et al. Accounting for technical noise in single-cell RNA-seq experiments. Nat. Methods 10, 1093–1095 (2013).

Haas, B. J., Chin, M., Nusbaum, C., Birren, B. W. & Livny, J. How deep is deep enough for RNA-Seq profiling of bacterial transcriptomes? BMC Genomics 13, 734 (2012).

Blattman, S. B., Jiang, W., Oikonomou, P. & Tavazoie, S. Prokaryotic single-cell RNA sequencing by in situ combinatorial indexing. Nat. Microbiol. https://doi.org/10.1038/s41564-020-0729-6 (2020).

Barczak, A. K. et al. RNA signatures allow rapid identification of pathogens and antibiotic susceptibilities. Proc. Natl Acad. Sci. USA 109, 6217–6222 (2012).

Gu, W. et al. Depletion of Abundant Sequences by Hybridization (DASH): using Cas9 to remove unwanted high-abundance species in sequencing libraries and molecular counting applications. Genome Biol. 17, 41 (2016).

Prezza, G. et al. Improved bacterial RNA-seq by Cas9-based depletion of ribosomal RNA reads. RNA 26, 1069–1078 (2020).

Patel, A. P. et al. Single-cell RNA-seq highlights intratumoral heterogeneity in primary glioblastoma. Science 344, 1396–1401 (2014).

Love, M. I., Huber, W. & Anders, S. Moderated estimation of fold change and dispersion for RNA-seq data with DESeq2. Genome Biol. 15, 550 (2014).
Acknowledgements
We thank S. Gorski for critical comments on the manuscript; K. Secener and X. Hartmann for performing preliminary experiments; C. Michaux for advice on bacterial culture; L. Barquist and F. Erhard for advice on statistical analysis; and P. Arampatzi, T. Heckel (SysMed Würzburg) and R. Geffers (Genome Analytics, HZI) for conducting the sequencing.
Ethics declarations
Competing interests
The authors declare no competing interests.
Additional information
Publisher's note Springer Nature remains neutral with regard to jurisdictional claims in published maps and institutional affiliations.
Supplementary information
About this article
Cite this article
Imdahl, F., Vafadarnejad, E., Homberger, C. et al. Single-cell RNA-sequencing reports growth-condition-specific global transcriptomes of individual bacteria. Nat Microbiol 5, 1202–1206 (2020). https://doi.org/10.1038/s41564-020-0774-1
Received:

Accepted:

Published:

Issue Date:

DOI: https://doi.org/10.1038/s41564-020-0774-1