Abstract
A variety of cell surface structures dictate interactions between bacteria and their environment, including their viruses (bacteriophages). Members of the human gut Bacteroidetes characteristically produce several phase-variable capsular polysaccharides (CPSs), but their contributions to bacteriophage interactions are unknown. To begin to understand how CPSs have an impact on Bacteroides–phage interactions, we isolated 71 Bacteroides thetaiotaomicron-infecting bacteriophages from two locations in the United States. Using B. thetaiotaomicron strains that express defined subsets of CPSs, we show that CPSs dictate host tropism for these phages and that expression of non-permissive CPS variants is selected under phage predation, enabling survival. In the absence of CPSs, B. thetaiotaomicron escapes bacteriophage predation by altering expression of eight distinct phase-variable lipoproteins. When constitutively expressed, one of these lipoproteins promotes resistance to multiple bacteriophages. Our results reveal important roles for Bacteroides CPSs and other cell surface structures that allow these bacteria to persist under bacteriophage predation, and hold important implications for using bacteriophages therapeutically to target gut symbionts.
Relevant articles
Open Access articles citing this article.
Stacey L. Heaver

,

Henry H. Le

…

Ruth E. Ley

Nature Microbiology Open Access 20 June 2022

Daniel Podlesny

,

Cesar Arze

…

W. Florian Fricke

Microbiome Open Access 25 March 2022

Qingqing Fang

,

Yu Feng

…

Zhiyong Zong

Communications Biology Open Access 13 January 2022
Access options
Subscribe to Nature+
Get immediate online access to Nature and 55 other Nature journal
Subscribe to Journal
Get full journal access for 1 year
$119.00
only $9.92 per issue
All prices are NET prices.
VAT will be added later in the checkout.
Tax calculation will be finalised during checkout.
Buy article
Get time limited or full article access on ReadCube.
$32.00
All prices are NET prices.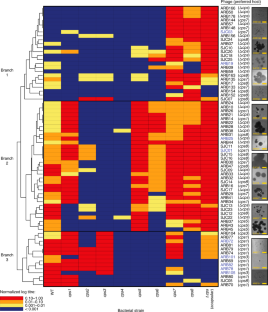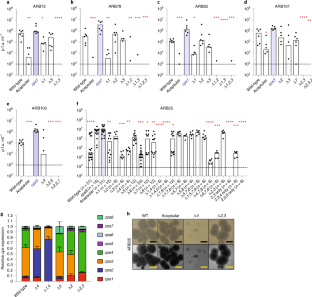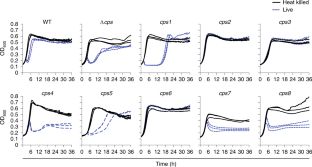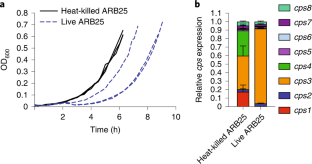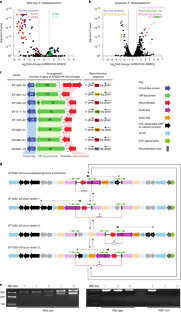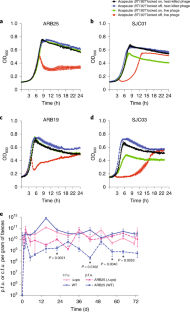 Data availability
Source data for all the experiments, along with corresponding statistical test values, where appropriate, are provided. RNA-seq data for whole-genome transcriptional profiling is deposited in NCBI Gene Expression Omnibus database as accession no. GSE147071.
References
Eckburg, P. B. et al. Diversity of the human intestinal microbial flora. Science 308, 1635–1638 (2005).

Qin, J. et al. A human gut microbial gene catalogue established by metagenomic sequencing. Nature 464, 59–65 (2010).

Faith, J. J. et al. The long-term stability of the human gut microbiota. Science 341, 1237439 (2013).

Donia, M. S. et al. A systematic analysis of biosynthetic gene clusters in the human microbiome reveals a common family of antibiotics. Cell 158, 1402–1414 (2014).

Coyne, M. J. & Comstock, L. E. Niche-specific features of the intestinal bacteroidales. J. Bacteriol. 190, 736–742 (2008).

Neff, C. P. et al. Diverse intestinal bacteria contain putative zwitterionic capsular polysaccharides with anti-inflammatory properties. Cell Host Microbe 20, 535–547 (2016).

Peterson, D. A., McNulty, N. P., Guruge, J. L. & Gordon, J. I. IgA response to symbiotic bacteria as a mediator of gut homeostasis. Cell Host Microbe 2, 328–339 (2007).

Porter, N. T., Canales, P., Peterson, D. A. & Martens, E. C. A subset of polysaccharide capsules in the human symbiont Bacteroides thetaiotaomicron promote increased competitive fitness in the mouse gut. Cell Host Microbe 22, 494–506 (2017).

Round, J. L. et al. The Toll-like receptor 2 pathway establishes colonization by a commensal of the human microbiota. Science 332, 974–977 (2011).

Shen, Y. et al. Outer membrane vesicles of a human commensal mediate immune regulation and disease protection. Cell Host Microbe 12, 509–520 (2012).

Patrick, S. et al. Twenty-eight divergent polysaccharide loci specifying within- and amongst-strain capsule diversity in three strains of Bacteroides fragilis. Microbiology 156, 3255–3269 (2010).

Porter, N. T. & Martens, E. C. The critical roles of polysaccharides in gut microbial ecology and physiology. Annu. Rev. Microbiol. 71, 349–369 (2017).

Pasolli, E. et al. Extensive unexplored human microbiome diversity revealed by over 150,000 genomes from metagenomes spanning age, geography, and lifestyle. Cell 176, 649–662 (2019).

Xu, J. et al. A genomic view of the human–Bacteroides thetaiotaomicron symbiosis. Science 299, 2074–2076 (2003).

Krinos, C. M. et al. Extensive surface diversity of a commensal microorganism by multiple DNA inversions. Nature 414, 555–558 (2001).

Martens, E. C., Roth, R., Heuser, J. E. & Gordon, J. I. Coordinate regulation of glycan degradation and polysaccharide capsule biosynthesis by a prominent human gut symbiont. J. Biol. Chem. 284, 18445–18457 (2009).

Hsieh, S. et al. Polysaccharide capsules equip the human dymbiont—Bacteroides thetaiotaomicron—to modulate immune responses to a dominant antigen in the intestine. J. Immunol. 204, 1035–1046 (2020).

Kuwahara, T. et al. Genomic analysis of Bacteroides fragilis reveals extensive DNA inversions regulating cell surface adaptation. Proc. Natl Acad. Sci. USA 101, 14919–14924 (2004).

Chatzidaki-Livanis, M., Coyne, M. J. & Comstock, L. E. A family of transcriptional antitermination factors necessary for synthesis of the capsular polysaccharides of Bacteroides fragilis. J. Bacteriol. 191, 7288–7295 (2009).

Chatzidaki-Livanis, M., Weinacht, K. G. & Comstock, L. E. Trans locus inhibitors limit concomitant polysaccharide synthesis in the human gut symbiont Bacteroides fragilis. Proc. Natl Acad. Sci. USA 107, 11976–11980 (2010).

Duerkop, B. A. et al. Murine colitis reveals a disease-associated bacteriophage community. Nat. Microbiol. 3, 1023–1031 (2018).

Manrique, P. et al. Healthy human gut phageome. Proc. Natl Acad. Sci. USA 113, 10400–10405 (2016).

Minot, S. et al. The human gut virome: inter-individual variation and dynamic response to diet. Genome Res. 21, 1616–1625 (2011).

Reyes, A. et al. Viruses in the faecal microbiota of monozygotic twins and their mothers. Nature 466, 334–338 (2010).

Norman, J. M. et al. Disease-specific alterations in the enteric virome in inflammatory bowel disease. Cell 160, 447–460 (2015).

Rogers, T. E. et al. Dynamic responses of Bacteroides thetaiotaomicron during growth on glycan mixtures. Mol. Microbiol. 88, 876–890 (2013).

Cockburn, D. W. & Koropatkin, N. M. Polysaccharide degradation by the intestinal microbiota and its influence on human health and disease. J. Mol. Biol. 428, 3230–3252 (2016).

Martens, E. C., Koropatkin, N. M., Smith, T. J. & Gordon, J. I. Complex glycan catabolism by the human gut microbiota: the Bacteroidetes Sus-like paradigm. J. Biol. Chem. 284, 24673–24677 (2009).

Braun, V. FhuA (TonA), the career of a protein. J. Bacteriol. 191, 3431–3436 (2009).

Taketani, M., Donia, M. S., Jacobson, A. N., Lambris, J. D. & Fischbach, M. A. A phase-variable surface layer from the gut symbiont Bacteroides thetaiotaomicron. mBio 6, e01339-15 (2015).

Glowacki, R. W. P. et al. A ribose-scavenging system confers colonization fitness on the human gut symbiont Bacteroides thetaiotaomicron in a diet-specific manner. Cell Host Microbe 27, 79–92 (2020).

Cuskin, F. et al. Human gut Bacteroidetes can utilize yeast mannan through a selfish mechanism. Nature 517, 165–169 (2015).

Keller, R. & Traub, N. The characterization of Bacteroides fragilis bacteriophage recovered from animal sera: observations on the nature of bacteroides phage carrier cultures. J. Gen. Virol. 24, 179–189 (1974).

Lwoff, A. Lysogeny. Bacteriol. Rev. 17, 269–337 (1953).

Shkoporov, A. N. et al. PhiCrAss001 represents the most abundant bacteriophage family in the human gut and infects Bacteroides intestinalis. Nat. Commun. 9, 4781 (2018).

Bjursell, M. K., Martens, E. C. & Gordon, J. I. Functional genomic and metabolic studies of the adaptations of a prominent adult human gut symbiont, Bacteroides thetaiotaomicron, to the suckling period. J. Biol. Chem. 281, 36269–36279 (2006).

Martens, E. C., Chiang, H. C. & Gordon, J. I. Mucosal glycan foraging enhances fitness and transmission of a saccharolytic human gut bacterial symbiont. Cell Host Microbe 4, 447–457 (2008).

Sonnenburg, J. L. et al. Glycan foraging in vivo by an intestine-adapted bacterial symbiont. Science 307, 1955–1959 (2005).

Barr, J. J. et al. Bacteriophage adhering to mucus provide a non-host-derived immunity. Proc. Natl Acad. Sci. USA 110, 10771–10776 (2013).

De Sordi, L., Lourenço, M. & Debarbieux, L. The battle within: interactions of bacteriophages and bacteria in the gastrointestinal tract. Cell Host Microbe 25, 210–218 (2019).

Tomlinson, S. & Taylor, P. W. Neuraminidase associated with coliphage E that specifically depolymerizes the Escherichia coli K1 capsular polysaccharide. J. Virol. 55, 374–378 (1985).

Gupta, D. S. et al. Coliphage K5, specific for E. coli exhibiting the capsular K5 antigen. FEMS Microbiol. Lett. 14, 75–78 (1982).

Tartera, C., Araujo, R., Michel, T. & Jofre, J. Culture and decontamination methods affecting enumeration of phages infecting Bacteroides fragilis in sewage. Appl. Environ. Microbiol. 58, 2670–2673 (1992).

M'Leod, J. W. A method for plate culture of anaerobic bacteria. J. Pathol. 17, 454–457 (1912).

Araujo, R. et al. Optimisation and standardisation of a method for detecting and enumerating bacteriophages infecting Bacteroides fragilis. J. Virol. Methods 93, 127–136 (2001).

Eddelbuettel, D. & François, R. Rcpp: seamless R and C++ integration. J. Statist. Software 40, 1–18 (2011).

Fu, L., Niu, B., Zhu, Z., Wu, S. & Li, W. CD-HIT: accelerated for clustering the next-generation sequencing data. Bioinformatics 28, 3150–3152 (2012).

Katoh, K., Misawa, K., Kuma, K. & Miyata, T. MAFFT: a novel method for rapid multiple sequence alignment based on fast Fourier transform. Nucleic Acids Res. 30, 3059–3066 (2002).

Price, M. N., Dehal, P. S. & Arkin, A. P. FastTree: computing large minimum evolution trees with profiles instead of a distance matrix. Mol. Biol. Evol. 26, 1641–1650 (2009).

Paradis, E. & Schliep, K. ape 5.0: an environment for modern phylogenetics and evolutionary analyses in R. Bioinformatics 35, 526–528 (2019).

Revell, L. J. phytools: an R package for phylogenetic comparative biology (and other things). Methods Ecol. Evol. 3, 217–223 (2012).

Koropatkin, N., Martens, E. C., Gordon, J. I. & Smith, T. J. Structure of a SusD homologue, BT1043, involved in mucin O-glycan utilization in a prominent human gut symbiont. Biochemistry 48, 1532–1542 (2009).

Medema, M. H., Takano, E. & Breitling, R. Detecting sequence homology at the gene cluster level with MultiGeneBlast. Mol. Biol. Evol. 30, 1218–1223 (2013).

Maier, M. J. Dirichlet regression for compositional data in R. https://mran.microsoft.com/snapshot/2017-02-20/web/packages/DirichletReg/vignettes/DirichletReg-vig.pdf (2015).

Robinson, M. D., McCarthy, D. J. & Smyth, G. K. edgeR: a Bioconductor package for differential expression analysis of digital gene expression data. Bioinformatics 26, 139–140 (2010).

Wu, M. et al. Genetic determinants of in vivo fitness and diet responsiveness in multiple human gut Bacteroides. Science 350, aac5992 (2015).

Abedon, S. T. Lysis from without. Bacteriophage 1, 46–49 (2011).
Acknowledgements
We thank R. Honrada at the San Jose-Santa Clara Wastewater Treatment Plant and the staff at the Ann Arbor Wastewater treatment plant for assistance in collecting primary sewage effluent and D. Maghini for assistance in identifying shared cps loci between B. thetaiotaomicron strains VPI-5482 and -7330. This work was funded by NIH grants (nos. GM099513 and DK096023 to E.C.M), an NIH postdoctoral NRSA (no. 5T32AI007328 to A.J.H.), a Stanford University School of Medicine Dean's Postdoctoral Fellowship (to A.J.H.), the NIH Cellular Biotechnology Training Program (no. T32GM008353 to N.T.P.) and NIH Bioinformatics Training grant (no. T32GM070449 to R.C.).
Ethics declarations
Competing interests
The authors declare no competing interests.
Additional information
Publisher's note Springer Nature remains neutral with regard to jurisdictional claims in published maps and institutional affiliations.
Supplementary information
About this article
Cite this article
Porter, N.T., Hryckowian, A.J., Merrill, B.D. et al. Phase-variable capsular polysaccharides and lipoproteins modify bacteriophage susceptibility in Bacteroides thetaiotaomicron. Nat Microbiol 5, 1170–1181 (2020). https://doi.org/10.1038/s41564-020-0746-5
Received:

Accepted:

Published:

Issue Date:

DOI: https://doi.org/10.1038/s41564-020-0746-5