Multi-omics reveals how metabolites produced by pioneer bacterial species might alter the neonatal gut environment to an anaerobic state much earlier than was previously thought during the first hours of life.
Access options
Subscribe to Journal
Get full journal access for 1 year
$59.00
only $4.92 per issue
All prices are NET prices.
VAT will be added later in the checkout.
Tax calculation will be finalised during checkout.
Rent or Buy article
Get time limited or full article access on ReadCube.
from$8.99
All prices are NET prices.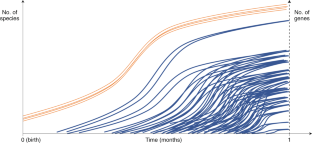 References
1.

Righetti, C., Peroni, D. G., Pietrobelli, A. & Zancanaro, C. J. Pediatr. Gastroenterol. Nutr. 36, 498–501 (2003).

2.

Aziz, S. et al. Acta Paediatr. 90, 81–87 (2001).

3.

Kinsella, R. A. Jr & Francis, F. E. J. Clin. Endocrinol. Metab. 32, 801–818 (1971).

4.

Yatsunenko, T. et al. Nature 486, 222–227 (2012).

5.

Bittinger, K. et al. Nat. Microbiol. https://doi.org/10.1038/s41564-020-0694-0 (2020).

6.

Favier, C. F., Vaughan, E. E., Vos, W. M. D. & Akkermans, A. D. L. Appl. Environ. Microbiol. 68, 219–226 (2002).

7.

Palmer, C., Bik, E. M., DiGiulio, D. B., Relman, D. A. & Brown, P. O. PLoS Biol. 5, e177 (2007).

8.

Dominguez-Bello, M. G. et al. Proc. Natl Acad. Sci. USA 107, 11971–11975 (2010).

9.

Bäckhed, F. et al. Cell Host Microbe 17, 690–703 (2015).

10.

Combellick, J. L. et al. Sci. Rep. 8, 15660 (2018).

11.

Ferretti, P. et al. Cell Host Microbe 24, 133–145 (2018).

12.

Stark, P. L. & Lee, A. J. Med. Microbiol. 15, 189–203 (1982).

13.

Jost, T., Lacroix, C., Braegger, C. P. & Chassard, C. PLoS ONE 7, e44595 (2012).
Ethics declarations
Competing interests
M.G.D.-B. has intellectual rights in the New York University US patent no. 10357521 related to methods for restoring the microbiota of newborns. The remaining author declares no competing interests.
About this article
Cite this article
Wang, J., Dominguez-Bello, M.G. Microbial colonization alters neonatal gut metabolome. Nat Microbiol 5, 785–786 (2020). https://doi.org/10.1038/s41564-020-0734-9