Abstract
Plant pathogenic bacteria cause high crop and economic losses to human societies1,2,3. Infections by such pathogens are challenging to control as they often arise through complex interactions between plants, pathogens and the plant microbiome4,5. Experimental studies of this natural ecosystem at the microbiome-wide scale are rare, and consequently we have a poor understanding of how the taxonomic and functional microbiome composition and the resulting ecological interactions affect pathogen growth and disease outbreak. Here, we combine DNA-based soil microbiome analysis with in vitro and in planta bioassays to show that competition for iron via secreted siderophore molecules is a good predictor of microbe–pathogen interactions and plant protection. We examined the ability of 2,150 individual bacterial members of 80 rhizosphere microbiomes, covering all major phylogenetic lineages, to suppress the bacterium Ralstonia solanacearum, a global phytopathogen capable of infecting various crops6,7. We found that secreted siderophores altered microbiome–pathogen interactions from complete pathogen suppression to strong facilitation. Rhizosphere microbiome members with growth-inhibitory siderophores could often suppress the pathogen in vitro as well as in natural and greenhouse soils, and protect tomato plants from infection. Conversely, rhizosphere microbiome members with growth-promotive siderophores were often inferior in competition and facilitated plant infection by the pathogen. Because siderophores are a chemically diverse group of molecules, with each siderophore type relying on a compatible receptor for iron uptake8,9,10,11,12, our results suggest that pathogen-suppressive microbiome members produce siderophores that the pathogen cannot use. Our study establishes a causal mechanistic link between microbiome-level competition for iron and plant protection and opens promising avenues to use siderophore-mediated interactions as a tool for microbiome engineering and pathogen control.
Access options
Subscribe to Journal
Get full journal access for 1 year
$62.00
only $5.17 per issue
All prices are NET prices.
VAT will be added later in the checkout.
Rent or Buy article
Get time limited or full article access on ReadCube.
from$8.99
All prices are NET prices.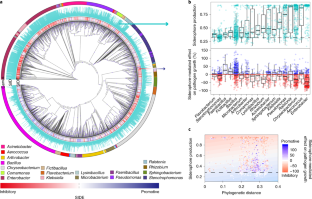 Code availability
All code used in this study are available from the corresponding author on request.
References
1.

Fisher, M. C. et al. Emerging fungal threats to animal, plant and ecosystem health. Nature 484, 186–194 (2012).

2.

Anderson, P. K. et al. Emerging infectious diseases of plants: pathogen pollution, climate change and agrotechnology drivers. Trends Ecol. Evol. 19, 535–544 (2004).

3.

Savary, S. et al. The global burden of pathogens and pests on major food crops. Nat. Ecol. Evol. 3, 430–439 (2019).

4.

Andrews, J. H. & Harris, R. F. The ecology and biogeography of microorganisms on plant surfaces. Annu. Rev. Phytopathol. 38, 145–180 (2000).

5.

Dodds, P. N. & Rathjen, J. P. Plant immunity: towards an integrated view of plant–pathogen interactions. Nat. Rev. Genet. 11, 539–548 (2010).

6.

Mansfield, J. et al. Top 10 plant pathogenic bacteria in molecular plant pathology. Mol. Plant Pathol. 13, 614–629 (2012).

7.

Poueymiro, M. & Genin, S. Secreted proteins from Ralstonia solanacearum: a hundred tricks to kill a plant. Curr. Opin. Microbiol. 12, 44–52 (2009).

8.

Niehus, R., Picot, A., Oliveira, N. M., Mitri, S. & Foster, K. R. The evolution of siderophore production as a competitive trait. Evolution 71, 1443–1455 (2017).

9.

Bruce, J. B., Cooper, G. A., Chabas, H., West, S. A. & Griffin, A. S. Cheating and resistance to cheating in natural populations of the bacterium Pseudomonas fluorescens. Evolution 71, 2484–2495 (2017).

10.

Butaite, E., Kramer, J., Wyder, S. & Kummerli, R. Environmental determinants of pyoverdine production, exploitation and competition in natural Pseudomonas communities. Environ. Microbiol. 20, 3629–3642 (2018).

11.

Smith, E. E., Sims, E. H., Spencer, D. H., Kaul, R. & Olson, M. V. Evidence for diversifying selection at the pyoverdine locus of Pseudomonas aeruginosa. J. Bacteriol. 187, 2138–2147 (2005).

12.

Butaite, E., Baumgartner, M., Wyder, S. & Kummerli, R. Siderophore cheating and cheating resistance shape competition for iron in soil and freshwater Pseudomonas communities. Nat. Commun. 8, 414 (2017).

13.

Kwak, M. J. et al. Rhizosphere microbiome structure alters to enable wilt resistance in tomato. Nat. Biotechnol. 36, 1100–1109 (2018).

14.

Berendsen, R. L., Pieterse, C. M. & Bakker, P. A. The rhizosphere microbiome and plant health. Trends Plant Sci. 17, 478–486 (2012).

15.

Compant, S., Samad, A., Faist, H. & Sessitsch, A. J. A review on the plant microbiome: ecology, functions and emerging trends in microbial application. J. Adv. Res. 19, 29–37 (2019).

16.

Wei, Z. et al. Trophic network architecture of root-associated bacterial communities determines pathogen invasion and plant health. Nat. Commun. 6, 8413 (2015).

17.

Li, M. et al. Facilitation promotes invasions in plant-associated microbial communities. Ecol. Lett. 22, 149–158 (2019).

18.

Pieterse, C. M. et al. Induced systemic resistance by beneficial microbes. Annu. Rev. Phytopathol. 52, 347–375 (2014).

19.

van der Meij, A., van Wezel, G. P., Hutchings, M. I. & Worsley, S. F. Chemical ecology of antibiotic production by actinomycetes. FEMS Microbiol. Rev. 41, 392–416 (2017).

20.

Casper, B. B. & Jackson, R. B. Plant competition underground. Annu. Rev. Ecol. Evol. Syst. 28, 545–570 (1997).

21.

Cordovez, V., Dini-Andreote, F., Carrión, V. J. & Raaijmakers, J. M. Ecology and evolution of plant microbiomes. Annu. Rev. Microbiol. 73, 69–88 (2019).

22.

Cordero, O. X., Ventouras, L. A., DeLong, E. F. & Polz, M. F. Public good dynamics drive evolution of iron acquisition strategies in natural bacterioplankton populations. Proc. Natl Acad. Sci. USA 109, 20059–20064 (2012).

23.

Kummerli, R., Schiessl, K. T., Waldvogel, T., McNeill, K. & Ackermann, M. Habitat structure and the evolution of diffusible siderophores in bacteria. Ecol. Lett. 17, 1536–1544 (2014).

24.

Andersen, S. B., Marvig, R. L., Molin, S., Krogh Johansen, H. & Griffin, A. S. Long-term social dynamics drive loss of function in pathogenic bacteria. Proc. Natl Acad. Sci. USA 112, 10756–10761 (2015).

25.

Barber, M. F. & Elde, N. C. Buried treasure: evolutionary perspectives on microbial iron piracy. Trends Genet. 31, 627–636 (2015).

26.

Andrews, S. C., Robinson, A. K. & Rodriguez-Quinones, F. Bacterial iron homeostasis. FEMS Microbiol. Rev. 27, 215–237 (2003).

27.

Colombo, C., Palumbo, G., He, J.-Z., Pinton, R. & Cesco, S. Review on iron availability in soil: interaction of Fe minerals, plants, and microbes. J. Soils Sediments 14, 538–548 (2014).

28.

Miethke, M. & Marahiel, M. A. Siderophore-based iron acquisition and pathogen control. Microbiol. Mol. Biol. Rev. 71, 413–451 (2007).

29.

Hider, R. C. & Kong, X. Chemistry and biology of siderophores. Nat. Prod. Rep. 27, 637–657 (2010).

30.

Lagos, L. et al. Current overview on the study of bacteria in the rhizosphere by modern molecular techniques: a mini-review. J. Soil Sci. Plant Nutr. 15, 504–523 (2015).

31.

Münkemüller, T. et al. How to measure and test phylogenetic signal. Methods Ecol. Evol. 3, 743–756 (2012).

32.

Hibbing, M. E., Fuqua, C., Parsek, M. R. & Peterson, S. B. Bacterial competition: surviving and thriving in the microbial jungle. Nat. Rev. Microbiol. 8, 15–25 (2010).

33.

Jousset, A., Schmid, B., Scheu, S. & Eisenhauer, N. Genotypic richness and dissimilarity opposingly affect ecosystem functioning. Ecol. Lett. 14, 537–545 (2011).

34.

Kramer, J., Özkaya, Ö. & Kümmerli, R. Bacterial siderophores in community and host interactions. Nat. Rev. Microbiol. 18, 152–163 (2019).

35.

Schofield, R. K. & Taylor, A. W. The measurement of soil pH. Soil Sci. Soc. Am. J. 19, 164–167 (1955).

36.

Loper, J. E. & Henkels, M. D. Availability of iron to Pseudomonas fluorescens in rhizosphere and bulk soil evaluated with an ice nucleation reporter gene. Appl. Environ. Microbiol. 63, 99–105 (1997).

37.

Heuer, H., Krsek, M., Baker, P., Smalla, K. & Wellington, E. M. Analysis of actinomycete communities by specific amplification of genes encoding 16S rRNA and gel-electrophoretic separation in denaturing gradients. Appl. Environ. Microbiol. 63, 3233–3241 (1997).

38.

Tamura, K., Nei, M. & Kumar, S. Prospects for inferring very large phylogenies by using the neighbor-joining method. Proc. Natl Acad. Sci. USA 101, 11030–11035 (2004).

39.

Kumar, S., Stecher, G. & Tamura, K. MEGA7: molecular evolutionary genetics analysis version 7.0 for bigger datasets. Mol. Biol. Evol. 33, 1870–1874 (2016).

40.

Keck, F., Rimet, F., Bouchez, A. & Franc, A. phylosignal: an R package to measure, test, and explore phylogenetic signal. Ecol. Evol. 6, 2774–2780 (2016).

41.

Paradis, E. & Schliep, K. ape 5.0: an environment for modern phylogenetics and evolutionary analyses in R. Bioinformatics 35, 526–528 (2018).

42.

Höfte, M., Buysens, S., Koedam, N. & Cornelis, P. Zinc affects siderophore-mediated high affinity iron uptake systems in the rhizosphere Pseudomonas aeruginosa 7NSK2. Biometals 6, 85–91 (1993).

43.

Schwyn, B. & Neilands, J. Universal chemical assay for the detection and determination of siderophores. Anal. Biochem. 160, 47–56 (1987).

44.

Ghysels, B. et al. The Pseudomonas aeruginosa pirA gene encodes a second receptor for ferrienterobactin and synthetic catecholate analogues. FEMS Microbiol. Lett. 246, 167–174 (2005).

45.

Sathe, S., Mathew, A., Agnoli, K., Eberl, L. & Kümmerli, R. Genetic architecture constrains exploitation of siderophore cooperation in the bacterium Burkholderia cenocepacia. Evol. Lett. 3, 610–622 (2019).

46.

Meyer, J.-M. et al. Use of siderophores to type pseudomonads: the three Pseudomonas aeruginosa pyoverdine systems. Microbiology 143, 35–43 (1997).

47.

Schonfeld, J., Heuer, H., Van Elsas, J. D. & Smalla, K. Specific and sensitive detection of Ralstonia solanacearum in soil on the basis of PCR amplification of fliC fragments. Appl. Environ. Microbiol. 69, 7248–7256 (2003).

48.

Chen, Y. et al. A real-time PCR assay for the quantitative detection of Ralstonia solanacearum in horticultural soil and plant tissues. J. Microbiol. Biotech. 20, 193–201 (2010).

49.

Cardenas, E. et al. Significant association between sulfate-reducing bacteria and uranium-reducing microbial communities as revealed by a combined massively parallel sequencing-indicator species approach. Appl. Environ. Microbiol. 76, 6778–6786 (2010).

50.

Edgar, R. C. UPARSE: highly accurate OTU sequences from microbial amplicon reads. Nat. Methods 10, 996–998 (2013).

51.

Edgar, R. C., Haas, B. J., Clemente, J. C., Quince, C. & Knight, R. UCHIME improves sensitivity and speed of chimera detection. Bioinformatics 27, 2194–2200 (2011).

52.

Caporaso, J. G. et al. QIIME allows analysis of high-throughput community sequencing data. Nat. Methods 7, 335–336 (2010).

53.

Wei, Z. et al. Efficacy of Bacillus-fortified organic fertiliser in controlling bacterial wilt of tomato in the field. Appl. Soil Ecol. 48, 152–159 (2011).

54.

Jeger, M. J. & Viljanen-Rollinson, S. L. H. The use of the area under the disease-progress curve (AUDPC) to assess quantitative disease resistance in crop cultivars. Theor. Appl. Genet. 102, 32–40 (2001).
Acknowledgements
We thank B. Schmid for insightful comments and suggestions for the manuscript and the students in the class of Re131 who graduated in 2017 from Nanjing Agricultural University for their contributions to this work. This research was financially supported by the National Natural Science Foundation of China (grant nos. 41922053 to Z.W., 41807045 to T.Y. and 31972504 to Y.X.) and the Natural Science Foundation of Jiangsu Province (grant nos. BK20180527 to T.Y. and BK20170085 to Z.W.). V.-P.F. is supported by the Wellcome Trust (grant no. 105624) through the Centre for Chronic Diseases and Disorders (C2D2) and Royal Society Research Grants (grant nos. RSG\R1\180213 and CHL\R1\180031) at the University of York. A.J. is supported by the Nederlandse Organisatie voor Wetenschappelijk Onderzoek (grant no. ALW.870.15.050) and the Koninklijke Nederlandse Akademie van Wetenschappen (grant no. 530-5CDP18). R.K. is supported by the Swiss National Science Foundation (grant no. 31003A-182499) and the European Research Council under the grant agreement no. 681295. J.K. is supported by the German Science Foundation (DFG; grant no. KR 5017/2-1).
Ethics declarations
Competing interests
The authors declare no competing interests.
Additional information
Publisher's note Springer Nature remains neutral with regard to jurisdictional claims in published maps and institutional affiliations.
Supplementary information
Supplementary Figs. 1–3 and Supplementary Tables 2, 3, 5 and 6.
Supplementary Tables 1, 4 and 7.
About this article
Cite this article
Gu, S., Wei, Z., Shao, Z. et al. Competition for iron drives phytopathogen control by natural rhizosphere microbiomes. Nat Microbiol 5, 1002–1010 (2020). https://doi.org/10.1038/s41564-020-0719-8
Received:

Accepted:

Published:

Issue Date:
Further reading
Shaul Pollak

&

Otto X. Cordero

Nature Microbiology (2020)

Ewa Oleńska

,

Wanda Małek

,

Małgorzata Wójcik

,

Izabela Swiecicka

,

Sofie Thijs

&

Jaco Vangronsveld

Science of The Total Environment (2020)

Shaohua Gu

,

Tianjie Yang

,

Zhengying Shao

,

Tao Wang

,

Kehao Cao

,

Alexandre Jousset

,

Ville-Petri Friman

,

Cyrus Mallon

,

Xinlan Mei

,

Zhong Wei

,

Yangchun Xu

,

Qirong Shen

,

Thomas Pommier

&

Cynthia H. Collins

mSystems (2020)