Abstract
Transmission of Plasmodium falciparum malaria parasites occurs when nocturnal Anopheles mosquito vectors feed on human blood. In Africa, where malaria burden is highest, bednets treated with pyrethroid insecticide were highly effective in preventing mosquito bites and reducing transmission, and essential to achieving unprecedented reductions in malaria until 2015 (ref. 1). Since then, progress has stalled2, and with insecticidal bednets losing efficacy against pyrethroid-resistant Anopheles vectors3,4, methods that restore performance are urgently needed to eliminate any risk of malaria returning to the levels seen before their widespread use throughout sub-Saharan Africa5. Here, we show that the primary malaria vector Anopheles gambiae is targeted and killed by small insecticidal net barriers positioned above a standard bednet in a spatial region of high mosquito activity but zero contact with sleepers, opening the way for deploying many more insecticides on bednets than is currently possible. Tested against wild pyrethroid-resistant A. gambiae in Burkina Faso, pyrethroid bednets with organophosphate barriers achieved significantly higher killing rates than bednets alone. Treated barriers on untreated bednets were equally effective, without significant loss of personal protection. Mathematical modelling of transmission dynamics predicted reductions in clinical malaria incidence with barrier bednets that matched those of 'next-generation' nets recommended by the World Health Organization against resistant vectors. Mathematical models of mosquito–barrier interactions identified alternative barrier designs to increase performance. Barrier bednets that overcome insecticide resistance are feasible using existing insecticides and production technology, and early implementation of affordable vector control tools is a realistic prospect.
Relevant articles
Open Access articles citing this article.
Eleonora Perugini

,

Wamdaogo M. Guelbeogo

…

Marco Pombi

Parasites & Vectors Open Access 15 March 2023

H. Juliette T. Unwin

,

Ellie Sherrard-Smith

…

Azra C. Ghani

Nature Communications Open Access 08 February 2023

V. A. Ingham

,

F. Brown

&

H. Ranson

BMC Genomics Open Access 10 May 2021
Access options
Access Nature and 54 other Nature Portfolio journals
Get Nature+, our best-value online-access subscription
$29.99 per month
cancel any time
Subscribe to this journal
Receive 12 digital issues and online access to articles
$119.00 per year
only $9.92 per issue
Rent or buy this article
Get just this article for as long as you need it
$39.95
Prices may be subject to local taxes which are calculated during checkout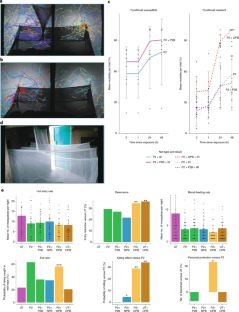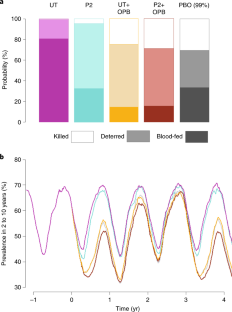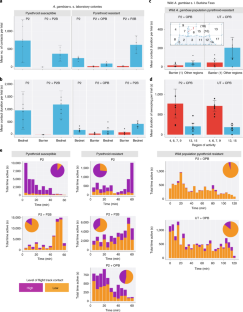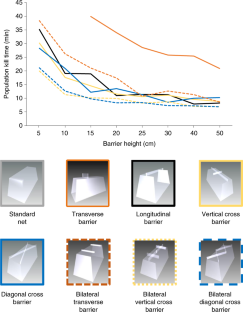 Data availability
The hut trial dataset generated during the current study is available at Dryad Digital Repository (https://doi.org/10.5061/dryad.hqbzkh1b7). All data analysed during this study are available as described in the paper. All other data supporting the findings of this study are available within the article and its Supplementary Information files or are available from the authors on reasonable request.
Code availability
Data handling scripts and video segmentation and tracking software are available from the authors on reasonable request.
References
Bhatt, S. et al. The effect of malaria control on Plasmodium falciparum in Africa between 2000 and 2015. Nature 526, 207–211 (2015).

World Malaria Report 2018 (WHO, 2018).

Protopopoff, N. et al. Effectiveness of a long-lasting piperonyl butoxide-treated insecticidal net and indoor residual spray interventions, separately and together, against malaria transmitted by pyrethroid-resistant mosquitoes: a cluster, randomised controlled, two-by-two factorial design trial. Lancet 391, 1577–1588 (2018).

Churcher, T. S., Lissenden, N., Griffin, J. T., Worrall, E. & Ranson, H. The impact of pyrethroid resistance on the efficacy and effectiveness of bednets for malaria control in Africa. eLife 5, e16090 (2016).

Hemingway, J. The way forward for vector control. Science 358, 998–999 (2017).

Pryce, J., Richardson, M. & Lengeler, C. Insecticide-treated nets for preventing malaria. Cochrane Database Syst. Rev. 11, CD00063 (2019).

Ranson, H. & Lissenden, N. Insecticide resistance in African Anopheles mosquitoes: a worsening situation that needs urgent action to maintain malaria control. Trends Parasitol. 32, 187–196 (2016).

Ranson, H. & Killeen, G. F. Insecticide-resistant malaria vectors must be tackled. Lancet 391, 1551–1552 (2018).

The malERA Consultative Group on Vector Control. A research agenda for malaria eradication: vector control. PLoS Med. 8, e1000401 (2011).

Tiono, A. B. et al. Efficacy of Olyset Duo, a bednet containing pyriproxyfen and permethrin, versus a permethrin-only net against clinical malaria in an area with highly pyrethroid-resistant vectors in rural Burkina Faso: a cluster-randomised controlled trial. Lancet 392, 569–580 (2018).

Bayili, K. et al. Evaluation of efficacy of Interceptor G2, a long-lasting insecticide net coated with a mixture of chlorfenapyr and α-cypermethrin, against pyrethroid resistant Anopheles gambiae s. l. in Burkina Faso. Malar. J. 16, 190 (2017).

Parker, J. E. A. et al. Infrared video tracking of Anopheles gambiae at insecticide-treated bed nets reveals rapid decisive impact after brief localised net contact. Sci. Rep. 5, 13392 (2015).

Parker, J. E. A. et al. Host-seeking activity of a Tanzanian population of Anopheles arabiensis at an insecticide treated bed net. Malar. J. 16, 270 (2017).

Lynd, A. & McCall, P. J. Clustering of host-seeking activity of Anopheles gambiae mosquitoes at the top surface of a human-baited bednet. Malar. J. 12, 267 (2013).

Sutcliffe, S. & Yin, S. Behavioural responses of females of two anopheline mosquito species to human-occupied, insecticide-treated and untreated bed nets. Malar. J. 13, 294 (2014).

McCall, P. J. Mosquito bed net assembly. International patent WO2015063455A1 (2015).

Agossa, F. R. et al. Efficacy of various insecticides recommended for indoor residual spraying: pirimiphos methyl, potential alternative to bendiocarb for pyrethroid resistance management in Benin, West Africa. Trans. R. Soc. Trop. Med. Hyg. 108, 84–91 (2014).

Gnanguenon, V. et al. Malaria vectors resistance to insecticides in Benin: current trends and mechanisms involved. Parasit. Vectors 8, 223 (2015).

Akogbéto, M. et al. Bendiocarb, a potential alternative against pyrethroid resistant Anopheles gambiae in Benin, West Africa. Malar. J. 9, 204 (2010).

Griffin, J. T. et al. Reducing Plasmodium falciparum malaria transmission in Africa: a model-based evaluation of intervention strategies. PLoS Med. 7, e1000324 (2010).

Griffin, J. T. et al. Potential for reduction of burden and local elimination of malaria by reducing Plasmodium falciparum malaria transmission: a mathematical modelling study. Lancet Infect. Dis. 16, 465–472 (2016).

White, M. T. et al. Modelling the impact of vector control interventions on Anopheles gambiae population dynamics. Parasit. Vectors 4, 153 (2011).

Conditions for Deployment of Mosquito Nets Treated with a Pyrethroid and Piperonyl Butoxide (WHO, 2017).

Mahama, T. et al. Effectiveness of permanet in Côte d'Ivoire rural areas and residual activity on a knockdown-resistant strain of Anopheles gambiae. J. Med. Entomol. 44, 498–502 (2017).

Toé, K. H. et al. Do bednets including piperonyl butoxide offer additional protection against populations of Anopheles gambiae s. l. that are highly resistant to pyrethroids? An experimental hut evaluation in Burkina Faso. Med. Vet. Entomol. 32, 407–416 (2018).

Sternberg, E. D., Waite, J. L. & Thomas, M. B. Evaluating the efficacy of biological and conventional insecticides with the new 'MCD bottle' bioassay. Malar. J. 13, 499 (2014).

Janko, M. M. et al. Strengthening long-lasting insecticidal nets effectiveness monitoring using retrospective analysis of cross-sectional, population-based surveys across sub-Saharan Africa. Sci. Rep. 20, 17110 (2018).

Paton, D. G. et al. Exposing Anopheles mosquitoes to antimalarials blocks Plasmodium parasite transmission. Nature 567, 239–243 (2019).

Edi, C. V. et al. Multiple-insecticide resistance in Anopheles gambiae mosquitoes, Southern Côte d'Ivoire. Emerg. Infect. Dis. 18, 1508–1511 (2012).

Coetzee, M. et al. Anopheles coluzzii and Anopheles amharicus, new members of the Anopheles gambiae complex. Zootaxa 3619, 246–274 (2013).

Guidelines for Laboratory and Field Testing of Long-lasting Insecticidal Nets (WHO, 2013).

Toé, K. H. et al. Increased pyrethroid resistance in malaria vectors and decreased bed net effectiveness, Burkina Faso. Emerg. Infect. Dis. 20, 1691–1696 (2014).

Griffin, J. T., Ferguson, N. M. & Ghani, A. C. Estimates of the changing age-burden of Plasmodium falciparum malaria disease in sub-Saharan Africa. Nat. Commun. 5, 1–10 (2014).

Griffin, J. T. et al. Gradual acquisition of immunity to severe malaria with increasing exposure. Proc. Royal Soc. B 282, 2657–2657 (2015).

Climate Prediction Center (National Weather Service, accessed 24 March 2016); http://www.cpc.ncep.noaa.gov/products/international/

Winskill, P. et al. Malaria Initiative, Plasmodium falciparum transmission and mortality: a modelling study. PLoS Med. 14, e1002448 (2017).

Angarita-Jaimes, N. et al. A novel video-tracking system to record behaviour of nocturnal mosquitoes attacking human hosts. J. Royal Soc. Interface 13, 20150974 (2016).
Acknowledgements
We are grateful to the community at Tengrela, Burkina Faso, who continue to host our studies at their village. This research was jointly funded by awards from the UK Medical Research Council (MRC) and the UK Department for International Development (DFID) under the MRC/DFID Concordat Agreement (MR/M011941/1 and MRC Confidence in Concept award MC_PC_13069), and the Wellcome Trust (200222/Z/15/Z). We thank M. Bernardi for her help preparing the figures.
Ethics declarations
Competing interests
A patent application (WO2015063455A1) that names P.J.M. was filed by LSTM in respect of the barrier bednet, initially in the UK (7 May 2015), but has now entered the Patent Cooperation Treaty process. LSTM has a research agreement with Vestergaard, which provided LLIN materials but had no role in study design, data collection, analysis and interpretation, report writing or publishing. The authors declare no other competing interests.
Additional information
Publisher's note Springer Nature remains neutral with regard to jurisdictional claims in published maps and institutional affiliations.
Supplementary information
About this article
Cite this article
Murray, G.P.D., Lissenden, N., Jones, J. et al. Barrier bednets target malaria vectors and expand the range of usable insecticides. Nat Microbiol 5, 40–47 (2020). https://doi.org/10.1038/s41564-019-0607-2
Received:

Accepted:

Published:

Issue Date:

DOI: https://doi.org/10.1038/s41564-019-0607-2