Klebsiella pneumoniae isolated from patients with primary sclerosing cholangitis was found to cause intestinal barrier dysfunction resulting in T-helper-17-cell-mediated hepatobiliary injury, providing evidence for specific gut-derived, pore-forming pathogens as triggers for immune-mediated liver disease.
Access options
Subscribe to Journal
Get full journal access for 1 year
$119.00
only $9.92 per issue
All prices are NET prices.
VAT will be added later in the checkout.
Tax calculation will be finalised during checkout.
Rent or Buy article
Get time limited or full article access on ReadCube.
from$8.99
All prices are NET prices.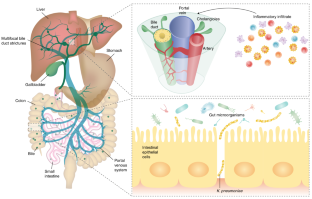 References
1.

Karlsen, T. H., Folseraas, T., Thorburn, D. & Vesterhus, M. J. Hepatol. 67, 1298–1323 (2017).

2.

Li, B., Selmi, C., Tang, R., Gershwin, M. E. & Ma, X. Cell. Mol. Immunol. 15, 595–609 (2018).

3.

Nakamoto. et al. Nat. Microbiol. https://doi.org/10.1038/s41564-018-0333–1 (2019).

4.

Fickert, P. & Wagner, M. J. Hepatol. 67, 619–631 (2017).

5.

Hov, J. R. & Karlsen, T. H. Semin. Liver Dis. 37, 314–331 (2017).

6.

Fickert, P. et al. J. Hepatol. 60, 1290–303 (2014).

7.

Wahlström, A., Sayin, S. I., Marschall, H. U. & Bäckhed, F. Cell Metab. 24, 41–50 (2016).

8.

Damman, J. L. et al. Aliment. Pharm. Ther. 47, 886–895 (2018).
Ethics declarations
Competing interests
The authors declare no competing interests.
About this article
Cite this article
Fickert, P., Marschall, HU. Gut pathobionts as triggers for liver diseases. Nat Microbiol 4, 380–381 (2019). https://doi.org/10.1038/s41564-019-0388-7