The use of levulinic acid in bioconversion strategies has been limited by the lack of information on the pathways used by microorganisms to degrade it. Now, functional genomics reveals the essential steps for utilization of levulinic acid in Pseudomonas putida.
Access options
Subscribe to Journal
Get full journal access for 1 year
$62.00
only $5.17 per issue
All prices are NET prices.
VAT will be added later in the checkout.
Rent or Buy article
Get time limited or full article access on ReadCube.
from$8.99
All prices are NET prices.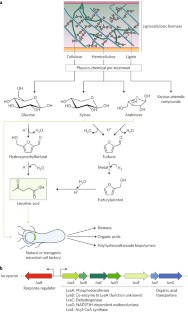 References
1.

Saini, J.  K., Saini, R. & Tewari, L. 3 Biotech 5, 337–353 (2015).

2.

Hayes, D. J., Fitzpatrick, S., Hayes, M. H. B. & Ross, J. R. H. in Biorefineries-Industrial Processes and Products: Status Quo and Future Directions (eds Kamm, B. et al.) 139–164 (Wiley, Weinheim, 2006).

3.

Alonso, D.  M., Wettstein, S. G. & Dumesic, J. A. Green Chem. 15, 584 (2013).

4.

Gorenflo, V., Schmack, G., Vogel, R. & Steinbüchel, A. Biomacromolecules 2, 45–57 (2001).

5.

Martin, C. H. & Prather, K. L. J. J. Biotechnol. 139, 61–67 (2009).

6.

Jaremko, M. & Yu, J. J. Biotechnol. 155, 293–298 (2011).

7.

Habe, H. et al. Bioresour. Technol. 177, 381–386 (2015).

8.

Martin, C.  H. et al. Nat. Commun. 4, 1414 (2013).

9.

Rand, J.  M. et al. Nat. Microbiol. https://doi.org/10.1038/s41564-017-0028-z (2017).

10.

Sedlaczek, L. & Smith, L. L. Crit. Rev. Biotechnol. 7, 187–236 (1988).
Ethics declarations
Competing interests
The authors declare no competing financial interests.
About this article
Cite this article
Haslinger, K., Prather, K.L.J. Pathway towards renewable chemicals. Nat Microbiol 2, 1580–1581 (2017). https://doi.org/10.1038/s41564-017-0071-9
Further reading
Chen Ling

,

Guan-Qing Qiao

,

Bo-Wen Shuai

,

Karel Olavarria

,

Jin Yin

,

Rui-Juan Xiang

,

Kun-Nan Song

,

Yun-Hao Shen

,

Yingying Guo

&

Guo-Qiang Chen

Metabolic Engineering (2018)