A newly described plasmid, which encodes proteins facilitating its packaging and cell-to-cell transfer via membrane vesicles, challenges the way we think about the delineation of viruses, plasmids and extracellular vesicles.
Access options
Subscribe to Journal
Get full journal access for 1 year
$62.00
only $5.17 per issue
All prices are NET prices.
VAT will be added later in the checkout.
Rent or Buy article
Get time limited or full article access on ReadCube.
from$8.99
All prices are NET prices.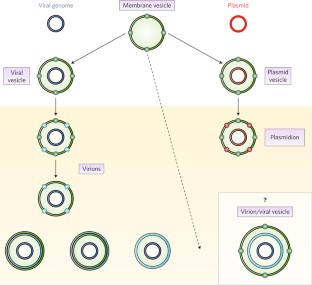 References
1.

Koonin, E. V. & Dolja, V. V. Microbiol. Mol. Biol. R 78, 278–303 (2014).

2.

Erdmann, S., Tschitschko, B., Zhong, L., Raftery, M. J. & Cavicchioli, R. Nat. Microbiol. http://dx.doi.org/10.1038/s41564-017-0009-2 (2017).

3.

Deatherage, B. L. & Cookson, B. T. Infect. Immun. 80, 1948–1957 (2012).

4.

Gaudin, M. et al. Environ. Microbiol. 16, 1167–1175 (2014).

5.

Altan-Bonnet, N. Curr. Opin. Microbiol. 32, 77–81 (2016).

6.

Pietilä, M. K. et al. J. Virol. 86, 5067–5079 (2012).

7.

Raoult, D. & Forterre, P. Nat. Rev. Microbiol. 6, 315–319 (2008).

8.

Maxwell, K. L. & Frappier, L. Microbiol. Mol. Biol. R. 71, 398–411 (2007).

9.

Forterre, P. & Krupovic, M. in Viruses: Essential Agents of Life (ed. Witzany, G.) 43–60 (Springer, Netherlands, 2012).
Ethics declarations
Competing interests
The authors declare no competing financial interests.
About this article
Cite this article
Forterre, P., Da Cunha, V. & Catchpole, R. Plasmid vesicles mimicking virions. Nat Microbiol 2, 1340–1341 (2017). https://doi.org/10.1038/s41564-017-0032-3
Further reading
Sari Mäntynen

,

Lotta-Riina Sundberg

,

Hanna Oksanen

&

Minna Poranen

Viruses (2019)

Sukhvinder Gill

,

Ryan Catchpole

&

Patrick Forterre

FEMS Microbiology Reviews (2019)

Jacob Munson-McGee

,

Jamie Snyder

&

Mark Young

Genes (2018)